Brampton AC Installation, Furnace Repair and other HVAC services
10-Year Installation Warranty for HVAC Systems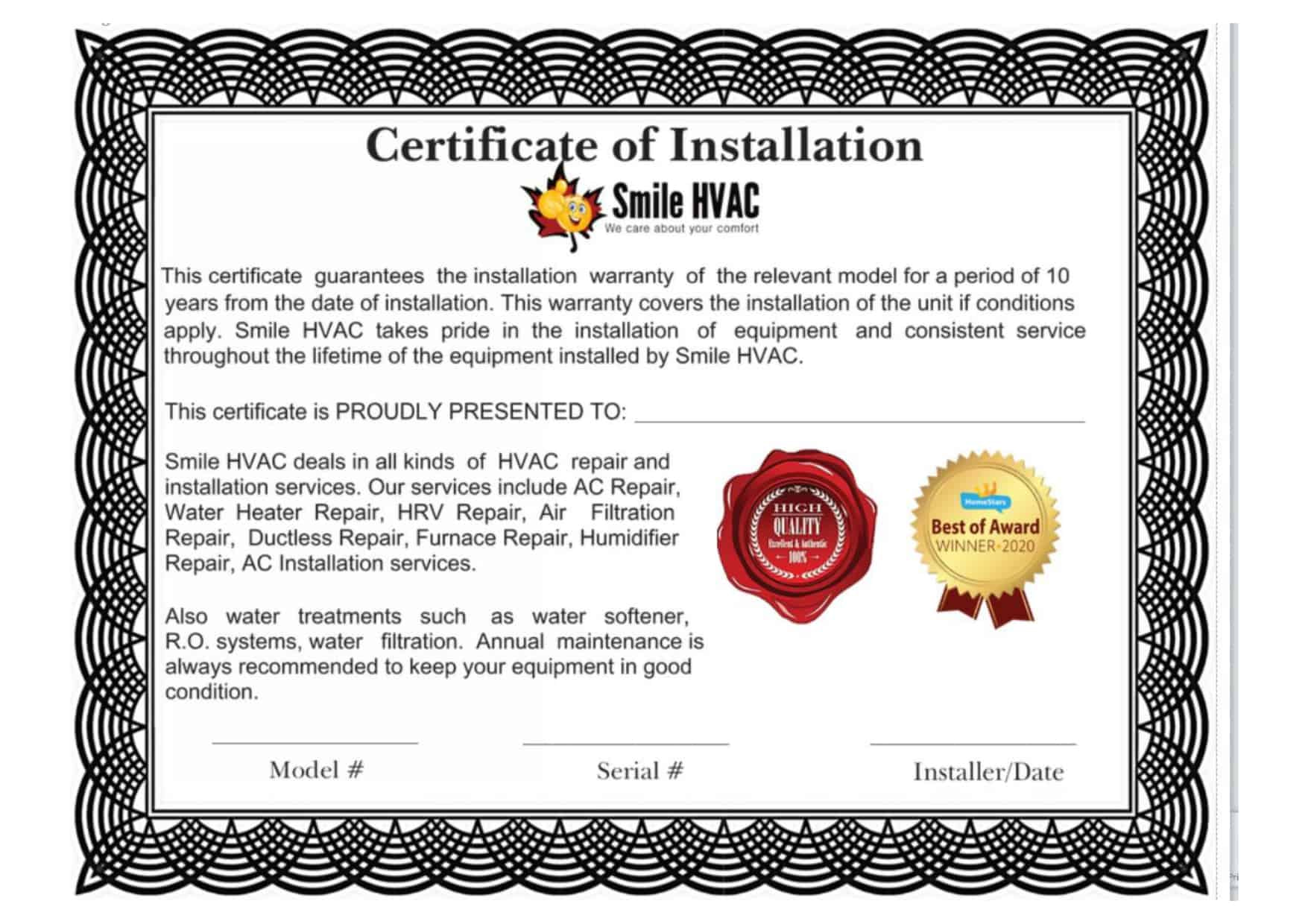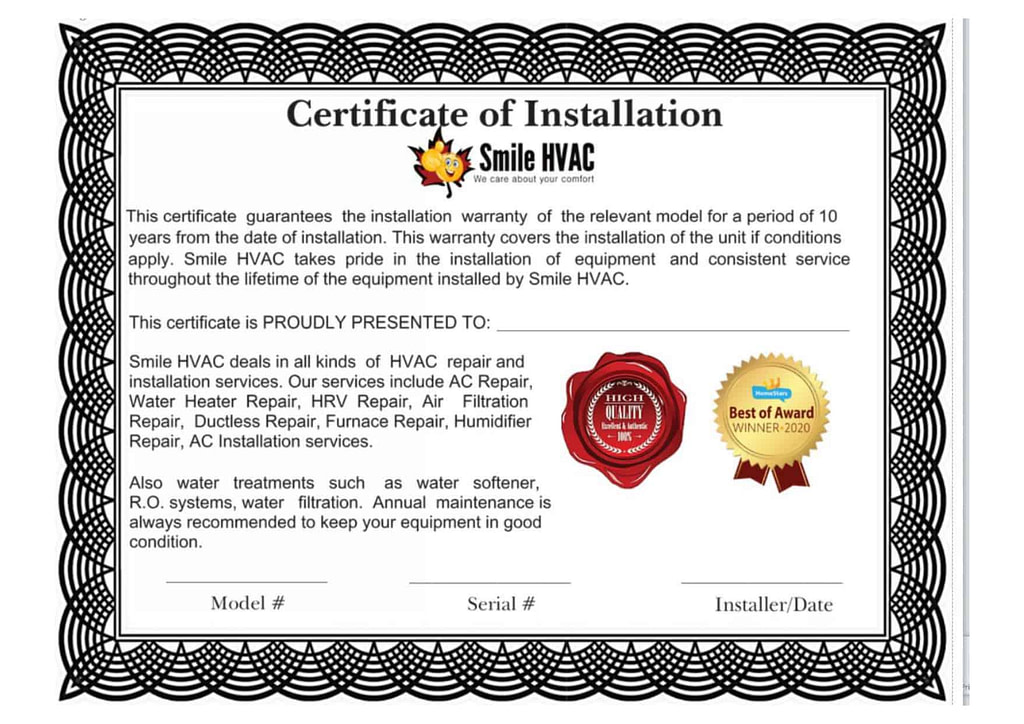 With our Warranty You Can:
Best HVAC Services in Brampton
When things like your heating, air conditioning, and ventilation systems have problems, you need a company that you can trust. That's where the quality professionals at Smile HVAC come into play. Being it furnace repair, ac repair, heating and cooling services or any other HVAC services in Brampton – Smile HVAC will help you! 
So if you are looking for reliable HVAC contractors in Brampton that will help you with furnace and ac repair for either commercial or residential needs, pick up the phone and call us!
We are a local Ontario area company that has years of experience installing and maintaining all manner of heating, air conditioning, and ventilation systems.
For heating and air conditioning services in Brampton, new installations, and a host of other services and products for your indoor atmosphere needs, make your first call to Smile HVAC.
Furnace Repair in Brampton
In Canada we rely on our furnaces to get us through the long, cold winters. That is why it is so vital to have a furnace that you can trust. Smile HVAC provides reliable furnace repair services in Brampton.
If you are not feeling the love of your current furnace, maybe it is time to consider a replacement. The experts at Smile HVAC have years of experience with all makes and models of furnaces. Our technicians provide quality furnace repair service in Brampton and our have loyal customers in GTA.
Emergency Furnace Repair in Brampton
Our technicians can come to your location to walk your space and recommend the perfect furnace solution for your needs. They will walk you through some questions that need to be answered, such as the type of furnace to use, the manner in which it will be ducted, and its overall energy efficiency, to make sure you get the perfect heating fit. 
Instead if all you require is a repair to your existing furnace, it is good to know that we are a great provider of furnace repair services in Brampton. Our highly-trained technicians can quickly diagnose and solve problems with your furnace on the spot. 
We also emergency furnace repair we can be at your location within 24 hours.
An even better solution to consider is to perform regular maintenance on your heater before a large problem occurs. Smile HVAC offers a host of maintenance services that can be performed on a regular basis to make sure your furnace is always in tip-top shape. 
Call Smile HVAC if your furnace have these issues:
gas furnace
furnace heats up then shuts off
clicking noise in furnace
furnace won't kick off
Smile Protection Plan is specially designed for those of us who don't like unexpected "surprises". "Surprises" like when you suddenly have to get out of pocket hundreds of dollars to repair your broken equipment.
Ask us about discounts on combined plans.
Smile
Protection
Plans
Starting from as low as
Smile
Maintenance
Plans
Starting from
Air Conditioner Repair in Brampton
What is better than spending long afternoon days in Brampton or its suburbs during the picturesque Ontario summertime? Why spoil those great times with an air conditioner that is not providing the proper cooling. 
If you have made the choice to replace your faulty air conditioner, talk to the experts at Smile HVAC to get started. We understand the many nuances of a variety of air conditioning systems.
While the choices for air conditioner replacement may seem endless, at Smile HVAC we can walk you through choices like whether to go with a standard or ductless installation, how we can use your existing HVAC system to save you money, and making sure you are getting the precise amount of cooling for your space. 
With years of experience in the industry, we can take the stress out of buying a new air conditioner. Our knowledgeable technicians will come to your location to walk your indoor space and outdoor surroundings. From there they will:
Recommend the perfect make and model of unit for you
Recommend the best way to duct the system
Verify that your current electrical setup will be able to handle the new unit
Show you exactly where they plan to place all of the equipment both inside and outside of your space
Maybe your current air conditioner is in good shape but is simply in need of air conditioner repair. Maybe you have a ductless system that is in need of ductless repair.
AC Repair Company in Brampton You Can Trust
No matter the type of system, Smile HVAC can repair any issue with any system. With our years of experience handling issues with air conditioners, we can spot problems with things like leaks, faulty sensors, failing compressors, frozen coils, and drainage issues from the unit.
Once your air conditioner is running properly the final part of its ownership is annual inspection in Brampton. We offer competitively priced plans of action to perform regular inspections on your air conditioner that will:
Inspect the unit for any minor issues that we can solve to keep a small problem from becoming a big one
Thoroughly test the unit to make sure all parts are working properly
Give you a lower energy bill with an air conditioning system that cools your space exactly the amount that is needed 
With regular maintenance your air conditioner will continue to work flawlessly all summer while saving you money on your energy bills!
In case you need help with an air conditioning repair in Brampton – don't hesitate to call Smile HVAC!
*Get 10% OFF on your Service Call when you book online.
Water Heater Installation in Brampton
There may be nothing quite as frustrating as a water heater that is not functioning properly. When you turn the hot water tap on you do not expect lukewarm or even cold water.
If this problem is happening to you, it may be time to think about installing a brand new water heater. At Smile HVAC we are experts in all makes and models of water heaters and can assess your water heating needs to give you a perfect fit.
Quite often users can find that their water heater is just not getting the water quite hot enough or the water does not stay hot long enough. This may be the time to call Smile HVAC for expert water heating service. 
To get started solving your water heater issues just give our friendly customer service staff a call. We can have a technician to your location on the same day to solve your water heater problems and get the hot water flowing again.
As with all the work we do at Smile HVAC, you will receive a detailed estimate of the cost before we perform any work.
With water being the central component of a water heater system, the chance for parts corroding and wearing down is quite high. That's why regular routine maintenance and inspection of your water heater system is a must.
Smile HVAC offers a number inspection services to make sure that your water heater continues to run at an optimal rate and these services are available at a price that we are sure that you can afford. 
One added bonus of performing regular maintenance on your hot water heater system is that you are sure to see lower energy bills due to the water being heated only when needed.
Air Quality
When the air temperature inside your indoor space is just the right setting, it can be easy to forget about the quality of the air itself. Have you ever considered installing an air filtration system in your HVAC unit to improve the breathability of the air of your indoor space?
Smile HVAC has a long history of expertise in all makes and models of air filtration systems. We can design a system that will improve the quality of the air in your indoor space dramatically.
Of course clean and temperate air is only part of the overall solution for a pleasant indoor environment. That's why Smile HVAC always thinks that performing humidifier installation is such a great idea.
Wouldn't it be great to leave a door or window open when it is freezing cold or sweltering hot outside? At Smile HVAC we specialize in HRV installation and HRV service in Brampton.
An HRV system introduces clean fresh outdoor air into your indoor HVAC system without negatively affecting the temperature, air quality, or humidity of your indoor environment.
Beyond just being experts in the installation of all these systems, Smile HVAC also does humidifier repair and air filtration services in Brampton to make sure that all these vital systems continue to work properly.
Water Softener Installation & Repair in Brampton
Brampton is a Canadian city in Ontario's Greater Area. Lake Ontario provides water for the city and it's widely known that it's hard water. Hence, water softener repair in Brampton is established to soften the water. Water in Brampton is not suitable for home use. The water obtained from the lake is dirty and hard. The physical characteristics of watercolour, odour, taste, and temperature are also aesthetic parameters. The water contains high-level contaminants, including chemicals, corrosiveness; a tendency to form incrustations. The condition of water in Brampton gives the need for water softener repair and installation to make it safe for human consumption and domestic use. Disinfection of drinking water is essential to protect the public from waterborne diseases and parasites. Brampton city has tried its best to treat water.
Water softener repair and installation in Brampton have helped in softening water. Hard water is not suitable for consumption and washing dishes. It contains magnesium and calcium which leaves deposits making the pipes narrow. Mineral water can cause a lot of problems, such as dissolving minerals in hard water forming scales that accumulate on the inside of drainage pipes, plumbing fixtures, and in other household appliances. Hard water scales are a poor conductor of heat and it significantly increases your utility bills. Hard water reacts with washing detergents to form scum, which is difficult to remove. Installation and repair of water softeners will eliminate the buildup of scum in pipes. It makes water soft so you can enjoy the softer material of your clothes washed in soft water. 
The water softener needs minimal maintenance such as adding salt into the water.
Smile HVAC is a Brampton water softener installation company that provides water softening and repair services. We deal with the repair of blocked pipes and replacing them. The company also offers simple ways of softening water using the treatment plan. It saves water through optimization and eliminating the regeneration of water softening. We provide and install filtered water taps that dispense clear filtered drinking water that reduces contaminants and additives in water taps. It has helped the city in delivering soft water giving a complete feeling of real luxury. In case your water softener needs to be installed or repaired, contact Smile HVAC.
Choose Smile HVAC Service For Your Needs
At Smile HVAC we are well known for heating and cooling service, but we also offer a host of other products and services. Whether It is hvac services or installations, keeping your indoor air fresh, keeping your hot water at just the right temperature, Smile HVAC can do it all on your schedule and at a price you can afford. Contact Smile us to start the process of upgrading or maintaining the components of a fantastic indoor environment!
Authorised Licensed Technicians
Smile HVAC is authorized and licensed to service over 30 brands, so if you own any HVAC equipment from these brands, you don't need to call two companies. Smile HVAC will help you solve all HVAC-related issues and will assist with repairs and installations. We work with all brands including Lennox, Goodman, Amana, Keeprite, Bryant, Daikin, Carrier, York, Trane, Comfortmaker, Payne, Tempstar, Rheem, Ruud and Mitsubishi Electric
Brampton is a suburban city situated in northern Ontario in the Greater Toronto Area. Brampton being the 9th largest city in Canada, the population is growing very fast. This city is known as "The Flower Town of Canada," referring to Canada's large greenhouse industry today. The city has a total population of about 0.6 million residents, as per the 2011 Census. It showed the 2nd highest growth rate among Canada's 25 largest cities. Due to the city's cultural and historic nature, Brampton also has some of the most vibrant museums and galleries in Canada; this attracts many tourists and visitors. Some of the most visited places include Gage Park, Heart Lake Conservation Area, Rose Theatre, and Peel Art Gallery Museum. With the challenge of vertiginous temperature changes, many businesses, such as hotels and restaurants, regularly upgrade and maintain the heating and cooling systems.
With the changing climate and many corporations, HVAC equipment's demand is very high in the area. Like other parts of Canada, Brampton is characterized by a Continental climate, often having a significant annual temperature variation. The weather is significantly cold in the winter and spring. The temperature goes even below the freezing point; this makes the air conditioners a very significant toll in every household. Winters can be cold with temperatures that are frequently below the freezing point. People turn off the air conditioner and turn on the furnace to raise the temperature. The water softener hardness setting of Brampton is 12 gpg.
HVAC's supply and maintenance are never enough as the demand is always high due to the predictable changes in climate. In the winter season, the temperature falls to the freezing point. This means that every home and commercial building in the area of Brampton is a potential customer of heating and cooling systems. With Covid-19, it is even more relatable, as most people are choosing to renovate their houses and at the same time their HVAC systems since they are staying home most of the time.
A city council report predicts that the city will see a total growth rate of 36 percent in 21 years. With high population growth and increased purchasing power, Brampton seems to have good business potential for HVAC equipment since the demand is always high, and many will demand to upgrade and maintenance. HVAC systems make Brampton a place worth living. If you're looking for HVAC services in Brampton, Smile HVAC has got you covered.