Etobicoke Humidifier Installation, Furnace Repair, air conditioning repair and other HVAC services
10-Year Installation Warranty for HVAC Systems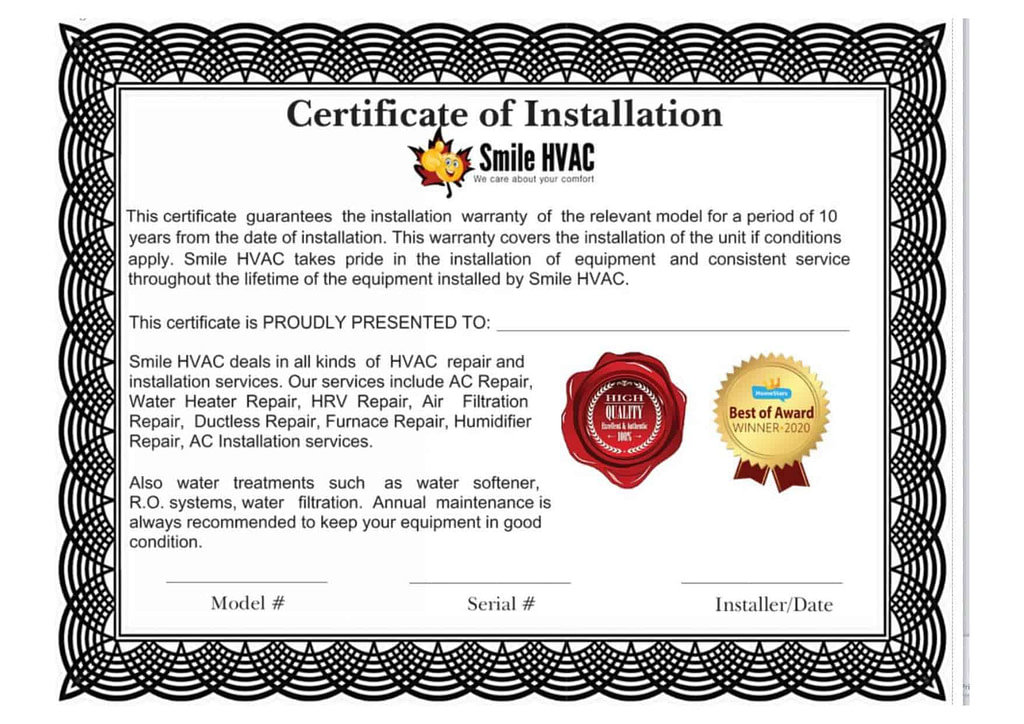 With our Warranty You Can:
Furnace Repair in Etobicoke
Smile HVAC is your company if you are looking for a furnace repair in Etobicoke. Problems with components like furnaces and heaters can be overwhelming. That's why it is so nice to deal with the quality professionals at Smile HVAC. If you are looking for HVAC contractors in Etobicoke for either your residential or commercial needs, Smile HVAC should be your one-stop-shop company.
Unlike some bigger national companies, we are a local Ontario area company, and handle a host of services including:
Best Furnace Repair Service in Etobicoke
If you are in need of heating and air conditioning services in Etobicoke or upgrade to your indoor environment systems, make us your first call help. At Smile HVAC, there is no heating and cooling service or air quality service project that we cannot tackle and get right the first time.
New hot water heater installation
Design and installation of new air conditioning systems 
Furnace installation, maintenance, and service 
Installation of cutting edge air purifier systems installation
Humidifier maintenance and installation 
A hallmark of the service offerings at Smile HVAC is our heating and air conditioning services in Etobicoke. We get the job done right the first time and every time. 
Call us if you need a furnace repair service in Etobicoke and have following issues:
furnace is making a noise
error codes on a digital display
Furnace Replacement in Etobicoke
Is there anything longer and colder than winter in Canada? Think how much longer it will be without a properly operating furnace.
When winter is fast approaching and your furnace is not working properly, the choices for a new installation can seem dizzying. Everything from the type of furnace, to how it will be ducted, to its energy efficiency are all things to consider before buying a new furnace. 
That's where smile HVAC can help. We have years of experience and a unique knowledge of all types of furnaces to make sure you have the furnace that suits your needs.
Do you have a furnace that works but is in need of furnace repair services in Etobicoke? Smile HVAC's expert technicians can quickly assess any problems with your existing furnace and get it working at peak efficiency in no time.
If you need us quickly, we offer same day service in case of a heating emergency to make sure you are not left freezing with no furnace.
A great way to avoid costly repair bills is to perform routine maintenance on your entire heating system. At Smile HVAC we have the industry expertise and thoroughly trained technicians to make sure your system is running smoothly. Smile HVAC is your choice if you need a professional HVAC service in Etobicoke.
Smile Protection Plan is specially designed for those of us who don't like unexpected "surprises". "Surprises" like when you suddenly have to get out of pocket hundreds of dollars to repair your broken equipment.
Ask us about discounts on combined plans.
Smile
Protection
Plans
Starting from as low as
Smile
Maintenance
Plans
Starting from
Air Conditioner Repair and Installation in Etobicoke
Smile HVAC provides a professional air conditioning repair in Etobicoke. After long, cold winters summers in Canada are an amazing time. Some like to spend their time in the city, while some laze away the days in the suburbs.
With that in mind, why would you want to let a failing air conditioner spoil your fun? Don't waste a precious day of summer time I delaying the decision to replace your old air conditioner.
Air conditioner replacement may seem fraught with bad choices, but that is where Smile HVAC can help. Let us walk you through the differences between a traditional system and a ductless installation. We can even show you how we can use the existing components of your HVAC system to save you money.
When you make an appointment with one of our technicians, they will come to your location to inspect both your indoor space and outdoor surroundings. Once this is complete they will be able to make a recommendation to you about:
The best brand of unit to install
The optimum way to duct the system
Verifying that your electrical system can handle the new load
Optimally placing all equipment both inside and outside
Best of all smile HVAC will not overwhelm you with a ton of useless information. We will make sure you get a system that works for your space at a price that is affordable.
Best Air Conditioning Repair Service in Etobicoke
If you have a fairly new air conditioning system that is in need of air conditioner repair or you have a ductless system that is in need of ductless repair, Smile HVAC can handle that as well.
An important part of air conditioner ownership is performing an annual inspection in Etobicoke. We have a cost-effective plan for performing this inspection which will help to:
Find minor problems and repair them before they get worse
Inspect all vital components to make sure they're working properly
Keep your energy costs down with a finely-tuned system
Regular air conditioning maintenance we'll make sure your unit keeps working properly and will save you money! If you need an air conditioning repair in Etobicoke – don't hesitate to contact Smile HVAC. We are always at your service!v
*Get 10% down on your Service Call when you book online.
Water Heater Replacement in Etobicoke
A water heater is one of those items that we assume will work flawlessly right up until it does not. Is there any worse feeling than turning on the tap for hot water and feeling nothing but freezing-cold water? 
If you find yourself in this position, maybe it is time to think about installing a brand new water heater. At Smile HVAC we have both the experience and knowledge of all brands and models of water heaters to give you the perfect solution for your hot water needs. 
If instead you feel that your current water heater is fine but is just not operating optimally maybe what you are need of is expert water heating service. Worry not, because we do that as well.
Simply give a call to our knowledgeable customer reps, and they can book your appointment with one of our technicians right away. Once on-site our technician will quickly diagnose the problem with your water heater and get the hot water flowing again in no time at all. 
As with all the work we do in Smile HVAC, you can be sure you will receive an upfront estimate of the cost before we start any work.
If you want to make sure that the hot water will always be flowing a great choice to perform annual maintenance on your hot water heater. At Smile HVAC we offer a cost-effective solution to go through all the parts of your hot water heater system to make sure they are working properly.
An optimally tuned hot water heater system will save you money on your energy bills by not unnecessarily heating water when it is not needed.
Air Quality
Once you have made sure the air in your home is at the right temperature, you might think that the job of creating a great indoor atmosphere is done. Did you know that there is much more that can be done to create an inviting and healthy atmosphere in your indoor space?
Why not consider a cutting-edge air filtration system for your HVAC unit. These systems can drastically reduce pollutants entering your indoor space best making it much more livable and appealing.
We have a long history of installing and maintaining all types of air filtration systems so we are more than equipped to offer you the best air filtration system for your needs.
The cleanliness of your air is only half the battle. Maintaining proper humidity levels in your indoor space will create a healthier and more pleasant environment.
That's why we think that humidifier installation is such a vital component for any HVAC system. Don't let your indoor space turn into an arid desert while the heater runs endlessly in the winter when you can easily maintain proper humidity with some simple add-on equipment. 
So many people love to leave a window or door open to breathe fresh air into an indoor space, but in the sweltering heat of the summer or the frigid cold of the winter that is not the best option. Instead consider an HRV installation.
These systems work to introduce outside air into your indoor space while still regulating the temperature and humidity of the air. At Smile HVAC we specialize in HRV installation and HRV service in Etobicoke.
If you have already made the wise choice to install one of these systems, you should know that Smile HVAC also does humidifier repair and air filtration services in Etobicoke. 
Water Softener Repair & Installation in Ebitocoke
Etobicoke's drinking water comes directly from Lake Ontario. The water in these lakes is polluted by the waste, making it not suitable for domestic consumption.
Hard water is a problem in Ebitocoke city. Water softener repair in Etobicoke becomes necessary. The water found in different bodies surrounding the city is mainly hard and is not suitable for domestic use. The hard water contains dangerous minerals that have several effects on the tools used for water transportation and also at home. The minerals found in this water are Calcium and Magnesium. One of their significant impacts on pipes is the deposits of compounds that result in these pipes' blocking. If the water finds its way to different homes, it has several other effects. For example, it causes skin complications when used for bathing. If the water is used for cooking, it forms a scale at the bottom of cooking utensils that stains them. There is a lasting solution for these challenges, and that is the installation of a water softener that will help save on costs.
Smile HVAC provides Etobicoke water softener installation and repair. If your water softener got an issue like closing down or ill-advised working, look for help from Smile HVAC. We have exceptionally qualified and proficient technicians who have relevant skills in water softeners. Moreover, our services are found all over Canada, and we have received positive feedback from the customers who have previously enjoyed our services. Getting yourself quality installation for your water softener is a guarantee that your appliance will last longer. Our in house technicians guarantee they offer the best types of assistance. Going for a long time without softened water can add more costs to your household. We also provide other services such as installing the water treatment system, water heaters, and humidifiers. In any case, you need your water softener system installed or repaired, contact Smile HVAC immediately.
Choose Smile HVAC Service For Your Needs
At Smile HVAC we do heating and cooling service, but we also do so much more. Whether It ishvac services or installations, keeping your hot water flowing, or keeping the quality of your indoor air pure and fresh, Smile HVAC does it all. Contact us to get started on improving and maintaining the quality and welcoming nature of your own indoor space!
Authorised Licensed Technicians
Smile HVAC is authorized and licensed to service over 30 brands, so if you own any HVAC equipment from these brands, you don't need to call two companies. Smile HVAC will help you solve all HVAC-related issues and will assist with repairs and installations. We work with all brands including Lennox, Goodman, Amana, Keeprite, Bryant, Daikin, Carrier, York, Trane, Comfortmaker, Payne, Tempstar, Rheem, Ruud and Mitsubishi Electric
Etobicoke has very diverse and multicultural demographics. It has a lower population density as compared to other districts of Toronto. In the Canadian 2016 Census, the population was at almost 370,000 residents. Due to the low population density, the city has larger main streets and shopping malls. Humber Bay Parks, Colonel Samuel Smith Park, Centennial Park, and Village of Islington are some of this area's main attractions. However, there is a lot that many people need to know about Etobicoke weather. Often, the weather conditions fluctuate, thus promoting great use of HVAC systems in the area. If you're looking for HVAC services in Etobicoke, we got you covered; we are here for you.
The weather in Etobicoke is quite similar to the weather in New York City. The area is having all four seasons with changing conditions. During winter, the temperature may go as low as 0 degrees Celsius, and the climate may be too cold for both the natives and the visitors to cope with. This makes it essential for every home to have an HVAC system. Etobicoke earned the name "City for all seasons" for its stunning beauty, safety, and uniqueness in every season. The city brings a unique vibe for every mood and emotion with the season change. This is because of the HVAC system's availability, which helps control the temperature inside houses and buildings. Being an industrialized city, there is always a chance of air pollution and climatic alterations. This makes a need for every home to have an air conditioner. The HVAC equipment upgrade is essential.
Etobicoke's central areas are generally middle-class and have high purchasing power, and wish to live a more classy life. Such characteristic makes the businesses the potential gold mine due to the high number of customers. Most parts of Etobicoke's are made up of foreigners from different parts of the world. The population consists of immigrants from Europe, Africa, and the Asian continent. Most such groups may have difficulties in coping up with the cold climate. Thus hotels and homes must have an HVAC system.
Etobicoke's climate and population show a tremendous demand for heating systems. With many immigrants from different parts of the world, there stand potential customers for the HVAC system upgrade and maintenance. Many foreigners may not be conversant with harsh winters and very warm summers, hence the high demand for heating and cooling systems in the area.