Vaughan Furnace Repair & Installation, AC Installation and other HVAC services
10-Year Installation Warranty for HVAC Systems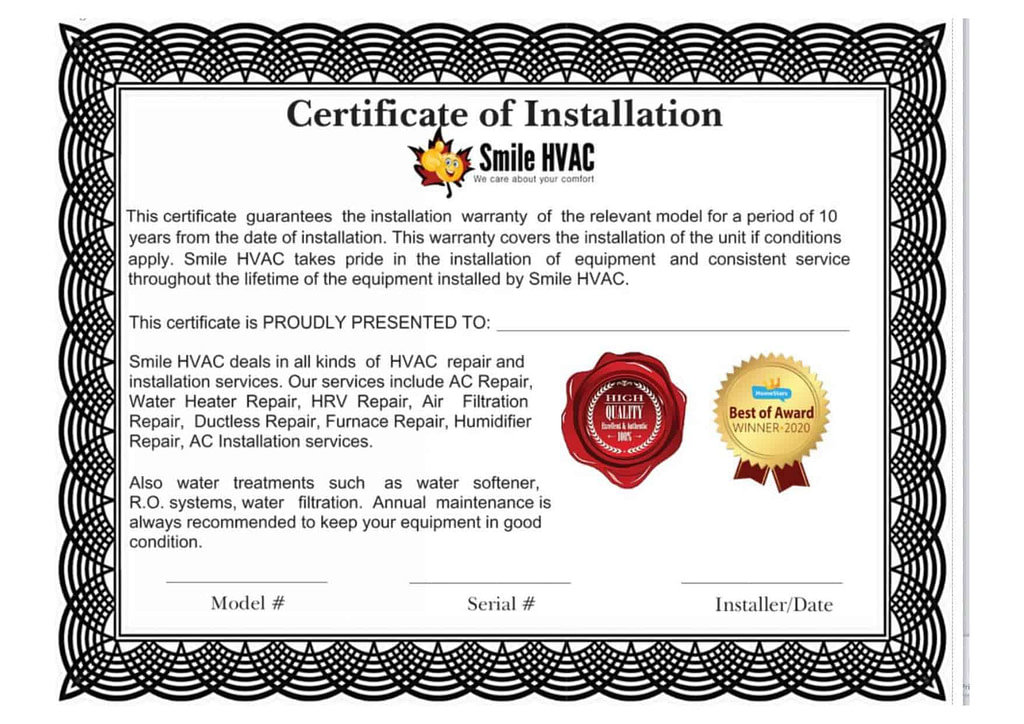 With our Warranty You Can:
With summers on door, the first thing that comes to mind is being prepared with the cooling system. Yes, that's right, your air conditioning needs to be ready. However, if your air conditioning is not working properly or is insufficient and needs a repair, do not delay. Smile HVAC provides ac repair Vaughan services in best affordable prices.
We have professionals to take care of your ac and furnace repair services  in Vaughan and in great Toronto area. We at Smile HVAC are specialize in full house maintenance services from heating and conditioning system monitoring to installing water filters, furnace repairs, water treatment and furniture repair. Our team works in all areas of Vaughan and suburb areas.
Air Conditioner Repair in Vaughan
A little problem in your air conditioning system may further lead to a series of defects that can destroy your investment on cooling. It is better to call the experts if you notice a problem in your cooling system or just give us a call for making a check on your air conditioner. AC repair Vaughan services are being provided at budget prices by Smile HVAC. If you are looking for an air conditioner repair in Vaughan – Smile HVAC is your best choice! 
There could be various problems related to refrigerant, compressor fan, condenser coils, drainage issue. Here are some of the signs that show your ac needs repairs:
If cooling is not being as strong as it was in the beginning, then probably it's a a refrigerant leak that is occurring.
If you feel that the air coming through your AC is room temperature, it could also be because the compressor's fan isn't working properly. The problem can eventually cause the unit to overheat, which would automatically shut off the system due to safety control features.
If your AC unit has poor airflow that could cause it to form ice around the coils. Usually blocked air ducts or air filters that are dirty are possible causes for icy coils.
The condensate drain of your ac can get clogged in some cases while it is humid outside. This happens because of too much moisture in your air conditioner. It may also damage your AC unit's components, so it's important to get this resolved soon.
The thermostat sensor unit essentially measures the temperature of air coming in the room. However, if the sensor is not positioned correctly, your ac can start showing problems in its performance.
Contact Smile HVAC if need our experts to come and perform an air conditioner repair service in Vaughan.
Smile Protection Plan is specially designed for those of us who don't like unexpected "surprises". "Surprises" like when you suddenly have to get out of pocket hundreds of dollars to repair your broken equipment.
Ask us about discounts on combined plans.
Smile
Protection
Plans
Starting from as low as
Smile
Maintenance
Plans
Starting from