Best Gas Furnace Brand To Buy in Canada
As the winter months approach, many Canadians start thinking about how to keep their homes warm and comfortable. One of the most important decisions you'll make is choosing the right gas furnace for your home. With so many options available, it can be overwhelming to decide which brand is the best for you.
At the same time, you might have a dilemma about which one is better for your property. Considering some factors, including energy efficiency rating, installation cost, warranty, and size, can help you determine at some point, but what about the brand? More than this, you should make sure the model you are opting for offers the utmost comfort and cause less pollution than your older furnace.
To help you choose the right one, we have shortlisted some top-rated brands that will be excellent choices in terms of budget and efficiency. These brands are Keeprite, Goodman, Lennox, York, Carrier, Armstrong Air, Amana, Bryant, Trane, etc.
Importance of Choosing a Reputable Gas Furnace Brand
Choosing a reputable gas furnace brand is crucial for several reasons. First, a reputable brand is more likely to produce high-quality furnaces that are efficient, reliable, and long-lasting. Second, a reputable brand is more likely to provide excellent customer service and support, which can be essential if you ever need help with your furnace.
Best Gas Furnace Brands In Canada
Lennox Gas Furnaces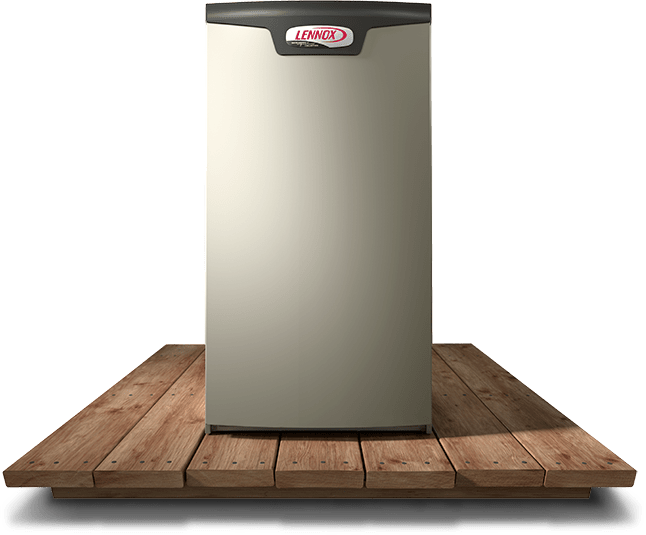 Even though Lennox's most efficient gas furnaces are expensive, they provide maximum durability, comfort, efficiency, reliability, and comfort. Since its inception, Lennox has been producing the most efficient and noise-free systems for the Canadian market. Moreover, they come with a maximum warranty.
Key specification:
Wide range of star-rated units and models available.
Power saver feature.
Noise-free comfort, all thanks to silent technology
Comfort technology allowed full remote supervision and access to the unit.
Wifi-enables, capable of self-diagnosis, touch screen thermostat
Other options
Lennox Gas Furnaces Cost
A Lennox gas furnace ranges between $3000 to $ 7,500. This cost includes registration, material, and labor for installation and removing the old model.
Comes with 10 years limited warranty for components.
Lifelong guaranteed is available for the heat exchanger.
Top-rated models:
Elite Series: EL296E two-stage furnace
Merit Series: ML193 single-stage furnace
Dave Lennox sig collection: SLP98V modulating furnace
Why choose Lennox Furnaces?
A Lennox furnace is recommended because they are consistently ranked for its efficient and noise-free operation. Also, they help save on electricity bills to equalize the initial expenses.
Carrier Gas Furnaces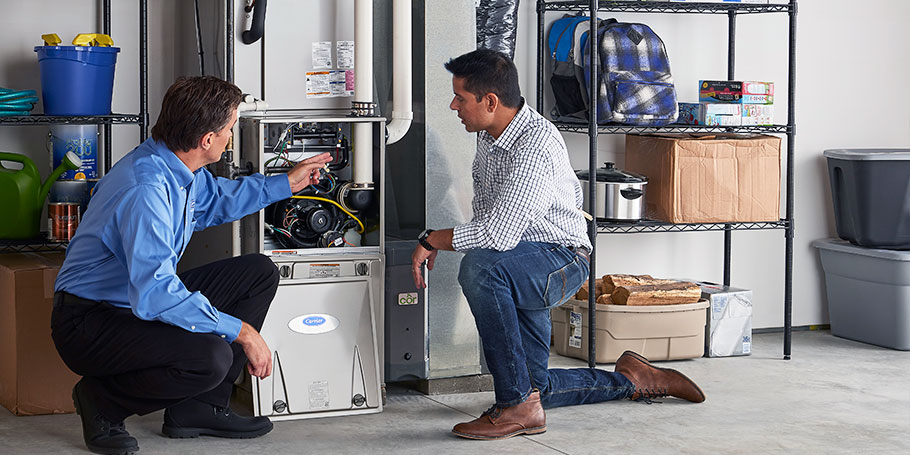 Carrier is on the top when speaking of premium and innovative brands. The brand is a market player in this segment. Their gas furnaces provide constant comfort and are popular for high efficiency with low energy bills and ample features.
Key specification:
Uses upgraded and advanced technology.
Uses comfort heat technology.
Comes with a high-efficiency adjustable speed blower motor.
Independent operation for humidity.
Smart evaporation technology for humidity reduction by 10%.
Feature modulating gas valve
Carrier Gas Furnaces Cost
The price of a gas furnace range between $3,500 to $7,500
Offers a 10-year warranty on components.
On the heat exchanger, a limited lifetime guarantee is offered.
Top-rated models:
Performance Series: 59TP6A Two-stage furnace
Comfort Series: 59SC5A Single-stage furnace
Infinity Series: 59MN74 modulating furnace
Why choose a Carrier Furnace?
Renowned for reliability and efficiency while offering an optimum level of comfort.
York Gas Furnaces
York HVAC and York Furnaces are the two sought-after heating and cooling manufacturers and suppliers. It is known for producing compact household furnace heating systems and is considered a reputed ac and heating brand. A significant advantage of choosing York furnace units is that they come with all the vital parts in one cabinet, which would be a great option for those with minimal property space.
Key specification:
York has various HVAC units with 80% to 95% AFUE ratings.
In terms of energy efficiency, York is amongst the best furnace brands.
Low maintenance cost.
York Gas Furnaces Cost
One needs to pay $3,663 if solely buying a furnace. With installation, they have to pay $5,400.
Impressive warranty options are available.
Comes with 10 years of warranty on components.
Why choose York Furnaces?
Though any HVAC expert does not suggest York, they have a wide collection of good gas furnaces. So check its official website.
Goodman Gas Furnaces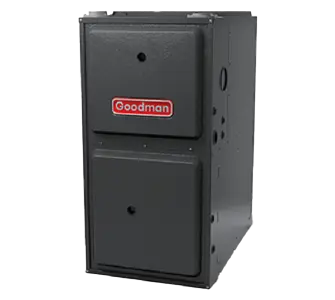 Goodman is a newer market player in this segment. Within a few years, the brand has earned a market reputation while launching a plethora of models on discounts and offers. In fact, various features are available, so choosing the model that meets your needs and budget can be easy.
Everything, from AFUE ratings to extended dehumanization features, is simply perfect. As opposed to other furnace brands, they have a budget-friendly option, which is good value for the price. You will be offered good warranty options if you enroll in your system within 60 days.
Key specification:
Energy star-rated units are available.
Furnace models with 92% to 98% AFUE rating.
Touch Screen Display
Components readily available and repair are noted to be less in charge.
As per reports, appropriately installed gas furnaces by Goodman are reliable.
Goodman Gas Furnaces Cost
Gas furnaces from Goodman typically range from $2,500 to $4,500, including installation.
Top-rated models:
GMSS92 single-stage furnace: bronze
GMVC96 two-stage furnace: silver
GMVM97 modulating furnace: gold
Why choose Goodman Furnaces?
Good warranties options are available.
Low cost.
Upgraded and advanced dehumidifying controls.
Keeprite Gas Furnaces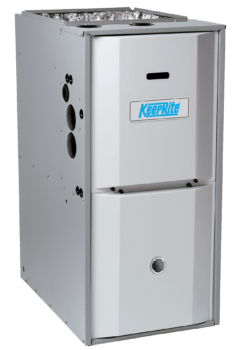 If you are looking for the most quality gas furnace, you can look at Keeprite. In addition to being impressive, their units have high efficiency. Keeprite furnaces offer up to 92% in annual energy use efficiency with options when it comes to AFUE ratings. Regarding reliability, Keeprite is a strong competitor to other furnace brands.
Key specification:
Keeprite furnaces have a wide range of exclusive features.
This value-priced brand provides energy-efficient furnace models.
Also, they offer numerous selections at different price points.
Special features: Communicating Control on premium models, Wifi-enabled, etc.
Keeprite Gas Furnaces Cost
Though the furnace by Keeprite is the most expensive option, customers may find the additional investment worthwhile as the company has a strong reputation for customer service.
The cost of a Keeprite furnace with installation typically ranges from $2,800 to $6,000.
On a few models, a 10-year replacement warranty is being offered.
A lifetime warranty on the unit's heat exchanger is being offered on a few models.
Why choose Keeprite Furnaces?
Keeprite is famous for its fantastic customer service. If a problem is found with the furnace, you can ask for a replacement, which is totally easy to do.
Trane Gas Furnaces
Trane is one such brand that has a comprehensive collection of furnaces at different price points. So, you don't have to worry about cost, whether your budget is high or low. These furnaces come with both optional and advanced features.
Nearly every high-end unit by Priceline is Energy Star certified with a 90% AFUE rating. The features of the Comfort-R solution offered by Trance keep moisture away from the environment while increasing the temperature. Some units also come with advanced air filtering features that eliminate pollutants from the AC.
Key specification
Variable speed blowers feature.
Reduce upkeep costs.
Improve heating units.
Feature Smart thermostats (communicating control system)
Efficient to control humidity levels and temperature.
It can be operated remotely.
Other features, such as comfort improvement suggestions, maintenance alerts, etc.
Trane Gas Furnaces Cost
Trane's gas furnace can cost approximately $3,000 to $4,500 with installation.
Top-rated models:
S9V2 Two-Stage Furnace
XB90 Single-stage furnace
XC95: modulating furnace
Why choose Trane Furnaces?
Its furnace collection has high efficiency of 92 to 97.3% AFUE. Best of all, the brand offer variable warranty options, ranging from 1 to 20 years, based on the unit.
Amana Gas Furnaces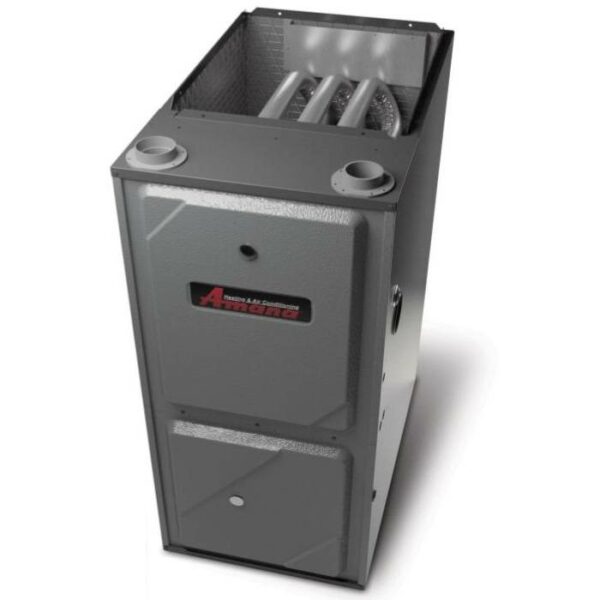 Gas furnaces by Amana come with the best warranties on the Canadian market and have been designed using the latest technology that inspects your unit. The brand is highly focused on offering high-efficiency furnaces under your budget. They have good extended service contracts. On top of this, Amana has various energy-efficient options with a 98% AFUE rating.
Key Specification
All models feature stainless steel tubular primary heat exchangers.
Usage of ComfortBridge Technology.
Easy to pair with a gadget, such as a tablet or a smartphone.
Repairs and Maintenance notification system.
Amana Gas Furnaces Cost:
A newly launched Amana gas furnace can cost between $3000 -$6000 with installation. Due to the plethora of options and extended warranties, the systems cost more than the average.
Top-rated models:
Modulating furnace: AMVM97
Single Stage furnace: AMSS92
Two-stage furnace: AMVC96
Why choose Amana Furnaces?
For the most energy-efficient units, you should choose the Amana brand. The best thing about its furnaces is that they help in saving energy as well as thousands of rupees during winter. Ten-year warranty on components and a unit replacement warranty is also available.
Factors to Consider When Choosing the Right Gas Furnace Brand for Your Home
Now that we've covered the pros and cons of each of the top gas furnace brands in Canada, let's talk about some other factors you should consider when choosing the right brand for your home.
Size of Your Home: The size of your home is an important factor to consider when choosing a gas furnace brand. You'll want to make sure that the furnace you choose is the appropriate size for your home. A furnace that is too small won't be able to keep your home warm enough, while a furnace that is too large will waste energy and money.
Energy Efficiency Ratings: Energy efficiency ratings are another important factor to consider. The higher the efficiency rating, the more money you'll save on your energy bills. Look for furnaces with high Annual Fuel Utilization Efficiency (AFUE) ratings.
Warranties: Make sure to check the warranties offered by each brand. A good warranty can provide you with peace of mind and protect your investment.
Customer Reviews: Finally, make sure to read customer reviews before making your final decision. Reviews can give you an idea of the overall quality and reliability of each brand.
In a nutshell!
Gas-based furnaces are the most used heating units throughout Canada. If you are also planning to replace the old furnace with a new one or buy a new model for yourself, do not forget to check the brands of furnaces mentioned above.