Different Types of Central Air Conditioners
When the temperature on its peak, the demand for AC generally increases. And being selective with air conditioners will ensure that you will have the best system for your own use. Amidst all kinds of air conditioners, a central AC is one of the most cost-effective and efficient options.
Unlike room ACs, central air conditioners are able to circulate cool air throughout your space by using a system of air ducts spread throughout the building, as well as improving the air quality. Additionally, it does not require any type of installation in every space as it is placed in each room in a property that is sufficient to provide cool air to all the rooms individually.
A central air conditioner is designed using multiple types of equipment, such as a condenser coil, evaporator coil, furnace, compressor, blower fan, air handler, etc. You will be amazed to see how magically your central AC works.
But, when shopping for an air conditioner system, you will see a variety of options, including packaged central air conditioners, split-system air conditioners, and more. Knowing the differences between central ACs can help you make the right decisions when upgrading or installing a new system.
Different kinds of Central Air Conditioner Available
Let's go through each central air conditioner type to make the selection easier.
1. Central Air Conditioners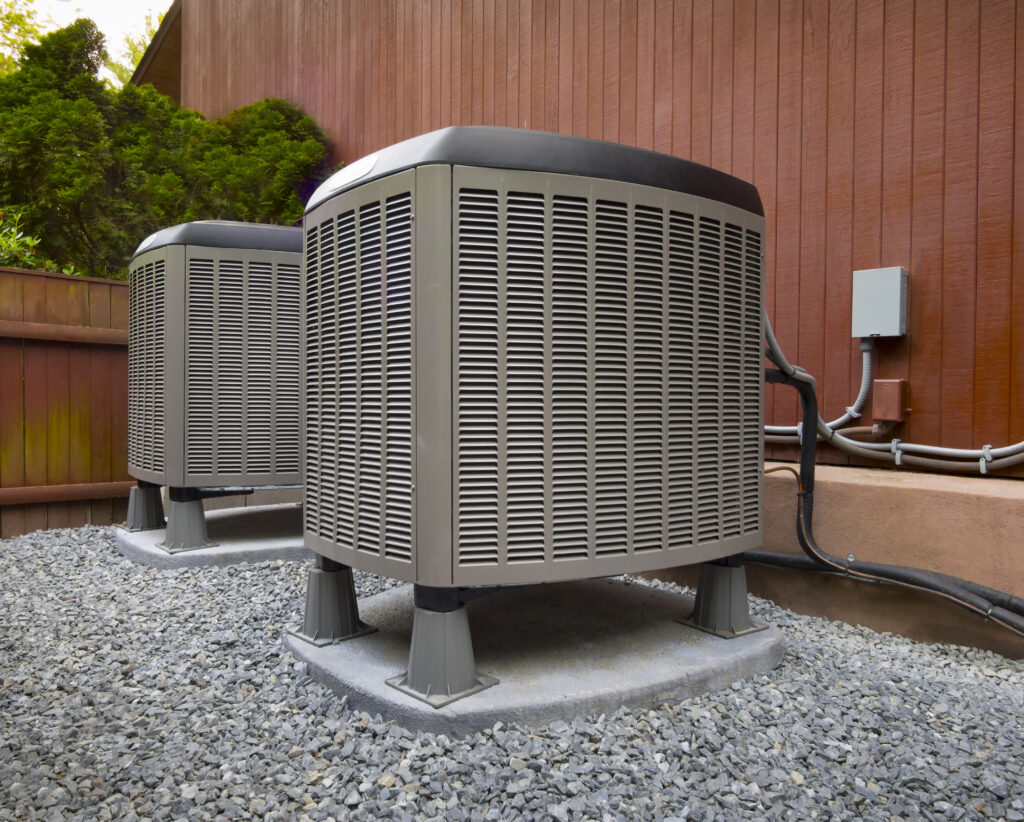 The packaged unit comprises one piece of component that is placed outside the home. Also, it involves a compressor, condenser, and evaporator. Besides featuring a cooling system, this central air conditioner type often features a furnace. This obviates the need for a detached heating system to be installed inside the property. These units often involve a natural gas furnace or electric heating coils.
Packaged central air units are typically placed on a concrete slab adjacent to the roof of a property or a building. Apart from residential purposes, some people use it for very small-scale commercial areas. The return and supply ducts appear inside the home via the roof to the home's exterior wall to connect with the packaged air unit.
Pros:
Being a single system, a packed air conditioner is versatile and easier to place in a house setting.
As opposed to a split system, a packed unit is more efficient. They are designed for being installed in factories.
Cons:
The package system has to endure extreme weather conditions, with every electrical wire, control, and coil exposed to damage. Snow, torrential rain, or hail can affect interior components.
Installing an air conditioner on the roof is a daunting task.
Split System Air Conditioners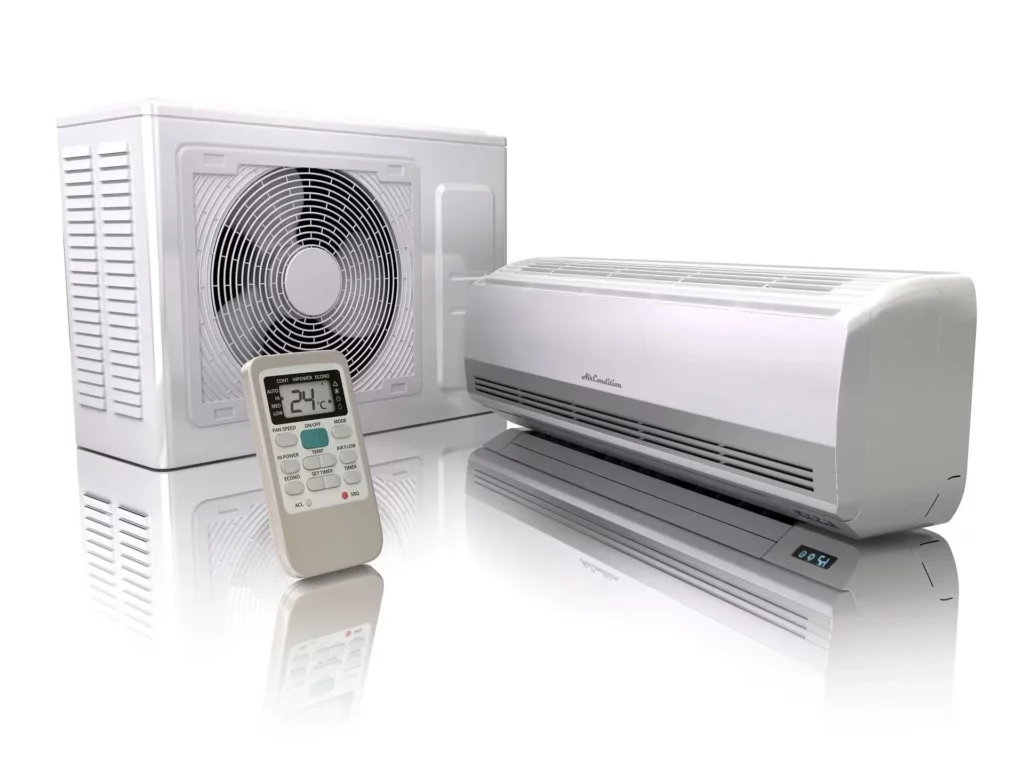 Two different pieces of components come with split units. Of which, one component is placed outside the home and involves the system's compressor and condenser. The second counterpart is placed inside the property and comprises the evaporator.
Almost every split system, in the case of an indoor unit, contains a heat pump or furnace that helps spread the heat throughout the home. If your home doesn't currently have a cooling system, a split air conditioner may be a more cost-effective option.
However, this is the most used air conditioner. These units house an evaporator coil cracked from the compressor and condenser coil. And the coil evaporator pulls moisture and heat out of the air while the condenser coils push cool air through the building's air ducts.
Pros:
Split air systems air conditioner is an energy efficiency option since some of the counterparts are kept inside. While some energy star split units provide SEER ratings which mean higher efficiency. By combining it with a smart thermostat, you can save hefty electricity bills, as well as improve indoor air quality.
Minimal care & maintenance
Because half the components are mounted indoors, your split unit doesn't need to be weather-tolerant. With adequate maintenance and frequent changes of AC filters, your appliance has a healthy, long life while offering quality, cool air.
Cons:
When it comes to installing split systems, you may experience that the installation process is complex.
Adequate installation is most needed.
Heat Pumps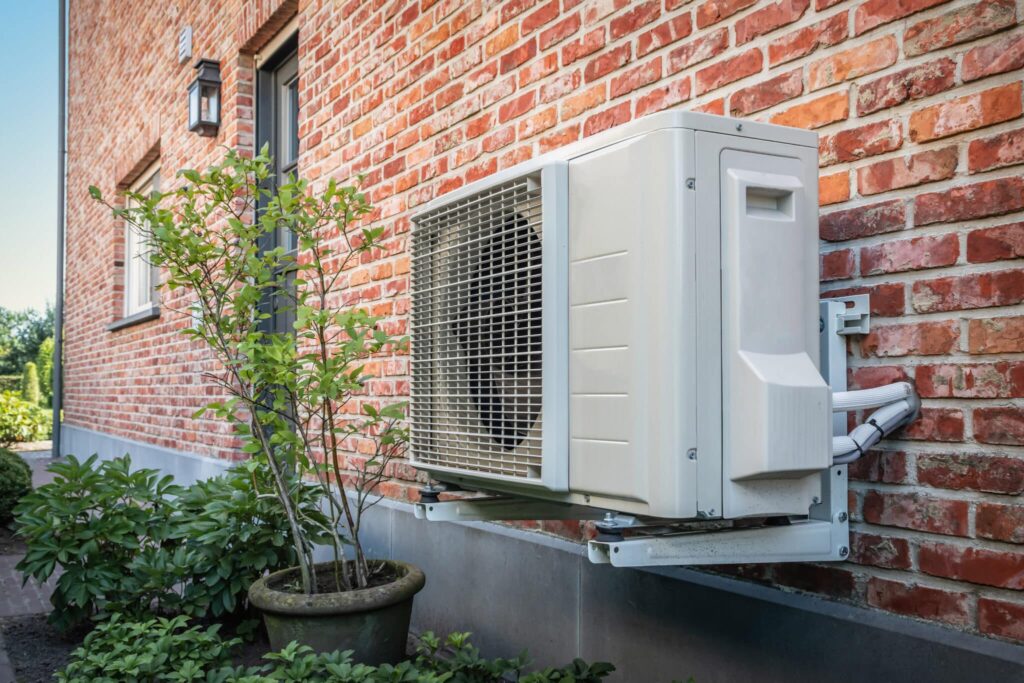 However, they are actually not Air conditioner systems. Like an air conditioner system, a heat pump unit chills the property. They require minimal power to work, thus reducing your cooling costs. They also double as heating units when the temperature begins to drop.
Heat pumps work by using heat movement to cool and heat your building. In the winter months, heat pumps draw warm air from outside the home, and cool air moves outside. During the summer, they push warm air inside the house and push heat out. If you're looking for the most efficient ways to cool and heat your space, the best thing to do is to choose a heat pump.
Pros:
If you have a heat pump, storing fuel at home is unnecessary. This is the best option for one living in off-gas locations and often depends on substitute fuels, like oil.
Compared to the aforementioned AC units, heat pumps don't create any kind of noise. Hence, it is easy to place it anywhere without making any noise.
Heat pump units work with the help of power. An alternative source, solar power, do well. They don't release any substance, which makes them a more eco-friendly option than other modern systems.
Cons:
It can experience problems, including being frozen in cold weather. For this reason, your AC system will damage.
The heat pump installation process needs significant work, thus causing trouble to your garden and house.
Ductless Mini-splits air conditioner
A ductless mini-split does well if your space hasn't had a major air conditioning system or there is a lack of ductwork. This unit features an indoor air-handling unit and an outdoor compressor, like an ordinary air conditioner.
Though they work with blowers attached to them, a small hole is high on the wall. In simple words, they don't operate via ductwork. These systems suck air from the inside and flow it with refrigerant to cool it.
Finally, the cool air blows back into the room. One of the notable benefits of installing these systems is that they are more efficient. A significant drawback is that they are able to cool the space where they are placed. So, you will have to place one in most rooms.
Pros:
Energy-efficient and good air quality
Unlike traditional HVAC units, mini-split units are generally more power efficient as they don't release conditioned air to leaky ducts.
They tend to be economical and easier to place as compared to traditional units, making them an ideal option for people who don't need to pay the expense of a yearly installation by experts.
The unit is also perfect because it offers instant cooling without having to wait for minutes. In fact, you can save on hefty electricity costs.
Cons:
Unlike standard units, mini-splits require proper space as they feature two outside units, just like a window air conditioner.
The biggest con is that it doesn't offer as much cooling and comfort during the hotter months.
Conclusion
If you're planning to install a new cooling system or replace it with an old one, you have 4 major options to choose from. They all have different pros and cons. Read the aforementioned information to know about central ac units in-depth.