Carrier Furnace Repair, AC Repair and Installation and other HVAC services
Certified Carrier Furnace & AC Repair Company
If you need Carrier furnace repair, you probably want to know what repair services you can get if you call Smile HVAC for help. If you ask us for support, we can do small or large repairs according to your needs and situation. We can fix everything from thermostats and igniters to broken fans and more. Our mission is to support you and give you the results you believe in, and we will do our best to provide you with an excellent Carrier furnace repair service.
Our team can repair any furnace model. With multiple groups and locations that can be sent via GPS, we can directly send the nearest heating team to your door. Smile HVAC is licensed to many companies and can service and repair all types and models of cooling and heating systems, not just one.
10-Year Installation Warranty for HVAC Systems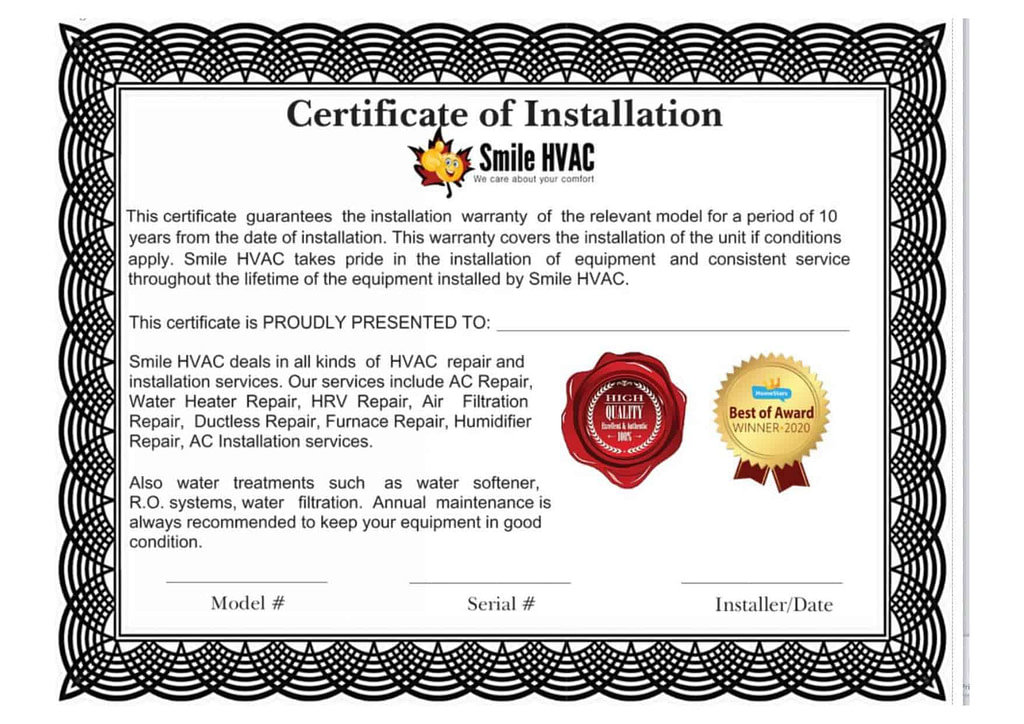 With our Warranty You Can:
Buy HVAC Equipment with Installation
Most Common Carrier Furnace Problems
Whether you have a gas furnace or an electric one, understanding how they work and the most common furnace problems are essential.
Carrier furnace is not igniting
Usually, the pilot light of the furnace also called an ignition sensor, is a reason why your furnace is not igniting. How to detect this issue? If you can hear the click sound that the furnace makes but it still does not ignite, you have a pilot light issue. You can try cleaning the sensor or call a professional for help.
Carrier furnace blowing cold air
If your Carrier furnace is not working or letting out cold air instead of warmth, you have an issue. This might be due to the fan limit switch not working correctly. If that is the case, check your thermostat for a LED light on your furnace control board. 
Carrier furnace is leaking water
A Carrier furnace leaking water may mean that you have a condensation issue. But, it is not always the case. Sometimes a carrier furnace's secondary heat exchanger can also be the cause of the leak. If you are not sure why your furnace is leaking water, call Smile HVAC for immediate help.
Carrier furnace is not heating
If your Carrier furnace is not heating, then maybe your flame sensor is dirty. Use an abrasive pad to clean it. In case the furnace is still not working correctly,
Carrier furnace flash codes
What does it mean when your Carrier furnaces are flashing codes? The first thing you need to know is that every code is different and implies a particular thing. The first number is going to be determined by the number of short flashes, whereas the number of long flashes determines the second one. We suggest you call the Smile HVAC team to avoid all confusion and repair your furnace.
Carrier furnace keeps shutting off
When a Carrier furnace keeps shutting off, this could mean that there is a low airflow issue. In order to solve this, you need to get your filters changed often. Not doing this will eventually make your exchanger overheat and your furnace shut off
Smile Protection Plan is specially designed for those of us who don't like unexpected "surprises". "Surprises" like when you suddenly have to get out of pocket hundreds of dollars to repair your broken equipment.
Ask us about discounts on combined plans.
Smile
Protection
Plans
Starting from as low as
Smile
Maintenance
Plans
Starting from
Installation of Carrier Furnace
As a new homeowner, or if you want to change your furnace, a Carrier furnace installation can be great energy and money-saving option in the long run. Furnaces today are a lot more efficient than the ones we remember from our childhood.
This means you can choose from many options, according to your heating needs. A Carrier furnace is definitely one of the best brands in the HVAC industry. We do recommend our clients to install Carrier. It is an experienced brand that offers high-quality furnaces and central air-conditioning units. To schedule an installation of a Carrier furnace, call Smile HVAC today.
*Get 10% OFF on your Service Call when you book online.
Carrier Furnace Repair Near Me
During winter, it becomes critical to get a quick and reliable Carrier furnace installation. Every winter, on cold days and hard days, and humid summers. Suddenly. When a problem happens, you and your family are unhappy and uncomfortable. Gas furnaces have been developed and tested to operate reliably over the years. Still, regular furnace operation and routine maintenance are the keys to keeping your heating system up to high efficiency and improving your life.
Ignoring the constant maintenance of the furnace can lead to high electricity bills, reduce comfort, and make parts of the furnace work harder, leading to a reduction in service life and, in some cases, a complete failure or error in the furnace system.
While most homeowners can quickly deal with cleaning or replacing the air filter, contacting Smile HVAC system professionals qualified to check their furnace and appliances regularly or for the installation of Carrier furnace can help ensure reliability and longevity. Sometimes, they prevent major emerging issues. However, if you want to keep your furnace warm in the coming years, remember to maintain it regularly.
Carrier Air Conditioner Repair and Installation
When you need Carrier air conditioner repair in your home, please call our experts to establish a trouble-free wireless system. From the initial to the final review, we will provide professional and insightful work, and you will be satisfied with all services. Our Carrier air conditioner installers can help you browse through many minutes of options to find the most effective system and install it quickly to relieve your family pressure.
Central air conditioning units are usually part of a complete cooling and heating system. If you have an all-electric system, the air conditioner can be powered by a heat pump. In both ways, there are many components and many ways the system can fail. Some examples include:
Continuous operation / unresponsive cooling: During hot and humid days, every HVAC system works harder. However, if your system seems to continue to function without completely cooling down, there could be a potential problem. When demand is high, smaller units will struggle—low refrigerant content results in a longer cycle and less efficient refrigerant. Dirty air filters, dirty evaporator coils (interior), or dirty condenser coils (outside) can also degrade performance and efficiency. Try cleaning or replacing the air filter or before contacting an air conditioning repair specialist.
Start-and-stop (cycling): If your machine seems to start, shut down, and turn on, your dealer can install a more extensive system. If the refrigerant component is low, it is also a problem in the AC system, causing the system to perform abnormally. A filter or highly airtight filter with a fifth or black input of the evaporator can have similar effects. Cleaning or adjusting the air filter can help, but you need to blow air to clean the evaporator coil. This is why it is essential to get a high-quality air conditioner installation of Carrier.
Call Smile HVAC
Deterioration of HVAC equipment (heating, ventilation, air conditioning) can cause endless problems if not fixed. Smile HVAC companies provide high-quality HVAC services, including furnace installation and repair, AC repair and installation, water distributors, softeners, humidifiers, heat recovery ventilation, air filtration, and more.
Regardless of the age of the equipment, we will investigate and give advice. All professionals hinder your integrity and transparency and ask only for the necessary modifications. Our customers well reward our integrity and professionalism. Call us if you are looking for a plumber near you. We handle all your HVAC fixations and guarantee high-quality work at the best price.
Authorised Licensed Technicians
Smile HVAC is authorized and licensed to service over 30 brands, so if you own any HVAC equipment from these brands, you don't need to call two companies. Smile HVAC will help you solve all HVAC-related issues and will assist with repairs and installations. We work with all brands including Lennox, Goodman, Amana, Keeprite, Bryant, Daikin, Carrier, York, Trane, Comfortmaker, Payne, Tempstar, Rheem, Ruud and Mitsubishi Electric