Comfortmaker Furnace Repair, AC Repair and Installation and other HVAC services
Certified Comfortmaker Furnace & AC Repair Company
Comfortmaker, aside from being one of top-tier HVAC manufacturers, also offers excellent warranty coverage in case of Comfortmaker furnace repair needs. The brand provides a variety of air conditioning and furnace units to choose from on a different range of budgets depending on your preferences. Besides, they're all energy-efficient and dependable.
However, no matter how durable and exceptional their units are, specific problems can arise now and then. This is where a Comfortmaker furnace repair service comes in. This is why the company made sure to keep their customers happy by providing outstanding repair services and warranty like a limited No-Hassle Replacement Warranty for premium products.
Below is valuable information to help you deal with these problems.
10-Year Installation Warranty for HVAC Systems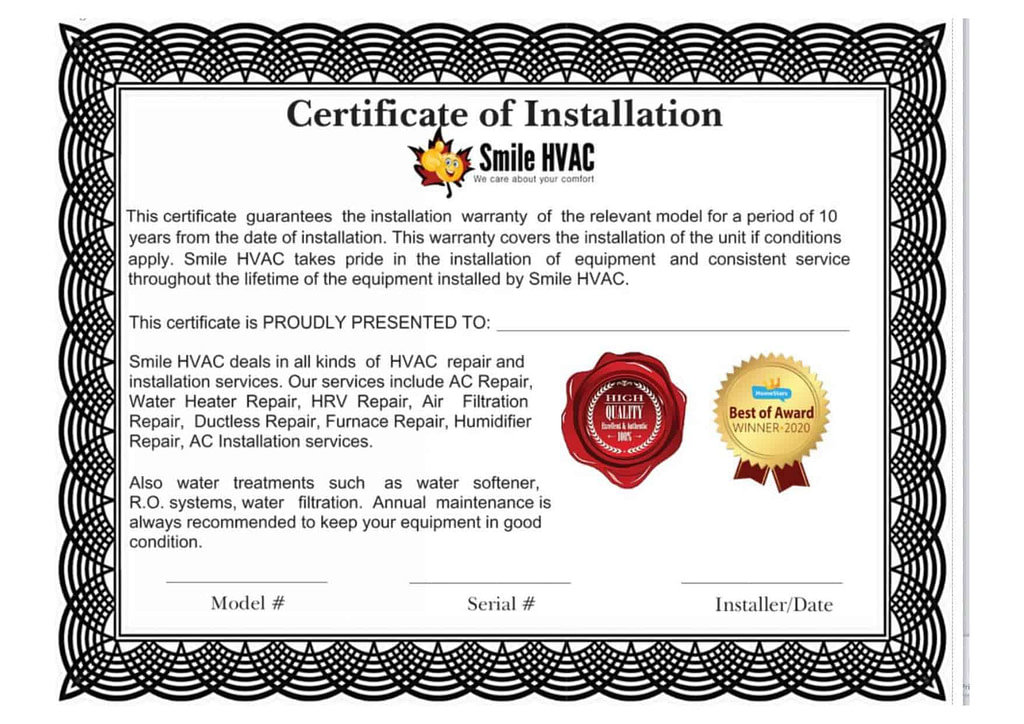 With our Warranty You Can:
Comfortmaker Furnace Repair Near Me
In case you need a furnace repair, it is best to look out specifically for a 'Comfortmaker furnace repair near me' instead of opting for a unit replacement.
Although the company offers a No-Hassle Replacement for your units and provides its consumers with a 10-year parts warranty and extra coverage, it would be better to have it repaired instead for the following reasons:
The cost of repair is usually cheaper than the cost of replacement

The unit is still under warranty (check your terms)

The unit is not over ten years old, If it's older than 10 years, in most cases it's recommended to replace it with a newer version.
Comfortmaker Air Conditioner Repair and installation
Amidst the high-quality performance of Comforter Air Conditioner units, keep an eye on the following problems that might need a Comfortmaker air conditioner repair:
Central air conditioning is not cooling

Central air conditioning is too loud

The condensing unit does not run

Condenser fan does not run
For the air conditioner installation of Comfortmaker, your best option would be to hire experienced technicians for their expertise and reputation in-unit installation and maintenance like Smile HVAC. These Comfortmaker air conditioner installers and professionals are trained to go beyond consumers' expectations and are equipped with the knowledge on the product to be able to respond to any query you may have. 
Moreover, they have information about the latest products and their features. They can also give you professional advice on which unit is best for your needs. You can also talk about payment methods and have the option to choose from paying in full or in monthly installments.
The cost of installation is included with the overall unit purchase and may range from $2,750 to $5,500.
Smile Protection Plan is specially designed for those of us who don't like unexpected "surprises". "Surprises" like when you suddenly have to get out of pocket hundreds of dollars to repair your broken equipment.
Ask us about discounts on combined plans.
Smile
Protection
Plans
Starting from as low as
Smile
Maintenance
Plans
Starting from
Most Common Comfortmaker Furnace Problems
Comfortmaker furnace problems can vary from one unit to another, so we will specify the most common issues that you might have experienced as a consumer. Some of these issues can be fixed by yourself by using Comfortmaker furnace troubleshooting guides, which might be something you would want to try before deciding to have your unit repaired or replaced by professionals.
Comfortmaker furnace is not igniting
A faulty igniter may cause this. To start up the gas burner, the igniter usually glows a bright orange; however, if there are problems with it, it won't ignite at all.
Comfortmaker furnace blowing cold air
The blowing of cold air may be caused by a dirty air filter, causing the dirt to block airflow on the heat exchanger. This eventually leads to overheating and shutting down. If not, then your unit's "fan" setting might be turned on.
Comfortmaker furnace is leaking water
The most common cause would be a condensation leak due to clogged drain or tubing, problems with the condensation pump (if any), or a crack or break in the condensation line.
Comfortmaker furnace is not heating
Possible causes of your furnace not heating are dirty and clogged filters that cause the heat exchanger to overheat and shut off instantly. It can also be a faulty flame sensor that is unable to detect a flame, causing the control board to shut off immediately.
Comfortmaker furnace flash codes
 If the furnace flashes codes mean that there might be problems with your unit, it may be a faulty blowing motor, clogged filter, low flame signal, restricted airflow, etc.
Comfortmaker furnace keeps shutting off
A defective flame sensor may also cause this. The flame sensor will shut down the control board if it is unable to sense any flame. Also, if it is dirty or defective, it won't be able to function, causing it to shut off frequently.
*Get 10% OFF on your Service Call when you book online.
Comfortmaker Air Conditioner Repair & Installation
With Comfortmaker furnace installation, your homes are guaranteed to be equipped with a 100% proven and tested high-performing, energy-efficient, durable, and superior quality furnace for your home.
Every unit is designed to cater to all types of consumers with different price preferences to choose from. Also, with the installation of the Comfortmaker furnace, you can be sure that it is long-lasting and reliable regardless of the type of unit you purchased.
Comfortmaker offers various furnace series and models depending on their features:
Ion Series – Features 4 different models with temperature control as well and energy-saving heating because of its dual-fuel abilities. For additional comfort, you may use it with an air purifier and thermostat, and for your convenience, it may be accessed with a Wi-fi enabled remote.

QuietComfort Series – Comes with only one model equipped with a variable-speed blower, fully insulated cabinet, excellent limit control, and two-stage operation that guarantees comfort and prevents overheating.

Performance Series – Reliable budget-friendly gas and oil furnaces with single-stage and fixed-speed operation and dual-fuel capabilities that ensure efficiency and comfort.

SoftSound Series – Its main feature is quiet comfort. This series offers three oil furnace models with heightened efficiency with variable-speed operations, dual-fuel capabilities, and an insulated steel cabinet.

 
The cost of installation is included in the overall pricing of the product and would range from $2,900 to $6,000. You can contact Smile HVAC  professionals for more information about this.
Call Smile HVAC
Unless fixed, furnace and air condition problems can cause a lot of discomforts, inconveniences, and possible dangers in our homes. In this case, simple troubleshooting methods aren't working, so it would be best to call for professional help. 
When choosing the best repair and installation service for your Comfortmaker furnace or air conditioner, there's no need to look for anything else far as Smile HVAC got you covered. Our technicians are approachable and skilled enough to assess and give you trusted advice.
Moreover, the company's technicians only charge for the necessary fixes, which are fully transparent. We always let you know the price in advance, so you won't have any unexpected fees. We are well-known among HVAC consumers and have a lot of positive reviews from our customers.
Call us today and we will take care of your HVAC unit!
Authorised Licensed Technicians
Smile HVAC is authorized and licensed to service over 30 brands, so if you own any HVAC equipment from these brands, you don't need to call two companies. Smile HVAC will help you solve all HVAC-related issues and will assist with repairs and installations. We work with all brands including Lennox, Goodman, Amana, Keeprite, Bryant, Daikin, Carrier, York, Trane, Comfortmaker, Payne, Tempstar, Rheem, Ruud and Mitsubishi Electric