Bradford Furnace Repair, AC Installation and other HVAC services
10-Year Installation Warranty for HVAC Systems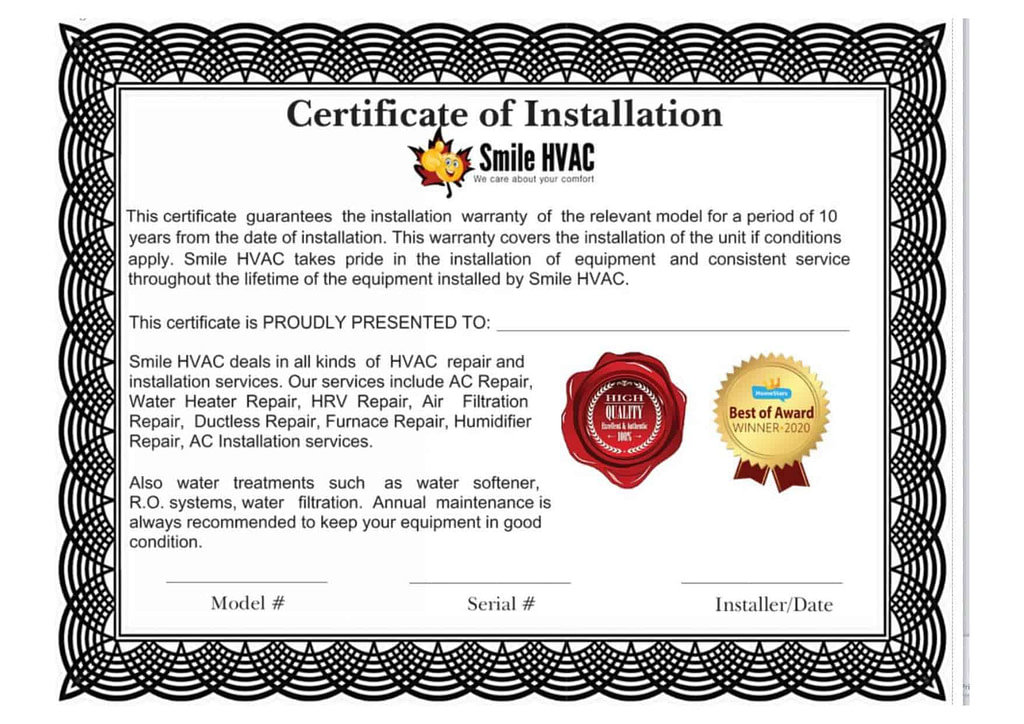 With our Warranty You Can:
Buy HVAC Equipment with Installation
You may know it at your expense that no device can last forever. And taking a cold shower in the middle of winter is a pretty unpleasant experience. So, to optimize the work of your furnace and extend its lifespan, it is better to maintain it properly and carry out some regular repairs.
Our team of experts in furnace repair in Bradford Ontario will help you with all your heating work. We will quickly come to Bradford and its suburbs to help you out with all your problems. It's worth to mention that we work with the furnaces, water heater, radiator, heating cylinder, air conditioner, ventilation, maintenance, convectors, and more. Smile HVAC is your go-to specialist in the furnace and air conditioner repair in Bradford.
Furnace Repair in Bradford
If you're looking for someone to perform a furnace repair in Bradford – Smile HVAC is always ready to fix your HVAC unit! Choosing the right technician for the installation or troubleshooting of your furnace is not an easy task. Most of the time, you do not necessarily have time to do the research yourself. Do not worry! We have the best heating engineers, competent and qualified to meet all your needs. Smile HVAC is working with all kinds of tasks: installation, repair, maintenance of your furnace or other HVAC units. We can guarantee that our specialists will suit not only your most urgent requests and needs but also your budget!
We have fully certified professional HVAC technicians, ready to come for emergency repairs while the best quality service. Note that our Bradford heating and air conditioning engineers know how to deal with all kinds of furnaces: on the floor, on the wall, in oil or gas, with high energy performance, or at low temperature. We perform the installation, maintenance, or troubleshooting of your furnace with only quality materials to comply with energy standards. By using our service, you can benefit from a tax credit. With extensive experience in HVAC in Bradford, we also offer personalized services, adapted to the heating needs of each home. Don't hesitate to contact Smile HVAC.
Emergency Furnace Repair in Bradford
Nothing is stronger than our commitment to the customers. Our HVAC technicians have the expertise to handle all problems with any heating system. Whether you are preparing for an inspection, maintenance, or looking for the HVAC unit repair, Smile HVAC's technical support will cater services according to your requests and needs. Moreover, we offer service 24/7 all year round of furnace maintenance in Bradford. If you need to fix your appliance on the same day – Smile HVAC offers an emergency furnace repair in Bradford to quickly fix your furnace.
Example of parts we offer: parts for a burner, ignition transformer, safety valve, thermometer, pressure gauge, gasket, kettle fittings and many others.
Other services we offer:
● Reconditioning of boiler rooms
● Replacement of standard or grooved tubes
● Refurbishment of doors and combustion chambers
● Mechanical, electrical and control overhaul
● Burner replacement
● Chimney and purge recuperator
● A mobile unit and boiler rental
We offer maintenance services of all types and brands of furnaces. We've got a lot of expertise and knowledge in HVAC units services. A team of highly experienced professionals is available to repair or install all types and all brands of industrial and residential furnaces.
Smile Protection Plan is specially designed for those of us who don't like unexpected "surprises". "Surprises" like when you suddenly have to get out of pocket hundreds of dollars to repair your broken equipment.
Ask us about discounts on combined plans.
Smile
Protection
Plans
Starting from as low as
Smile
Maintenance
Plans
Starting from
Air Conditioning Repair and Installation in Bradford
Smile HVAC understands how precious your time is. That is why we are known for our quick and effective solutions, allowing you to get back to your normal life soon. Our HVAC technicians will help you with installation, air conditioner repair in Bradford, or maintaining your HVAC units in optimal condition. Smile HVAC can help you get good results quickly and cost-effectively.
Let us carry out your air conditioning, ventilation, heating, and refrigeration projects in the commercial, industrial, and residential sectors. Offering our air conditioning services in Bradford, our team will do the necessary job meeting all your requirements and needs. Smile HVAC provides innovative solutions to lower costs in the long term. Our expertise allows us to accurately assess each situation and find a solution adapted to your needs.
Best HVAC Technicians in Bradford
Smile HVAC in Bradford offers residential and commercial tailor-made services to our customers. We offer a full range of excellent and efficient products and appliances for exceptional comfort all year long. We offer the best to our customers: we use major brands such as KeepRite, Gree, Goodman, Soluvac, and Direct Air. Count on Smile HVAC team for all of your heating, air conditioning, and ventilation needs. We repair and install furnaces, air conditioners, central heating systems, air exchangers, central vacuums, and range hoods.
We always stick to the best installation standards of manufacturers. Smile HVAC also provides recommendations, particularly about the maintenance of the HVAC units. If you want to get an exceptional heating and air conditioning service in Bradford, call our team and our customer support will take care of you on the same day.
*Get 10% OFF on your Service Call when you book online.
Water Heater Repair in Bradford
Calling our experts for water heater repair in Bradford is the guarantee of a quick and correctly performed fix. Does your water heater doesn't heat good or has cold water? Do you have a problem with the flow of gas feed water or domestic water? You have a low flow of hot water, or maybe tap pressure is not enough?
Our HVAC technicians will troubleshoot, detect and repair your water heater. This may be due to a leak or another factor that we may discover on the spot. A water heater malfunction may occur due to the wear of a part, a resistance problem, a faulty thermostat or an electric short circuit. Our technicians offer all range of services with water heater – troubleshooting, repair, installation and maintenance.
Smile HVAC offers you a complete diagnosis and the repair of your water heater. If the repair of your water heater is too expensive or unnecessary, our experts will replace it. We offer you the best solution according to the circumstances and always at the best price. The water heater is one of the most fragile devices in plumbing, especially when it is not well maintained. The coil inside the water heater pipes hot water can easily crack due to corrosion, poor maintenance, or descaling. Always call to professionals at Smile HVAC for the best water heater repair service in Bradford.
Since the fall, your home's heating system has been running at full capacity. Were you aware that this device does not only heat your home? In addition to ensuring your comfort, it also serves to clean the air in your house or apartment. Their primary role is to capture the particles produced, among other things, by cooking, tobacco smoke or hearth, animal hair and all types of dust generated by your domestic activities or coming from outside.
Hence, it is essential to check the filters during frequent maintenance of the house's hot air generator system. By neglecting to clean or change them, you risk breathing air with the high rate of dust, in addition to harming the performance of the heating system.
There are several kinds of filters on the market: fibreglass, electrostatic, electronic, and pleated. Depending on their type and quality, the air cleaning capacity varies enormously. The best way to prevent the build-up of unwanted dust and particles in the air is to reduce their chances of getting into the home. Smile HVAC technicians offer the best air filtration services and humidifier repair in Bradford. Here are some tips to improve the air quality in your home:
– Refrain from smoking inside.
– Keep to a minimum the number of surfaces that collect dust, for example of open shelves, rugs, and carpets, furniture padded and others.
– Reduce the infiltration of outside air loaded with particles.
– Use a good heat generator filter.
– Clean dust with a vacuum cleaner or a broom.
These few recommendations will help reduce the amount of visible dust in the house and help to save the filters in your furnace.
Water Softener Repair & Installation in Bradford
Water softener repair in Bradford is the solution to many problems with water. Hard water is one of the challenges in Bradford, many people get help from water softening companies. The water people get from the river isn't the best quality and cannot be used directly from this source. The water is filtered before it is used so the residents can consume it.
The hard water can cause a variety of issues. The major one is the clogging of water pipes. These cause them to block and stop the flow of water. This can cost the homeowners an extra amount of money to fix it.. Water softening is the solution to all these problems since soft water cannot have the same effects. The result of water softening is pure, clean water that is safe for human use and consumption. Water easily foams with soap and detergents cutting down the extra costs.
Smile HVAC provides all water softener-related services in Bradford Ontario. The company offers water softener repair, maintenance and installation. Pipes clog over time, diminishing the water flow. Hence, it is necessary to have regular maintenance of a water softener system to maintain the water pressure. Our experts can handle all types of water softening types of equipment. Smile HVAC does not charge much for its services, making it affordable for the residents living in Bradford. Our fundamental beliefs incorporate genuineness and respectability. For Bradford water softener installation and repair services, contact Smile HVAC.
Reasons to Choose Smile HVAC
In Bradford, people face harsh winters and scorching summers. It is, therefore, essential to adopt good heating and air conditioning habits. For this reason that quality ventilation, air conditioning, and heating systems have become necessary for our comfort.
Every effort we make is to provide you with peace of mind. The satisfaction of our customers is paramount and we strive to offer a service of impeccable quality by providing a turnkey service or personalized support according to your projects.
Our team of expert consultants is qualified and experienced to work precisely and efficiently. Smile HVAC's technicians are trained regularly and keep up with new technologies. Our expertise allows us to advise and analyze your requests to offer you the best equipment adapted to your needs and your budget. You will benefit from a service free of hidden fees, appointment cancellation fees, and very flexible working hours. Smile HVAC is at your service 24/7.
Authorised Licensed Technicians
Smile HVAC is authorized and licensed to service over 30 brands, so if you own any HVAC equipment from these brands, you don't need to call two companies. Smile HVAC will help you solve all HVAC-related issues and will assist with repairs and installations. We work with all brands including Lennox, Goodman, Amana, Keeprite, Bryant, Daikin, Carrier, York, Trane, Comfortmaker, Payne, Tempstar, Rheem, Ruud and Mitsubishi Electric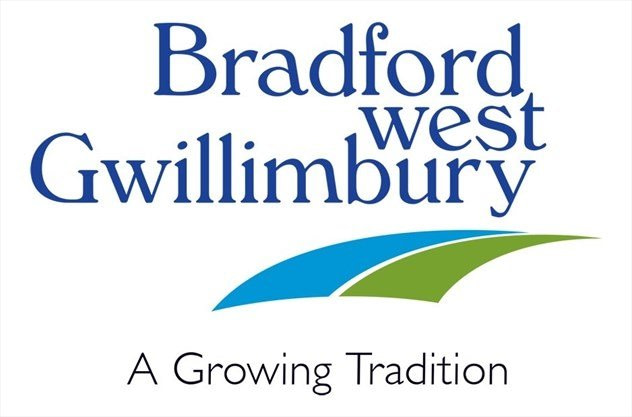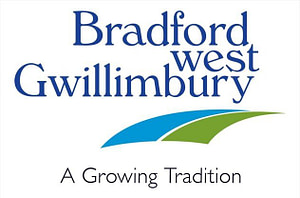 Bradford is a town located in Ontario in Canada. It is 35 kilometres from Toronto.  The area was integrated as a town in 1960. According to the 2016 statistics, the total population of Bradford was 29,862. There has been an increase in the population percentage, which keeps the town growing and developing. The more people, the more an area grows very fast. The town has people from several countries, including Portugal, Germany, United Kingdom, Italy, Ukraine, and the Netherlands. The largest population of Bradford is European. The main activity for the people in the past was agriculture. People depended more on agricultural produce for financial matters.
Bradford is the 10th secure place to live in Canada because it is not too large compared to other towns. Despite that the country is small, it has some of the fascinating features that tourists come to enjoy, and they include Holland Marsh, Exhale Spa and Salon, the Highlands Golf Club, the Kidergy, Village Inn, Skydive Toronto, and Fairy Lake Park, and other tourist's attraction site. It is suitable for families to take their time and visit these places for relaxation purposes. Moreover, since it is a peaceful town, people can relax without any unnecessary destruction. According to weather reports, the highest temperature is approximately seven °C, the low temperature is estimated to -1°C, and the average is approximated to 3°C. These temperatures vary according to the months. The month of July is the hottest in Bradford, and January tends to be the coldest month. It is suitable for people to determine the best month to visit Bradford freely without carrying much staff of keeping warmth.
Bradford town was developed to be suppliers of agriculture in the area. For a short period amid the 19th century, lumbering became a significant industry because it was removed to enhance farming. Bradford aims at improving people's skills and knowledge in matters of agriculture. Also, he helps people to remain active and find something useful to engage in, and this is done during the rainy season, where people can cultivate.
During the hottest season, when people tend to spend much time on the beaches, they should also aim to install HVAC systems in their houses and offices to help regulate the high temperatures and make the surroundings favorable and conducive to work relaxation. Having a calm office climate improves the level of output and boosts morale amongst the employees. Also, HVAC systems control the temperature indoors; they also enhance the quality of the air we breathe.