Mississauga AC Installation, Furnace Repair and other HVAC services​
10-Year Installation Warranty for HVAC Systems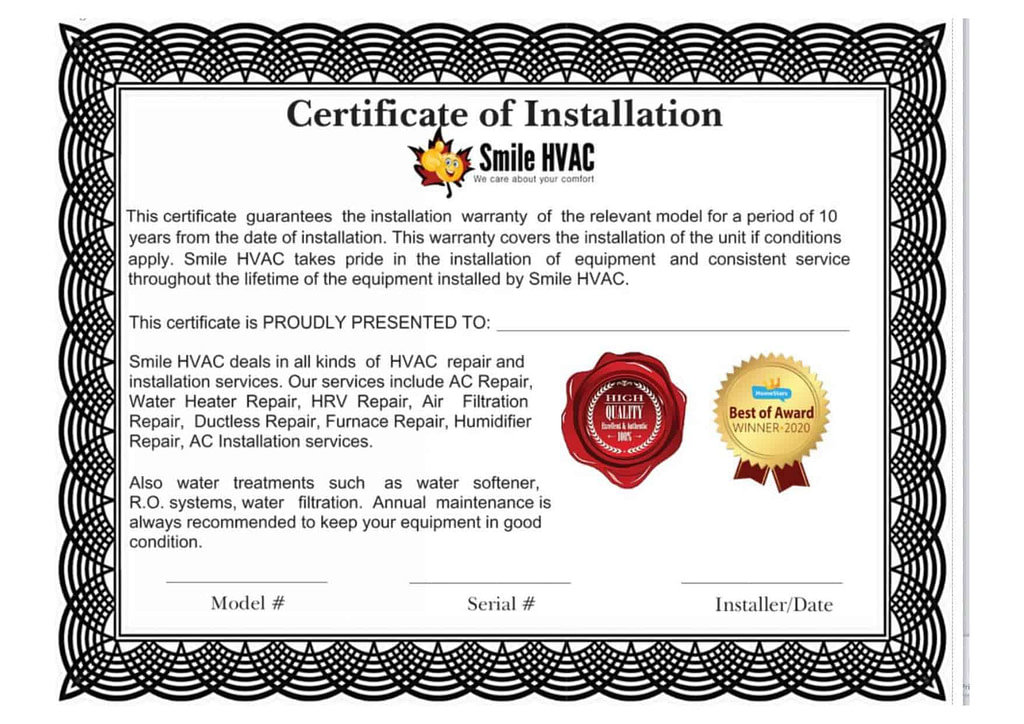 With our Warranty You Can:
Why take a chance when it comes to installing new or repairing and maintaining existing air conditioning, furnace, and ventilation units? Let the quality professionals at Smile HVAC do the work for you quickly and correctly.
We are expert HVAC contractors in Mississauga and we can handle either commercial or residential needs. With one call to Smile HVAC you can get started on creating the interior environment that you want and need.
Smile HVAC is a local Ontario area company that has been here for many years helping local Mississauga customers install and maintain HVAC and air quality equipment.
So if you are in need of heating and air conditioning repair services in Mississauga, Smile HVAC can take care of all of your interior environmental needs.
Furnace Repair Mississauga
If you are looking for a furnace repair in Mississauga – Smile HVAC is your choice! In Canada a robust and properly operating furnace is essential. So when your furnace is not operating at full capacity, it can mean some pretty cold days and nights for you.
If you have had it with your old furnace and are ready for a replacement, let the experts at Smile HVAC help you. Our staff of trained professionals have years of experience with all makes and models of furnaces so you can rest assured that we can find the perfect furnace for your needs.
There are many questions that need to be answered before you purchase a new furnace. Some things to be considered include what type of furnace to buy, how it will be ducted throughout your space, and its energy efficiency rating. At Smile HVAC we can assess your needs and answer all those questions for you to make sure you get the optimum heating system. "Furnace repair Mississauga" is one of the most common queries people are searching in GTA. Choose Smile HVAC and you won't be disappointed.
Best HVAC Services in Mississauga
If you have an existing furnace that is simply in need of furnace repair services in Mississauga, Smile HVAC is here to help with that as well. Our staff has the know-how, quality parts, and experience to fix your furnace quickly.
At Smile HVAC we offer same day service and in case of an emergency we offer appointment times within 24 hours of your first call to us.
A great preventive measure for your existing furnace is performing regular maintenance. At Smile HVAC we can perform this maintenance and annual basis, or more frequently if needed, to keep your furnace operating at peak efficiency. 
When you take this step with your furnace, you will notice a much lower energy bill because your furnace will operate in its most effective manner with no energy wasted. If you are looking for Mississauga furnace repair – don't hesitate to contact Smile HVAC.
If you are experience the following issues with your furnace, don't hesitate to call Smile HVAC:
furnace is not blowing hot air
furnace is not igniting
furnace fan is not working
furnace blinks error codes
furnace water pump is leaking
Smile Protection Plan is specially designed for those of us who don't like unexpected "surprises". "Surprises" like when you suddenly have to get out of pocket hundreds of dollars to repair your broken equipment.
Ask us about discounts on combined plans.
Smile
Protection
Plans
Starting from as low as
Smile
Maintenance
Plans
Starting from
Air Conditioner Repair in Mississauga
If you are looking for air conditioner repair in Mississauga – Smile HVAC is your first choice! Whether you spend your summer days in the heart of Mississauga or one of its beautiful suburbs, you want an air conditioner that is going to keep you cool all day long. If you have an existing unit that is not getting the job done it may be time for an upgrade.
Smile HVAC is a lead company in the heating and air conditioning industry in Toronto and GTA so you can be sure about the quality of out work. 
Now that you know it is time to replace your old air conditioner, give the experts at Smile HVAC a call to get started. We know what different makes and models can do and we feel confident that can match you with the right unit for your needs.
The choice to embark on air conditioner replacement may seem daunting, but at Smile HVAC we are here to make the process simple.
Let us walk you through choices like whether to go with a standard or ductless installation, how to incorporate your existing HVAC system into the install to save you time and money, and making absolutely sure that you have the right size unit for your space. 
Our factory-trained technicians will meet you at your space to walk through your outdoor surroundings and indoor space. Once we have an understanding of what the install will entail we can:
Show you the best unit for your needs
Show you how we plan to duct the system including using your existing ducting if possible
Show you how your unit can be powered by your current electrical setup
Show you where all the equipment will be placed making sure it can be properly supported when placed on upper levels of a structure
At Smile HVAC we will not only do all of this but we will do air conditioning repair at a price that is affordable for you.
Best Air Conditioner Repair Company in Mississauga
If your current air conditioning unit is in need of air conditioner repair, or if your ductless system is in need of ductless repair, the experts at Smile HVAC can handle any repair to any type of unit.
For Smile HVAC, no issue is too big or too small. Our technicians can handle all manner of repairs from things like leaks, faulty sensors, blown compressors, frozen coils and even problems with drainage from the unit.
Another great service that we offer is an annual inspection in Mississauga for your air conditioning unit. Regular maintenance and inspection is the key to a worry-free operation over a long life of service.
One of the real benefits of performing regular maintenance is that you will save money on your energy bills because your air conditioning unit is operating at peak performance. Smile HVAC is a proud HVAC contractor in Mississauga. Don't hesitate to contact us if you experience any problems with your air conditioning equipment in Mississauga!
*Get 10% OFF on your Service Call when you book online.
Water Heater Repair in Mississauga
It is probably fair to say that most folks do not know that their water heater is not functioning properly until the hot water stops flowing. By then of course, it may be too far gone to repair. 
If you are faced with this situation, it may be time to think about installing a brand new water heater. Smile HVAC knows the pros and cons of all types of water heaters including tankless units to give you the expert buying advice you need.
If you have a water heater that is simply not getting water hot enough it might be time to consider expert water heating service. Get your repair process stated by giving our friendly customer services staff a call. We can answer any questions and have a technician to you on the same day if needed.
At Smile HVAC we do not perform any work on your water heater until you have a detailed estimate of the cost before we do the work.
WIth your water heater being such a vital component in your daily life, regular maintenance to keep it working its best is critical. We offer regular water heater maintenance service that will keep your water heater working at its level best to give you all the hot water you need when you need it.
Air Quality
Having the perfect temperature inside your space is great, but have you thought recently about the quality of the air? With an outside world that gets more and more polluted there has never been a better time to consider an air filtration system.
At Smile HVAC we are experts at assessing and improving your indoor air quality with high-tech air filtration system. Our knowledgeable technicians can easily add a quality air filtration system to your existing HVAC system.
If you think you would be happier with cleaner air just think how great it would be to have it a the optimum humidity as well. If that sounds like the type of thing that you would be interested in, then let the great folks at Smile HVAC talk to you know about humidifier installation.
The problem with the hot temperatures of the summer and the bitter cold of winter can be a lack of fresh air in your indoor space. At Smile HVAC we specialize in HRV installation and HRV service in Mississauga.
For those that are unfamiliar with these cutting-edge systems, they introduce fresh air into an HVAC system without any negative impact on the quality, temperature or humidity of the air.
So if all of these items sound like great additions for your current system but you are wondering who provides service after the sale, the answer is Smile HVAC. We are pros in humidifier repair and air filtration services in Mississauga to air quality technology keeps working well long after the installation.
Water Softener Repair & Installation in Mississauga
Mississauga attracted a lot of people from different cultures. This led to the city becoming a central business district. Water pollution is a common issue since the wastes found in the streets are washed away by running water into water bodies that collect themselves in rivers and lakes. The water in the rivers and the lakes around the city is not safe for contamination.
Water softener repair in Mississauga helps in softening the water. For water to be safe for consumption, it needs to be softened. The main minerals found in hard water are Magnesium and Calcium that make the water react with steel pipes leaving deposits on them and may lead to the blocking of these pipes in the future. 
Hard water is not preferred for domestic use. It does not produce foam quickly. It requires large amounts of soap during the washing process. If this water is used for bathing, it has some effects on human skin and the hair. Water softening is the solution for solving problems that result from hard water. If the water is softened before entering into the plumbing systems, it removes Calcium and Magnesium in water. This makes the pipes free from blocking. Water softeners save money since the regular pipe replacements will not be occurring.
Smile HVAC is one of the best companies providing Mississauga water softener installation and repair services. The company's objective is to ensure that it solves the problems related to hard water, making the water safe and of high quality. The company provides that its customers are satisfied with their services by carrying out regular inspections on their installed equipment and replacing the non-functional ones. The company does not delay their customers for repairs since we have a 24/7 response team. Smile HVAC installs, repairs, and does the maintenance of the water softener systems in Mississauga. If you want a new system to be installed or the existing system requires repairs, contact Smile HVAC to help you fix the problem.
Choose Smile HVAC Service and Installation
Smile HVAC is very proud of our expert heating and cooling service, but we also offer a full menu of other products and services. Whether you are in need of hvac services or installations, maintaining optimum indoor air freshness and humidity, or always having hot water flowing to your tap, Smile HVAC can do it all on your schedule and at a price you can afford. Contact us now to get started with one or all of the exciting products and services!
Authorised Licensed Technicians
Smile HVAC is authorized and licensed to service over 30 brands, so if you own any HVAC equipment from these brands, you don't need to call two companies. Smile HVAC will help you solve all HVAC-related issues and will assist with repairs and installations. We work with all brands including Lennox, Goodman, Amana, Keeprite, Bryant, Daikin, Carrier, York, Trane, Comfortmaker, Payne, Tempstar, Rheem, Ruud and Mitsubishi Electric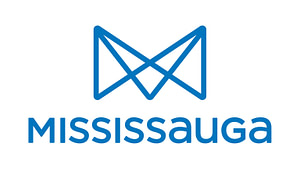 Mississauga is a city in Canada's most populous provinces: Ontario. It's the sixth most populated city in Canada, with an estimated population of 756,000 as of the last population census conducted in 2016. Mississauga is a fast-growing and increasingly multicultural city due to its proximity to Toronto as it borders the town to the east in Peel's municipality. The population has helped the city to build a flourishing business hub. The city is surrounded by many bustling neighborhoods that have helped the city grow to what it is now, for example, Malton, which is home to Toronto Pearson International Airport. Mississauga's close distance to the airport and the City of Toronto attracted many corporations. This neighborhood is home to more than 21 others, such as Meadowvale and Clarkson Park.
In Mississauga, the summers are warm, and the winters are freezing and dry. With such temperature variation, the air conditioner seems to be a very significant toll in every household. Winters can be cold with temperatures that are frequently below the freezing point. People turn off the air conditioner and turn on the furnace to raise the temperature. HVAC's supply and maintenance are never enough as the demand is always high due to the predictable changes in climate. This means that every home and commercial building in Mississauga needs to install or upgrade heating and cooling systems. Though the initial cost is relatively high, they are economical due to lesser energy bills and maintenance fees since they are much more durable.
If you thought you had the city figured out, then you'll be shocked to find out that the town has branded itself as one of the most attractive cities in Canada. With an array of attractions, that would be a dream come true for every person visiting the city, starting with the Mississauga celebration square, the beautiful art gallery of Mississauga, and a must-see for all art lovers and many other beautiful attractions. Moreover, if you're a shopping fanatic, you will be spoilt for choice, as the city is home to one of the biggest shopping centers in the country: Square One Shopping Centre. Due to high population growth and increased purchasing power, Mississauga seems to have good business potential for HVAC equipment since the demand is always high, and many will demand upgrade and maintenance. In summary, if not for the HVAC systems, the great city of Mississauga would not have been better today.