Furnace Repair in Aurora, AC Repair, Installation and other HVAC Services
10-Year Installation Warranty for HVAC Systems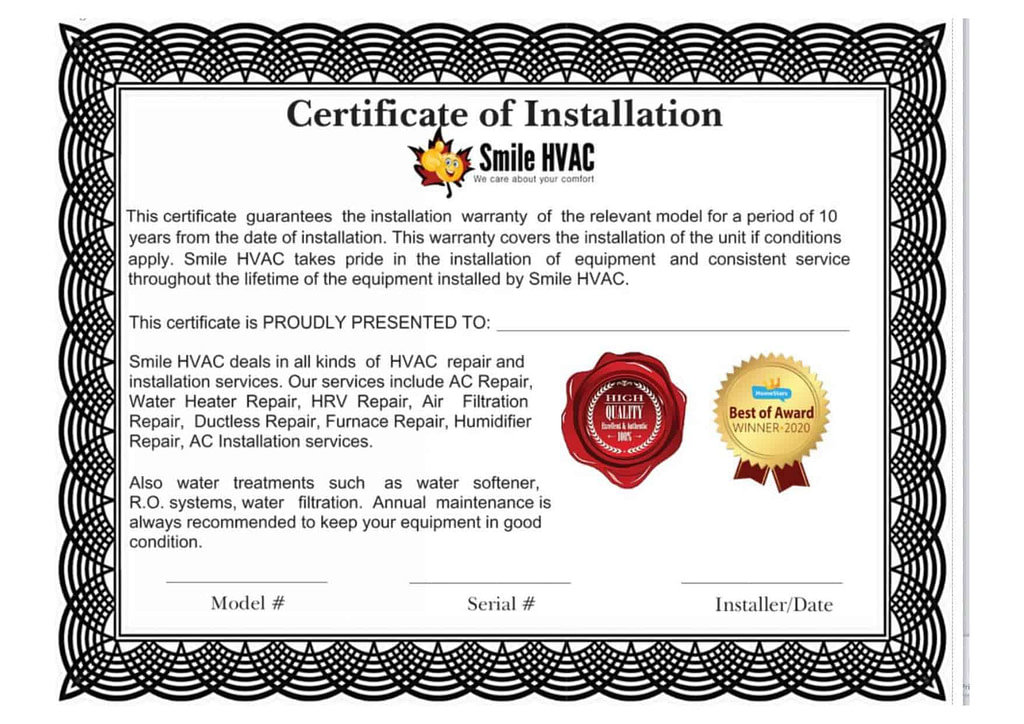 With our Warranty You Can:
Home maintenance is essential for an enjoyable, safe, and productive living experience. An unreliable heating, cooling, or conditioning system can pose safety threats, decreases residents' overall well-being, and affects the lifespan of the house in a negative way. That's why approaching HVAC and HRV services responsibly is essential. To make sure you get every step of heating, cooling, air filtration system installation right, reach out to a professional team.
In Aurora and Ontario, there are no better hvac contractors in Aurora than Smile HVAC. We are certified professionals, specializing in full-range HVAC services, such as:
Smile HVAC team offers a personalized installation and repair strategy. We will plan the process out based on the data collected during a thorough house inspection.Take a closer look at the services our company offers in Aurora.
We help homeowners get through cold winters in Canada comfortably, ensuring you have a furnace that's running efficiently and does not consume too much energy. If you don't have an installed system yet, contact Smile HVAC to help you choose the right model. When shortlisting options, we take budget constraints, the size of the house, the area you live in, and technical specs into account.
In case you already have a furnace and need help to set it up, reach out to our team for furnace installation services. We will choose the right place for the heating system inside the house, connect it to the heating pipes, and ensure the appliance is easy and safe to use. We will also answer your questions and instruct you on managing the heating system efficiently on your own.
In case your existing heating system is not productive enough, getting high-quality inspection heating and cooling services is what you need rather than a replacement. Our team will examine the furnace thoroughly, find out which aspects of the appliance can be improved, and handle furnace repair services in Aurora. 
Smile Protection Plan is specially designed for those of us who don't like unexpected "surprises". "Surprises" like when you suddenly have to get out of pocket hundreds of dollars to repair your broken equipment.
Ask us about discounts on combined plans.
Smile
Protection
Plans
Starting from as low as
Smile
Maintenance
Plans
Starting from
Air Conditioning Repair and Installation in Aurora
AC systems are a must-have for homeowners. They help create a temperature balance inside the house in summer and reduce the impact of heat on the furniture, electric appliances, as well as residents' well-being and productivity.
At Smile HVAC, we offer a full range of heating and air conditioning repair services in Aurora. You can rely on the team to help you with air conditioner replacement. Then, we will assist in ductless installation, setting up the system to its peak efficiency and finding the right spot for it.
We help house owners and commercial property managers to repair faulty cooling systems. After visiting the property, we conduct a thorough AC inspection. Based on the result, the repair and maintenance team will estimate the number and cost of procedures needed to improve the performance of the system.
Air conditioner repair typically doesn't take more than a day of work. The difference in energy consumption and performance before and after AC or ductless repair is astonishing — you will find out how your AC works at its full power. Call us today if you need to fix your air conditioner!
*Get 10% down on your Service Call when you book online.
Water Heater Installation in Aurora
Water heating is often a struggle for house owners. It's common for heating systems to work with delays or poor efficiency — that leads to frustrations and decreased efficiency of day-to-day tasks.
Hiring a professional team for taking care of a water heater is a way to make sure your system runs flawlessly. For homeowners who don't have a running system yet, we offer consultancy water heating services. Smile HVAC technicians will help find the right model for your house in Aurora or online within your price range.
Contact the team to install a heater as well. Our technicians are experienced in the installation of heating systems — they will skillfully connect the heater to heating pipes and ensure an uninterrupted heating process.
The team can help out in case of a water heater emergency. At Smile HVAC, we offer repair assistance as well. Before fixing the heater, we will inspect it thoroughly, find out what issues there are, come up with the most affordable way to resolve them, and complete the repair. You will not believe the difference in performance and energy consumption once we are done.
Air Quality
Since air is surrounding you everywhere inside the house, not ensuring you are breathing pure oxygen is a miss-out. An air filtration system helps catch contaminating particles inside the property. Increasing residents' productivity, protecting them from allergies, and improving overall well-being.
To make sure your filtration system grants the ultimate air quality, reach out to Smile HVAC technicians when choosing one. Our local team will visit your house, determine which factors are the most important for homeowners, and find a reliable model that meets these expectations.
Smile HVAC technicians handle air filtration services in Aurora as well. We will set up the filter and the cartridge and choose the settings that are relevant to your house to make sure the filter runs efficiently since day one.
In case your air filter has not been catching contaminants well enough lately, there might be no need to replace it. Instead, consider hiring professional Smile HVAC technicians to inspect and repair the system. The team handles humidifier repair as well. Before handling any work at the client's house, we send a deadline and cost estimate for approval — you can plan your budget efficiently.
Water Softener Repair & Installation in Aurora
Water softener repair in Aurora is something everyone needs in their homes. You may not only have effortless performances on washing your glassware, silverware, tiles, cars, mirrors, and any plumbing fittings clean and shiny but also take in the benefits of having softer skin and smoother hair. A water softener reduces soap, makes washing easier, lessens house job, less soap and shampoo because of the rich foam softened water and cleanser provides.
But what happens when these water softeners get broken or not installed at all?
The risk of not having services like Aurora water softener installation are build-ups. The problems tend to cause more significant effects and later on obstructing the water's softening, and these impacts may sooner be hard to ignore.
 With that, Smile HVAC Aurora got your back! They offer the following water softening assistance, repair, and installation services that you will never regret at all.
Considers the installation and repair and how well it suits your home's essentials.
Yes, that is right! We do not only correctly check on the specs and technology of the water softeners' installment and repair service but are more concerned about your household's unique needs.
Provide the most competent water softener installation at a reasonable budget.
Smile HVAC has served countless residents in Aurora with excellent performance and a very considerable and affordable price.
Customer-friendly and accomodating.

 
You'll never miss the chance to be treated like a VIP. At Smile HVAC Aurora, they also see to it and make sure their customers are comfortable as they satisfy the demands and render exceptional efforts.
Smile HVAC will install, repair or replace any HVAC appliances, including air conditioners, water heaters, humidifiers, water processing systems, and many more! We have the most reliable HVAC specialists at your service.
What are you waiting for? Smile HVAC company extends a personalized installation and repair maneuvering. We have planned out the process based on the data gathered during an out-and-out house examination. Please take a closer look at the help Smile HVAC company offers in Aurora.
At Smile HVAC Aurora, water softener repair and installation are critical to an easy-peasy living fashion!
Choose Smile HVAC Service For Your Needs
Looking for an HVAC provider in the area is not easy since there aren't many firms equipped to offer professional installation, maintenance, and repair services. There are few teams that offer HRV services in Aurora, as well as the suburb areas. Smile HVAC is the most efficient and reliable heating and cooling service among them.
Here's why our technicians beat other teams by huge numbers:
Every worker on the team is certified. All Smile HVAC technicians are well-trained and specialize in multiple areas of in-house management. Our team has the answers to all questions regarding HVAC and HRV systems. 
No appointment cancellation fees. Even if you can't have the expert team at your property and notified us about that on the same day of the inspection, don't worry about being charged. We respect your busy schedule and take it into account. 
No hidden fees. You will not have to pay for overtime or additional transportation costs — the team fully adheres to the cost estimate you approved of. 
Flexible pricing. We offer dynamic solution packages — even homeowners who are not ready to invest in house maintenance heavily, will be able to order affordable installation and repair services and improve the indoor environment inside the property.
We answer all questions. Our support team is dedicated to educating homeowners on managing heating, cooling, water heating, and air filtration systems efficiently. Feel free to call us with questions — a support agent will get in touch.
To discuss your installation, repair, or maintenance project, contact our team. We will get back to you with an answer in no time and come up with the best solution for your needs.
Authorised Licensed Technicians
Smile HVAC is authorized and licensed to service over 30 brands, so if you own any HVAC equipment from these brands, you don't need to call two companies. Smile HVAC will help you solve all HVAC-related issues and will assist with repairs and installations. We work with all brands including Lennox, Goodman, Amana, Keeprite, Bryant, Daikin, Carrier, York, Trane, Comfortmaker, Payne, Tempstar, Rheem, Ruud and Mitsubishi Electric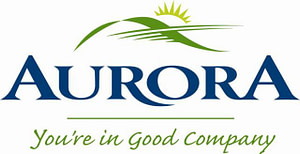 Aurora is a town in the central York Region in the Greater Toronto Area, Canada. The city of Richmond Hill is located in the South of Aurora. In 2016, Aurora's municipal population was the 95th colossal in Canada, and today in 2020, it is the third-largest city in Colorado with a population of 382742 approximately. Aurora has been categorized among the top ten prosperous towns in Canada.
Aurora is known for maintaining its historic structure, and the Prince of Wales Prize for Civic Heritage Leadership was awarded in 2008. While it is a mostly residential area, there are also several shops and restaurants in the neighborhood. According to the most recent census results, Seven Hill looks to be the best Aurora neighborhood to live in. Because of the number of tourism sites, this is an attraction point for tourists. A significant number of tourists visit this place every year. The summers are warm and mostly clear in Aurora, and the winters are frigid, dry, and partially cloudy.
The temperature usually ranges from -7°C to 31°C over the year and is rarely below -16°C or above 36°C. In Aurora, the average proportion of the sky obscured by clouds experiences considerable seasonal variation over the year. This is a destination for the convention, business, and leisure travel. Because of this temperature fluctuation, HVAC is substantial to provide its tourists and natives a comfortable indoor environment. The Rocky Mountains serve as a backdrop, making this place more attractive, and in such icy weather during winter, there is a need for every home to have a well-maintained HVAC system.
Summers are hot, and the temperature reaches 32C° in July, making the air conditioner compulsory to avoid any suffocation in such warmer months. As people from different areas visit this place for business and family tours, to have some quality time, it is essential to provide them luxurious living, which is not possible without the use of HVAC. All these factors make great demand for well-maintained HVAC systems in this area. Many HVAC services are depending upon their needs. By assisting with optimum climate control, they ensure everyday comfort in Aurora homes. They are familiar with the city's neighborhoods and improvements in residential heating/cooling over the years, having covered the Aurora area for many years.