Barrie Furnace Repair, AC Installation and other HVAC services
10-Year Installation Warranty for HVAC Systems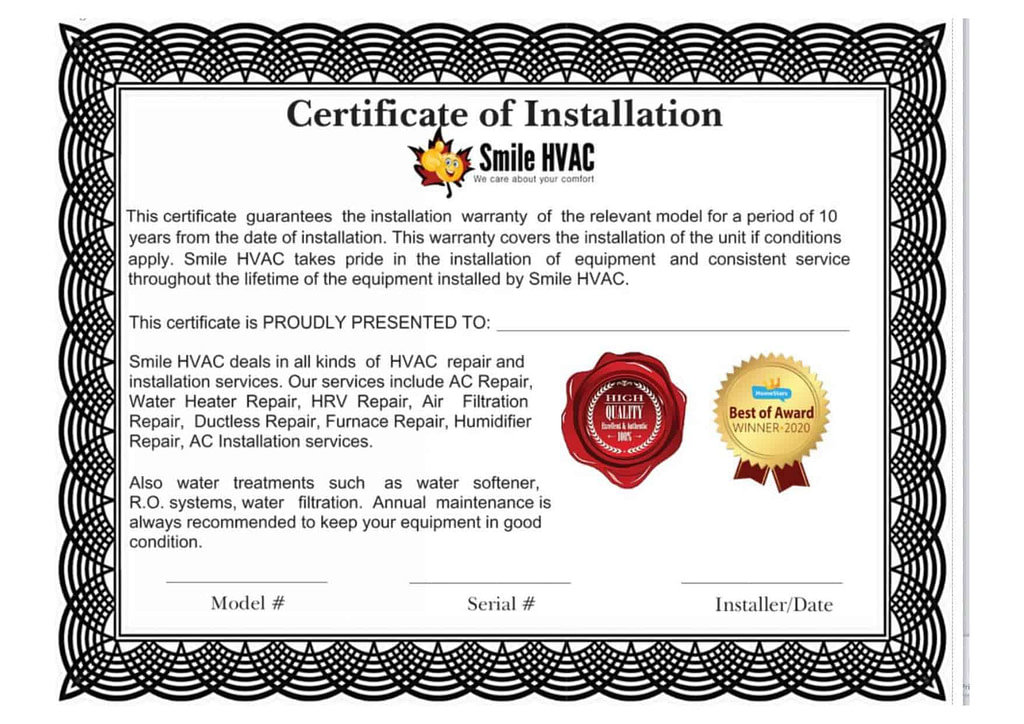 With our Warranty You Can:
Smile HVAC is a local Ontario company that strives to build relationships with customers that foster trust by providing excellent services. We are proud of our integrity and fully-licensed professional HVAC technicians. As one of the leading residential and commercial HVAC contractors in Barrie, our goal is to make sure that we satisfy all of your home environment needs.
If you require heating and air conditioning services in Barrie or want to upgrade your indoor environment systems, give us a call. At Smile HVAC, there is no heating and cooling service or air quality service project that we cannot tackle.
A furnace is such an essential piece of equipment in any home or business in Canada. We provide professional furnace repair in Barrie, Ontario, for many years and already have a lot of positive reviews from satisfied customers. So you can be 100% sure in the quality of our work.
Before you jump into buying a new furnace, there are several factors to consider. Your first consideration is going to be what type of furnace to buy. The three choices are:
Gas furnace

Electric furnace

Oil furnace
Each type has its plusses and minuses. That is where SmileHVAC can help by walking you through the pros and cons of each and then tailoring a solution that is best for you
Furnace installation is not a simple process and it is necessary to take the time to make the right decision. So that you end up with the perfect heating system for your needs.
Emergency Furnace Repair in Barrie
Maybe you have an existing furnace that is not working at all or is not working as well as you would expect. At Smile HVAC, we have years of experience in diagnosing, repairing and optimizing the performance of all types of heating systems. We are the leading experts in furnace repair services in Barrie and offer a same-day emergency repair in case you need to fix it as soon as possible.
One way to help prevent having a heating system breakdown in the first place is by doing regular maintenance of your system. Regular maintenance of your HVAC unit will keep it working in a worry-free fashion. Moreover, a highly optimized system will save you money on your energy bills.
Smile Protection Plan is specially designed for those of us who don't like unexpected "surprises". "Surprises" like when you suddenly have to get out of pocket hundreds of dollars to repair your broken equipment.
Ask us about discounts on combined plans.
Smile
Protection
Plans
Starting from as low as
Smile
Maintenance
Plans
Starting from
Air Conditioner Repair in Barrie
As much as you need a great heater in the winter, it's just as important to have a fantastic air conditioning system to keep you cool during the summer. At Smile HVAC, we are experts in installing and servicing your cooling system. Our company provides air conditioner repair services in Barrie being a leader in this niche. You can be sure that our services will exceed your expectations.
If you are considering air conditioner replacement or maybe ductless installation – call Smile HVAC. We are here to help you build the perfect system to keep your home or business cool all summer long. We think that there are five critical steps to get you a cooling solution that is perfect for you at an affordable price:
Evaluate an existing heating system to save money

Thoroughly assess the size of your space to install the right system

Understand the SEER and Energy Star ratings of the appliance compared to the unit you will replace

Assess indoor space and outdoor surroundings to make sure to put all equipment in optimal locations

Make sure the current electrical system can meet the new air conditioner demands
Best Air Conditioning Contractor in Barrie
Isn't it always the case that on the hottest day of the summer your cooling system will decide to stop working? No need to spend any more time sweltering in a home without a working cooling system but instead give us a call at Smile HVAC for air conditioner repair in Barrie and ductless repair.
We have the knowledge and expertise to handle all cooling system issues, including:
Refrigerant leak

Compressor fan repair

Frozen condenser coils

Issues with drainage

Problems with sensors
We are not the type of company that run up customer's bill with needless repairs. We will walk you through the problems we find and give you a repair cost before we start any work on your system.
At Smile HVAC, we can do a complete annual inspection in Barrie of your entire system walking you through the entire process to show you how simple maintenance and fixes can head off significant issues down the road.
*Get 10% OFF on your Service Call when you book online
Water Heater Repair in Barrie
Smile HVAC provides professional water heater repair services in Barrie. There are many reasons that you may be looking for a new water heater. Maybe your old water heater is not putting out water at a high enough temperature, or perhaps you have just bought a new house that requires a new system.
At Smile HVAC, we understand all the components of this sometimes complicated system. The choice starts with which type of unit to install:
Each of these systems offers benefits to a user and Smile HVAC can explain to you all the details and nuances. Before you get started deciding on a new system, it is vital to take the following steps:
Give us a call at Smile HVAC to set up your initial consultation

Let us examine your space and give you a customized plan for installation

Book the proper time for the installation to remove your old heater.

Install the new heater, and make sure everything is up and running correctly
There may be no worse feeling than turning on the hot water tap and feeling nothing but freezing water. If you are not feeling the heat, let Smile HVAC come to your home or business to perform expert water heating service.
We will do a complete inspection of your system, identify problems, and then let you know how we will fix the issue and an estimate of what it will cost before we start work.
Air Quality
When you choose to install an air filtration system, you are making a significant step in enhancing your health and wellbeing. In a world that is increasingly more polluted, it has never been more vital to make sure that the quality of air in your home or business is good.
At Smile HVAC, our technicians know everything about installing, repairing, and maintaining a wide variety of air filtration systems. With one call, we can show you how to enhance your interior space at a price that is sure to fit any budget.
Beyond just having high-quality air in your home, the proper humidity level is just as important. When your heater is running non-stop day after day in freezing winter months, your home can become dry.
Conversely in hot and humid summer months, your space can begin to get more and more humid as doors and windows open and close while you enjoy long summer days outdoors.
At Smile HVAC, we offer humidifier installation and HRV service in Barrie that can keep humidity at the optimum level year-round. They will also continuously change indoors by continuously pumping fresh air from outside into your system.
The benefits of these types of systems include:
A healthier indoor environment

Reduced energy bills due to a system that works more efficiently

Providing much more indoor comfort with air that is of the highest quality and is at the optimum temperature and humidity
If you have existing air quality or humidity system installed, Smile HVAC should be your first call for humidifier repair or air filtration services in Barrie. We can quickly diagnose and repair issues and keep your system running flawlessly year-round.
Water Softener Repair & Installation in Barrie
Barrie is a city and regional center in Ontario, Canada. Located at the shores of Kempenfelt, the western arm of Lake Simcoe, the city has more than 150,000 people living in it. The city is well known because of Lake Simcoe, which stands as the primary water source in Barrie. The lake provides water for Barrie's residents, but it disadvantages them due to its hard water type. Besides, Barrie being one of Canada's major cities, it attracts many people from rural areas. Therefore, they increase the pollution rate of water due to poor waste disposal. Therefore, this makes the water at Lake Simcoe unsafe for use, which needs to be purified.
Water softener repair in Barrie increases the lifespan of the piping systems. Hard water is associated with calcium and magnesium. The presence of magnesium and calcium in the water raises problems. Hard water makes it hard to form foam while using soap; it leads to the usage of a lot of soap than usual. Simultaneously, using hard water for bathing causes lifeless dryer skin and hair. The formation of limescale from hard water decreases the lifeline of water fed appliances reducing their lifetime. Besides, hard water can affect the washing machines because it will deposit magnesium and calcium on the device, decreasing its performance.
Softening water changes the situations or problems associated with hard water. It means to remove magnesium and calcium contents mixed with water in the plumbing system to soften water. It can increase the plumbing systems' lifespan because removing the calcium and magnesium contents will not affect the pipes. Barrie water softener installation is very beneficial because it is cost-saving, keeps the skin and hair healthy, and produces high-quality water for Barrie consumption.
Smile HVAC is a well-known company involved in the installation of water softeners. The company is dedicated to ensuring each resident in Barrie who depends on Lake Simcoe for water gets softened water. Our technicians conduct regular maintenance to prevent the destruction of the piping system from hard water minerals. Our technicians are well trained to provide the best kind of assistance they can. Going longer without softened water can add more cost to your home, and you should reduce it. If your water softener needs regular maintenance or repairs, call Smile HVAC. We got you covered. We will do our best to fix your problem(s).
Choose Smile HVAC Service For Your Needs
There are a lot of benefits of having a great environment in your home or business than just cool and warm temperature. With so many factors to consider when thinking of a new installation or HVAC services and repairs, you need a company you can trust to suit your needs.
Smile HVAC is an excellent local company that will provide professional HVAC services of the highest quality. Whether your goal is the installation of a new HVAC system, a new tankless water heater, a brand new air filtration system, or you need a repair, at Smile HVAC, we can help you with to fix all heating and cooling appliances.
On your first contact call with our customer service staff, we can walk you through the steps to identify what needs to be done. After that, we will promptly send a technician to your location to fix your HVAC unit(s).
Authorised Licensed Technicians
Smile HVAC is authorized and licensed to service over 30 brands, so if you own any HVAC equipment from these brands, you don't need to call two companies. Smile HVAC will help you solve all HVAC-related issues and will assist with repairs and installations. We work with all brands including Lennox, Goodman, Amana, Keeprite, Bryant, Daikin, Carrier, York, Trane, Comfortmaker, Payne, Tempstar, Rheem, Ruud and Mitsubishi Electric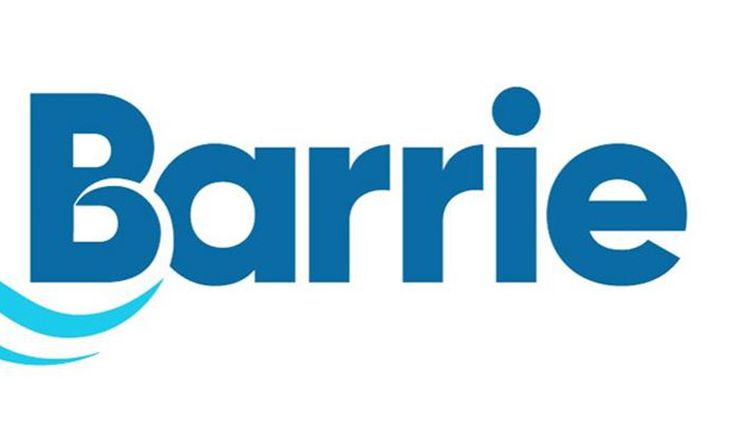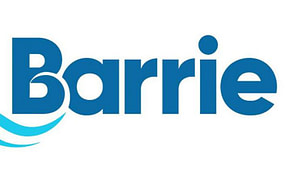 The town Barrie was named after the name of Sir Robert Barrie in 1833, who was in charge of Canada's naval assets and also commanded militaries through both the city and along the Nine Mile Portage. Barrie is regularly ranked as one of Canada's safest cities. The last estimated population in the year 2017 of Barrie is 135,700. And it would be 149873 in 2020. Most Livable neighbourhoods in Barrie are the Bluewater Trail, Crimson Ridge, the Pioneer Trail, Snell Grove, and North Barrie.
In the late spring and summer months, Barrie is recognized for intense thunderstorm activity because of its position with a combination of winds from Georgian Bay, Lake Ontario, and Lake Erie. It has extreme weather ranging from -12°C in the coldest month to 27°C in July's warmest month. To cope with such severe weather, the use of HVAC becomes essential.
Barrie has become a summer and winter resort, with an economy focused on services and sustainable manufacturing. A significant number of tourists from all around the world visit this place every year.
Barrie just broke the record and got a robust economy. The city's economic growth is due to existing businesses expanding their trade and new companies seeking to make Barrie their home base. Maintaining this economic progress rate is the foremost requirement to provide a luxurious living to its natives and visitors. Residential and Commercial buildings are fully equipped with a well-maintained HVAC system to avoid any hassle. People come here from various ancestral backgrounds and may have difficulty dealing with such an intense climate. There is a great need for air conditioners in warmer months as the temperature reaches 27°C during summers. You must have quality products, friendly, knowledgeable service in furnace installments.
Expert furnace professionals can recommend furnace type and size according to your home. A warm home is necessary for cold winters, and if your furnace goes wrong in the coldest months, not only will your home become unbearably cold, but also your water pipes can burst, causing significant damage. On average, with routine maintenance, a furnace can last twenty years. 
It is significant to make furnace or AC service appointments to fix your equipment. Ensure your furnace is still prepared for the winter or cold spring days, as it can cost you a lot to consult a specialist after the furnace breaks.