Furnace Repair in Richmond Hill, AC Repair & Installation and other HVAC services
10-Year Installation Warranty for HVAC Systems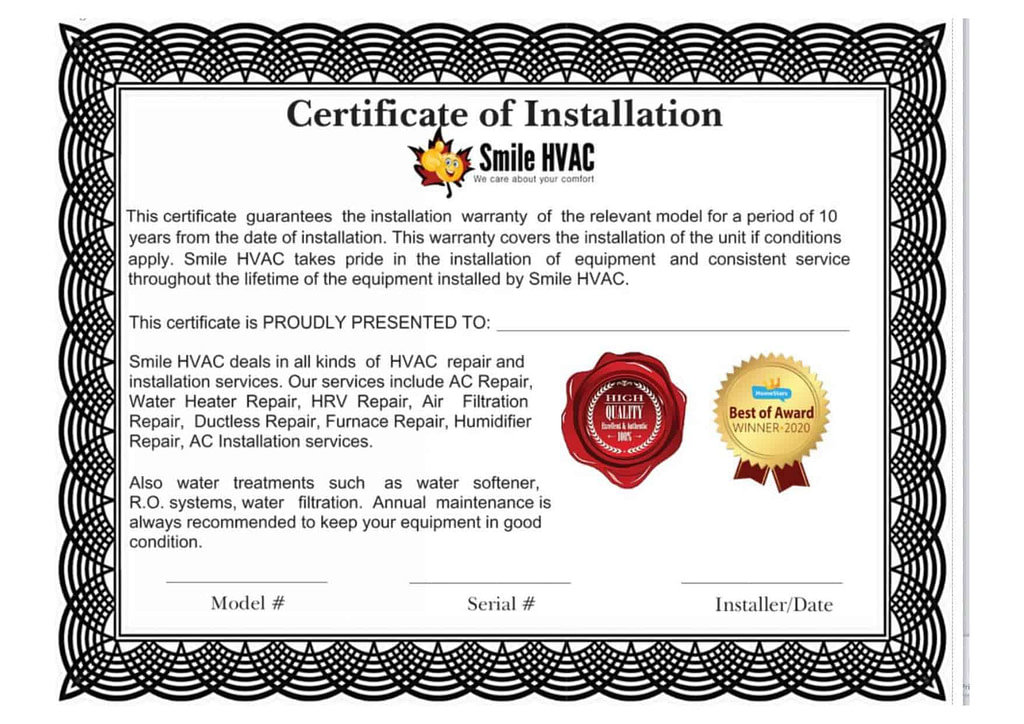 With our Warranty You Can:
As a well-regarded local Ontario area company, Smile HVAC has built a reputation of quality service because of the team of top quality professionals. If you are searching for residential or commercial hvac contractors in Richmond Hill, make the call to Smile HVAC. We provide heating and air conditioning services in Richmond Hill as well as new equipment installations and service of air quality and humidity units. 
Furnace Repair in Richmond Hill
If you type in Google "furnace repair Richmond Hill" – you came to the right webpage! During a long, cold winter in Canada, there may be no piece of equipment we rely upon more than a quality furnace. If you are considering a new furnace there are several factors to consider first.
The main choice you must make is whether to use a gas, electric, or oil furnace. Since each has its own pros and cons, we here at Smile HVAC are fully equipped to discuss your specific heating needs to help you make the right choice. Our technicians have all the necessary licenses and authorizations to do any kind of HVAC-related job. Smile HVAC provides services for all kinds of brands and equipment, doesn't matter how old it is. If you're looking for a quality furnace repair in Richmond Hill – our company will be glad to help you!
Emergency Furnace Repair in Richmond Hill
If you already have a furnace but it is not working well, we are experts in furnace repair in Richmond Hill. We use top-quality parts and have an expertly trained staff that can diagnose and solve problems with your furnace quickly.
We even offer same-day emergency service so you do not need to spend another bone-chilling minute with a failing furnace. We are committed to making our customers happy. Don't take our words for granted – just check our Google Reviews! In many cases, the furnace doesn't produce enough heat – to prevent that it's important to change filters at least every 3 months. Smile HVAC offers professional furnace repair services in Richmond Hill to make our clients happy.
Call us if you're looking for a professional HVAC contractor in Richmond Hill and experiencing the following problems:
furnace is shutting off before the temperature is reaching
errors on the display
furnace won't ignite
furnace has noisy sounds
Smile Protection Plan is specially designed for those of us who don't like unexpected "surprises". "Surprises" like when you suddenly have to get out of pocket hundreds of dollars to repair your broken equipment.
Ask us about discounts on combined plans.
Smile
Protection
Plans
Starting from as low as
Smile
Maintenance
Plans
Starting from
Air Conditioner Repair and Installation in Richmond Hill
There may be nothing better than a warm sunny day in the country or suburbs except when your air conditioner is not doing its job. If it is time to replace your old cooling system, Smile HVAC should be your first call.
There are many choices for air conditioner replacement such as a standard system or even a ductless installation. The best first step is to let Smile HVAC visit you at your location to walk your indoor space and outdoor surroundings.
We can then easily discuss the option that works best for your space and at a price that is affordable.
Maybe your current air conditioning unit is just in need of some repairs to get it back running optimally again. We are well known for our air conditioner repair and ductless repair here in Richmond Hill.
Emergency Air Conditioner Repair in Richmond Hill
There is no problem with your air conditioning unit we cannot solve including:
Compressor fan repair
Problems with sensors
Refrigerant leak
Condenser coils that are frozen
Issues with drainage
Once we have assessed the situation, we will give you an upfront cost for all work before we get started. We also offer a same day service in case of an emergency.
Smile HVAC provides professional HVAC services in Richmond Hill including air conditioning repair, installation and maintenance. Any air conditioning owner will tell you that an annual inspection in Richmond Hill is the best way to keep your unit running well. Not only do regular inspections catch little issues before they become big, an optimized unit saves you money on your energy bills.
*Get 10% down on your Service Call when you book online.
Water Heater Installation in Richmond Hill
Do you feel like your current water heater just does not give you enough hot water? If it is time to install a new water heater, Smile HVAC are experts in the installation of all types of water heaters on the market.
Whether you need a tankless, gas, or electric heater, at Smile HVAC we can go over each type with you to show which will work best for your situation. Our process is really quite simple:
Make your first call to us and answer some simple questions and make your initial appointment
Our technicians will walk your space and discuss your needs
Let our team take your through the entire installation process of your brand new water heater
If instead of a new water heater you are in need of service on your existing unit, Smile HVAC offers expert water heating service. We can come to your location to do a thorough inspection of your system and then quickly diagnose and repair any problems.
Give us a call at Smile HVAC to set up your initial consultation
Let us walk your space and give you a customized plan for installation
Block out the proper time for the installation to remove your old heater, install the new heater, and make sure everything is up and running correctly
As with all of our service work, you will have and upfront estimate of the cost before we start any work.
A great way to avoid costly repairs is to regular maintenance on your water heater. At Smile HVAC we offer annual inspection services to catch any small problems before they become big ones.
Many people are only concerned with the temperature of the air in their indoor space but do not stop to think about the quality of the air. When you install an air filtration system, you are enhancing the health and well-being of those that live and work in your indoor space.
At Smile HVAC we have the know how and top-quality parts to install and maintain a vast array of air filtration systems.
Once you have great air quality it might also be time to think about the humidity levels in your space. Have you found that when the heater runs all the time in the winter your space gets drier and drier?
That is why humidifier installation can be such a vital component in your indoor air system.
Another great add-on is an HRV system to help bring fresh air into your indoor space while also maintaining good humidity levels. Keeping a window open in the dead of winter or peak of summer is not an option, so an HRV system can mimic the fresh air result while maintaining a comfortable temperature. We specialize in HRV installation and HRV service in Richmond Hill.
If you have an existing air quality or humidity system installed, you should know that Smile HVAC can also tackly humidifier repair or air filtration services in Richmond Hill. Let us come to you to make sure your air quality system is working flawlessly.
Water Softener Repair & Installation in Richmond Hill
Richmond Hill needs to have a water softener because the water supply is hard and contains many minerals. Hard water is not suitable for consumption either for domestic or commercial purposes. Simultaneously, water softening helps increase the lifespan of your plumping and clothes in general.
Water softener repair in Richmond Hill has become a basic necessity. Toronto city and the Peel region always ensure that water is treated before supplied to Richmond Hill via York Region. The water's cleanliness is tested thoroughly, but little attention is given to water's hardness because it has no significant adverse effects on human health. Richmond Hill city officials are unmindful that residents have for a long time incurred avoidable costs related to the replacement or repair of plumbing systems due to clogging caused by hard water. In response to the devastating effects of hard water, most residents have resorted to installing water softeners to cut down expenses. People in Richmond Hill need to have a water softener because the water supply is hard and contains many minerals. Hard water is not suitable for consumption for domestic purposes.
Like any other human-made appliance, water softeners often require repairs and maintenance. Many water softener repair and installation companies have set up Richmond Hill operations due to the demand for water softener and repair services. Amid unparalleled competition from some Richmond Hill water softener installation companies, Smile HVAC is one of the most reliable and trustworthy repairs and installation companies due to its excellent service. Smile HVAC is proud of having dedicated and passionate employees. We do our job and treat our clients with utmost respect and diligence. Getting expert services will be useful in doing such work and eliminating substances that may be harmful.
Choose Smile HVAC Service For Your Needs
There are several things that Smile HVAC does that help make your indoor space comfortable and healthy beyond just our top-notch heating and cooling service. At Smile HVAC we specialize in new installations, HVAC services and repairs, and air quality system installation and maintenance.
When you contact Smile HVAC, our reps can answer any questions and get you immediately set up with an appointment with one of our well-trained technicians. Get started towards a healthier and more comfortable indoor space with Smile HVAC!
Authorised Licensed Technicians
Smile HVAC is authorized and licensed to service over 30 brands, so if you own any HVAC equipment from these brands, you don't need to call two companies. Smile HVAC will help you solve all HVAC-related issues and will assist with repairs and installations. We work with all brands including Lennox, Goodman, Amana, Keeprite, Bryant, Daikin, Carrier, York, Trane, Comfortmaker, Payne, Tempstar, Rheem, Ruud and Mitsubishi Electric

Richmond Hill has approximately 195,022 inhabitants and is ranked as the 28th densely populated area in Canada. Richmond Hill has been recording rapid population growth since the 1990s. Recently, it is said to be the third most populated municipality in Canada. As the most extensive and leading telescope in Canada. Reports on the city's website show that since 2011 Richmond Hill has gathered more wealth for the town. An average family in Richmond Hill has approximately $100,900, 34%, and 26% higher than the Canadian and provincial average, respectively. Gauging from the census done in 2006, 42.62% of households in the city have made over $100,000. Most people in the town are employed in administration, finance, management, and business. Richmond Hill has an employment rate of 66.36%.
According to the 2016 census, statistics show that the unemployment percentage is low compared to the unemployment rate across Canada, with a difference of 3.63%. Fact is most business entities in Richmond Hill are small enterprises that thrive with a tremendous economic status to support more than half of the residents of the area.
Richmond Hill's neighborhoods include; Elgin Mills to the southeast, Doncrest to the east, Mill Pond, Elgin Mills, Bay view to the North. Richmond Hill also has sumptuous Road networks, Public transit, and water transportation. The area has beautiful topography as it's located on the amazing Oak Ridges which features a magnificent forest and kettle lakes. The topography attracts many visitors. In addition, because of David Dunlap Observatory, the area is world-famous for stargazing. Though Richmond Hill lacks an airport, it borders Markham's Buttonville Airport. With such neighborhoods, the HVAC repair and maintenance business's catchment area has good potential.
December, January, and February in Richmond Hill are said to be winter months. The average temperature recorded during these months ranges from a minimum of -10.2°C and a maximum of -2.2°C. However, January is said to be the coldest. April, March, and May are said to be spring months, with the expected temperature during these months wavering between 4.4°C (39.9°F) and -5°C (23°F). With the climatic changes in Richmond Hill, heating and cooling systems seem vital in each household. Besides the population, economic power supports the purchase potential of such appliances. Thus setting an HVAC repair and maintenance business is a hot cake dealing in the Richmond Hill area.