AC Repair, Installation in Thornhill, Furnace Repair and other HVAC services
10-Year Installation Warranty for HVAC Systems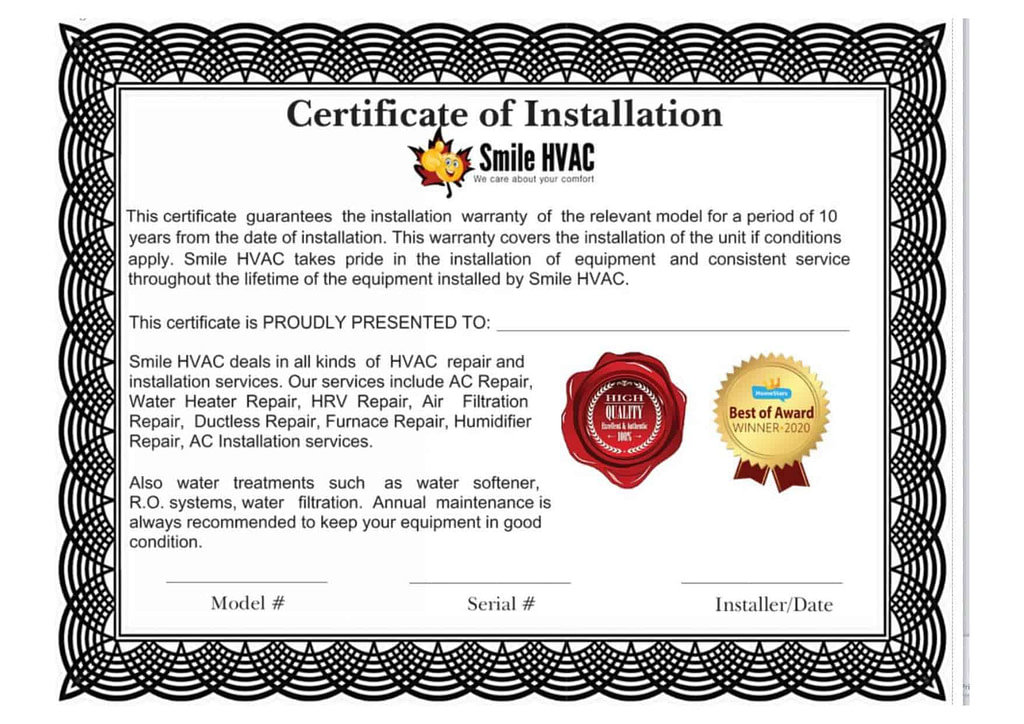 With our Warranty You Can:
A broken or malfunctioning furnace can really be a problematic situation to deal with but no worries. Smile HVAC is there to rescue. We offer furnace repair services throghout Canada and Thornhill.
We also offer a variety of HVAC servcies as having to deal with heating and ventilation system breakdowns is frustrating. Even a minor malfunction can make your living environment uncomfortable, get in the way of your productivity.
To make sure you invest in your well-being and comfort, reach out to HVAC contractors in Thornhill. We cover a range of other areas in Canada for heating, air conditioning and quality assessment services. At Smile HVAC, we offer homeowners a full range of installation, consultant, and maintenance services in every area of house management:
Installing, maintaining, and repairing heating systems;
Furnace Repair
Setting up and optimizing air conditioning;
Air filter services;
Humidifier repair and installation;
Annual inspection in Thornhill;
HRV services in Thornhill.
If you are looking for heating, ventilation, or air filtration service providers, take a closer look at how Smile HVAC works:
Furnace Repair in Thornhill
Smile HVAC will happily help you if you need a furnace repair in Thornhill. An optimized furnace is a homeowner's way to ensure the house will not get cold in winter, the humidity indoors will not be too high, and the furniture will be preserved better. If you are moving into a new place, be sure to get a furnace. A local team of Smile HVAC technicians will help you choose the best model. We will collect information about your house and decide if an electric, gas, or oil furnace is the best one for you.
Our technical team helps homeowners and office managers install heating systems as well by providing heating and cooling services. We connect the furnace to the pipes and choose the best spot for the return air drain. At the end of the installation process, we ensure the system runs smoothly before leaving.
Emergency Thornhill Furnace Repair
If your heating system breaks down or is not working as well as you had hoped, there's no need to rush and replace it. Contacting Smile HVAC technicians is a better idea because we will first inspect the furnace, pinpoint defects, and repair them. Typically, furnace repair services in Thornhill take one full day. You will feel the difference in the amount of emitted heat as well as energy consumption.
Smile Protection Plan is specially designed for those of us who don't like unexpected "surprises". "Surprises" like when you suddenly have to get out of pocket hundreds of dollars to repair your broken equipment.
Ask us about discounts on combined plans.
Smile
Protection
Plans
Starting from as low as
Smile
Maintenance
Plans
Starting from
Air Conditioner Repair and Installation in Thornhill
Our company will gladly help you to repair air conditioner in Thornhill. Surrounding yourself with an air conditioner system is a must-have if you want to enjoy summers at home. A running AC makes working, studying, or handling house errands much easier and increases residents' overall productivity.
At Smile HVAC, we offer air conditioner replacement and installation services. An expert team will help a client choose the right model or install the one you have already ordered. We will find the right spot for ductless installation and would help to spread cool air across the area faster.
Professional Air Conditioner Repair in Thornhill
Our technical team is skilled in maintenance and repair of heating and air conditioning repair services in Thornhill. Reach out to us if you need to clean the filter's fan blades, or coils. Even if a client has no idea what exactly is wrong with the ventilation, we will do that for you. Our team will inspect the AC or ductless system thoroughly and see the defects on our own.
Timely air conditioner repair can prolong the lifespan of the system by multiple years and improve the efficiency of energy consumption.
*Get 10% down on your Service Call when you book online.
Water Heater Installation in Thornhill
A working water heater is a big deal for all homeowners since lack thereof makes going to the bathroom and handling errands extremely uncomfortable and inefficient. Similarly, choosing the right heater for a house is a responsible task — consider trusting a professional team with it.
At Smile HVAC, we helped dozens of homeowners in Thornhill and other areas in Ontario choose the best water heater model within the price range families are comfortable with. The team pays attention not to tech specs alone but also how well they fit your household's needs.
We help install and repair water heating systems as well. The team is experienced in setting up electric, tank, and gas water heaters. Our technicians will explain how to use the heater and ensure that the water pipes are connected with each other the right way.
In case you noticed a heater emergency, call our team in for water heating services. We will assess the system and repair all defects so that it is as good as new. Before repairing a heater, our team draws up a plan of activities, the amount of time needed to complete them, as well as the estimated budget.
If there's an issue we haven't accounted for and technicians needed to do some extra work, you will not be charged for it.
Water Softener Repair & Installation in Thornhill
Water softener repair in Thornhill has become a common request for the residents. Thornhill residents rely on water from Lake Ontario for all their routine uses, including bathing, washing, cooking, and drinking. Healthwise, this water is safe because it undergoes rigorous treatment before it is supplied to households. Even though Thornhill residents enjoy a sufficient supply of clean water, many of them have spent a lot of money for e repair or replacement of the plumbing systems.
Why do Thornhill residents have to waste their money on repairing plumbing systems? Well, the answer is that water from Lake Ontario contains a significant amount of mineral deposits. A substantial number of households have installed water softeners to reduce the damage caused by hard water from Lake Ontario.
Hard water can also mix with detergents and floor cleaners and become scum in water pipes. Thornhill installation of the water softeners and repair helps to get rid of any scum that has been built up in water pipes. Water softener services have become quite expensive due to the increase in demand for water softener repair services. Like most people-made appliances, water softeners require regular maintenance. There are no effective regulations or guidelines concerning the minimum requirements for getting into the water softeners market. Consequently, Thornhill's market is filled with numerous inexperienced individuals and firms claiming to be the best water softener repair and installation service providers.
Smile HVAC is a water softener repair and installation company in Thornhill that is excellent expertise in softening hard water. Smile HVAC is known for its professionalism, unparalleled level of knowledge, and attention to detail. Apart from the excellent and affordable services in installing and repairing water softeners, Smile HVAC provides additional services such as replacement or repair of clogged pipes at affordable prices.
Air Quality
Being aware of the air quality in your indoor environment is crucial since it improves your health, mood, productivity, and extends the lifespan of the house itself. To handle air filtration, reach out to Smile HVAC for full-range services:
Consults. If you are new to air filters, choosing which one to get is not easy because there are numerous models and tech specs to take into account. That's why Smile HVAC provides homeowners with consults on finding the right filtration system. 
Installation. We will set up the system itself as well as any additional equipment it comes with to make sure the air inside the house is crispy clean. 
Repair. If the filter is clogged or leaky, our team will fix these issues. Smile HVAC takes time to run inspections and detect all filtration issues — we draw up a detailed cost estimate before visiting your place and handling air filtration services in Thornhill. In this way, clients can plan their time and budget efficiently.
Smile HVAC team offers humidifier installation and repair services as well. On top of that, we help choose, install, and fix HRV systems — another highly efficient appliance for maintaining the temperature balance inside the house. 
Why choose Smile HVAC for HVAC services in Thornhill?
To make sure your house is as comfortable inside as it is good-looking from the outside, hire a team of HVAC technicians. They are going to access, improve, and repair in-house heating, cooling, and air filtration systems. To onboard a professional team of technicians, reach out to Smile HVAC. All of our technicians are certified and specialize in providing high-quality consultancy, installation, and maintenance services.
On top of that, Smile HVAC is one of the most affordable service providers you can find in Thornhill and the suburb. Here are the reasons to choose our team:
Personalized pricing plan — we will find a solution that fits your budget. So, even if you are not ready to invest in HVAC heavily, the company will find affordable ways to improve your indoor environment. 
Canceling the appointment on the same day is free. In case there's a change of plans and no way to meet with technicians, reschedule an appointment for ductless repair or other services with no extra fees. We respect your time and schedule and want to ensure the collaboration process is comfortable. 
No overtime fees. We are in for extra work as long as it helps make the most of a heating, cooling, or air conditioning system. You don't have to pay an extra cent for overtime.
Professional technicians. Smile HVAC team is fully certified, well aware of the best practices and trends on the electric appliance market. We are well-versed in legal regulations and will make sure your system will be compliant with residential and commercial property management guidelines.
To contact us, leave a message. Our team manager will reach out to you and help figure out which HVAC services would be most beneficial to your house.
Authorised Licensed Technicians
Smile HVAC is authorized and licensed to service over 30 brands, so if you own any HVAC equipment from these brands, you don't need to call two companies. Smile HVAC will help you solve all HVAC-related issues and will assist with repairs and installations. We work with all brands including Lennox, Goodman, Amana, Keeprite, Bryant, Daikin, Carrier, York, Trane, Comfortmaker, Payne, Tempstar, Rheem, Ruud and Mitsubishi Electric


Thornhill is a residential village in the Provincial Municipality of York. It is located across the northern boundary of the City of Toronto and directly to the south of Richmond Hill city. 
Thornhill didn't come into being until 1829, when a native merchant, Benjamin Thorne, successfully established a post office. It was the largest milling facility to the north of York. 
Thornhill's growth and development are directly related to the development of Yonge Street, the Don River system, and Thornhill's proximity to Toronto. 
Thornhill provides a great deal to families looking to raise kids in a safer environment away from the hustle and bustle of urban areas and an incredibly low crime rate. 
Thornhill is located at approximately 66 meters height from sea level. The climate is defined as mild and temperate. There is substantial rainfall in Thornhill, with precipitation even during the driest months of the year. The average yearly temperature is 8.3 degrees Celsius, and the sum of rain is around 1115mm per year. 
The summers are mild here, and the winters are long, icy, and windy, and all year round, it is very gloomy. So when you live in such a colder region, there is an extreme need for furnaces to maintain the indoor temperature and keep your building warm and cozy. Usually, furnaces are a part of the central heating system and can run on gas or electricity. 
The furnace must be well maintained; after all, this is the critical factor that keeps your place nice and warm. Your furnace can encounter many problems without regular maintenance. With dirty filters or any other problem, the furnace will not heat up properly, as these are some most common furnace problems.
A perfect way to decide whether you want your furnace on or off is to indulge in a smart thermostat that will also help you to minimize your monthly bills and reduce needless hassle. This smart thermostat not only learns your routine but also welcomes you after you come back to a warm spot. At some times of the day, changing the temperature by only a few degrees is one way Canadians can minimize their home heating costs while also reducing their environmental effects.