Goodman Furnace Repair, AC Repair and Installation and other HVAC services
Certified Goodman Furnace & AC Repair Company
Goodman furnace repair involves checking your system by conducting a thorough inspection and tuning the system up. If you want to stay a comfortable life and save money:
Make sure you clean, adjust, and test all your system's crucial components.

Keep an eye on the air filter and clean it regularly. If there is a problem, call Goodman furnace repair service.

Replace air filters at least every 3 months. If you have pets at home you need to do this every month.
Smile HVAC has experience in handling Goodman Furnaces, be it in estimating, maintaining, and installation. Other furnace repair services includes examining the fuel lines to detect any potential leaks. Another benefit is testing and checking the gas pressure, the pilot, and the burner. Also, we inspect the heater exchanger to make sure your equipment is fully functional.
10-Year Installation Warranty for HVAC Systems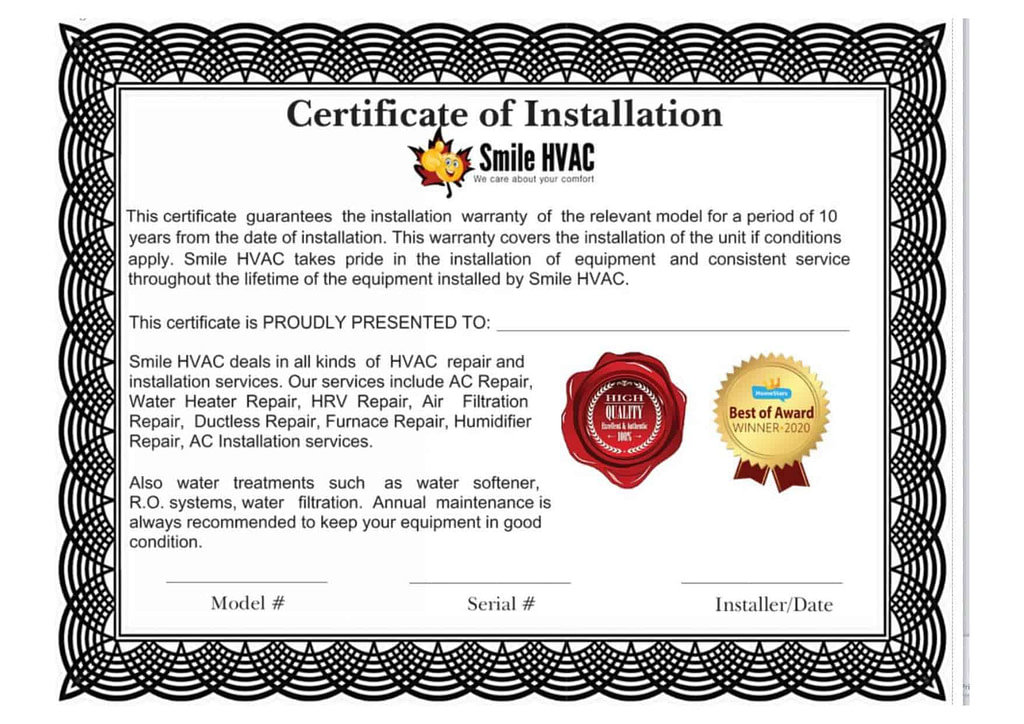 With our Warranty You Can:
Buy HVAC Equipment with Installation
Goodman Gas Furnace Repair
Every heating system requires regular maintenance to function effectively. Failure to check the system regularly can lead to its breakdown, which is expensive to repair and maintain. Goodman gas furnace repair is unavoidable if you don't maintain your equipment in the right way. The primary gas furnace parts include a flame sensor, a burner, vent pipes, and ductwork.
A gas furnace can go off because of a blockage inside and dirty filters. Dirt and dust block smooth airflow, causing the heat exchanger to overheat and quickly shut off. To have a gas leak from the oil furnace is a very devastating situation for your household. Therefore, when you realize that your gas furnace has stopped working, conduct a thorough inspection of your system. Check your furnace and do maintenance regularly to increase its lifespan.
Goodman is one of the well-known names in the HVAC industry in North America. Smile HVAC is committed to providing the best services. If your furnace AFUE is not enough to heat your house you need to hire technicians to provide a Goodman gas furnace repair. Smile HVAC can help you repair it. Even the known HVAC systems in the market require occasional maintenance. Should your HVAC system or furnace require repair, you can trust Smile HVAC to fix it.
Smile Protection Plan is specially designed for those of us who don't like unexpected "surprises". "Surprises" like when you suddenly have to get out of pocket hundreds of dollars to repair your broken equipment.
Ask us about discounts on combined plans.
Smile
Protection
Plans
Starting from as low as
Smile
Maintenance
Plans
Starting from
Most Common Goodman Furnace Problems
The Goodman furnace problems are everyday experiences when the furnace is not working well, especially in the winter season. The most disgusting thing is when you wake up in the middle of the night and realize you cannot sleep because you are cold. If you have a bad experience with your furnace, you can repair and troubleshoot the problem. The following are some furnace problems and Goodman furnace troubleshooting ideas. When the Goodman furnace is not heating, this means the thermostat is not working. Before making any service call:
Check whether the thermostat is on.

Check batteries and gently blow the thermostat to remove any dust clogging it.

Ensure the program model is correct and finally check the fuse if it is on.
All these steps will help you in troubleshooting your furnace. The other problem is when the Goodman furnace won't ignite and does not produce any heat. The first step is checking whether the thermostat is on, and if not, move the dial-up and down to review temperature changes. Then check the fuses that control the furnace and make sure it is turned on.
The next problem is when the Goodman furnace is blowing cold air. This problem's primary cause is when the furnace filter is dirty and prevents airflow in the furnace, which causes overheating because heat is not well distributed. To troubleshoot this problem, you need to switch on and off the heating unit. If the air is warm for a few minutes and later becomes cold, there is a lot of dust in the flame sensor. The final problem is when the Goodman furnace is leaking water; you can manage to troubleshoot this problem independently. You can use tubing to drain the condensed water or to break in the condensation line.
Installation of Goodman Furnace
Goodman Furnace installation is a complicated process that needs experts to handle. There are steps that furnace installation follows to achieve an effective installation process. The first step is to choose the type of furnace you want and install it. Every type of furnace has its installation specifications; before starting any installation process, ensure the area is clean and free from dust or debris. The second step is to choose where the drain and duct will run; the furnace should slightly bend toward the drain exit. The air duct should be the actual size, as indicated in the furnace.
The third step is connecting the furnace to your home ducting system and ensure you seal all connections with a metal foil. The fourth step is to connect both exhausting and intake pipes of the unit and ensure they bend toward the drain unit to avoid furnace water leakage. The fifth step is to connect the furnace with the gas supply.
The sixth step is connecting the furnace to your home electrical supply and ensuring you follow all the manual's wiring instructions. Lastly, click the condenser drain to your drainage hole in the basement where all the condensed water will be going. In the end, check whether you have followed all steps through your installation process and test whether your furnace works. A challenging job for you? Worry not! Hire Smile HVAC for Goodman Services installation. Whether it is furnace installation or repair, Smile HVAC will send qualified technicians to repair your Goodman appliances.
Call Smile HVAC if you're looking for a Goodman furnace repair and have the following problems:
furnace fan isn't running 
furnace is making a noise
furnace is not working 
*Get 10% OFF on your Service Call when you book online.
Goodman Furnace Repair Near Me
Smile HVAC is the best fit for the "Goodman Furnace Repair near me" search. We make it easier to get the right home heating and air conditioning solution to fit your needs. We provide excellent services to our clients and offer door-to-door services. We have a team of experts, and each expert handles a specific type of furnace.
For example, an expert who runs the electrical furnace repairs, another for a gas furnace, and the other takes the oil furnace. The furnace repair near me also offers customer services, and you can make a service call for an expert to come to your house and repair the furnace or direct you on the step to follow to troubleshoot the furnace problem.
Goodman Air Conditioner Repair Service
When the air conditioner is not cooling the air in the surrounding area properly, you need to call experts to provide Goodman air conditioner repair services. The expert usually checks whether the air conditioner has collected a lot of dirt and debris. The Goodman air conditioner installers generally check your AC regularly to ensure it operates correctly and does not develop problems like the air conditioner making noise or leaking water.
Our technicians do the installation effectively and ensure you get the optimum cooling from your air conditioners. The air-conditioner installation of Smile HVAC is known for efficiency and trustworthiness. Hire us today for quality air conditioner installation and repair services.
Some of the air conditioners repair services you can do at home on your own. When your air conditioner would not turn on, the first step is to check whether the condenser is running and plugging the thermostat and lower the thermostat temperature from five to ten degrees. If that fails, you need to check the fuse or if the air conditioner coil is frozen, and it is just as simple as that. If the air conditioner is not cooling the air, the air conditioner may have dirt debris blocking the airflow. Clean outside and inside the air conditioner and remove any dirt and debris for it to function.
Call Smile HVAC
Hiring an expert to handle the system ensures that the system is working well and is adequately maintained. A breakdown of any HVAC (Heating, Ventilation, and Air Conditioning) equipment may cause never-ending inconvenience unless sorted out. Smile HVAC offers in class and quality HVAC services, including furnace and air conditioner repairing and installation.
No matter how old your Goodman furnace is, the Smile HVAC technicians will examine it first and then provide a feasible solution to fix it. Our technicians are well trained. They do the installation and repairing effectively and ensure you get the best experience. Regular maintenance of the furnace is necessary. Smile HVAC is committed to providing the best HVAC solutions to its customers. We are fully licensed and certified by Goodman to provide any HVAC services with manufacturer's equipment. If you require any HVAC services, then give us a call. We will take care of all your HVAC needs and ensure quality work at the best prices.
Authorised Licensed Technicians
Smile HVAC is authorized and licensed to service over 30 brands, so if you own any HVAC equipment from these brands, you don't need to call two companies. Smile HVAC will help you solve all HVAC-related issues and will assist with repairs and installations. We work with all brands including Lennox, Goodman, Amana, Keeprite, Bryant, Daikin, Carrier, York, Trane, Comfortmaker, Payne, Tempstar, Rheem, Ruud and Mitsubishi Electric