Lennox Furnace Repair, AC Repair and Installation and other HVAC services
Certified Lennox Furnace & AC Repair Company
Lennox furnace repair and AC repair is a necessity. It restores the furnace into a good state and allows it to function appropriately. In general, repairing prolongs the lifespan. It reduces the cost of expenditure which could be required to install a new furnace. For repairing to be effective, it should be backed up with a sound system of regular service. A regularly serviced and maintained furnace is always less costly and easy to repair in case of breakdown.
Regular maintenance helps to monitor any possible malfunctioning and mishandling for safety purposes. Accessing the furnace and AC condition requires professionals who have the right skills to detect the problems leading to the malfunctioning. Smile HVAC is a known company providing Lennox furnace and AC repair. If your furnace requires regular maintenance, then call Smile HVAC. We have the best professionals at your service.
10-Year Installation Warranty for HVAC Systems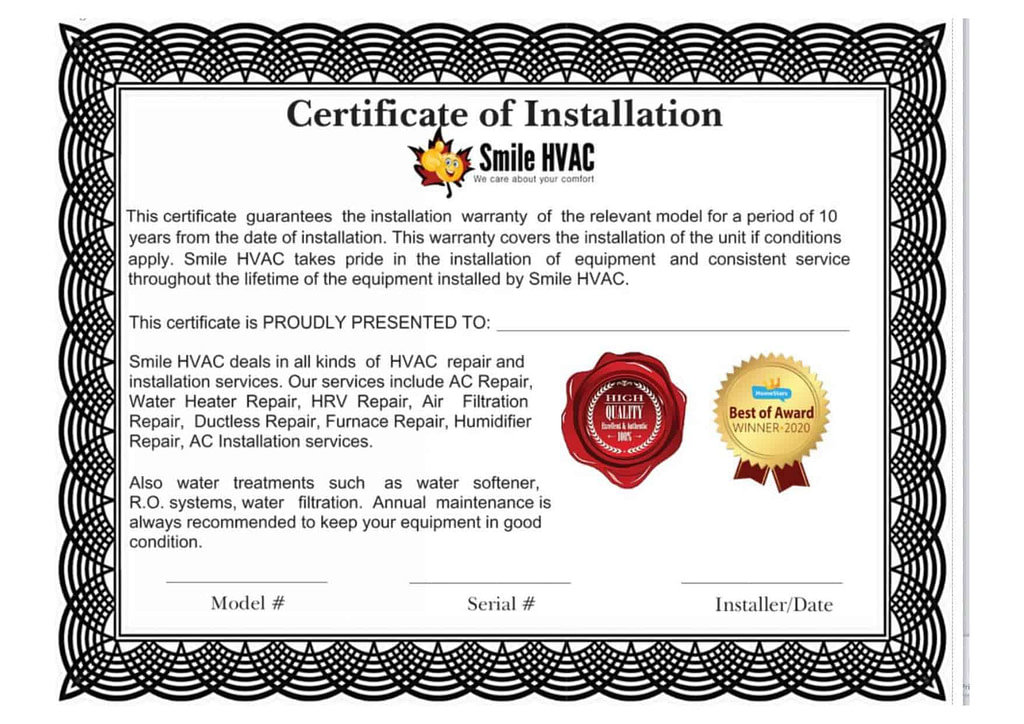 With our Warranty You Can:
Buy HVAC Equipment with Installation
Most Common Lennox Furnace Problems
Lennox furnace problems are signs that the furnace is not well-functioning as it should be. Furnace problem should be a signal to the owner that repairs and maintenance are needed. There is a need to factor in the troubleshooting mechanism for the issues noted. It helps to correct personal mistakes that may have contributed to the resulting problems. While you are doing Lennox furnace troubleshooting, find out the theory of the probable cause. Lastly, you should verify the functionality of the whole system to access if it is functioning normally. If the problems are not corrected immediately, then it becomes risky to use the furnace.
Some of the basic troubleshooting techniques can be applied by even the non-experts. For example, cleaning and repairing air filters, flipping on power switches, checking the electric cables and panels, adjusting temperatures, and fixing thermostat problems by troubleshooting. It is also important to highlight some of the Lennox furnace problems.
The problems include; Lennox furnace won't ignite if the circuit breaker has tripped or the igniter is dirty. Another problem is the Lennox furnace blowing cold air due to dirty filters. Dirty filters block the passing of hot air. A problem faced by many includes Lennox furnace leaking water. It happens due to a break in the condensation line or a problem with the condensate pump. Repairing the condensation line or pump can fix this problem. Lennox furnace is not heating is one of the significant issues faced by users of Lennox. It happens due to several reasons.
The most common ones include dirty filters or the exchange overheating. If you are facing similar problems with your furnace, then it requires maintenance. Smile HVAC is a professional furnace repairing and installation company serving for many years. The technicians are well-versed in the latest technology and know-how to repair all types of furnaces available in the market.
Smile Protection Plan is specially designed for those of us who don't like unexpected "surprises". "Surprises" like when you suddenly have to get out of pocket hundreds of dollars to repair your broken equipment.
Ask us about discounts on combined plans.
Smile
Protection
Plans
Starting from as low as
Smile
Maintenance
Plans
Starting from
Installation of Lennox Furnace
The primary purpose of Lennox furnace installation is to enhance the regulation of room temperatures. It works by providing heat in the interior rooms. Furnace installation plays a significant role in how it works. Inferior installation may result in underperformance. It ends up contrasting the primary objective of installing the furnace.
The efficiency of the furnace is determined by how correctly it is installed. It is necessary to focus on the installation key steps to make it done accurately. It is essential to summarize the key steps in order. After choosing your furnace, you then identify the place suitable to install it to function better. After you have placed it in a convenient location, you decide where the duct and drainpipe will be running. Make a connection to the system duct. Then you connect vent pipes, gas supply, and electric supply. An expert must handle the installation. Hiring licensed furnace installing companies makes the entire process easy.
Smile HVAC is professional and expert in the installation of Lennox furnace. Besides efficiency, there are other disadvantages of poor installation, such as costly payment of services. It happens when you hire new companies to correct the previous installation mistakes. The requirements for reinstallation may be so demanding, making it challenging to meet. The experts at Smile HVAC know how to handle furnaces of all types. They are well equipped and thoroughly skilled. Installing a new furnace can be challenging, but it's an easy job for our experienced technicians.
*Get 10% OFF on your Service Call when you book online.
Lennox Furnace Repair Near Me
Smile HVAC is the best fit for your "Lennox furnace repair near me" search. We understand malfunctioning furnaces can happen at any time.
For safety reasons, it is vital to have a furnace repair around you. The repair should not be around you only but flexible enough to attend to you in an emergent call situation that seeks an immediate response. For your furnace to function in the right conditions, it should be serviced twice a year or at most annually. Smile HVAC can help you do repairing and maintenance of your furnace. We have been doing this for the past many years. Our technicians are fully skilled in repairing any furnace.
Lennox Air Conditioner Repair and Installation
Poor air ventilation in a room may indicate it is time to go for Lennox air condition repair. The air conditioner is also prone to malfunctioning. It means it needs regular service to ensure maintenance. A malfunctioned air condition is characterized by problems, such as warm air, insufficient airflow, leakages, unfavourable temperatures, and unusual noises.
The malfunctioning of the air conditioner can also be a result of poor installation. It is then necessary to consult an experienced air condition repair company when seeking air-conditions installation advice and repairs. Your Lennox air conditioner is not cold enough? The AC fan is not working correctly? Air conditioner compressor won't run? Air conditioner compressor won't turn off? Worry not. The experts at Smile HVAC know how to repair Lennox air conditioners and can hastily fix your problem.
Repairing and installation can be a challenging job at times. For quality services on Lennox air conditioner installation and repairs, hire Smile HVAC. Smile HVAC company has been meeting customer satisfaction installation demands for an extended period. The company has taught modern technological advancement techniques, making it efficient and more competent in the modern business economy.
Repair is beneficial for the effective functioning of the air conditioner besides cost reduction. Whether you need a quick repair or some unit installation is required, we got you covered. We cover installation, repairing, and guiding services provided at the best market rates.
Call Smile HVAC
Smile HVAC is a professional company providing furnace and air conditioner repairing and installation services. Our services are known throughout the town for its efficiency and customer-centric approach. Smile HVAC delivers services at the best market rates. Our experts and technicians know how to handle all types of furnaces and air conditioners, including Lennox HVAC equipment.
They are well versed and fully skilled in repairing all furnace parts. A failure of any HVAC equipment may cause everlasting trouble unless fixed. If your furnace requires regular maintenance, call Smile HVAC. We have the tools and expertise to assess your specific needs.
Irrespective of their type and size, HVAC systems start malfunctioning over time. If the minor faults are not fixed on time, it starts breaking down after some years. The minor issues can become complicated and leave you in great worry. Smile HVAC has a team of technicians who are well experienced in repairing furnaces and air conditioners.
Likewise, if your HVAC system is beyond repair and requires a new installation, hire Smile HVAC for reliable installation services. If the HVAC system is not correctly installed, it won't work correctly. Poorly installed systems require not only regular repair work but also run high electricity bills. Hence, hire Smile HVAC for all your HVAC repairing and installation needs. We guarantee quality work!
Authorised Licensed Technicians
Smile HVAC is authorized and licensed to service over 30 brands, so if you own any HVAC equipment from these brands, you don't need to call two companies. Smile HVAC will help you solve all HVAC-related issues and will assist with repairs and installations. We work with all brands including Lennox, Goodman, Amana, Keeprite, Bryant, Daikin, Carrier, York, Trane, Comfortmaker, Payne, Tempstar, Rheem, Ruud and Mitsubishi Electric