Rheem Furnace Repair, AC Repair and Installation and other HVAC services
Certified Rheem Furnace & AC Repair Company
Smile HVAC Rheem furnace repair is dedicated to giving an extended life, best quality, and efficient heating system services. The average lifespan of furnaces ranges between 15-20 years; however, some might work for 30 years. Typically, it needs significant maintenance to reach that and it involves repair services. Regular maintenance and repair prevent problems that come with faulty furnaces and AC, like a carbon monoxide poisoning threat. Rheem Furnace repair services provided by Smile HVAC ensure that they last long and function efficiently. Furnace maintenance involves a thorough inspection that requires skilled personnel to identify a fault. Thus there is a need to have efficient repair services to get solutions on heating systems at home and other institutions. Regularly servicing your finance and AC also prevent significant problems that may occur in the future.
You will also reduce the risk of a system failure or frequent and inconvenient maintenance. Besides, you can also Increase the optimal cooling capacity and service life of your HVAC system. Smile HVAC is the expert Amana furnace repair service, heat pumps, air conditioners, or entire HVAC systems. Call one of our certified technicians now for a free consultation. We will review and make sure to provide you with the best choice for home comfort!
10-Year Installation Warranty for HVAC Systems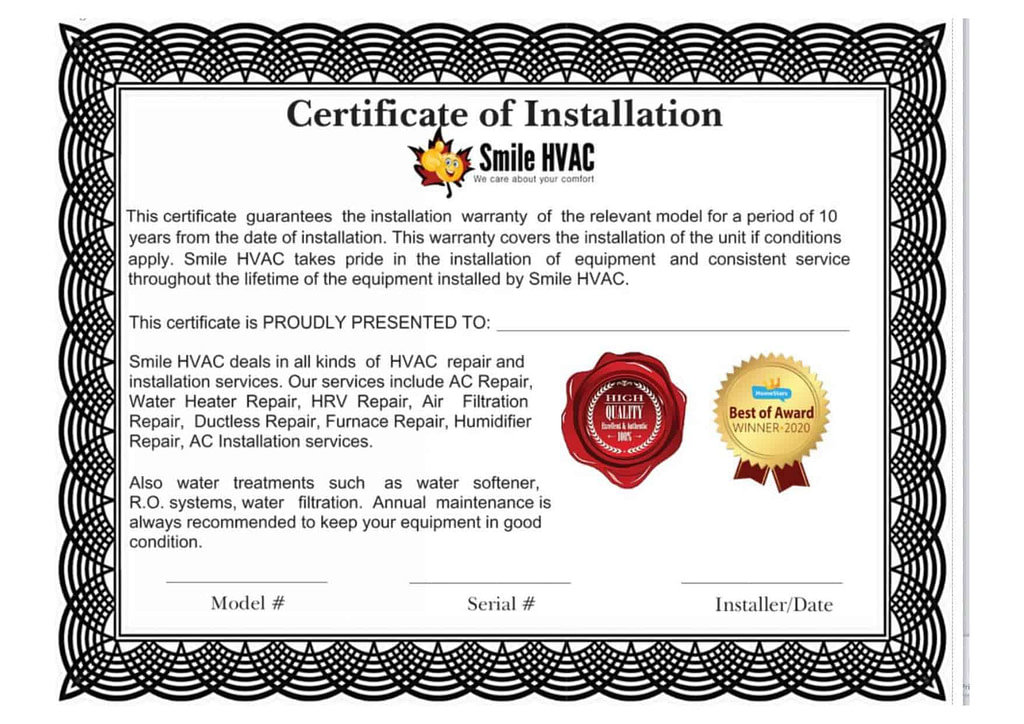 With our Warranty You Can:
Buy HVAC Equipment with Installation
Are you looking for Rheem furnace repair near me? For Rheem furnace repair in your area, search for Smile HVAC services. Smile HVAC is known for giving the best results. If your Rheem furnace fails to work properly, it is advisable to consult with a professional first. Smile HVAC is excellent with the services they give. For the Rheem Furnace to function appropriately, it should be serviced twice a year. Additionally, Smile HVAC technicians are experts in repairing and maintenance of other HVAC products. We are highly skilled technicians and professionals who offer incredible services.
Rheem Air Conditioner Repair & Installation
If you have a poorly ventilated room you need to check your Rheem air conditioner if it needs a repair. Air conditioners need to be serviced regularly, and that allows them to work efficiently. Problems like leaks, switching off, noises, and function problems indicate that the air conditioner has a severe problem. To solve the problem, you need to consult technicians that are experienced in air conditioner repair and installation services.
Smile HVAC has been around for some time and is known for the excellent services we give on Rheem air conditioner installation. We have adopted the skills of providing useful, efficient, reliable, and competent services.
Our services are affordable and long-lasting with a very competitive market price. Each one needs to have services that provide the furnace's comfort and functionality, and the company has mastered customer demands. Our technicians are experienced in air conditioner installation of Rheem.
Smile Protection Plan is specially designed for those of us who don't like unexpected "surprises". "Surprises" like when you suddenly have to get out of pocket hundreds of dollars to repair your broken equipment.
Ask us about discounts on combined plans.
Smile
Protection
Plans
Starting from as low as
Smile
Maintenance
Plans
Starting from
Rheem Water Heater Repair
Were you looking for Rheem water heater repair near me? Smile HVAC is the top search result for your query. The company has been providing water heater repair services for years. The technicians at Smile HVAC are skilled in repairing all water heater equipment. Our technicians can fix anything if the switch of your water heater malfunctions or the wire breaks down. All you need to do is to call Smile HVAC. The team will consult with you and visit your place to fix the problem. Rheem water heater repair deals with the repair and installation of water heater, humidifier, and water treatment system. Smile HVAC offers the best cost-effective services in the specific area dealing with problems like the faulty water heater.
Smile HVAC assures you that our technicians are experienced with various furnace installation issues. Sometimes the water heater fails to warm the water or stops automatically. This can leave someone frustrated about whether they would need to purchase another new piece of equipment or take it for repair. Smile HVAC Company offers all the repairing services to you at an affordable price.
Installation of Rheem furnace
Rheem furnace installation has become quite common these days due to the increasing demand for furnaces. Besides, high costs of fuel have also led people to shift to furnace installation. It reduces energy on ventilation, air conditions, and the HVAC system. The structure of the Rheem furnace method determines how it will function. When the furnace is not installed well, it fails to work correctly and may need another installation. This is because an expertise installation leads to efficient functioning. Hence it should be a strong focus when installing a furnace. You should ensure that the required steps are followed strictly, for instance, choose the right place of installation. The piping and duct connection should be made correctly. It is followed by rightly connected vent pipes, electric, and gas supply.
The installation must be done by a professional and qualified person who follows all the steps correctly. There is a need for a distribution system that would regulate the amount of air necessary for home purposes. To achieve the best installation services, seek Smile HVAC, and avoid unnecessary errors. The company will ensure you don't need to spend money on reinstallation because we are competent and well experienced. Reinstallation can be very expensive. A lack of reliable expertise makes the installation a daunting task.
*Get 10% OFF on your Service Call when you book online.
Most Common Rheem Furnace Problems
Rheem furnace problems mean that the furnace is not functioning correctly. Various reasons might cause the furnace to stop working. For instance, clogging of air can reduce the amount of heat produced in the furnace. Also, the tripping of the circuit breaker controls the heating. A Rheem furnace is not igniting because there are condensation leaks, leading to water accumulation at the bottom of the furnace.
Further, dirty accumulation on the ignition causes the problem due to the gas valve's failure to cut off gas supply after abruptly switching off. Rheem furnaces are leaking water because the condensation of water has clogged the pipes. Due to dirt on the filter, the Rheem furnace is not heating. Accumulation of dirt prevents airflow into the heat exchanger resulting in overheating that shuts the furnace off. It leads to the Rheem furnace blowing cold air. Also, furnace issues might be caused by forgetting to turn on the right thermostat temperature leading to low heat supply.
If your Rheem furnace flashes codes, there is a need to seek help from the module with a diagnostic list of flash codes. The Rheem furnace keeps shutting off due to dirty air filters, which block heat flow, resulting in overheating. Lastly, Rheem furnace troubleshooting can help you to find solutions to the above-mentioned problems. However, if you have difficulties, you can refer to a professional HVAC company. Smile HVAC can be of great help in such instances. We are experts in repairing different types of furnaces.
Call Smile HVAC
Smile HVAC services are available for everyone who needs furnace repair and installation, and when your AC is failing to function correctly. Our competent technicians know how to handle all the issues professionally. The company has been giving these services for quite a long time and is known for professionalism. The customer services are what make us great because we always have referrals from happy clients. The company also repairs Rheem HVAC systems and pieces of equipment to ensure they function correctly at home. Our staff is trained to work with modern technology and tricks.
The company is known for the excellent repairing and installation of air conditioners and ensures your HVAC system functions well.
If your furnace is not heating or your air conditioner is malfunctioning, then look no further. Smile HVAC can solve your problem. We offer installation and repair of furnaces, water heaters, ACs, HRV systems, and more! Regularly servicing your HVAC system prevents significant issues that may occur in the future.
Authorised Licensed Technicians
Smile HVAC is authorized and licensed to service over 30 brands, so if you own any HVAC equipment from these brands, you don't need to call two companies. Smile HVAC will help you solve all HVAC-related issues and will assist with repairs and installations. We work with all brands including Lennox, Goodman, Amana, Keeprite, Bryant, Daikin, Carrier, York, Trane, Comfortmaker, Payne, Tempstar, Rheem, Ruud and Mitsubishi Electric