Ruud Furnace Repair, AC Repair and Installation and other HVAC services
Certified Ruud Furnace & AC Repair Company
Ruud furnace repair is a fundamental practice that should be ensured for the efficiency and effectiveness of furnaces. When it comes to something as essential as one's residential heating, ventilation, and air conditioner, everyone wants to ensure new installation is done accurately and cost-effectively. It is for this reason that every individual wants their appliances to last longer. Furthermore, furnaces have a longer lifespan that ensures the owner is not purchasing a new one soon. 
However, how you maintain furnaces matters a lot because it determines how long it will last. Smile HVAC provides Ruud furnace repair service and ensures that furnaces are repaired and installed accurately, hence satisfying the owner. Our experts are well versed and fully skilled in the installation and repair of AC and furnaces.
10-Year Installation Warranty for HVAC Systems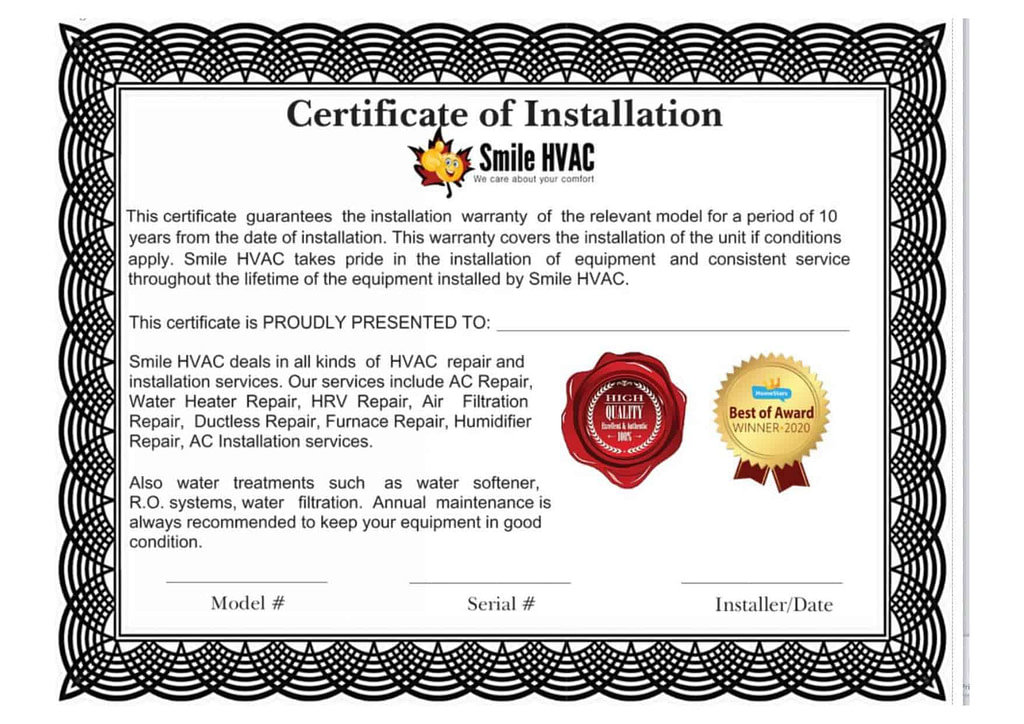 With our Warranty You Can:
Ruud Furnace Repair Near Me
If you're looking for a Ruud furnace repair near me, Smile HVAC is what you need. Sometimes malfunctioning of the furnace occurs, and an effective service provider will be required for repair. The company has experts who are well conversant with Ruud furnaces and can assure you the best services.
They have a well-dedicated team ready to offer high-quality professional services that will keep your home comfortable. Additionally, the prices are quite affordable regarding the services given will cut the cost of re-installation. Delivering exceptional customer experience and giving back to society is the ultimate goal of Smile HVAC. Ruud Furnace repair near me ensures that maintenance is achieved and it will last longer. We offer other services, including installing water heaters and water treatment systems.
Ruud Air Conditioner Repair & Installation
Ruud air conditioner repairs require maintenance to be conducted regularly to avoid technical issues. Smile HVAC advises for replacement of dirt from filters which clog them blocking the airflow. Some owners ignore the annual checkup, which can be vital to their ACs performance. The company provides services for repairing any sign of malfunction in the air conditioner.
AC's common problems include leaking ducts, thermostat problems, clogged drainage, and dirty condenser coils. Hence, it is advisable to consult a highly professional company to repair them and ensure adequate functionality. Smile HVAC services are scheduled promptly and can check the ACs thoroughly to avoid a potential domino effect whereby a specific problem can escalate. Routine professional services and air filter change prevents reduced lifespan and increased frequency of the air conditioner.
Ruud air conditioners allow for larger coils, which makes it more efficient. It is quieter and more effective than their processors; hence cost usually offsets the benefits. Smile HVAC company installation team gives the best quality services enhancing safety and comfort in your home. We are professional Ruud air-conditioner installers. We have the equipment information, accessories, and all other instructions that need to incorporate. Communication is a crucial component with them, and one can question to prevent unseen mistakes during the installation. We will also start a safety process that involves turning off electrical circuits to the existing HVAC equipment.
Smile Protection Plan is specially designed for those of us who don't like unexpected "surprises". "Surprises" like when you suddenly have to get out of pocket hundreds of dollars to repair your broken equipment.
Ask us about discounts on combined plans.
Smile
Protection
Plans
Starting from as low as
Smile
Maintenance
Plans
Starting from
Installation of Ruud furnace
Ruud furnace installation is a complicated task that can not be attempted as a "do it yourself" job. Furnaces have various components, including plumbing, ducting, electrical, and gas, which require expert technicians and specialized tools. Hence, the installation of Ruud Furnace requires multiple steps to achieve accurate installation. First, you need to select the location of the furnace installation. Ensure that the place is clean and free of dust if it's in a basement place blocks 4 inches above the ground.
Decide the position where the duct and drain will run because it requires a hole in the unit. Then you can connect the ducting system to ensure it's sealed with metal foil tape because it lasts longer. The next step will include connecting the vent pipes on a slight angle so that any condensation can effectively drain well. Ensure enough shutoff and ventilation and recheck for any leaks. Verification of wiring is usually done using the instructions manual when connecting the electrical supply. Then you can join the condensate drain through a hose to a drain hole in the ground. 
Finally, turn on the unit and check if the heating is sufficient as per the manufacture. Double-check for any leakage and ensure the draining condenser is working well. Thus, Ruud furnace installation remains a complicated task that would require professionals to do it correctly.
*Get 10% OFF on your Service Call when you book online.
Most Common Ruud Furnace Problems
Ruud furnace problems occur more often than others, and sometimes what seems to be a big problem turns out to be something easy to fix. The issue might have stopped the whole furnace from functioning. In Ruud furnace troubleshooting, some problems can be repaired at home without calling a technician to fix them; for instance, if the Ruud furnace is not igniting, you can check the circuit breaker. This is because the circuit breaker could have tripped turning off the power. 
Additionally, you can replace the air filter because a clogged filter blocks the room's warm air supply. If the Ruud furnace is not igniting, the flame might not catch, and the furnace cannot produce warm air. This happens when there is no flame to ignite the fuel and a friendly atmosphere. A Ruud furnace is blowing cold air when the thermostat is not set appropriately. The thermostat warms the air, which is then supplied in the house when it's cold outside. When the Ruud furnace is leaking water, it means condensation, which causes water to pool around the furnace's basement. When the condensation pipe becomes clogged, water pools around the bottom of the furnace. The Ruud furnace is not heating, which means that maybe the thermostat is not turned on. Thus, there is a need to check the thermostat.
Ideally, a Ruud furnace keeps shutting off due to short cycles caused by a lack of airflow in the furnace. However, furnaces usually have safety switches that slow down high temperatures to moderate ones. Also, a clogged air filter can prevent airflow, which affects the efficiency of heat production, shutting the furnace off. Ruud furnace flashes codes mean the heating system could be experiencing a low flame signal. Hence the flame sensing rod could be dirty or incorrectly placed on the burner.
Call Smile HVAC
Smile HVAC provides repair and installation of all kinds of furnaces. If your furnace has got an issue like shutting down or improper functioning, seek help from Smile HVAC. We have highly qualified and professional technicians who have experience in the HVAC system and types of equipment. Additionally, our services are given all over Canada, and positive feedback has dominated our services. Receiving an effective installation and furnace repair gives your appliance a long lifespan. An in house customer service technician ensures they provide the best services. As an owner of a furnace, it can be draining to lack a reliable expert who can solve malfunctioning. Going for days without warm air in the house is uncomfortable. 
Hence, we bring our experts to get the solution at home. Our core values include honesty, integrity; when an issue is beyond our control, we can openly give another referral. Due to many years of experience, we also have enough knowledge about what we are good at. However, our experienced technicians can repair different HVAC pieces of equipment. Consulting Smile HVAC professionals will reduce the dangers that come with having malfunctioning furnaces. We offer other services, including installing a humidifier, water heater, and water softener system. Our costs are very affordable with excellent benefits. If your furnace or needs repairing, then contact Smile HVAC today!
Authorised Licensed Technicians
Smile HVAC is authorized and licensed to service over 30 brands, so if you own any HVAC equipment from these brands, you don't need to call two companies. Smile HVAC will help you solve all HVAC-related issues and will assist with repairs and installations. We work with all brands including Lennox, Goodman, Amana, Keeprite, Bryant, Daikin, Carrier, York, Trane, Comfortmaker, Payne, Tempstar, Rheem, Ruud and Mitsubishi Electric