Dishwasher Repair Services
A dishwasher is a household appliance that holds a special place in a home. Very practical, it helps lighten daily household chores and saves you a lot of time. However, sometimes this machine breaks down. Do the dishes come out of your dishwasher without being completely clean? Are the glasses not adequately dried or the utensils stained by poorly rinsed soap? Or worse yet, your appliance stops working altogether, and you panic at the thought of having a massive, tasty dinner without a dishwasher to save you in the aftermath? Don't worry; Smile HVAC is here to solve all these problems and more.
Whether you have a water leak, foam, washing, rinsing, or filtering issue, our technicians can often repair the problem immediately. If it is impossible to fix the breakage without changing a part, we will act according to your needs to replace the part of your faulty appliance as soon as possible.
Smile HVAC's appliance repair technicians have undergone special training, extending their know-how of installing and repairing appliances from several conventional and high-end brands. Smile HVAC is an authorized contractor for the repair of the top-of-the-range brands like Asko, Best, Bosch, Sub-Zero, Venmar, and Wolf. We not only assure you of high-quality service, but we also respect or even extend your warranty. Find out by contacting our customer service.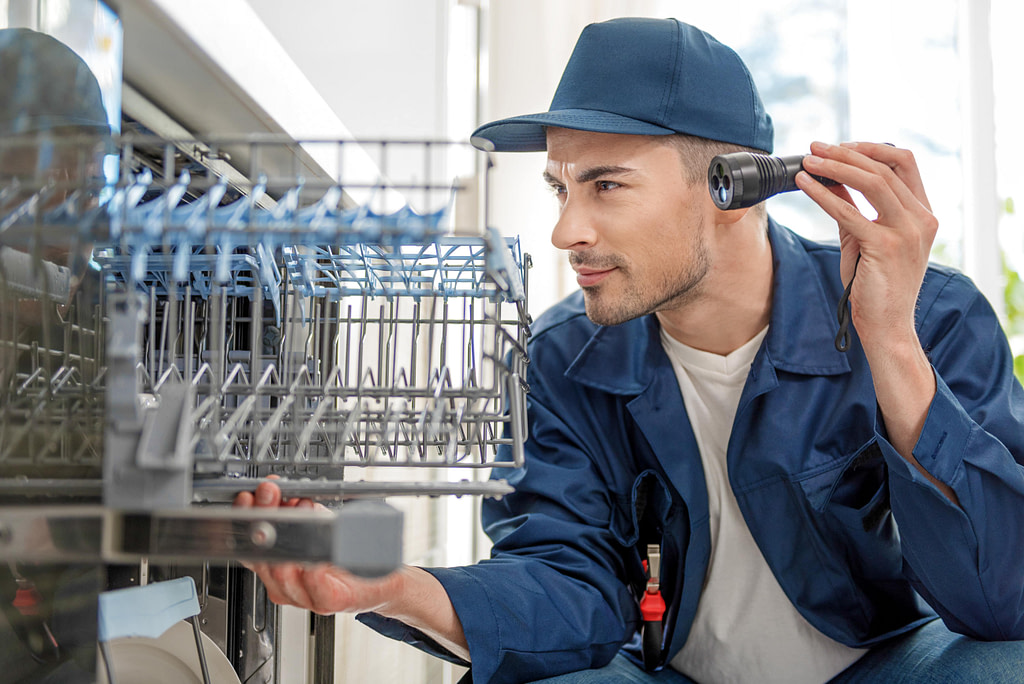 Emergency Dishwasher Repair Services

A dishwasher is a sophisticated appliance. An average repairer will not be able to effectively diagnose a fault, let alone find the appropriate solution. The best step to take is to call in an appliance repair professional. Our team can come to your home on short notice to solve your problem, and they will perform a 24-hour dishwasher repair. Using our services, you can ensure two things: your device will be diagnosed quickly and efficiently thanks to our experience. Besides, you will benefit from a repair in the long run, avoiding any faulty quality or mounting fault.
For many years, we have repaired all brands and types of commercial and residential dishwashers. Our experts are familiar with the products they fixed and can tell you precisely what is causing the problem with your appliance. Following our long experience in the field of appliance repair, we have established a network of contacts with suppliers of new parts and users. Our technicians will know exactly what you need, and they will offer you the best possible solution to solve the problem.
At Smile HVAC, we consider that it is also our mandate to inform you on the best way to use your device to avoid breakage and deterioration of parts. Often, improper use of your dishwasher can lead to problems that keep coming back if you don't change your usage habits. Smile HVAC has stood for valuable technical know-how in dishwasher repair as well as first-class customer service.
Types of Dishwasher We Repair

No matter where you bought your dishwasher from, we can repair and provide a service! Our team is sufficiently competent, experienced, dynamic, and of course, they are passionate about their work. We guarantee you impeccable results with our dishwasher repair service and the quickest performance.
Regular top-loading dishwashers all have similar mechanics. Top-loading appliances remain the most reliable and are the easiest and most economical to repair. Thus, the most common problems can be repaired on-site: leaking pump, cover switch, belt change, etc. If it is not possible to fix the breakage due to a part that we do not have in stock, you will not be charged any overcharge, and we will replace the part of your dishwasher that is faulty as soon as possible.
Brands we repair Bosch, Whirlpool, Amana, LG, Beko and Blomberg, Electrolux, KitchenAid, Dacor, Ikea, and Frigidaire Fisher & Paykel GE, Miele, Samsung, Thermador Viking, and more.
A quick and precise diagnosis will allow us to determine the problem, and we will explain all the options available to you before repairing it. We will also always put your device back in order as quickly as possible.
Besides, we offer our customers a maintenance program. It is explicitly designed to ensure that the device operates up to manufacturing standards, which will extend the life of your appliance.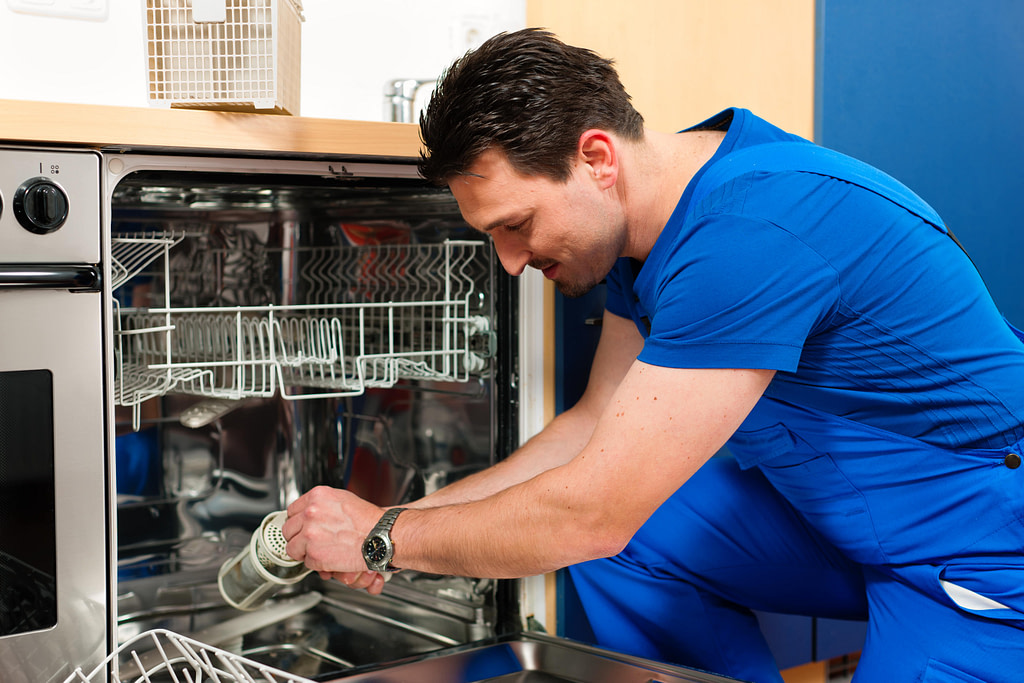 A Few Technical Tips to Give Your Dishwasher a Longer Life:

First, run your plates under warm water to remove, if there are any, olive stones, toothpicks, milk bag caps, etc.

It is, however, important not to remove all the dirt that is on your dishes. Most dishwashers have a clarity sensor. If the water in the dishwasher is immaculate during the wash cycle, the dishwasher's electronic control will decrease water level, depending on the model of the appliance. The duration of washing and the water temperature will also reduce, which in some cases results in poor washing quality.

If you get into the habit of rinsing your dishes, do it, but do not spend too much time doing so.

Remember that hot water will be less effective in cleaning eggs or cheese.

However, manufacturers recommend scraping your dishes to remove excess food, rather than rinsing them with water.

Last but not least, do not forget to add your rinse aid regularly; this dramatically improves drying and prevents dried water drops on your utensils and glasses.
We hope that these tips will help you. When the time comes to fix your dishwasher, opt for an appliance repair technician capable of repairing and maintaining it at a competitive price and within a more than a reasonable time frame.
We mainly offer our dishwasher repair service in Toronto and its surroundings. Today's appliances are real jewels of technology, and the Smile HVAC team is a master at detecting problems and providing the appropriate solution. It makes it all the more vital that you can have the confidence that your appliance repair technician has the necessary experience and unparalleled technical expertise in solving mechanical and electrical problems. We repair and install your appliances in complete safety. Refrigerators, washers, dryers, stoves, dishwashers, and more. We work in Toronto and all the GTA area. For the repair of all your household appliances, trust Smile HVAC.
Choose Smile HVAC for Dishwasher Repair

Smile HVAC provides full range of services for appliance and HVAC units. We have fully licensed and trained technicians that can fix all of your home appliances regardless of the type and model. In some cases, however, it's impossible to repair the appliance. We can advise you based on our extensive expertise what type of device you should buy in order to minimize problems in the future. Book your appointment with Smile HVAC today, so we can repair your dishwasher as soon as possible.
We serve all the GTA area including: