Dryer failure is always frustrating for many people. The last thing you want to happen is to put your clothes in the machine and let it run, hoping it will work normally, but come back 20 minutes later to find your clothes still wet. Do your clothes stay damp despite spending a long time in the dryer? Are you at risk of burns from your dryer overheating? Do you notice abnormal humidity levels in your laundry room when your dryer is in use? Call the dryer repair experts in Toronto and the GTA.
Our dedicated team will quickly come to your home and will start working on your repair as soon as possible. Besides, our professional and personalized service ensures an impeccable dryer repair. Our technicians know the specifics of all brands of dryers and can repair yours in no time. Today, Smile HVAC offers you the same technical know-how that large companies have, but with detail-oriented service to each client and their specific needs.
We always work in an atmosphere of trust to ensure that we meet our clients' expectations. We only recommend what is best for you, regardless of the price of the service. Our technicians are courteous, efficient, and thorough. They are fully licensed and trained to answer your questions and guarantee you high-quality work at all times. Smile HVAC puts its expertise at your service. For the repair, installation, and maintenance of all kinds of appliances, commercial or residential, you can always rely on our professional team.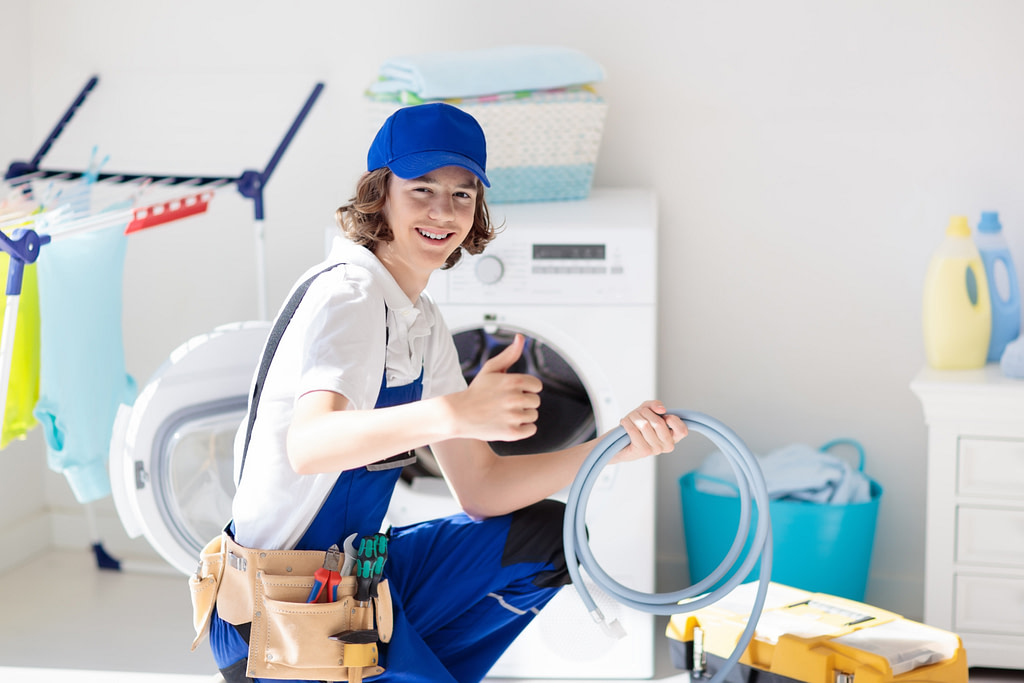 Emergency Dryer Repair Services

The dryer machine has become an indispensable tool today. Most households now have one, and its usefulness today is indisputable. Indeed, it facilitates household chores by combining speed and efficiency for ready-to-wear clothes. However, dryers require maintenance, so they function correctly. If your dryer was recently purchased, most likely, it is still under warranty. If this is no longer the case, it will be necessary to opt for the services of Smile HVAC for an emergency dryer repair.
How a dryer works is simple. Dryers blow hot air while the laundry spins in the drum, so that water from wet clothes can evaporate. The heat usually comes from an electric heating element. The water in the clothes will turn into vapor and leave the dryer through an exhaust duct. If you have a problem with your appliance, this is where the problems will usually arise.
Common problems you can have with your dryer:
A loud dryer;

The dryer no longer produces heat;

Your laundry stays damp or wet;

The temperature of the dryer is very high;

Your dryer does not start anymore;

Error code f01, etc.
Here is a little tip: despite the temptation to leave your dryer on when you leave the house, avoid doing that. It is an electrical or gas-heated device that can endanger your home. Your safety is essential, so call our team of experts as soon as you notice a problem with your dryer. Also, remember to remove dust from the filter each time you run your machine. It may block your ventilation and sometimes can even ignite. For more advice, and for a 24-hour dryer repair, call the Smile HVAC team.
Types of Dryer We Repair

Some modern devices or foreign brands require more specific knowledge and parts that are more difficult to find. No problem! All of our technicians are experienced and trained to repair all types and brands of dryer. No matter what brand of appliance you have, we can find the parts you need to fix your dryer. Also, if your warranty is still active, we can check the conditions of your manufacturer. Otherwise, we guarantee a reasonable price, a lasting repair, and a high-quality dryer repair service.
There are different factors, features, and types of dryers.
Electric dryer: These dryers are the most popular because they are easier to install and maintain.

Natural gas dryer. Although they cost more upfront to purchase and install, natural gas dryers can save you more money in the long run.

Front-loading dryer. For those who favor energy-efficient solutions, there are also front load and stack dryers: This type of dryer takes up less space, runs faster, and offers a faster drying time.
At Smile HVAC, our technicians have a thorough understanding of all types of dryers. Because you need your household appliances daily, we always respond as quickly as possible. Our flexible hours and our well-trained team allow us to find the best time slot suitable for you, offering you the most efficient service for dryer repairs. Whether you want to repair an appliance for residential or commercial use, small or large, take advantage of our team's expertise and our impeccable service.
Some examples of dryers brands we repair are Electrolux, LG, GE, Amana, Samsung, Whirlpool, Maytag, Estate, Kenmore, Bosch, Crosley, Fisher & Paykel, Speed Queen, Hotpoint, Asko, and more.
We are also at your disposal providing dishwasher repair, washing machine repair, refrigerator repair and other appliances. Determined to guarantee the excellence of our work, we do everything we can to make our repair, maintenance, and installation services one of the best in Toronto and the GTA. Thanks to our team's professionalism and expertise, we have built an excellent reputation with our customers who are now our best references. No matter where you bought your dryer, we can perform maintenance!
Choose Smile HVAC for Dryer Repair

From your first call, our professionals will ask you the right questions to quickly identify the problem and send qualified technicians to the site without delay when you call to Smile HVAC. No matter what issue you have, you are always guaranteed to receive prompt, honest, and reliable service. We not only can provide you with the best dryer repair service but also make sure that repair was done professionally so you can forget about problems with your appliances for many years. Please feel free to inquire about our affordable rates and contact us as soon as you need assistance. We will be happy to serve you in Toronto and the GTA. Call us at (+1) 437-777-4555 or book appointment online.
We serve all the GTA area including: