Tempstar Furnace Repair, AC Repair and Installation and other HVAC services
Certified Tempstar Furnace & AC Repair Company
Tempstar furnace repair requires a good knowledge of the system and specifics of this brand.  Failure to strictly adhere to the furnace repair services raises the probability of risks in the course of its operation. Tempstar furnace repair services have a crucial role in saving the energy used and creating safer environments in our houses.
Only highly skilled professionals with the necessary knowledge to identify the system's problems can perform this work. Furnace and AC requires to be serviced regularly, and this makes it even easier to solve any technical issue that might arise. Smile HVAC provides furnace and AC repair services. Our technicians are well versed and skilled in repairing Tempstar furnaces and air conditioners.
10-Year Installation Warranty for HVAC Systems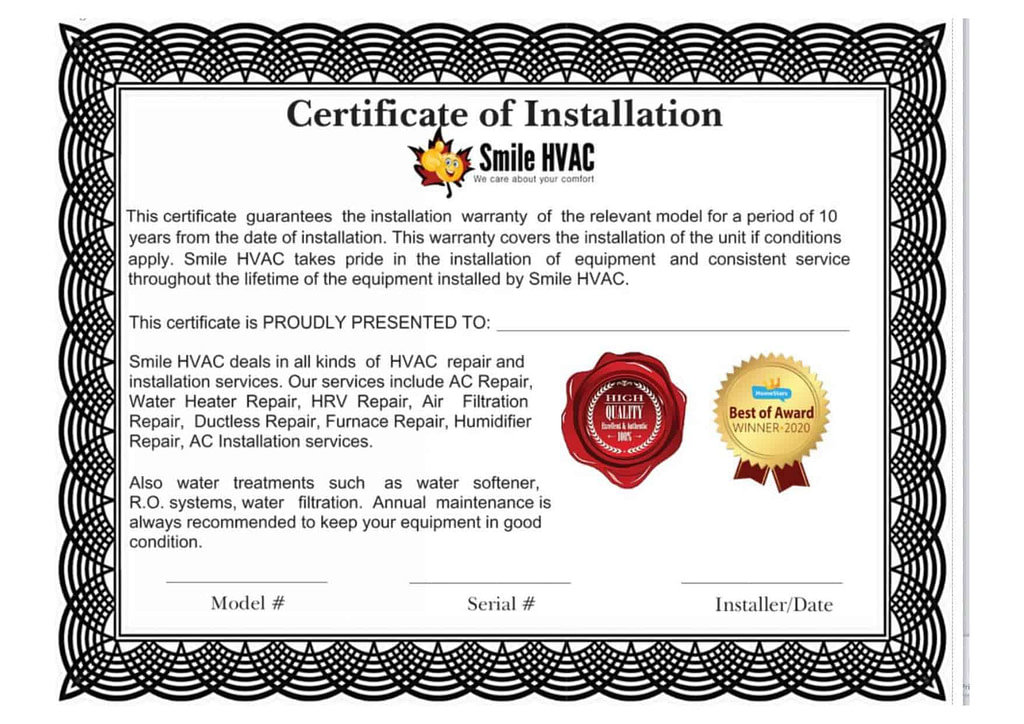 With our Warranty You Can:
Tempstar Furnace Repair Near Me
Smile HVAC is the top result for your "Tempstar furnace repair near me" search. For the Tempstar furnace's malfunctioning, it is very advisable and essential that you chose the most reliable company to carry out safety checking. Smile HVAC is an expert in handling Tempstar furnace problems.
For the best operation of Tempstar furnace, make sure you serve it at least twice per annum. Smile HVAC is widely known for its excellent service delivery in repairing and installation of Tempstar furnaces. The technicians of Smile HVAC are not only quite versed but also highly skilled in repairing Tempstar furnaces.
Tempstar Furnace Installation
With the wide use of the furnace in homes and buildings, more and more people are looking for expert Tempstar furnace installation companies. Installation entails minimizing the ventilation energy consumption, air conditioning, and HVAC heating systems. How the Tempstar furnace is installed dictates and determines the way it operates. The improper installation of the Tempstar furnace results in poor performance as well as under-functioning.
The efficiency and effectiveness of the furnace operation are determined by how best it was installed. The right procedure should be followed during the furnace installation process. Choose the correct position for installation. Know where the drainpipe will be running to and then connect it to the duct system. After that, click the vent pipes, electric, and gas supply.
A highly skilled and professional company must carry out the above procedures for Tempstar furnace installation. The right HVAC equipment use is essential. For the desired amount of air with the best environmental conditions, a distribution system is necessary. Employ Smile HVAC for best installation protocols to get rid of more consultation, which results from errors that can be avoided easily. For installing all kinds of furnaces, go for Smile HVAC. We are very competent in the field.
Smile Protection Plan is specially designed for those of us who don't like unexpected "surprises". "Surprises" like when you suddenly have to get out of pocket hundreds of dollars to repair your broken equipment.
Ask us about discounts on combined plans.
Smile
Protection
Plans
Starting from as low as
Smile
Maintenance
Plans
Starting from
Most Common Tempstar Furnace Problems
Tempstar furnace problems are usually an indication or signal that the system is not in good working condition. Several issues may be the key reasons that might make a furnace fail to operate normally.
When the circuit breaker is tripped, it can result in power turning on and off at the furnace's heating system. Warm air may fail to permeate the room if vents plus registers are closed. The furnace may not produce the required amount of heat if the air filter is clogged.
The Tempstar furnace is not ignited when the ignition center and the pilot light become dirty.
The furnace may sometimes switch itself off accidentally, and this is usually caused by the gas valve stopping the gas supply to the furnace.
A Tempstar furnace is leaking water if there are condensation leakages. This makes water accumulate at the bottom of the furnace. It is usually due to condensation pipes clogging, and the result is the failure of the furnace to heat correctly.
Tempstar furnace is not heating because the filter has become dirty. The dirty air filter prevents the flow of air into the heat exchanger of the furnace, making it overheat and eventually shutting down.
This leads to the Tempstar furnace blowing cold air. In addition to that, the furnace may fail to heat if the thermostat is not turned on. Also, one may not remember setting the correct temperature on the thermostat hence making it heatless. Dust can clog the furnace minimizing the flow of air and making it generate less heat. On the side of flash codes, they usually vary from one furnace to another.
Whenever Tempstar furnace flashes codes, look for the module's aid having a diagnostic list of flash codes.
Lastly, if the Tempstar furnace keeps shutting off, the air filter is dirty, preventing airflow. The heat exchanger, therefore, retains much of the heat that makes it overheat. For all the above problems, Tempstar furnace troubleshooting will aid you to solve them. If it fails to solve, you will require a professional HVAC company to help you out. Smile HVAC offers the best professionals ready to help you.
*Get 10% OFF on your Service Call when you book online.
Tempstar Air Conditioner Repair & Installation
A poorly ventilated room implies the need for a Tempstar air conditioner repair. This might also indicate that there is a problem with the air conditioner, which requires fixation. There should also be a regular servicing of the air conditioner. Issues such as being noisy when operating, unconducive temperature, and water leaking could result from poor air conditioner installation.
Whenever searching for Tempstar air conditioner repair installers, always consult a highly skilled or experienced and reliable company. In case there is insufficient cold air in the air conditioner, unnecessary running of AC fan, and frequent turning of a compressor, contact Smile HVAC experts who are professional Tempstar air conditioner installers and never worry at all.
Smile HVAC is known for its best quality services in the air conditioner installation of Tempstar. For many years, Smile HVAC is widely known by many people to repair and install ACs. Smile HVAC has incorporated technology, making it very efficient and even competitive in our current business world. In addition to reduced charges on the services, we are also good at aiding AC's best functioning. Therefore, contact Smile HVAC for the service you need on the Tempstar air conditioner. We will repair your Tempstar AC at an affordable rate.
Our Services
Installation 
Are you building a new home or renovating and need a Tempstar furnace installed? No problem! We will send our team of professional and qualified technicians to access your layout and install the unit based on your unique needs and requirements.
Repair
The last thing that any homeowner wants is for their heating or cooling system to act up, especially during winter months. If, after troubleshooting the issue, your furnace is still acting up, do not hesitate to contact Smile HVAC. We have what it takes to get your Tempstar furnace up and running, so you don't freeze in the middle of the night.
Maintenance
Regular maintenance for your Tempstar furnace is crucial to ensure the proper functioning and prevent unnecessary failures. Give us a call today if you want top-notch furnace maintenance service for Tempstar furnace.
We also offer many other HVAC services. Contact us today if you need expert heating and cooling services for your home or business.
Call Smile HVAC
Are you disturbed by your Tempstar furnace's malfunctioning that is giving you sleepless nights and wondering what to do? Do you need the best repair and installation services? Be no more anxious about it. Smile HVAC has got you covered. Smile HVAC is well conversant and competent in installation and repairing all varieties of furnaces and air conditioners.
We have been providing HVAC services to our clients for a long time. Our technicians are well skilled in dealing with HVAC systems and equipment. They are very current and updated with new technology and challenges. These services will ensure and warrant your HVAC system durability. Smile HVAC delivers you the best services; our experts inspect your system and guide you to the best solutions.
Smile HVAC is known by people for its excellent service delivery in installation and repairing different kinds of air conditioners. Besides repair and installation of air conditioners, Smile HVAC experts also install a water heater, humidifier, and water treatment systems. The repair services are best, effective, and relatively cheap compared to other companies delivering similar services. If your Tempstar furnace is not operating well or your AC is malfunctioning, then contact Smile HVAC. We will make sure the problem is solved comprehensively.
Authorised Licensed Technicians
Smile HVAC is authorized and licensed to service over 30 brands, so if you own any HVAC equipment from these brands, you don't need to call two companies. Smile HVAC will help you solve all HVAC-related issues and will assist with repairs and installations. We work with all brands including Lennox, Goodman, Amana, Keeprite, Bryant, Daikin, Carrier, York, Trane, Comfortmaker, Payne, Tempstar, Rheem, Ruud and Mitsubishi Electric