York Furnace Repair, AC Repair and Installation and other HVAC services
Certified York Furnace & AC Repair Company
If you feel that there is something wrong with your York furnace, you need to call the experts to repair it. It can be very devastating when your furnace stops functioning, especially during the winter months. When this happens, you need to call York furnace experts like Smile HVAC.
We are certified by York furnace repair service with a long-standing reputation for providing expert HVAC services. If you can't stand the cold of the night and you need immediate repair for your York furnace, Smile HVAC is at your service. We will provide you with personalized service and repair your heating system appropriately the first time.
10-Year Installation Warranty for HVAC Systems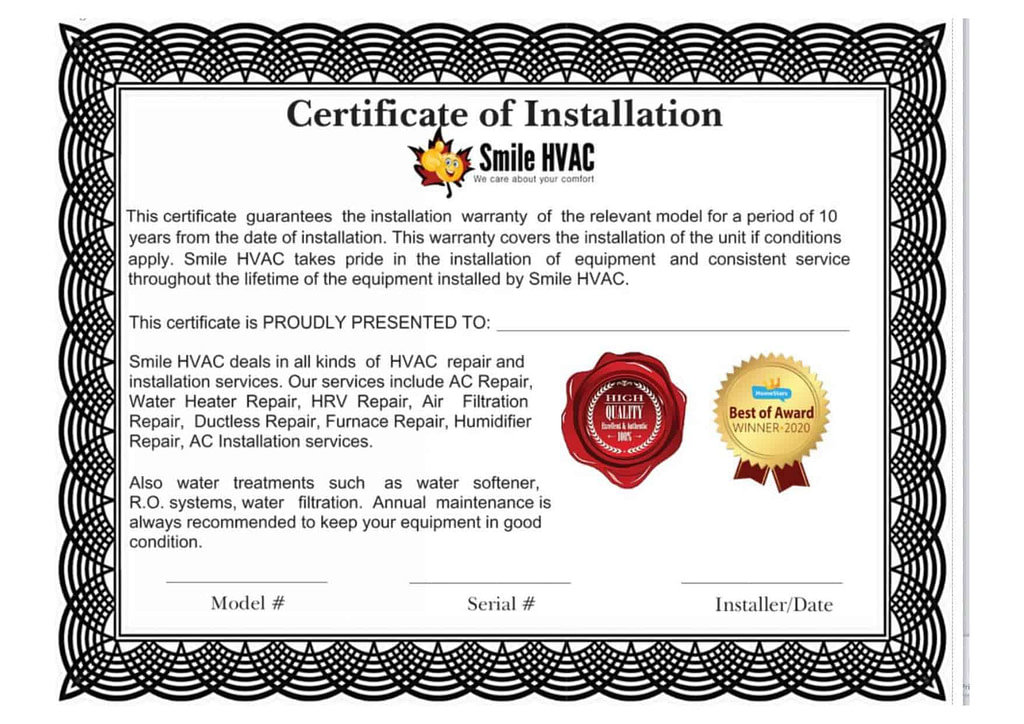 With our Warranty You Can:
York Furnace Repair 
Were you searching for York furnace repair near me? Trust Smile HVAC to fix your heating system right away.
When your furnace stops working correctly, it can be more serious than a real inconvenience, especially if the temperature outside is extremely low. Furnaces, like other household features, can break when you least expect them to. For this reason, it is crucial to look for an expert repair service near you that will examine the unit and offer the best course of action.
Smile HVAC offers the best furnace repair service for York in Toronto and GTA. If you are experiencing any issues with your York furnace, do not hesitate to contact us. We will use our expertise to fix your unit the right way so that your heating system can be up and running again as efficiently as possible.
Installation of York furnace
At Smile HVAC, we offer York furnace installation service at a reasonable price. A great HVAC system can make a difference in the comfortability of your homes.
Here are the steps involved in the installation of the York furnace.
Effort 1: Find the Right Contractor
Before anything else, find a knowledgeable and trustworthy contractor. Ensure that the contractor has the skills and tools to choose and calculate the HVAC system's type and size suitable for your home. Smile HVAC has extensive experience and an excellent reputation when it comes to York furnace installation.
Step 2: Find the Right Unit
Consider factors such as noise levels, options, and warranties in choosing the best unit for your home. If your concern is about the noise level, ask the contractor to give options that produce noise levels under 60 decibels (dB). Also, learn about the warranties available on the unit you plan to take. Warranties make your unit protected for a long time to come.
Step 3: Complete Your System with Add-on Options
Ask for options that are needed to complete the furnace system. System additions can make a significant difference in the efficiency of your HVAC system.
Also, do not forget about the thermostat, as it is an essential component of any furnace installation process.
Step 4: Do Maintenance Regularly
Make a regular maintenance schedule for your HVAC system. It helps to identify small issues before it evolves into bigger ones. It also allows you to learn how your HVAC system works.
Need help in finding perfect methods and installation process of it? Call service from the experts at Smile HVAC.
York Air Conditioner Repair & Installation
If your York air conditioner stopped working, you need immediate York air conditioner repair. Air conditioners are designed to make our homes and offices comfortable, especially during the summer months. However, they are susceptible to breaking down occasionally.
Smile HVAC is famous for providing exceptional York air conditioner repair service for both residential and commercial settings. We strive to ensure that homeowners get a maximum range of comfort systems for their homes always.
At Smile HVAC, our goal is to provide unsurpassed service whether you need York air conditioner repair or installation. Our York air conditioner installers have long years of experience with different York systems and guarantee to exceed your expectations.
Fully committed to giving incomparable customer service, Smile HVAC can set appointments with you on the same day you ask for our help. The process begins with the assessment of your system to identify its weaknesses and damages. After the inspection, discussing approaches to solutions to your problem will take place with your budget taken into consideration.
Whether you need a York air conditioner installation or just to replace it, Smile HVAC is just a call away. Do not allow your air conditioning problems to continue. Call for expert help from Smile HVAC, and we will provide you with the right expertise for your situation. We provide best AC repair and installation in Toronto and GTA
Smile Protection Plan is specially designed for those of us who don't like unexpected "surprises". "Surprises" like when you suddenly have to get out of pocket hundreds of dollars to repair your broken equipment.
Ask us about discounts on combined plans.
Smile
Protection
Plans
Starting from as low as
Smile
Maintenance
Plans
Starting from
Most Common York Furnace Problems
Here are some of the most common York furnace problems that you may encounter.
York furnace is not igniting
Several things may be the cause when your York furnace is not igniting. Some of them include: the ignitor is failing and requires replacement, the draft motor is not functioning, gas is turned off, or the gas control valve is not opening and needs replacement.
York furnace is blowing cold air
Is your York furnace blowing cold air? If so, the likely issues may be that the ignitor is failing, gas is shut off, gas control is not opening, or the draft motor isn't functioning.
York furnace is leaking water
When the York furnace is leaking water, the possible cause for this may be a clogged drain line or drain pan.
York furnace is not heating
If the York furnace is not heating to provide enough heat, the possible causes may be the wrong type of filter is used, the filter is dirty or installed backward, and leaking air ducts.
York furnace flash codes
There are times when the York furnace flashes codes, signifying that there is a problem that needs to be fixed. It could be its air system being restricted or simply because it needs cleaning up.
York furnace keeps shutting off
Another common problem is when the York furnace keeps shutting off. This may happen because of several issues like the thermostat failing, the flame sensor is not functioning, or the furnace filter is dirty.
York Furnace Troubleshooting Steps
Before calling a furnace company when you experience one of these mentioned York furnace issues, you can do some furnace troubleshooting techniques and avoid a repair or replacement.
Check the thermostat
Remember to check the thermostat switch and what it's doing – heating or cooling?
You must also check the thermostat's battery and change it if you notice it runs out of charge.
Check the filter
The dirty air filter can cause problems. It hinders the efficiency of the system and blocks the airflow, which can lead to sudden breakdown. It is easy to change the filter in your heating or cooling system. It also necessary if you want to maintain your furnace at its best performance.
Check the switches
Check the breaker of your furnace first before anything else. The most common problem for this is a simple tripped breaker or a blown fuse.
Check the vents
It is a bad habit to close the ducts of the furnace in unused rooms. It can lead to a problem that needs a professional technician's help. Closed vents produce higher pressure within the duct system, which may cause the system to work harder than it usually does.
If you have done these troubleshooting tips we provided and are still having troubles, immediately call professional help from Smile HVAC, and we will send you the experts you need to fix your York furnace.
*Get 10% OFF on your Service Call when you book online.
Call Smile HVAC
Smile HVAC offers excellent repairing and installation services for commercial and residential HVAC equipment. From simple air conditioning systems for residential use to heavy-duty industrial HVAC equipment, we understand how the York furnace and air conditioning system works inside and out.
Smile HVAC technicians have an extensive and inclusive experience when it comes to HVAC repairs for York furnaces and air conditioners. These include commercial heating systems and residential heating systems. They have long years of experience working with various York furnaces products and only use the best quality products to make installations or repairs. They have also undergone extensive training in York furnaces repair, air conditioning, boiler repair, and more.
Smile HVAC provides installation of high-capacity and heavy-duty air-conditioning products of different kinds to fit your HVAC needs. Consultation is all it takes to know what your home or commercial establishment needs, and we are a few steps closer to the installation of your air conditioner or York furnace system.
Do you have any issues concerning your heating or cooling system at home or your business establishment? Do not hesitate to call for expert help from Smile HVAC today. Here at Smile HVAC, we care about your comfort.
Authorised Licensed Technicians
Smile HVAC is authorized and licensed to service over 30 brands, so if you own any HVAC equipment from these brands, you don't need to call two companies. Smile HVAC will help you solve all HVAC-related issues and will assist with repairs and installations. We work with all brands including Lennox, Goodman, Amana, Keeprite, Bryant, Daikin, Carrier, York, Trane, Comfortmaker, Payne, Tempstar, Rheem, Ruud and Mitsubishi Electric