Best Water Purifier To Buy in Canada
Water is life, and clean water means health; you may have heard of it!
Ensuring hydration needs are being met is essential in daily life, but what if the water you drink contains dangerous contaminants? This can lead to harmful diseases, such as urinary tract infections, kidney stones, skin allergies, and other stomach-related diseases.
With the right water purifier, you can consume clean and contaminant-free water. Additionally, it can improve water clarity as well as taste. Since the market is flooded with so many options, choosing the one that best suits your watering needs can be a bit difficult. Do not rush to form an opinion about a particular model; After all, it's about you and your family's safety!
To make your selection easy, we've done extensive research on the thousands of water purifiers available across Canada. Some handpicked models, along with their pros and cons, are mentioned below. Let's dig into them:
List of 10 top-notch water purifiers to buy in Canada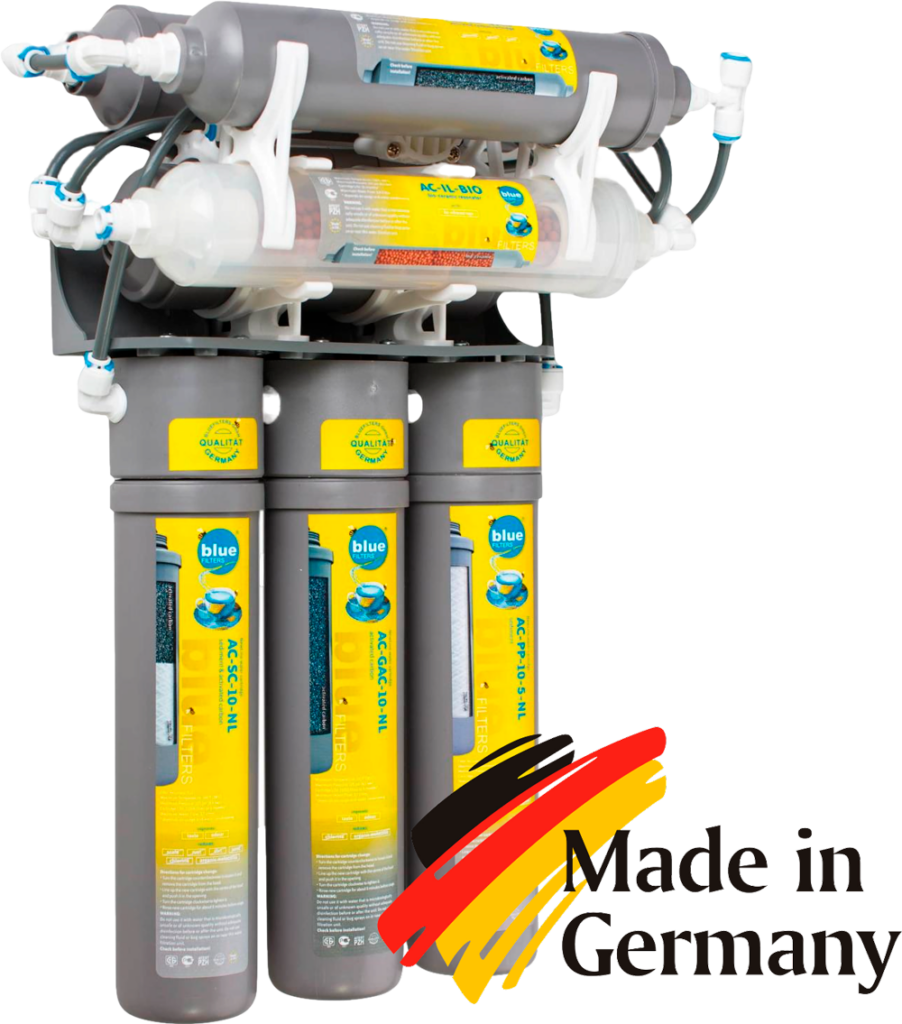 The molecular system of the Elite NL 7 series provides three-stage pre-filtration that removes mechanical impurities as well as odors present in the water. It also contributes to the renewal of the water structure and also helps to bring it closer to the structure of the meltwater of the glacier, thanks to the bioceramic cartridge, which is known for its beneficial effects on the human body.
Pros:
Improving water features and enriching it with beneficial minerals
Providing water with electromagnetic charges
Innovative quick-release cartridge technology
Purifying water to improve the function of the entire digestion system
Filters can remove up to 99% of lead, asbestos, and 82 other additional contaminants
Mineralization technology
Cons: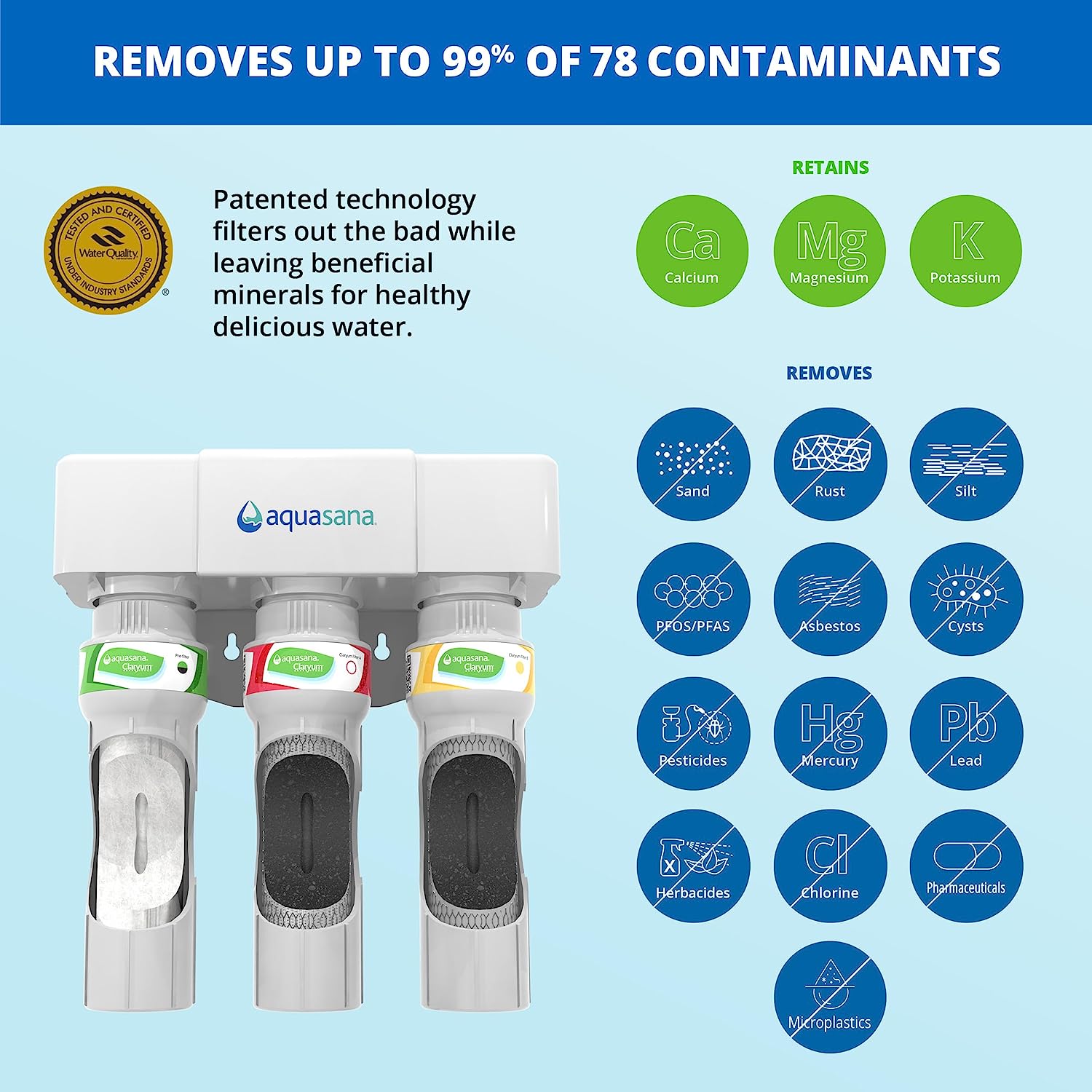 Under sink water filter by Aquasana may take time to install because of its design. After successful installation, you will be amazed to notice the filter immediately alter ordinary tap water into extraordinary, clean water. It has been designed to clean out heavy metals, chlorine, herbicides, cysts, VOCs, pesticides, etc., aside from total dissolved solids.
As opposed to traditional drip filters, you don't have to wait for clean water because it supplies half a gallon of water every minute. If you are looking for the most cost-efficient and long-lasting filters in the Canadian market, this could be the one you opt for.
Pros:
Come with mind-blowing filters that last for six months.
Clears out most of the harmful contaminants.
Provides instant access to large quantities of fresh and filtered water.
Cons:
Installation could take a longer time.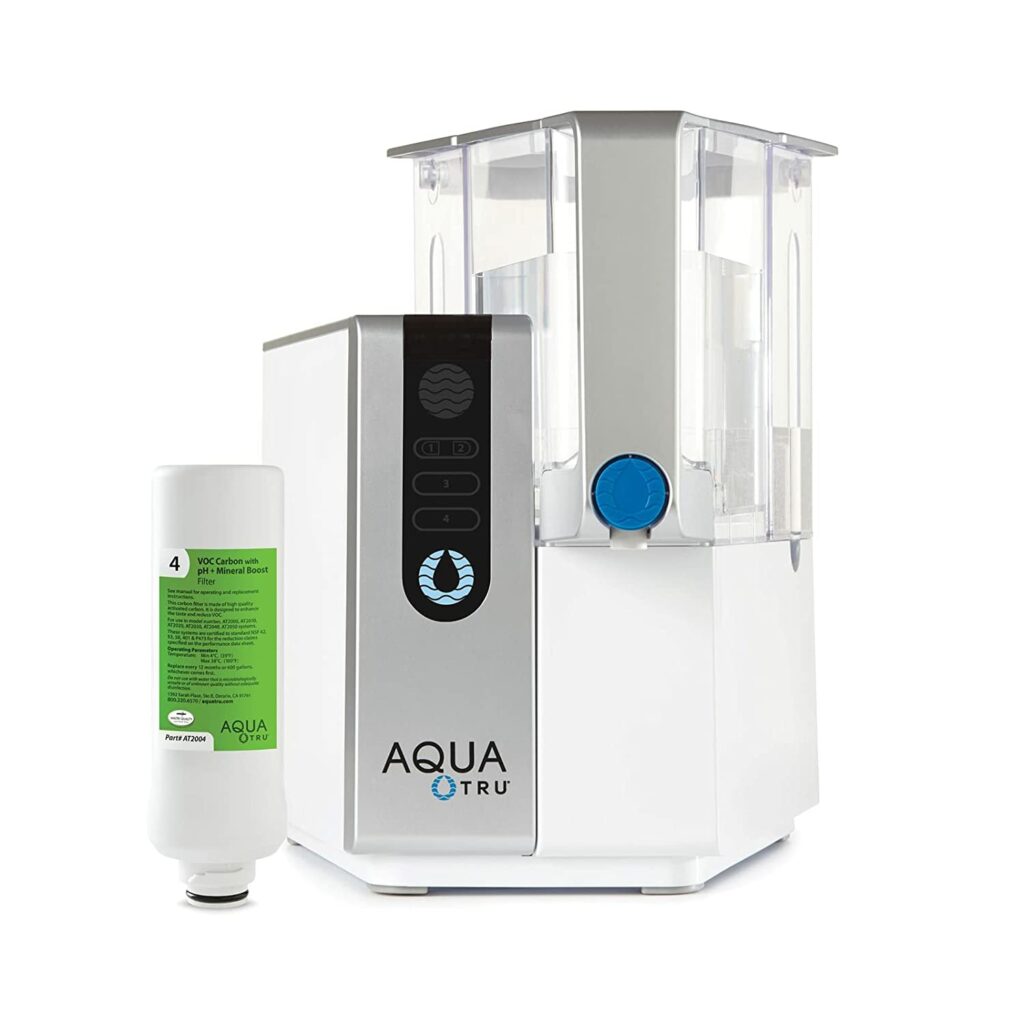 Next water purifier, we have the AquaTru Countertop model that comes with three filter systems. This model is able to filter out over 80 contaminants. It is one of the maximum number of contaminants as compared to other water filters on this list.
Apart from being budget-friendly, these filters can last from 6 months to 2 years. The primary filter removes particles such as rust, sediment, and chlorine while improving the overall taste of the water.
The second filter filters out impurities, parasite cysts, arsenic, copper, etc., and the third filter is capable of enhancing the taste of water while filtering out radioactive radon material. And the third filter can improve water flavor while filtering radioactive radon material.
Pros:
No installation or plumbing is needed.
Because of having compatibility with iOS and Android devices, it has become one of the smartest water filters.
Unique app features keep track of filter replacement, water consumption, etc.
Cons: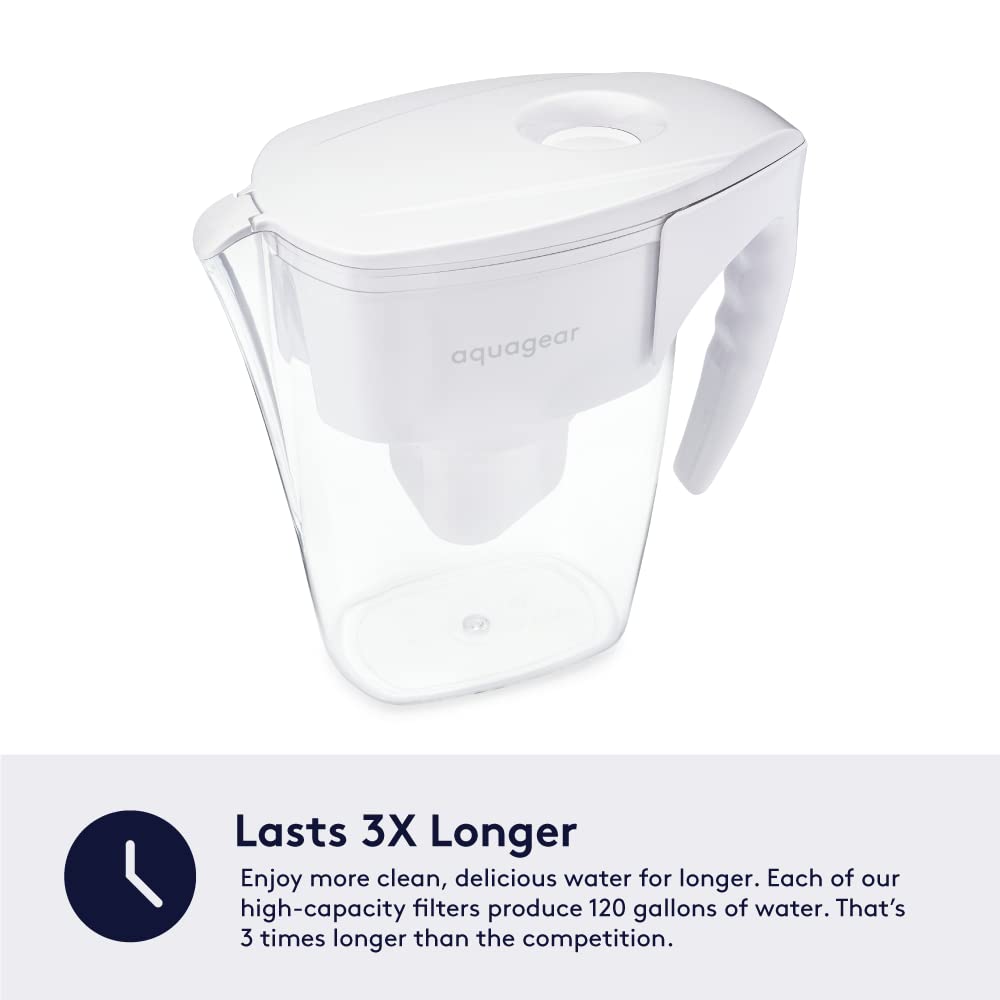 One of the major reasons why we chose this water filter for this list is that it works better and faster than other filters we researched. Though, it is suitable for eliminating chlorine and lead from water. Unlike traditional pitchers, it is able to filter out 20X more contaminants. The USA-based Aquagear Water filter pitcher is ISO 9000-certified product.
Maybe the installation is a bit difficult. Once this is done, you will be amazed at how light the pitcher is even when full. It has a compact design and can accommodate 10 cups of water.
Pros:
Filters water even faster as compared to other water purifiers.
Has a lightweight and compact design.
Removes chlorine and lead from water.
Cons:
5. Larq PureVis Pitcher with Advanced Water Filter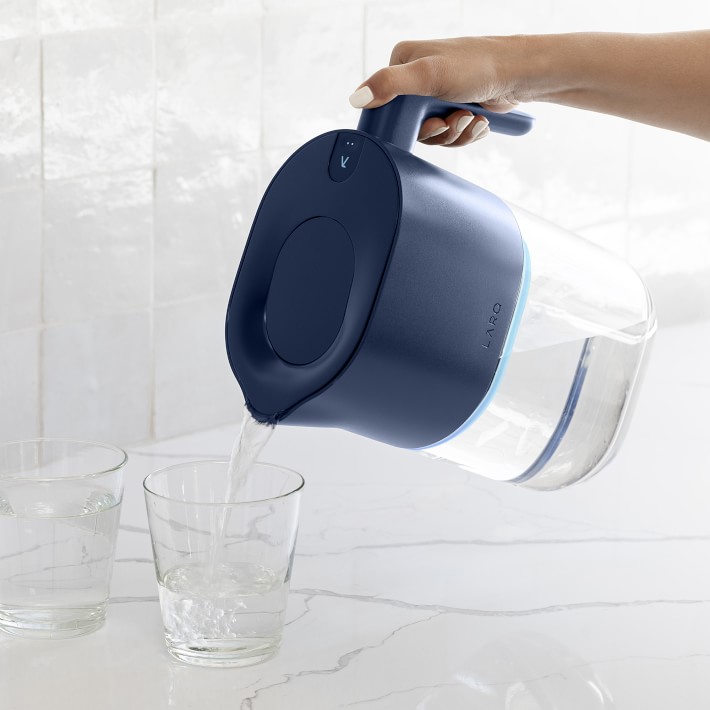 LarqPure is an advanced water filter that eliminates more than 45 contaminants, including heavy metals, microplastics, VOCs, PFOA, endocrine disruptors, pharmaceuticals, PFOS, etc. Due to being accessed using the Larq app, it has become a user-friendly water filter out there.
Apart from this, it also keeps track of when you want to change the filter. Say goodbye to guessing! The best part is that you can clean it in the dishwasher instead of with your hands. The only thing we don't like is that the filters are a bit more expensive than others.
Pros:
Availability of UV lights restrains or prevents the development of Salmonella and E.Coli
Removes endocrine disruptors, microplastics, heavy metals, and other lead from water.
Dishwasher-friendly.
Cons:
Filter replacement will cost more than other models.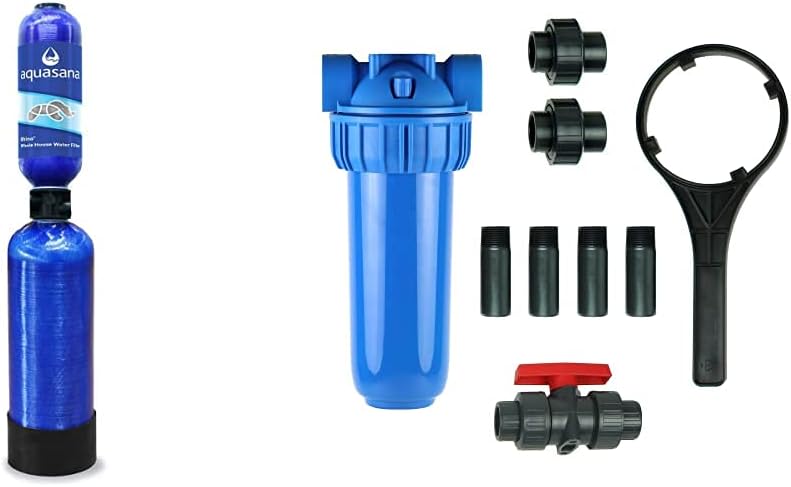 As per the brand claim, the whole house water filter system eliminates lead, chlorine, and more, which is absolutely true. It removes contaminants, offering crystal-clean water that fulfills your laundry, showering, and cooking needs. Speaking of the brand, Aquasana is known to be a reputable and famous brand because of its good customer service and reliability.
Because Filter 6 lasts up to six years or 600,000 gallons, you can have clean water every day without having to worry about changing filters. Best of all, there is no need for back flushing and draining. For the best flow rate and filtration, you may replace pre and post-filters.
Pros:
Ability to filter up to 6 00,000 gallons.
Smart features are available to upgrade to a salt-free water conditioner.
One of the high-performance filter systems out there.
Cons:
Not a budget-friendly option.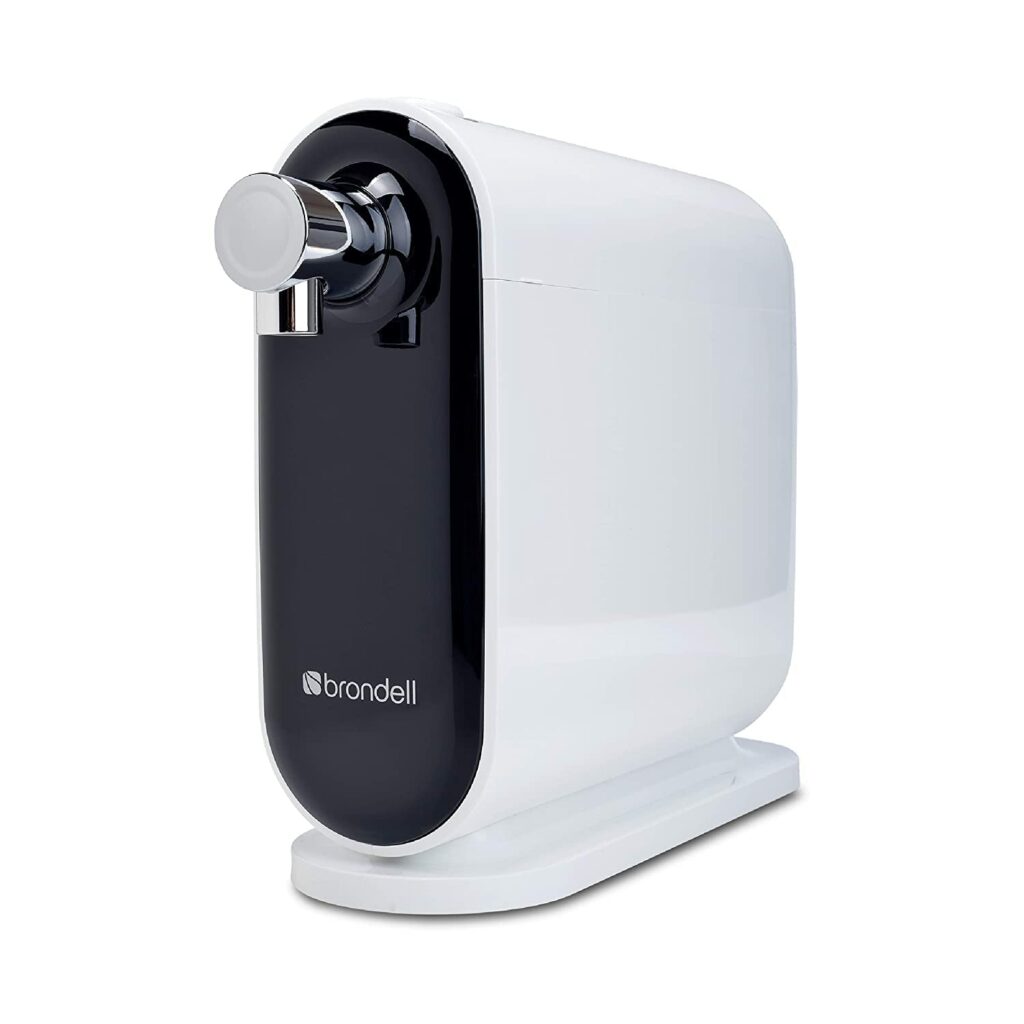 Brondell water filter is one of the smartest and most high-end model systems on this list. This countertop model utilizes three high-tech filters to majorly filter water by reducing pollutants. It has been designed to reduce particular materials from the water, including fine particles, rust, and sand.
Unlike most conventional RO units, this filter system works without having a need for a second faucet. Also, it can be configured and set up within a few minutes. The best part is it has a compact, sleek, and stylish design, making it suitable for all modern kitchens. Further, since it can be placed through a faucet diverter or under the sink, it will surely enhance convenience.
Pros:
Equipped with three water filters.
It has the power to filter water with quality.
It has been designed using a slim and elegant countertop design.
Comes with a convenient faucet attachment.
Cons:
Previous buyers had some quality issues with it.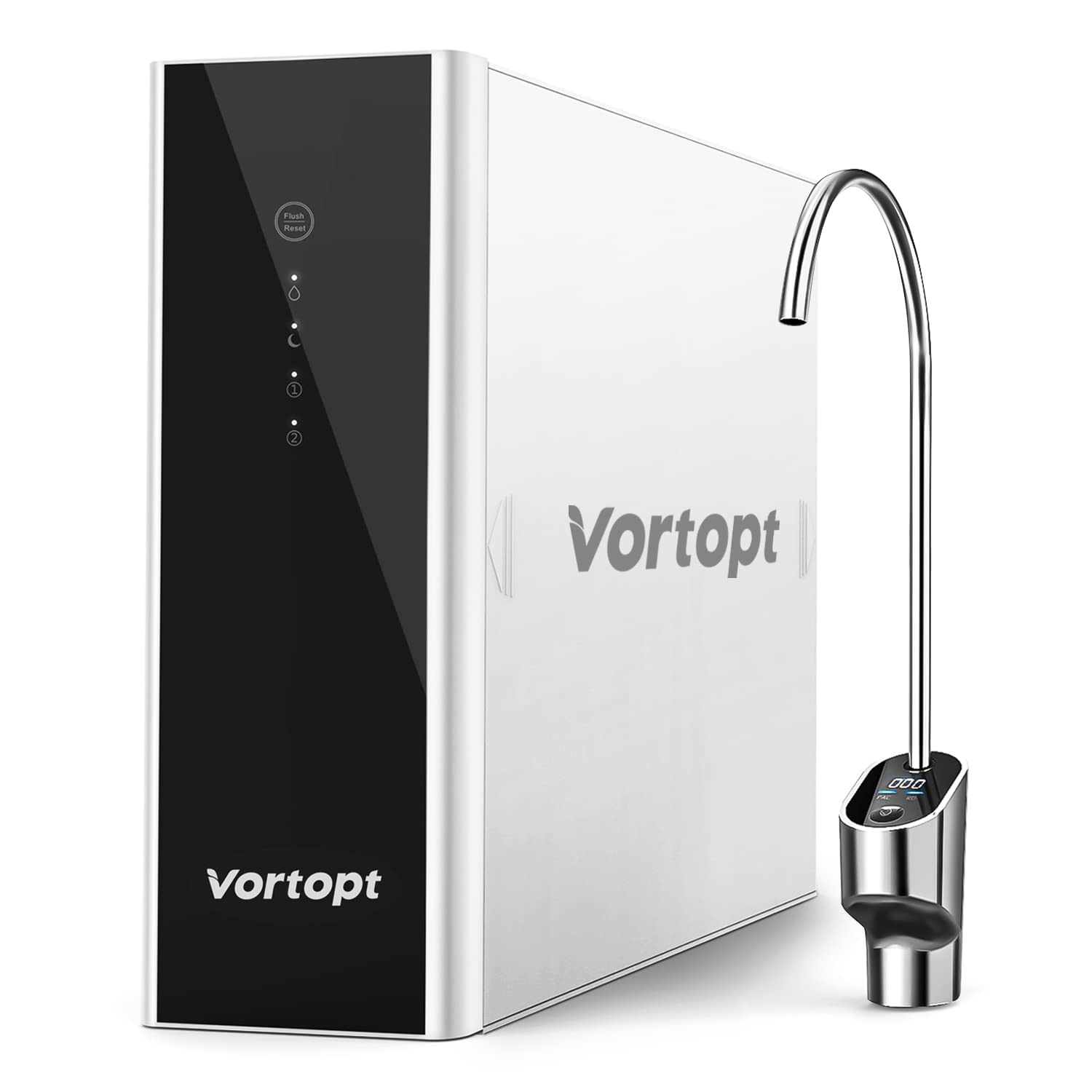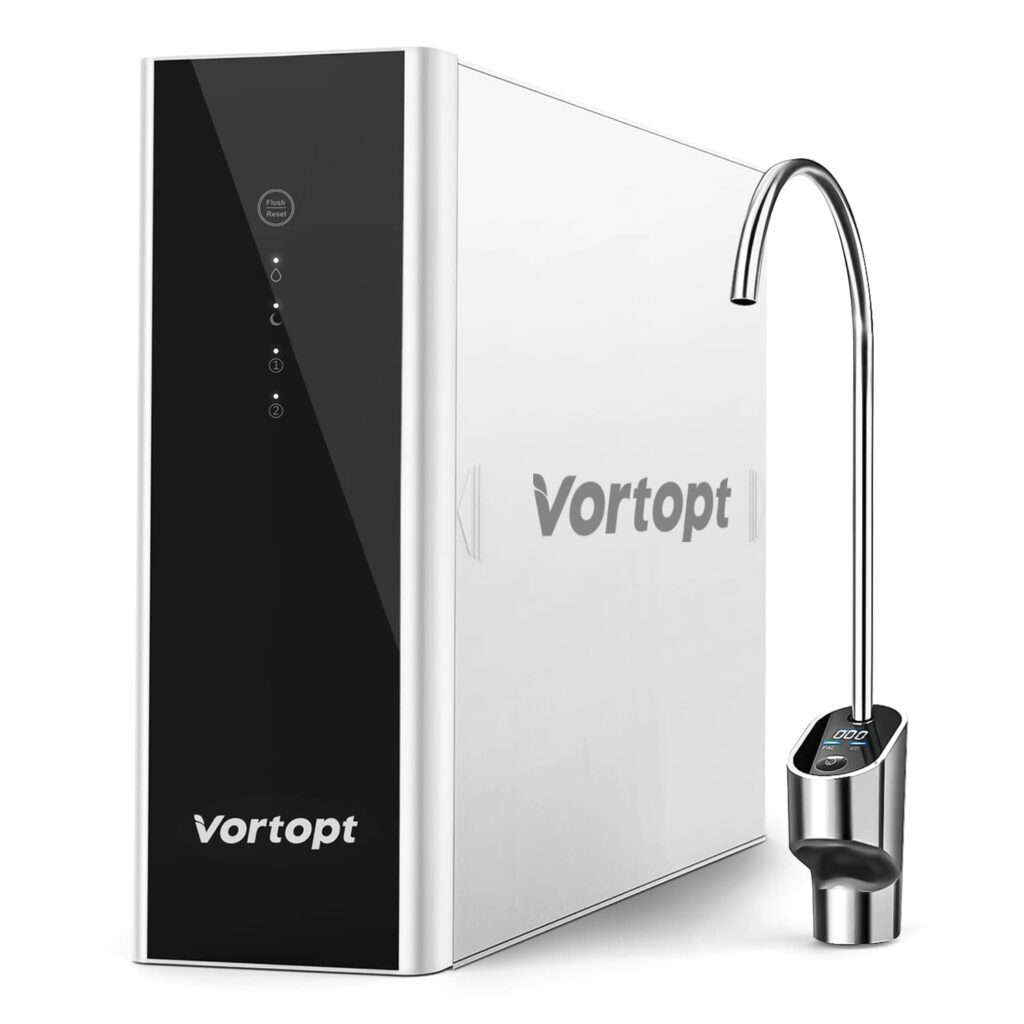 In Canada, Vortopt Reverse Filtration System has been in huge demand because of its five levels of filtration. It is designed to remove oversized particles, silt, chlorine, scale, odor, and other contaminants available in the water, increasing the taste of drinking water.
What sets it apart is its advanced integrated design that ensures safety and minimizes the risk of water leakage. Best of all, the system is equipped with a filter life indicator in the Smart Monitor. By watching the color change, you will know about the life of your filter.
Pros:
Five-layer filtrations ensure you'll have containment-free, fresh water all the time.
Easy to replace its filters.
Eliminates the risk of water leakage.
Filter life indicator makes this product hero as compared to others.
Cons:
As per previous buyer reviews, the product may not last long.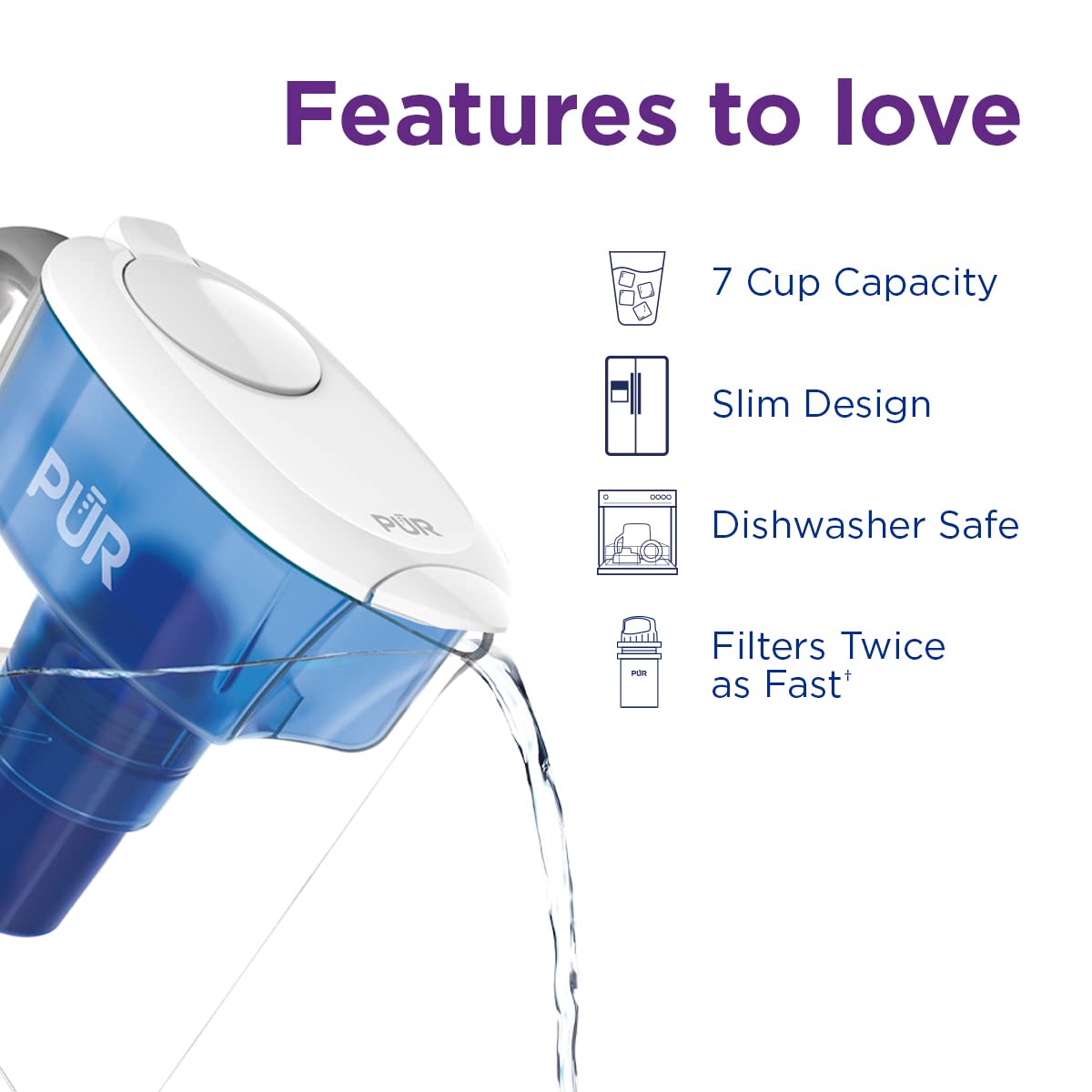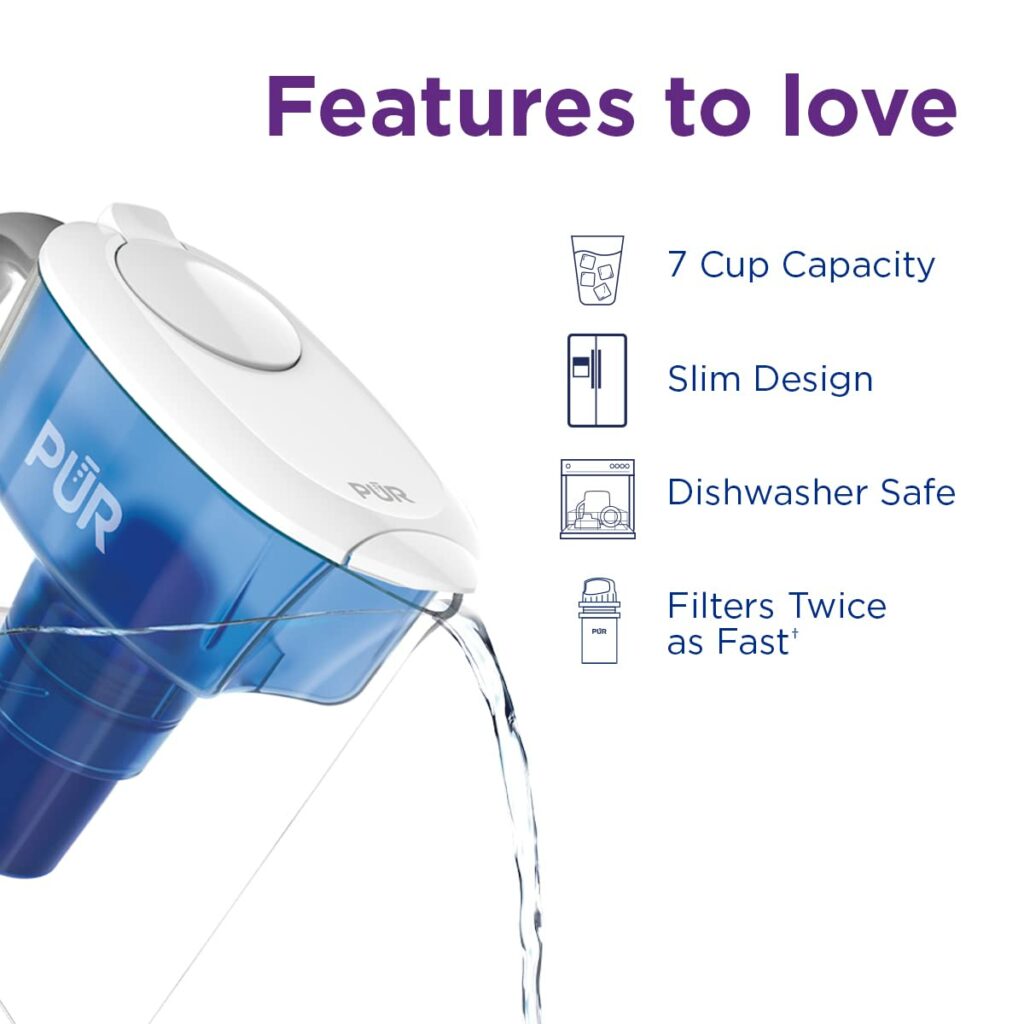 A great filtration system for people living in Canada, the PUR water filtration system has a leading choice. The reason behind being famous is that it supplies fresh water with great ease and convenience. This 7-cup water filter model is approved to filter mercury, as well as chlorine, and other industrial lead.
Not only do the filters offer 40 gallons of fresh drinking water, but also last for two months. Also, the powerful PUR's superior filter technology is able to remove 2x more pollutants, offering pure water anytime. Notably, the filter has a compact, smart design that keeps it easily in any kind of refrigerator. Its easy-fill lid and comfort-grip handle make it a user-friendly water filtration system.
Pros:
It can be washed in a dishwasher.
Eliminates harmful lead and contaminants.
Stay-tight lid and secure filter fit are some impressive features.
Cons: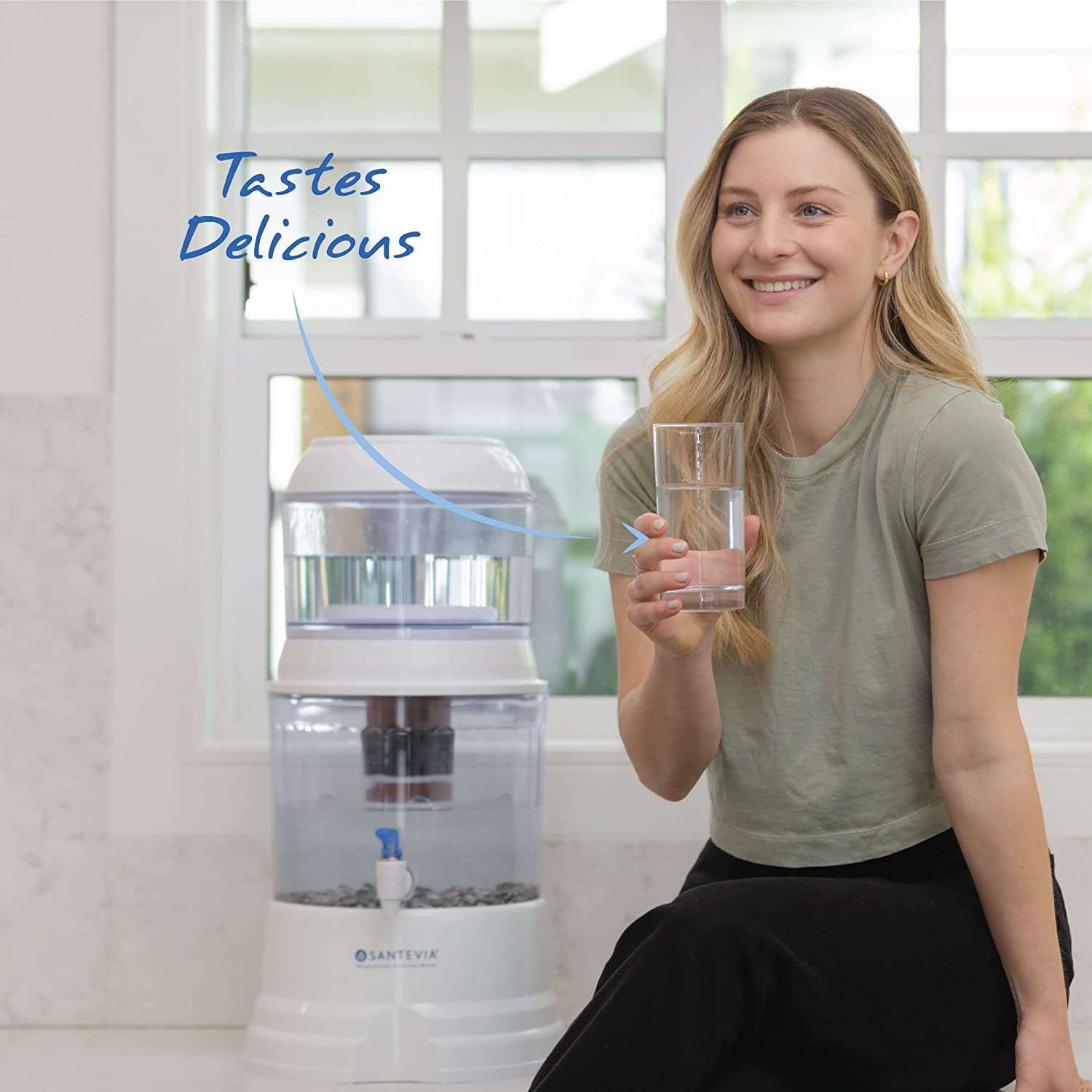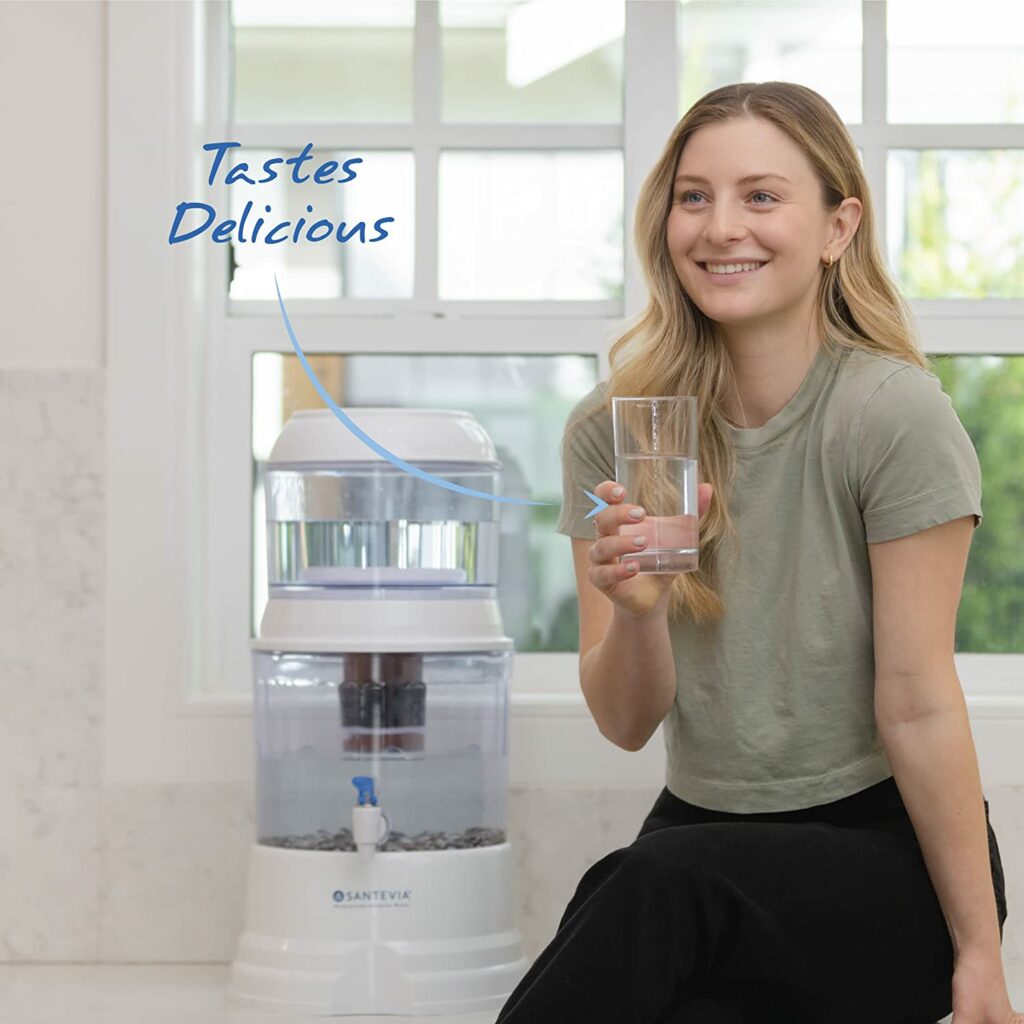 Water System by Santevia brand filters harmful chemicals found in tap water, such as fluoride, chlorine, pharmaceuticals, and heavy metals like lead. The availability of alkaline minerals in the system enhances the pH level of water, providing it with a fresh taste.
As the alkalinity of the water increases, these minerals aid in your body's ability to balance excess acidity. This BPA-free gravity water system reduces contaminants from water and adds healthy vital minerals to form mineralized and pure water.
Pros:
Enhances the pH level of water.
It makes drinking water even more delicious and fresh.
Removes chemicals like aluminum, fluoride, chlorine, etc.
Cons:
What things to consider when buying a water purifier in Canada?
In most cases, water supply is the primary factor that is taken into consideration when purchasing a water purifier, but other aspects should not be ignored. Having the right water purifier means keeping odors and dirt particles out of your drinking water. So, it is okay to be selective when it comes to water filter systems!
Are you ready to find out what other elements can play an important role in selection? Let's quickly get started!
Capacity and type of water filter system
You'll need to take weight and size into account, especially when choosing pitchers, water bottles, and other dispenser modes. However, the larger the container, the less often you'll need to refill it. One drawback to such models is that they will often be bulky, which can cause them to take up more space in the refrigerator.
On the other hand, countertop models can save minimally and effectively hold more potable water. The only disadvantage is that it often requires more space on the counter. If you are planning to choose a faucet filter, an under-the-sink water filter, or an in-line filter, you do not have to worry about capacity or size.
Consider how often you'll need to change filters
Having a long-lasting filter in a water filtration system is a bonus point. Those looking for filters for sinks, pitchers, and showers should remember that you have to change these separately.
It is recommended to change the filter frequently as the complete system's performance depends on it. While modern water purifiers come with smart indicators to notify you when to change filters, if you don't have this type of model, look out for a slow flow rate or differently colored water. If it is visible, then it is a good time to change the filter.
Overall Cost
Last but not least, the cost is the crucial factor of all. Compare the prices of different filters system that should include both filter refill cost and the selling price of the water filter unit. By choosing the right water filter, you can save yourself thousands of dollars in filter refills in the long run. In the meantime, be sure to estimate the total cost of replacement based on the suggested schedule for replacement.
To sum up!
A right water filter has become a necessity apart from other kitchen appliances. Before entering the market or starting scrolling through the e-commerce platforms, do not forget to check each and every model mentioned above. This can make your selection hassle-free while helping in choosing the best.