The Best Humidifier To Buy In Canada In 2023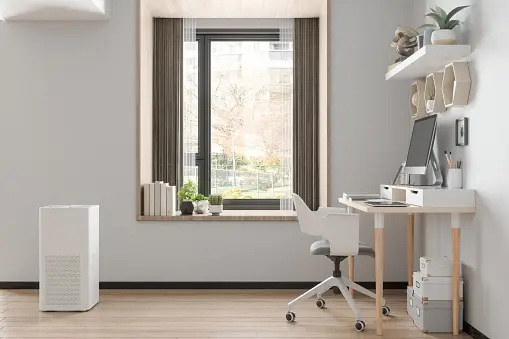 A humidifier is a magical appliance, helpful in treating multiple health and home conditions, such as cold, seasonal allergies, and dry indoor air. Regardless of some cheap and less efficient models, the best humidifier comes in handy when it comes to adding moisture to the indoor environment. As a result, it will prevent indoor air from becoming disturbingly dry. Presumably, this condition occurs when your HVAC unit has to cool or heat the air in your property even faster.
When the indoor humidity levels are between 40-50%, owning a humidifier isn't necessary. Once the temperature drops below 40%, it can lead to several health problems, such as bleeding nose, dry eyes, throat and skin, asthma, etc. If the indoor temperature is 50% or higher, you may experience mildew build-up.
Despite their size and price, each humidifier has the same objective: improving indoor air. When shopping for a humidifier in Canada, you will have ample options across multiple variants, including steam vaporizers, central humidifiers, evaporators, ultrasonic humidifiers, and impeller humidifiers. Still, figuring out which option best suits your needs can be stressful. To help you pick the best, we have brought up the top 8 options, easily available at Amazon. Let's quickly get started!
Why do you need a humidifier?
There are various reasons why someone requires a humidifier; one significant benefit is to make living conditions more clean and comfortable. Let's discuss other reasons:
Protects furnishings and floors from wear and tear: Humidity fluctuations can have a negative impact on wooden items, such as furniture, flooring, and couch. The more wooden items tend to dry, the more possibility of being broken and cracked. By opting for a humidifier, you can also protect the integrity and elasticity of your wooden items.
Keeps property warm: With a sufficiently optimal level of humidity inside the house, you will feel warmer. Drier air, on the other side, tends to feel colder. The best humidifier will help maintain your temperature to make you feel comfortable without putting extra strain on your heater.
Humidify indoor plants: Some indoor or houseplants thrive in conditions that have high humidity in the atmosphere. There are a variety of problems for indoor plants associated with dry air, such as dry leaf tips, leaf drops, and stunted growth. Using a humidifier gives your indoor plants a better chance to thrive.
Lessen Snoring: Dry air can trigger the symptoms of snoring, even increasing its severity. Behind this is the lack of moisture in the indoor air, due to which the nose is blocked and the throat is swollen. Using a humidifier helps in achieving the optimum level of humidity, which can ultimately reduce snoring and reduce dryness.
Eases the symptoms of illness: For people who often suffer from flu or cold, buying a humidifier is a must, as it can help ease the various unpleasant symptoms associated with being sick. Symptoms of these illnesses may include stuffy nose, difficulty breathing, dry and sore throat. With a humidifier, it can be easier to get some rest and help increase overall recovery time.
Moisturize your lips and skin: When the weather is particularly dry, the moisture inside the skin is lost, which can lead to itchiness, flaky, and/or tight skin. The skin on the hands is especially sensitive to this loss of moisture. Even when the air becomes dry, the lips tend to chap more often and more easily. Due to this, if left untreated, the lips may start to crack. Therefore, adding a humidifier adds moisture that can naturally regenerate your skin by reducing symptoms associated with dry skin.
Things to Consider Before Buying a Humidifier in Canada 2023
While buying a humidifier in Canada, consider a few aspects beforehand to ensure you're going to choose the right one. Below are some essential factors that should be taken into account:
Tank Capacity
In a humidifier, the tank capacity means how many gallons or liters of water the water tank can contain. However, the water quantity varies by model and unit size. While the average volume is somewhere between 2-6 liters, you can also find more options. Note that the higher the tank's capacity, the longer you can use it, including overnight.
Humidifiers with large water tanks need to be emptied often because all the water is rarely used. To make selection easier, you are advised to check the estimated operating time from the brand to ascertain how often you will need to refill the water tank.
Humidifier's Size
The selection of the humidifier's size should entirely depend on the space wherein you want to add moisture. In the Canadian market, humidifiers across three different sizes are available, including whole-house (designed to attach to home's ductwork), tabletop or portable (intended for travel or personal use), and console for property up to 1000 sq/feet.
However, the most affordable option is portable in addition to being lightweight and can be placed on a desk or nightstand. The only drawback is that these devices come with limited water tanks requiring frequent refilling.
If you are looking for larger units, opt for console humidifiers. Not only do they have high-capacity water tanks, but they are also ideal for adding moisture on a large scale. Speaking of water house units, they come equipped with foam cylinders that move air around and through the water tray.
Number of features
Humidifiers are loaded with a ton of features, from the very simple to the smart. In most basic models, you'll see low and high settings, intermittent and rapid mist settings, and other options like a night light, timer, indicator, and essential oil diffuser.
On the other hand, the advanced model can have even more features like mist output, energy saving automatic turn down option, and other options like fan mode, etc. Therefore, the more features your humidifier includes, the better experience you'll have.
Upkeep and services
Some humidifiers demand additional attention and care than others. According to the manufacturer's instructions, these units should be cleaned from time to time, as moist environments can breed bacteria.
According to our researchers, the amount of bacterial growth inside the unit varies greatly between models, which may be related to the air quality in the property at the time. Those planning to buy a humidifier with an in-built filter will have to put in extra effort during cleaning. This is because the filter has to be changed every 3 months.
List of top 8 best Humidifier in Canada in 2023
Vicks Warm Mist Humidifier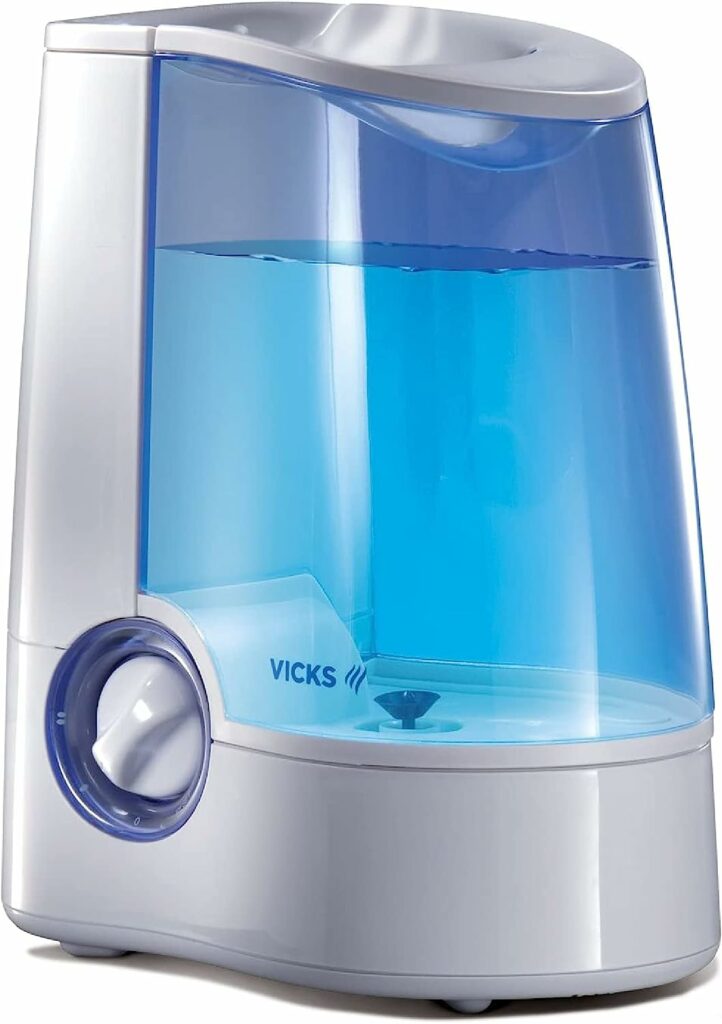 Advantages:
• Easy to Use Design: Open the lid, pour distilled or clean water, and press the power button. No fancy features, just effective working.
• Can be used with Medicines: As clear from the name, you can add vapor rub or similar medicines. Getting the medicinal benefit during a good night's sleep becomes easier.
• A Large Tank: With one gallon of capacity, you don't need to fill it up again in the middle of the night. Just add the water and keep enjoying the moist breathing air.
• Powerful Working: Choose between three settings and get effective working within minutes.
• Long-Term Warranty: Get an exceptionally awesome experience with three years of warranty with it.
Disadvantages:
• Heavy: Large tank capacity is undoubtedly a boon, but it also becomes a problem with portability due to its heavy weight.
• Noisy: The humidifier may feel noisy in the middle of the night, and the sound doesn't blend with the ambient noise.
Honeywell Cool Moisture Humidifier
Advantages:
Large Capacity: Be stress-free once after installing the humidifier and filling the water inside. It will keep on working for at least 40 hours without requiring filling up again.
Excellent Design: Utterly simple and easy-to-use design with thorough cleaning function ensures the best use with reliable experience. You won't be getting any major issues with the overall use.
Effective Working: The powerful heat element will keep humidifying the room at intervals, and most people have found effective working based on the reviews.
Color Options: Get the desired theme in your massage parlor, room, or house with two extensive color options – black and white.
Low Noise Level: Even though it is a big and heavy humidifier, it does not make any noticeable noise.
Disadvantages:
Less Portable: The large capacity feature makes it great, but it also adds up to the weight, which makes this humidifier less portable.
Looks Ugly: There are so many amazing design options available in the market that mock Honeywell's humidifier due to its utter look.
3. Cool Mist Humidifier by Magictec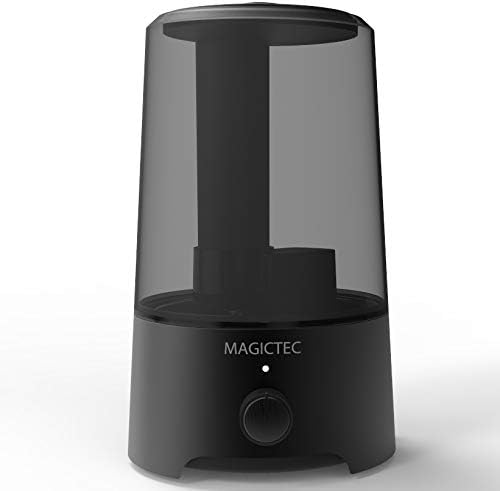 Advantages:
Best in Budget: For a price point of $20, the Cool Mist humidifier is undoubtedly a great choice to make the air moist in a small or medium-sized room.
Extremely Portable: Using this humidifier in any room becomes easier with its handy size and lightweight design.
Easy to use: This humidifier offers power and use functionality. Just plug it into the power wall, turn it on, and adjust the mist.
Looks Modern: The semi-lucent transparent cover looks modern. You also get some modern features that make this device perfect for every house.
360-Degree Nozzle: Point the 360-degree nozzle in the desired direction and adjust the mist to get the preferred experience.
Disadvantages:
Require Refilling Timely: With the portability, you lose the long run time feature. After every couple of hours, you have to fill it up.
Grey Noise: This humidifier makes grey noise, and it can be hard to unheard for some people.
4. LEVOIT Humidifier for Bedroom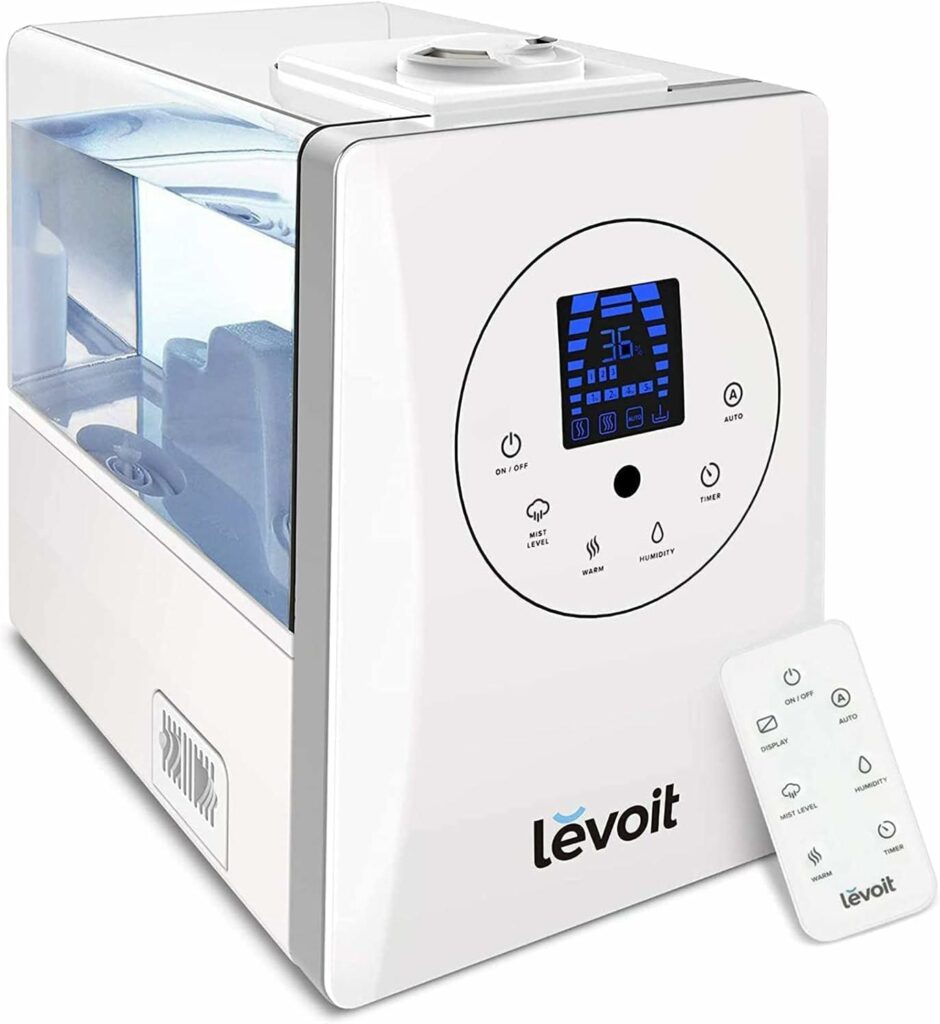 Advantages:
Perfect for Large Room: With the large capacity and powerful working, you can get a run time of 10 to 60 hours without refilling again.
Convenient to Use: Comes with a remote to control the humidifier, diffuser, and other functions from the comfort of your couch.
Adjust Humidity: Adjust the settings in your desired way and get the required level of humidity.
3-in-1 Functionality: You get three different functionalities in one place, which are a humidifier, diffuser, and warm/cool mist functions.
Powerful Operation: With the large size and powerful working, you can humidify a 750 sq. ft. room without worrying about effectiveness.
Disadvantages:
Big and Bulky: Even though you have the most reliable functionality with this humidifier, it is not a portable device and is meant to be used in one place.
Mineral Dust: You have to use a demineralization pad to avoid getting mineral dust collected inside. This thing can cause cleaning issues.
5. PureGuardian H965 Ultrasonic Humidifier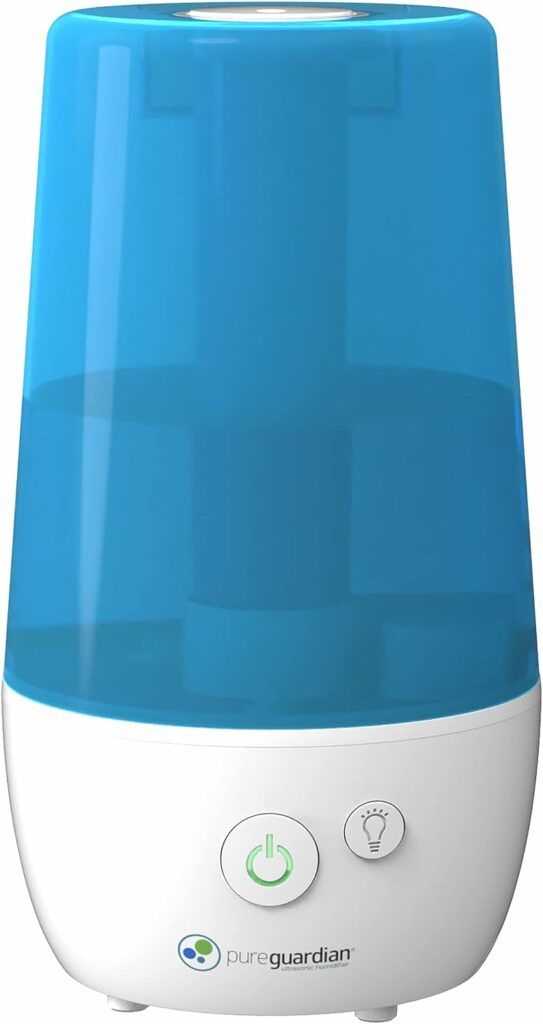 Price: $69.99 CAD
Advantages:
Long Run Time: With the one-gallon tank size and the powerful working, you can still expect a long run time as compared to the other products.
Bacteria Growth Prevention Feature: Smart humidifying features and the use of food-grade polymers ensure prevention against mold and bacteria growth in the tank.
Looks Unique: The conical-spherical design looks unique, and it can be eye-catchy if used with the right theme.
Powerful Working: Get to experience quick working along with an essential oil tray to make your house or room smell good with every use.
High/Low Cool Mist Option: With the impressive-looking cool mist, you can adjust it to the desired setting for great functionality and aesthetic purposes.
Disadvantage:
Has a Learning Curve: This humidifier requires refilling from the bottom, which might make you feel annoyed during every refill, and it can be a learning curve for many users.
Cleaning Can be Difficult: The refilling holes are small, making things difficult when it is time to clean the humidifier.
6. Crane Ultrasonic Cool Mist Humidifier
Advantages:
Equipped with fantastic settings: Multiple controls and an optional filter slot allow you to use it as a baby humidifier, plant humidifier, children's room humidifier, or bedroom humidifier.
Suitable for large rooms: Its tank easily contains one gallon of water at a time, humidifying the room up to 500 square feet all day.
User-friendly: The overall construction, easy-to-fill tank, and simple controls & settings make this unit user-friendly.
Long-run time: Another big reason to buy this humidifier is that it consumes very little water if used on low, eliminating the need to refill the tank.
Visual operation:  As it comes along with a transparent tank, you can have a clear view of how much water is left.
Disadvantages:
Difficult to maneuver: Being heavier and larger in size, it may be difficult to move when full of water.
Challenging to empty: You may need to ask for help while cleaning or draining it completely.
7. Dyson AM10 Humidifier White/Silver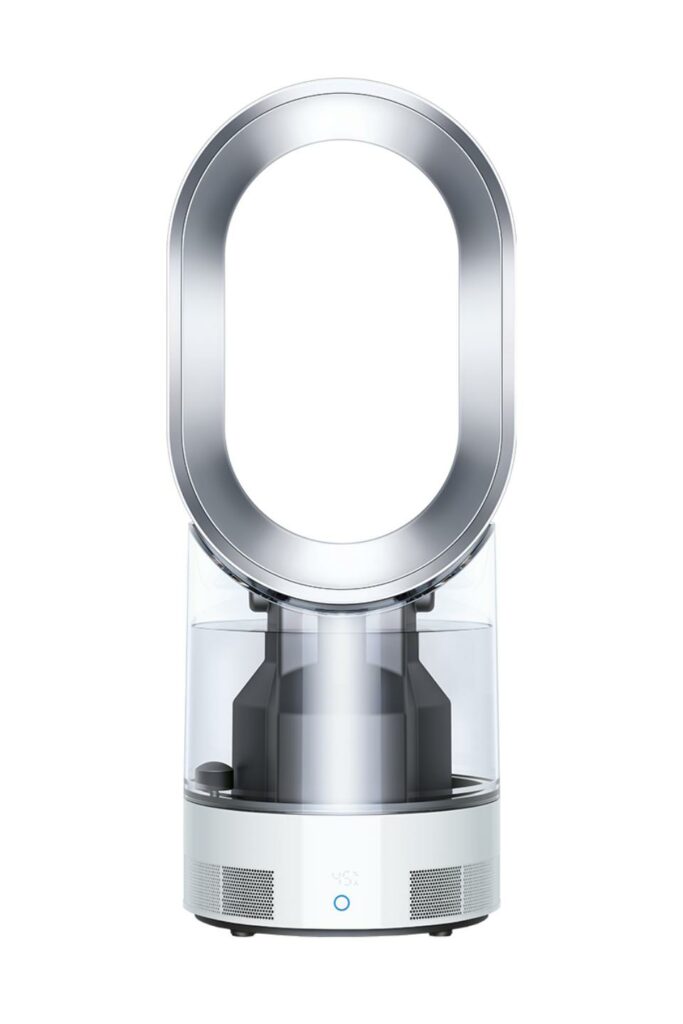 Advantages:
Certified Unit: This is an allergy and asthma-friendly humidifier certified by the Asthma and Allergy Foundation of America.
Dual functionality: The Dyson AM10 humidifier provides humidification and hygiene during winter and high-velocity air during summer to make room chill.
Long-lasting comfort: Even after 18 hours of long use, the humidifier provides moist air throughout the room.
Remote control: With one touch of the remote, the Dyson AM10 utilizes intelligent climate control to assess moisture and temperature in the air, offering a healthy environment across the property.
Disadvantages:
Cleaning can be tricky: Even though the humidifier has a sleek-classy design, it is hard to reach internal components due to its small size.
Power adapter Size: It may be difficult to connect the humidifier to certain extension cords and wall plugs due to the large power adapter size.
8. LACIDOLL Whole House Humidifier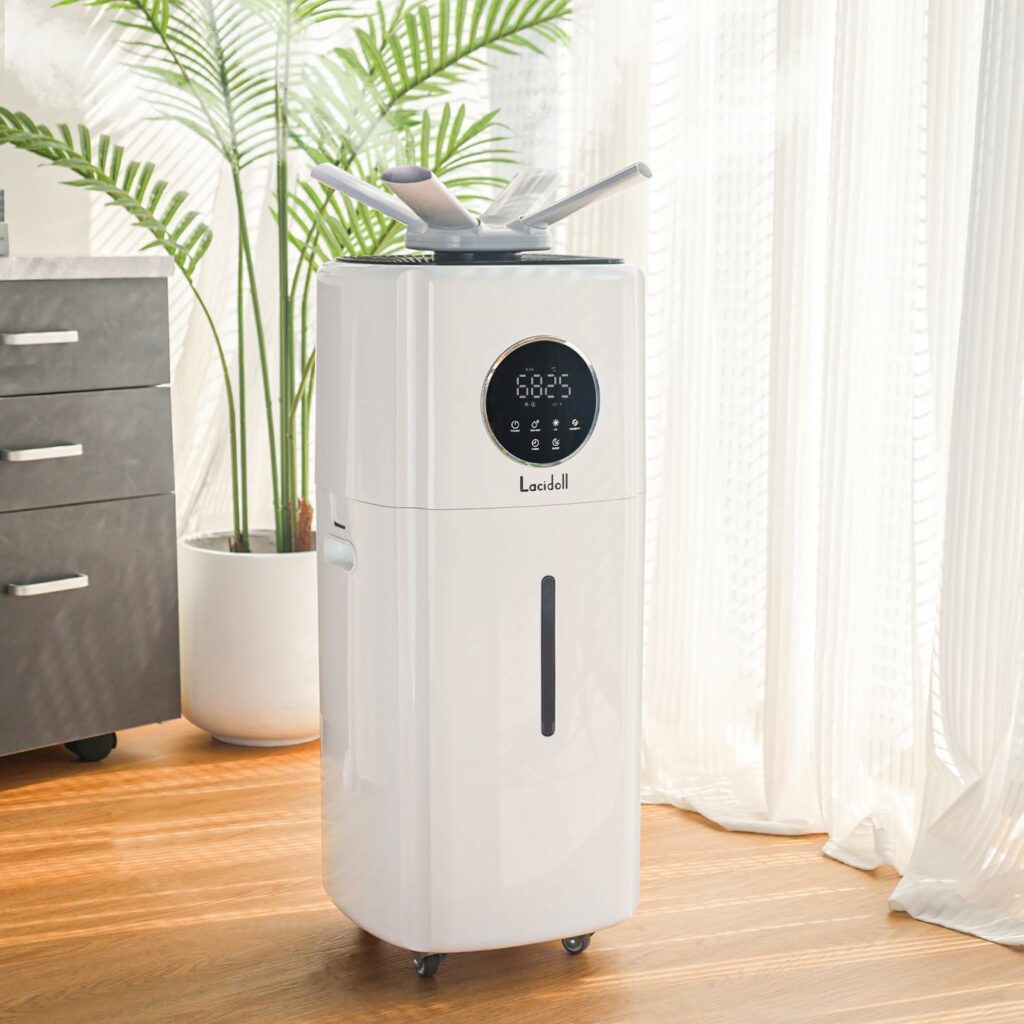 Advantages:
Capacity: With a 4.2-gallon water tank, it can cover up to 1000 sq feet, keeping the indoor environment fresh and moist.
Easy to clean: Refilling and cleaning this humidifier is convenient and easy, thanks to the wide-opening water tank.
Noise-free operation:  With sleep mode, you can have a better and noise-free sleep while it will not disturb your work, learning, and rest.
Can be customized: This humidifier has customized settings between low, medium, high, and turbo mist results, fulfilling users with different requirements.
Warranty and Replacement: The product has come with a 1-year warranty, as well as 24-hour online service in case you want a return, refund, or technical support.
Disadvantages:
Not ideal for small spaces: The humidifier's large, bulky size doesn't suit people living in small compartments or homes.
Expensive: Some users who are on a low budget may not like this product.
How to maintain your Humidifier?
Using unclean humidifiers can be the reason for dangerous environments. They can release hazardous particles into the indoor environment, thus affecting your overall health. Cleaning frequently will prevent these unsafe particles from entering your lungs and air. Here, we have mentioned some maintenance and cleaning tips that help them maintain cleanliness and retain their functionality:
Regular Cleaning: Leaving water in these units will be bad. If you are also in the habit of not pouring water until it is over, you must understand the importance of regular cleaning. Clean the water tank regularly, wipe it with a clean cloth, and reuse it.
Weekly unloading: Scale can form in a humidifier due to mineral build-up. To prevent this, wipe down your appliance using undiluted white vinegar every week. According to the EPA, use distilled water in the water tank regardless of tap water to prevent scaling. Even tap water can emit particles into the environment, leaving white marks on your items.
Inspect the filter: If your filter has a filter, read the user's manual to see where the filter is positioned. Some filters are designed to be slid out. In that case, look for a handle or button that triggers the sliding mechanism. Well, filters should be regularly replaced with antimicrobial-treated filters. Doing so helps prevent the build-up of algae, mold, and bacteria.
Sanitize: Check the user manual before starting sanitization. You'll see some cleaning guidelines for your product from the manufacturer. Typically, sanitizing a humidifier means filling the water tank with white vinegar while it's at the base. Wait for the vinegar to solidify, then rinse the tank with clean water.
Maintain the temperature: Make sure that the humidity in any room does not go above 50%. This is because excessive moisture can promote the growth of bacteria and mildew. To measure the levels, use a hygrometer.
Bottom line!
Today, the humidifier is being offered by various brands or manufacturers across different models. Choosing the best that meets your moisture needs can be hard. So, going through the above-mentioned product details will help you pick the right one. Hopefully, you'll find this blog informative, and if you have other best humidifier options in addition to the given one, do share below. Thank you!