Bryant Furnace Repair, AC Repair and Installation and other HVAC services
Certified Bryant Furnace & AC Repair Company
Having a reliable Bryant furnace repair is essential if your furnace has stopped working and you don't want to go without heat during the cold winter months. Bryant Heating and Cooling Systems are renowned for producing quality, durable, energy-efficient, and reliable furnaces.
However, Bryant furnaces can stop working optimally for several reasons. Optimally working furnace can save you a lot of money on your utility bills in the long run. When something goes wrong with your Bryant furnace, you need to get in touch with a technician to troubleshoot the problem.
Smile HVAC is a Bryant furnace repair service that is a leader in Heating and cooling solutions. We are dedicated to providing exceptional furnace repair services to make your home and family comfortable.
10-Year Installation Warranty for HVAC Systems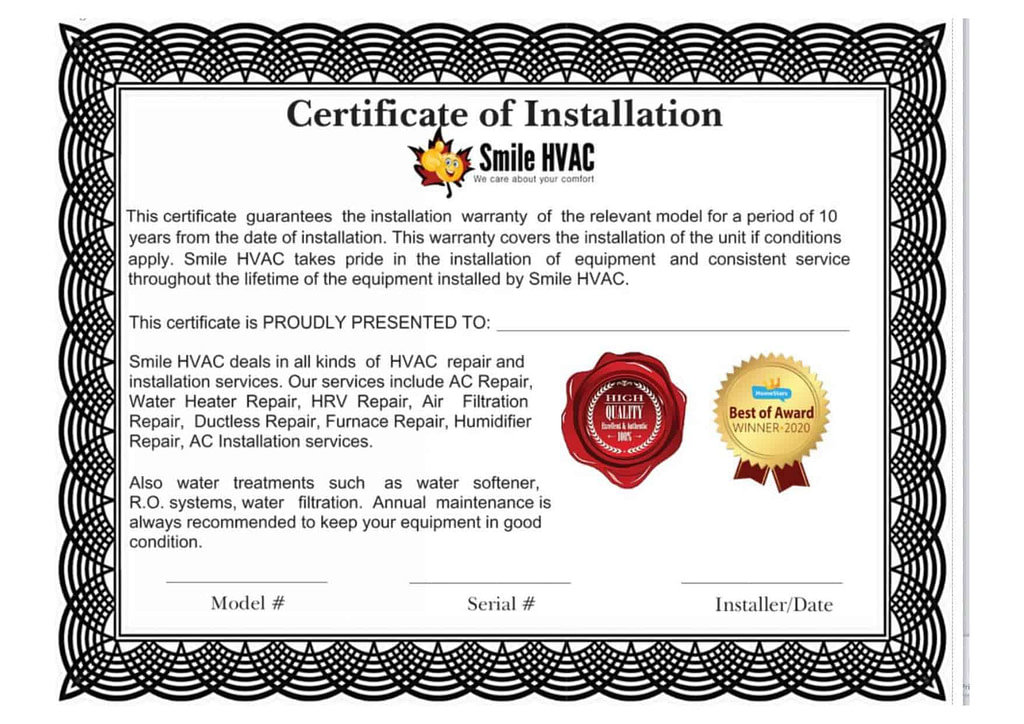 With our Warranty You Can:
Buy HVAC Equipment with Installation
Bryant Furnace Repair Near Me
Is your Bryant furnace acting up, and you are wondering how to find a Bryant furnace repair near me? Well, there are so many furnace repair companies in the market. However, it can be overwhelming and tricky to find the right one for your furnace repair needs, especially if this is your first time.
In a bid to save money, some homeowners opt for cheap services, which are likely to offer low quality work. On the other hand, some furnace repair services are overpriced and may be above your budget.
When scouting for the best Bryant furnace repair service near you, it is advisable to do your research and focus on finding quality repair services at affordable rates. Research various Bryant furnace installation and repair companies near you and learn about their history, experience, and services provided.
Also, inquire about the technicians that will tackle the job and whether they are well licensed and insured. This will help you find the most suitable company for your furnace repair needs.
Bryant Furnace Installation
Other than the quality, Bryant furnace installation can also affect its efficiency, longevity, and even comfort. That's why is very important to choose the right company for the installation of your furnace. Below is the process of installing a Bryant furnace.
Selecting the Bryant Model
Before installing the Bryant furnace, you first need to select the Bryant furnace model that you deem fit for your home or business. You need to choose the type of Bryant furnace based on the capacity and components included. At Smile HVAC, we help our customers choose the best equipment to ensure enhanced efficiency and even levels of comfort for the entire home.
Inspection of the Ductwork
Once you have the right unit, the next step is the installation process. The HVAC contractor will first evaluate the air distribution system, where they will inspect the ductwork to ensure that there are no gaps, breeches, or loose connections.
They will do a sizing test on the duct system to make sure that it is not substandard, as this will affect the air delivery and performance of the furnace.
Setting the New Furnace
After determining that the ductwork is working well, the contractor will go-ahead to remove the old furnace and place the new Bryant furnace. If the furnace is positioned in an attic, the technician will place another drain pan beneath the unit to protect it against condensation.
Making Connections
Once the new equipment is in place, the technician will go ahead with the connection process. This process involves; properly aligning the furnace, connecting the stove to the return ductwork, sealing the connections, and connecting the gas and condensate line. They will then attach the flue pipe system to the unit and connect the low thermostat wiring and high voltage electrical connections.
Testing the Furnace
The final step is to test the furnace to ensure that it is running. The technician will do this by running it through a complete heating cycle.
Smile Protection Plan is specially designed for those of us who don't like unexpected "surprises". "Surprises" like when you suddenly have to get out of pocket hundreds of dollars to repair your broken equipment.
Ask us about discounts on combined plans.
Smile
Protection
Plans
Starting from as low as
Smile
Maintenance
Plans
Starting from
Most Common Bryant Furnace Problems
Most homeowners who use the Bryant furnace to heat their home may experience Bryant furnace problems occasionally. Below are a few common furnace problems and some Bryant furnace troubleshooting tips to fix them.
Bryant Furnace is Leaking Water
If you notice that the Bryant furnace is leaking water, the issue could be with the drain line or clogged drain pan.
The Furnace is Not Igniting
The Keeprite furnace has a draft motor that pulls hot combustion gases via the furnace and then out to the exhaust stack. If the Bryant furnace is not igniting, but the draft motor runs, the cause might be a failed board that controls the motor or blocked exhaust chimney or air intake.
The Furnace Keeps Shutting Off
Does your Bryant furnace keep shutting off? Well, this is a common issue that may be caused by several things, including:
Failing thermostat

Furnace filter is dirty and needs cleaning or replacement

The flame sensor has failed and needs replacement.
The Bryant Furnace is Not Heating
When the Bryant furnace is not heating, the problem could be the circuit breaker or fuse. This might be brought about by a short in the electrical system that gives you furnace power. A quick fix would be to reset the furnace's circuit breaker.
The problem might also occur if the power switch has blown. If this is the case, then you will need to replace it.
The Furnace is Blowing Cold Air
When it comes to Bryant furnace blowing cold air, the problem could be with your control board. The control board's work is to regulate the amount of voltage that goes to each active part. When the relay responsible for controlling the blower motor fails, it will continue to send the motor voltage. Hence, it would be best if you replaced the control board to solve this issue.
Other possible causes include:
The gas control valve is not opening and needs replacement.

Ignitor has failed and needs replacement.
Bryant Furnace Flash Codes
Just like most furnaces in the market, the Bryant model has flash modes to help you determine what's wrong with your unit when it's not functioning well. It would be best if you, therefore, familiarize yourself with the Bryant furnace flash codes.
*Get 10% OFF on your Service Call when you book online.
Bryant Air Conditioner Repair & Installation
Are you looking for the best Bryant air conditioner repair service? Whether you are a homeowner or a business owner, the last thing you want to worry about is a broken air conditioner, especially in the heat of summer.
Air conditioners come in handy to keep your home cool during the hot summer months. However, just like any other equipment, your air conditioning system is susceptible to losing its efficiency, especially when it gets older.
When this happens, you may start to experience issues such as uneven air circulation in your home. Additionally, your air conditioning system may not cool your home as faster as it used to, and this can lead to an increase in your electrical bill. These issues are signs that you need air conditioner repair services.
If your air conditioner system breakouts, you need a reliable HVAC contractor to examine the issue and advise you on the best course of action. At times, the problem may be beyond repair, and you may need an air conditioner installation of Bryant.
Smile HVAC has been providing reliable and dependable air conditioning repair and installation to homes and businesses. If your air conditioning system has suddenly broken down, our highly trained technicians will strive to repair it and ensure that your home is relaxed and comfortable again.
They will also use their experience and expertise to recommend whether you should install a new Bryant air conditioning system. If this is the case, they will consider various factors such as the unit's size, home size, and lifestyle habits.
Whatever your needs are, call us today for the best Bryant air conditioner installers in town.
Our Services
Installation 
Are you building a new home or renovating and need a Bryant furnace installed? No problem! We will send our team of professional and qualified technicians to access your layout and install the unit based on your unique needs and requirements.
Repair
The last thing that any homeowner wants is for their heating or cooling system to act up, especially during winter months. If, after troubleshooting the issue, your furnace is still acting up, do not hesitate to contact Smile HVAC. We have what it takes to get your Bryant furnace up and running, so you don't freeze in the middle of the night.
Maintenance
Regular maintenance for your Bryant furnace is crucial to ensure the proper functioning and prevent unnecessary failures. Give us a call today if you want top-notch maintenance service for Bryant furnace.
We also offer many other HVAC services. Contact us today if you need expert heating and cooling services for your home or business.
Call Smile HVAC
While you may troubleshoot some of the common Bryant furnace issues on your own, having the unit inspected by a professional is vital to prevent minor repairs from becoming major.
If you need the first-class installation of Bryant HVAC equipment, Smile HVAC is your to-go-to company. Here at Smile HVAC, we have extensive experience in building and repairing Bryant Furnace.
We have worked with numerous homeowners and businesses, and we are renowned for our unmatched quality and affordable prices. Our BPI and NATE certified technicians have the knowledge and experience to get the job done and exceed your expectations.
Why Choose Us:
Extensive experience in the industry

Trained and certified by Bryant technicians

Better Business Bureau (BBB) accredited member

24/7 emergency repair service

Competitive pricing

Free installation estimates

Complete repair warranty
Full installation warranty
Authorised Licensed Technicians
Smile HVAC is authorized and licensed to service over 30 brands, so if you own any HVAC equipment from these brands, you don't need to call two companies. Smile HVAC will help you solve all HVAC-related issues and will assist with repairs and installations. We work with all brands including Lennox, Goodman, Amana, Keeprite, Bryant, Daikin, Carrier, York, Trane, Comfortmaker, Payne, Tempstar, Rheem, Ruud and Mitsubishi Electric