Refrigerator Repair Services
The refrigerator is an essential part of our modern lifestyles. Can you see yourself living without it? It's impossible, right? Is your fridge making funny noises? Do you notice that the food is not frozen despite your attempts to adjust the temperature? Before you think about buying a new refrigerator, call Smile HVAC refrigerator repair service.
Our technicians work everywhere in Toronto and the GTA for a 24-hour refrigerator repair. Besides, they know the specifics of all brands and types of appliances. Smile HVAC technicians can advise you on the maintenance of your refrigerator.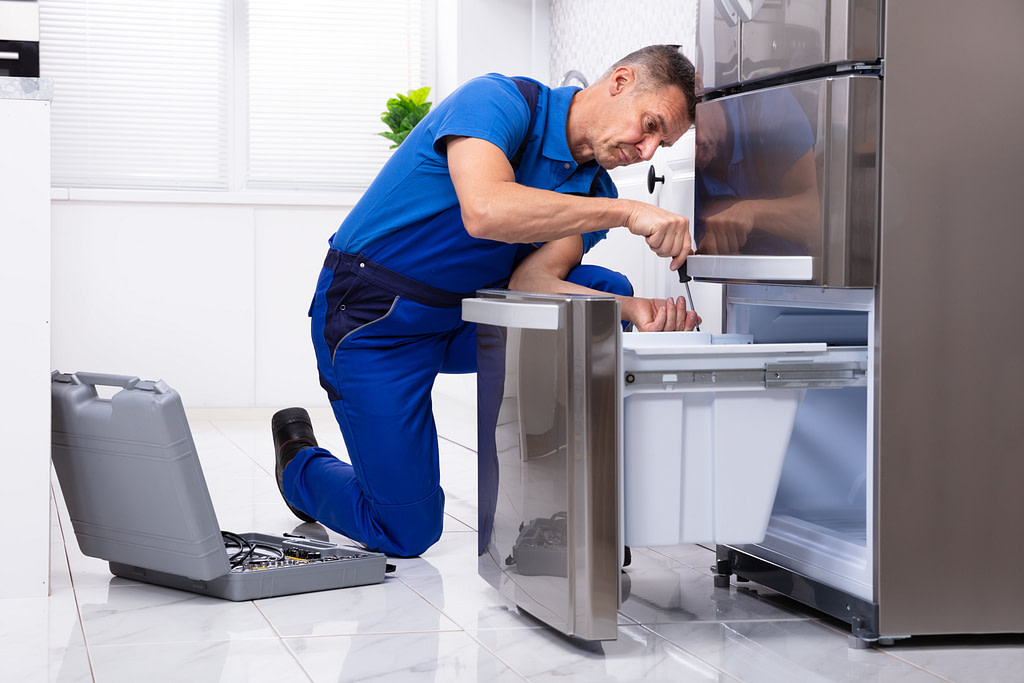 Emergency Refrigerator Repair Services

The refrigerator is one of the centrepieces of your home. When breakage occurs, you must act quickly to avoid losing too much food. That is why our team is trained for emergency refrigerator repair services. Don't wait until your food rots, call us as soon as you notice anything abnormal. Our fridge repair experts will be right there with you for a quick diagnosis.
The refrigerator repair that we offer covers all types of breakdowns that can affect your appliance, from the most common to the rarest. It's time to contact your fridge repairer when apparent signs of malfunction appear such as:
Ice-flooded appliance compartments and refrigerated food that freezes unexpectedly.

Water leaks under or inside the fridge.

A refrigerator that doesn't feel cold.

A refrigerator emits an annoying sound.
Smile HVAC is a home appliance repair company, and our role is to make sure that we did our job right. If your refrigerator is not working, just contact us so we can come as soon as possible and resolve your problem. To reduce your waiting time, we have service teams in most GTA neighbourhoods: Vaughan, Innisfil, Bradford, Toronto, Mississauga and other areas in GTA. The goal is to have your refrigerator or other household appliances repaired as quickly as possible so that they are functional again. We are one of the fastest refrigerator repair company in Toronto.
Types of Refrigerators We Repair

You do not want to have amateurs inspecting your refrigerator, and that is why you should trust our team of experts. No matter which refrigerator model you need to fix LG, Samsung, or Kenmore, or others, we can help you. Smile HVAC technicians will provide you with the right solution promptly.
Regular maintenance of your Bosch, Kitchen Aid, Maytag, Thermador, GE, Frigidaire, Whirlpool, or Samsung refrigerators is vital. At Smile HVAC, we perform all types of refrigerator repair services perfectly regardless of the brand.
Using the services of professionals to carry out your refrigerator repair work has several advantages. First of all, remember that the refrigerator is not just an electrical appliance: it is an appliance that turns energy into the cold. It is, therefore, a sophisticated device that requires experience and know-how. Using Smile HVAC services, you can be sure that the diagnosis is reliable and fast at the same time. The same goes for repairs: the technician knows what he is doing, what should be done for different brands, and repairs your refrigerator accurately.
Top 4 Most Common Refrigerator Problems
Sometimes a refrigerator breaks down for some reason, freezing your products or not cooling them enough. There are many possible problems:
1. My fridge is no longer cooling
Several causes can hinder the production of cold in your fridge. That may be only due to an imbalance in your internal thermometer, in which case it will need to be adjusted or replaced.
However, it is also possible that the issue comes from the circulation of refrigerant gas from your fridge. This circuit can be pierced or blocked, and it will then be necessary to call a technician, specialized in the repair of household appliances.
2. My refrigerator is too cold
In this case, the problem may be caused by your indoor thermometer, which our can technicians can fix quickly. It is also possible that your device fails is due to an icing problem, and it should be defrosted. The probe can also be misplaced, and not indicate the correct temperature, causing the cooling circuit to operate more intensely. If this is not enough to resolve the failure and your fridge is still too cold, you most likely need to call a technician who can check your fridge's refrigerant circuit, which may be out of order.
3. My fridge does not work at all
Often, this problem is only due to a poorly plugged in or defective outlet. You will then have to reconnect or replace your socket. It is also possible that your refrigerator is faulty or outdated. In this case, replace it entirely.
4. My refrigerator trips my counter
There may be a short circuit on your electrical installation or a fault in the earth. It's necessary to call an electrician to repair the defect.
How Do You Know If Repair Is Worth The "Cost"?
Thanks to the Smile HVAC team's experience, we know when a repair is worthwhile or not. In some cases, replacing certain defective parts is so expensive that it makes more sense to buy a new refrigerator. Besides, a refrigerator repair specialist will be able to warn you about the wear of various parts. Therefore, you can replace them even before the failure occurs, saving you additional problems.
By repairing your appliance, you are choosing to extend its life. In doing so, you reduce the environmental consequences of building a new device and disposing of the old one. And at the same time, you usually save much money. To make sure it is the right decision, we've listed the most common issues. But what about the others? Here are the rules to follow to know if it's worth the time and money to have the repairs done:
• For any device ten years old or less, it is always beneficial to repair minor breakdowns that cost less than $ 250 in parts and labour.
• If the cost estimate is over $ 250, calculate the residual value of your appliance using a residual value calculator online.
• If the repair costs more than the residual value, but does not exceed it by more than $ 150, it is worth having it arranged.
How to Maintain and Clean Your Refrigerator Properly
Avoid keeping your refrigerator's door open for an extended period because it brings in the heat and makes your refrigerator work harder. Therefore, you will keep your food for longer if you don't keep the doors open.
Wash the refrigerator's sides with hot water and baking soda to counteract a lingering odour—vacuum under the fridge and in the compressor compartment to remove any dust buildup. Arrange your food to maintain the optimal air circulation in the refrigerator. You can also put the fridge on a level floor, adjust and lock the legs appropriately; you will avoid warping the appliance in the short term. Finally, use a mild soap to wash the exterior surfaces and mineral oil to protect the stainless steel or stainless steel doors of the refrigerator.
Choose Smile HVAC
Smile HVAC has many years of experience in refrigerator repair. We already helped hundreds of customers in GTA. Don't take our word for granted, check our Google Reviews and see what our customers think about the quality of our technician's work.
We are qualified to repair different types and models of refrigerators. Our customer support team will evaluate your problem and try to give you an approximate price for the repair (sometimes it's not possible if we don't have the full information about the issue). So you will know the estimated cost before our technician even come to your place. Call Smile HVAC for a professional refrigerator repair service today.
We serve all the GTA area including: