Washing Machine Repair Services
If there is one machine that we all have at home, it's the washing machine. It is an essential household item. Everyone has it, from people living alone to large families. You don't often need to do a washing machine repair, but when a breakdown happens, whom do you contact? In a big city like Toronto, there are a lot of professionals available. But how to find a trustworthy company? You want peace of mind. Most importantly, you want to know exactly what is going to happen and when. That is what we strive to offer our clients every day at Smile HVAC. We have taken a stand to improve the home appliance repair industry, one customer at a time.
We are happy to provide high-quality washing machine repair service and bring peace of mind to dozens of places every day. Our strong skills complement the desire to provide the best customer experience possible, from the first call until the end of the job. With us, you will be completely satisfied.
Emergency Washing Machine Repair Services

Do you think your washer is leaking or making funny noises? Does it keep a lousy smell despite your maintenance? You find that your washing machine does not wash any more, or worse, destroys your clothes. If you encounter a breakdown or malfunction with your washing machine, our technicians can provide you with a 24h rapid repair service at home.
You have doubts about the correct functioning of your washing machine: you notice that it washes poorly, leaks no longer empty, no longer fills during the cycle, or observes that the door remains blocked and the drum is stuck. Whatever your issue is, Smile HVAC is here to provide you with the solution you need.
A home appliance technician near you, wherever you are in the GTA can come to repair your washing machine, and get your appliance back into operation quickly.
As for independent convenience stores, the majority will offer cheaper basic packages. On paper, it is very attractive, but there are no miracles. They usually make up for the price by charging higher for the washing machine parts they will use or exchange, typically bill you at almost double the supplier price. Or they take a much longer time to repair your machine. A team will always be quicker than one person. Smile HVAC guarantees you the lowest price with original parts and the fastest service out there.
When a breakdown occurs, we can assure you that you will be able to count on serious and responsive professionals. Smile HVAC responds as quickly as possible to your request to assist you in repairing your household appliance by offering you a unique and very competitive package.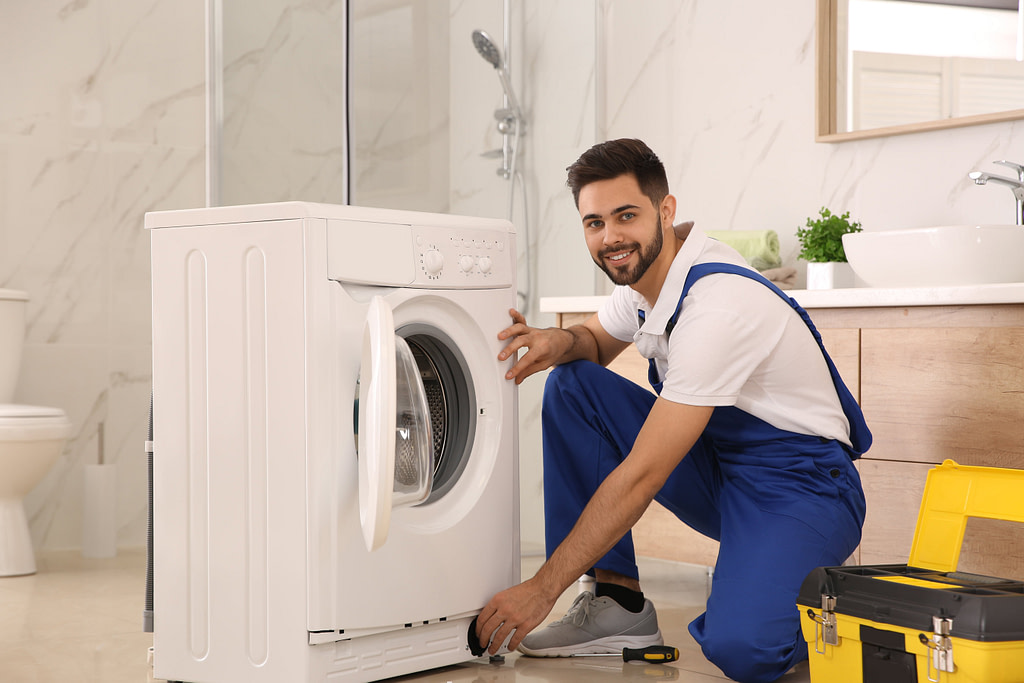 Types of Washing Machines We Repair

Apart from our quality services to meet your household appliance repair needs, Smile HVAC's team can repair any washing machine brands like Bosch, Electrolux, Samsung, LG, Whirlpool, and others. We also do not carry out any repairs without giving you a prior estimate. Indeed, it is only after obtaining your approval, our technician will start working. This way, we avoid misunderstandings and maintain a trust relationship with you.
Smile HVAC offers washing machine repair for all brands available on the market: Ariston, Philips, Bosch, Samsung, Beko, Délonghi, Brandt, Candy, De Dietrich, Electrolux, Fagor, Indesit, LG, Rosieres, Miele, Siemens, Whirlpool, Sony, Marantz, Onkyo, Panasonic, Denon and many more.
Common problems with washing machines:
The machine no longer discharges water because of a clogged filter.

The engine no longer drives the drum, or the machine makes much noise at high speed: wear of the belt.

The circuit breaker trips when the device is plugged in: The problem may be related to the machine's electrical outlet.

Strong vibrations during the washing cycle: the unbalanced or broken screws, a connector is poorly connected, or there is an issue with the sensor.

A machine that does not start because the door cannot be adequately closed (broken closure system), the water inlet pipe is blocked, or the pump is not connected correctly.

No ignition and multiple error codes: The control card no longer works or is not compared accurately.
Why Repair Instead of Replacing?
We live in an era of planned obsolescence, which means that even the most expensive objects and devices have a limited lifespan. Not to mention that this lifespan is often much less than it should be, given the price or manufacture of the item.
That is particularly the case with small household appliances as well as household appliances. You might know of a fridge from the 1950s that still performs just as well, whereas today, their expected lifespan is only 10 to 18 years.
As consumers concerned not only with our wallet but of course with the environment as well, it is essential to try to fight against this planned obsolescence, which is a form of waste.
There are more initiatives to repair our appliances than systematically throwing them away; for example, Sweden now grants tax benefits for people who choose to repair rather than replace them, whether for a bicycle, washer and what not.
Finally, note that Smile HVAC always recommends repair, especially for older washing machine models, as they are specially designed to last. Today, it is more economical and environmentally friendly to repair defective appliances than to buy new ones. Is your washing machine broken? Contact us without further delay!
Here is a little tip to help you give your machine a longer lifespan: Prevent mould and bad odours from settling in your washer, leave the washer door or lid open a few hours after using it. That will eliminate water and moisture that remains after a load. In short, remember to let your washer ventilate!
Finally, If you find that something is wrong with your washer, don't wait until it gets worse to contact us. One breakage can lead to others, and that will make it harder to keep your washing machine alive. Trust our team to advise you and carry out a quick repair of your washer, wherever you are in the GTA region.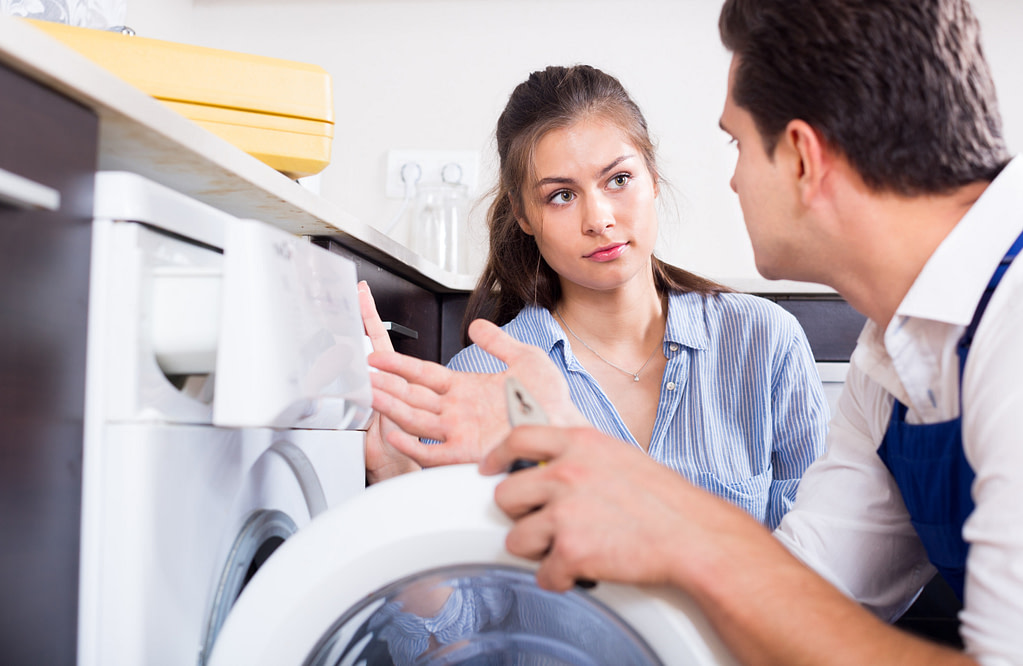 Smile HVAC is Your Best Choice for Washing Machine Repair
Our professional technicians have many years of experience in washing machine repair. We provide excellent service for our clients, a lot of them become our loyal clients. Smile HVAC is proud to be one of the best appliance repair company in GTA.
Our customer support service will take care of your request and estimate how much it will cost based on the provided information. So you will know upfront how much you will need to pay for the service even before our technician come to your home.
Call Smile HVAC at (+1) 437-777-4555 if you are looking for a quality washing machine repair!
We serve all the GTA area including: