Top 10 Smart Thermostats To Buy In Canada In 2023
Looking for the best thermostat for your home? Your search may end here as we have come up with some of the best thermostats from Amazon, Honeywell, Sensibo Sky, Nest, and many more. Remember that the right one will cut down on electricity bills as well as control the heating, air conditioning, and ventilation system.
As the world moves towards modern technology, there has been a huge demand for smart home devices, such as doorbells, WiFi-operable thermostats, smart appliances, and more. These devices make life easier and can do their job in the blink of an eye.
Speaking of thermostats, they enable users to operate the temperature of their property, whether they are inside or outside the home. While most smart devices require very little setup to get started, some operate on a user's voice or command. What are you waiting for? So, let's get started checking out the best 10 smart thermostats for 2023
Benefits of Using a Smart Thermostat
The benefits of using a smart thermostat are numerous and can greatly improve your comfort and energy efficiency.
Convenience: With the ability to control your thermostat remotely, you can adjust the temperature of your home before you even step through the front door. No more coming home to a freezing or sweltering house. Additionally, many smart thermostats have learning capabilities, meaning they can adapt to your schedule and preferences over time. This means you can enjoy the perfect temperature without having to constantly make manual adjustments.
Energy savings: By utilizing features such as geofencing and occupancy sensors, these devices can automatically adjust the temperature when you're away or not in a particular room. This ensures that you're not wasting energy heating or cooling an empty space. Furthermore, some smart thermostats provide detailed energy usage reports, allowing you to track and analyze your energy consumption. This information can help you identify patterns and make informed decisions on how to further optimize your energy usage.
Greener environment: By reducing energy waste, these devices help to lower your carbon footprint. With the increasing focus on sustainability and climate change, this is an important factor to consider. By investing in a smart thermostat, you are not only improving your own comfort and saving money but also doing your part in creating a more sustainable future.
Features to Look for in the Best Thermostat
When searching for the best smart thermostat for your home, there are several key features to consider.
Compatibility: Ensure that the smart thermostat you choose is compatible with your existing heating and cooling system. This can usually be determined by checking the manufacturer's specifications or consulting with a professional.
Ease of use: Look for a smart thermostat that has a user-friendly interface and intuitive controls. The whole point of a smart thermostat is to simplify your life, so you don't want to be struggling with a complicated device.
Connectivity: Most smart thermostats connect to your home's Wi-Fi network, but some also offer additional connectivity options such as Bluetooth or Zigbee. Depending on your needs and preferences, choose a thermostat that offers the connectivity options that work best for you.
Additionally, it's worth considering the compatibility with other smart home devices. If you already have smart devices in your home, such as smart lights or a voice assistant, look for a smart thermostat that can seamlessly integrate with your existing setup. This will allow you to create a truly interconnected and convenient smart home experience.
Comparing Different Thermostat Models and Brands
With the increasing popularity of smart thermostats, there are now numerous models and brands to choose from. When comparing different smart thermostat options, it's important to consider factors such as compatibility, features, and price.
Firstly, ensure that the smart thermostat you choose is compatible with your existing heating and cooling system. This can usually be determined by checking the manufacturer's specifications or consulting with a professional HVAC technician.
Next, consider the features that are most important to you. Do you want a thermostat with learning capabilities? Are you interested in geofencing or occupancy sensors? Make a list of the features that align with your needs and preferences, and use that as a guide when comparing different models.
Price is another important factor to consider. Smart thermostats can range in price from budget-friendly options to more high-end models. Determine your budget and look for a thermostat that offers the features you need within that price range.
Lastly, read reviews and customer feedback to get a better understanding of the reliability and performance of different models and brands. Consider factors such as ease of use, connectivity, and customer support.
By carefully comparing different smart thermostat options, you can choose the one that best suits your needs and preferences.
10 Best Thermostats For Your Home in Canada
1. Amazon Smart Thermostat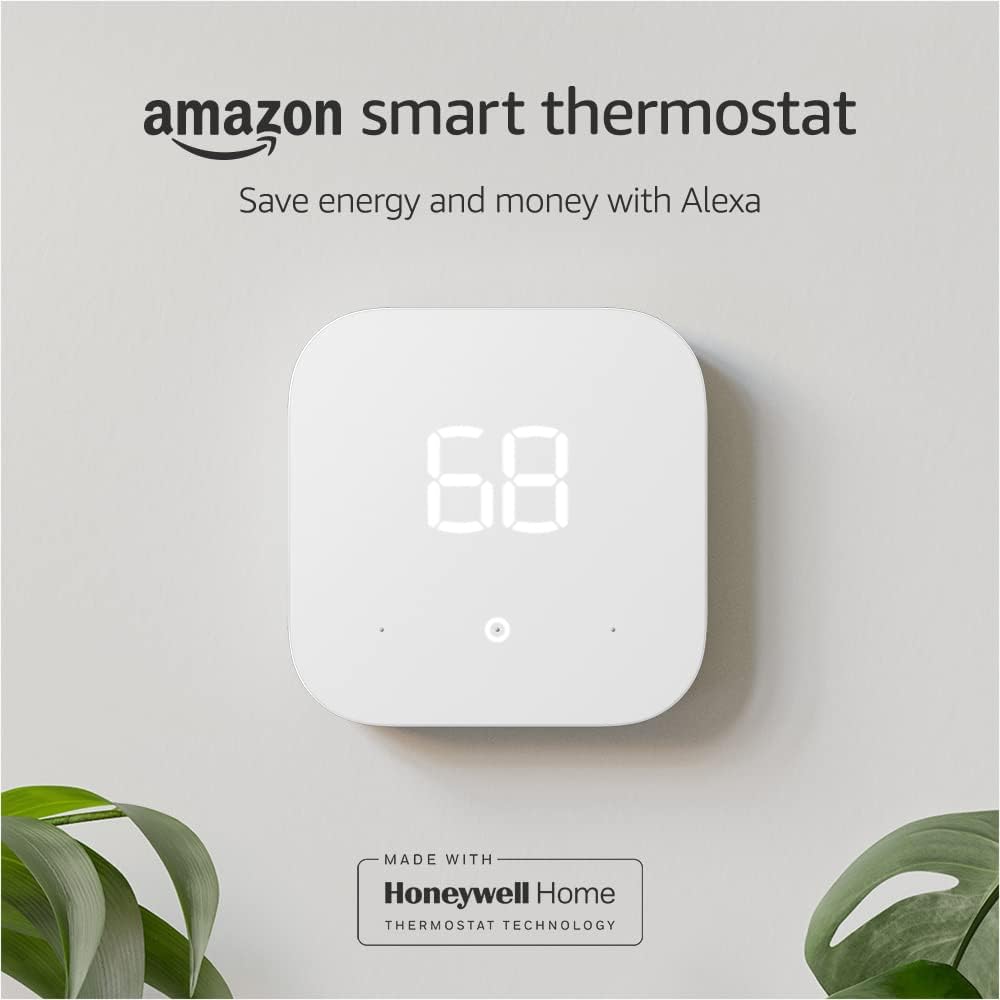 Those looking for an affordable smart thermostat should buy an Amazon Smart thermostat device. You just need to pay $50 for this product. Apart from being budget-friendly, it has a sleek, smart design with a faceplate design and digital temperature display. Since the Amazon smart thermostat operates using Alexa voice commands or the Alexa app, you should opt for an Alexa-enabled smart display or speaker. It manually adjusts the inside temperature from anywhere at any time.
Plus, being an Energy Star-certified product, you can save up to $50/year on your electric bills. The best thing is that it is very easy to program and install at any location, making it easy for anyone to use. In terms of reliability, the Amazon Smart Thermostat would be a suitable choice because it is designed with Honeywell Home Thermostat technology.
To allow the thermostat to function adequately, you must purchase a C-wire adapter, which has been sold separately. Keep in mind that there is no remote sensor to operate the temperature elsewhere. Nevertheless, it is okay because the product will be worth the money.
2. New Ecobee Smart Thermostat Premium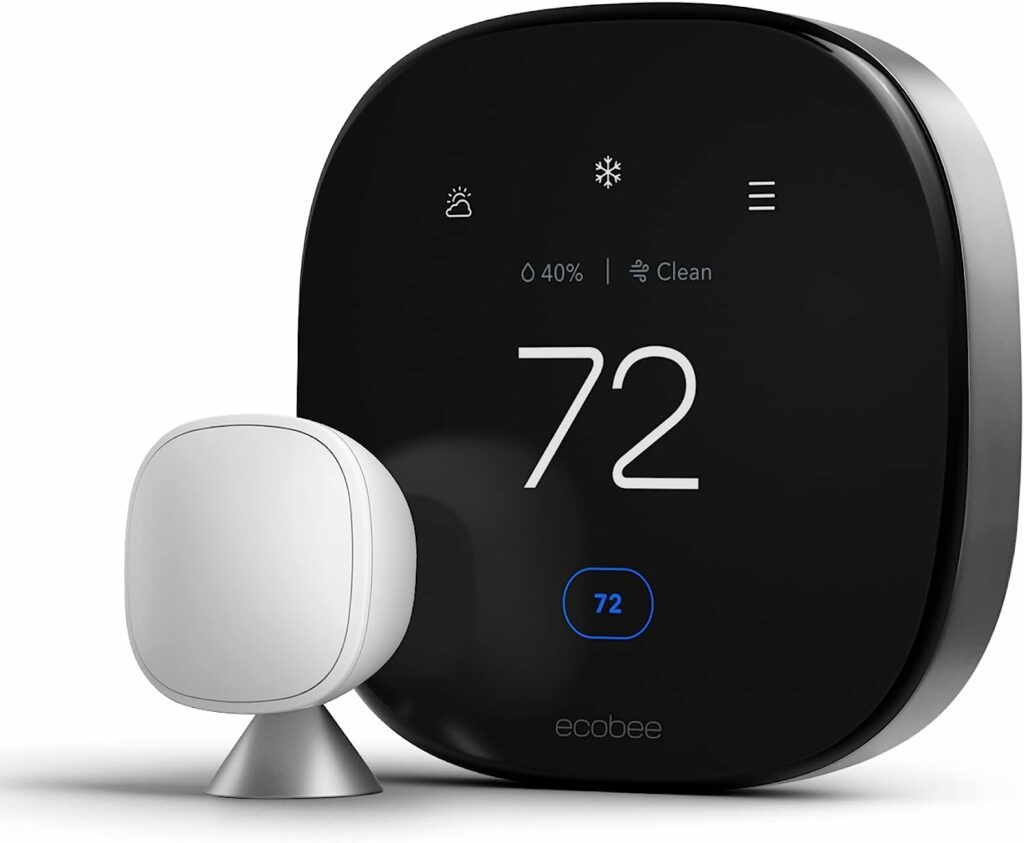 Unlike Ecobee's previous generation, this premium thermostat is much better in terms of looks and features. Not only does it have a bigger display, but it also works smartly. You will be amazed to watch that the thermostat features in-built smoke alarm detection, air quality monitor, and geofencing technology. With such smart features, you will be altered regarding temperature drops, poor air quality, and tips on how to improve air quality around you.
The only downside is that it is pretty expensive compared to smart thermostats from the same brand. Nevertheless, the demand for this model is high because of its built-in Alexa. This lets you hum along to your favorite songs. The product also supports Apple HomeKit, Google Assistant, and Spotify. The new Ecobee Smart Thermostat Premium is the wisest investment you can make if you want a connected thermostat.
3. Nest Learning Thermostat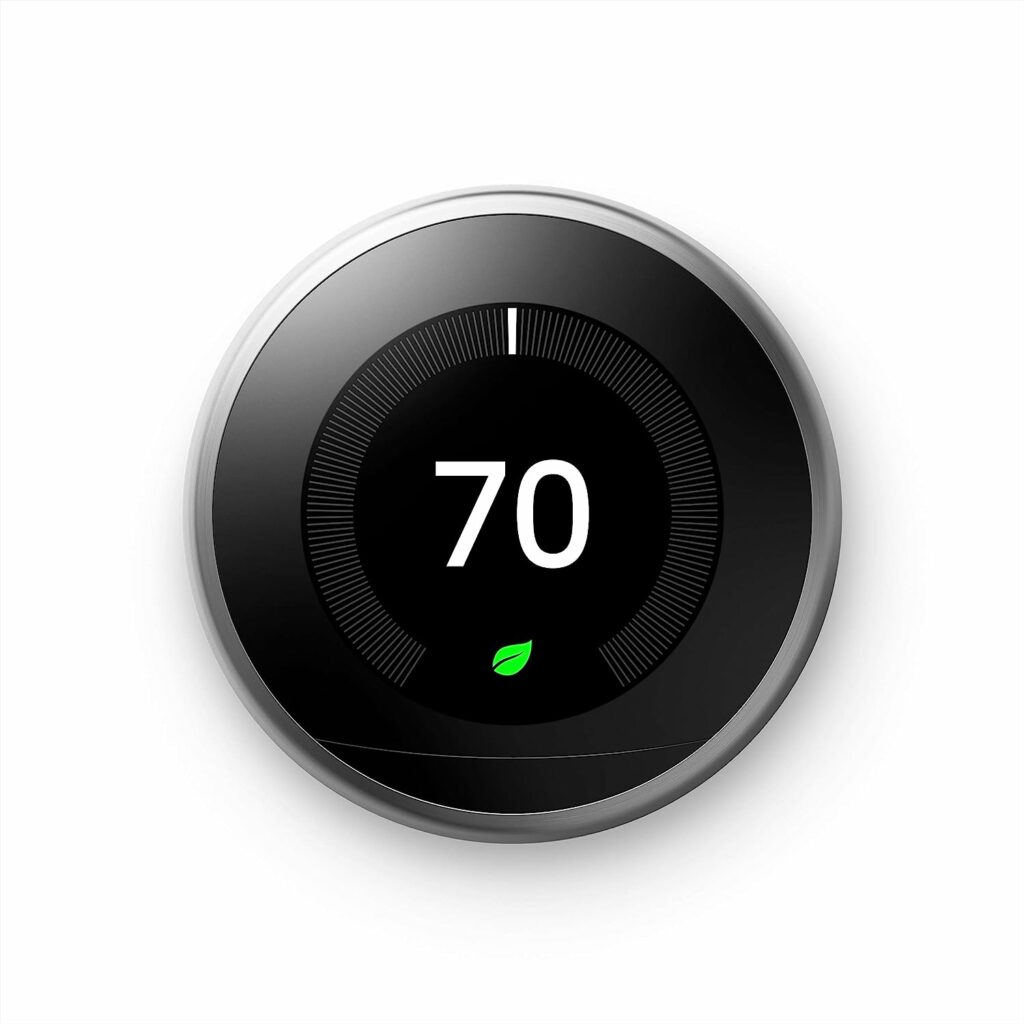 Want an eye-catchy, unique thermostat? Why not try this model by Google? It is an advanced cum latest thermostat that automatically adapts to your programs and schedules to help you save on electricity bills. If it detects a problem with the HVAC system, it can notify you through alerts.
Its round design, metal finish, and bright monitor go best with any home interior. Also, you will get ample choice of colors ranging from black to white and many more. You can operate it from anywhere with the Nest app. Being compatible with Google Assistant and Alexa, giving it voice commands can be handy. The Icing on Cake Thermostat is available at a discounted price of around CAD 275 total saving (20%).
4. Honeywell Home T9 WiFi Thermostat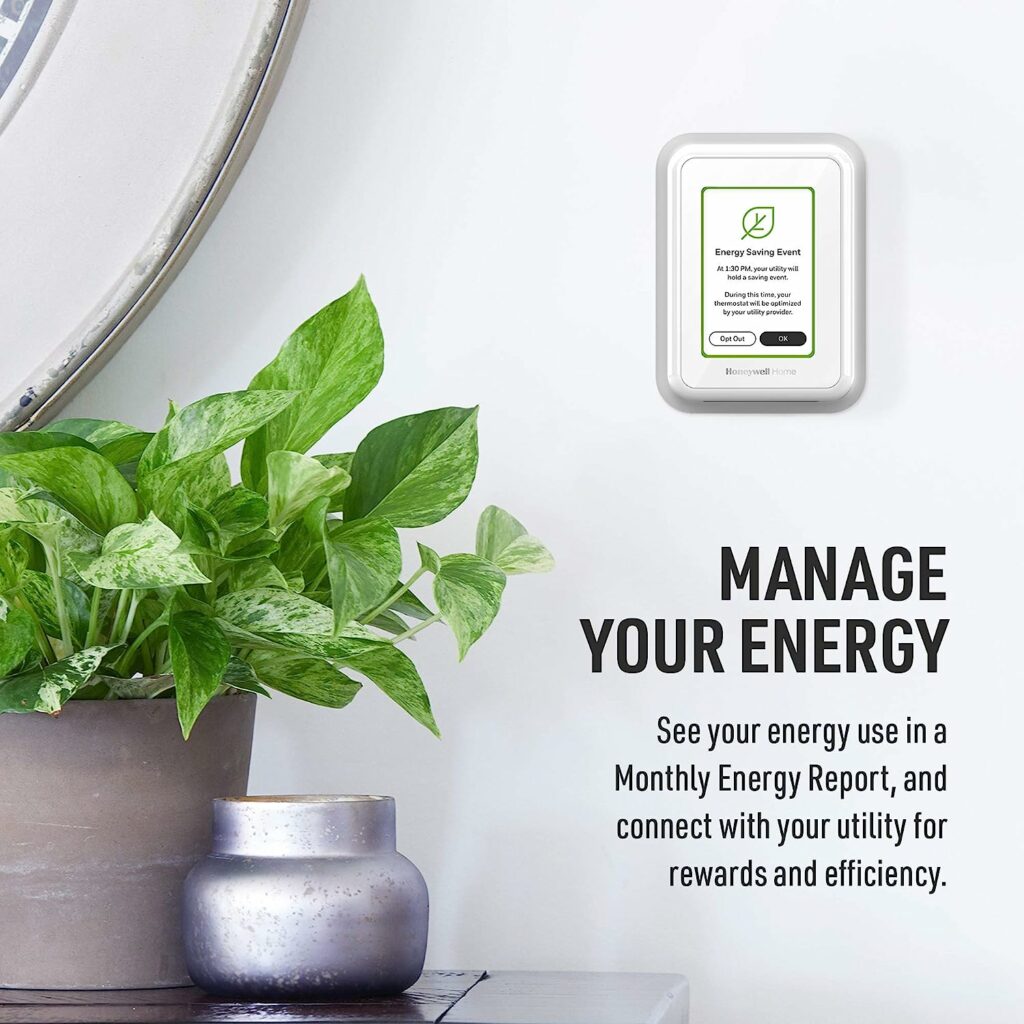 Spend just CAD 207 (after a 17% discount) and own a Honeywell Home T9 WiFi thermostat. Another thermostat with an impressive touchscreen display also features a smart room sensor. The T9 model from Honeywell is compatible with Google Assistant, Alexa, IFTTT, Android, and Siri. Best of all, the model offers reliable and smooth operation.
Some other notable features the brand offers include proximity, remote humidity, and temperature sensors. All these plus points make it one of the most advanced and best sensor thermostats. As an added benefit, the Home T9 lets the user take a monthly energy reading, so they will save even more with usage planned to suit their lifestyle.
5. Ecobee3 Lite SmartThermostat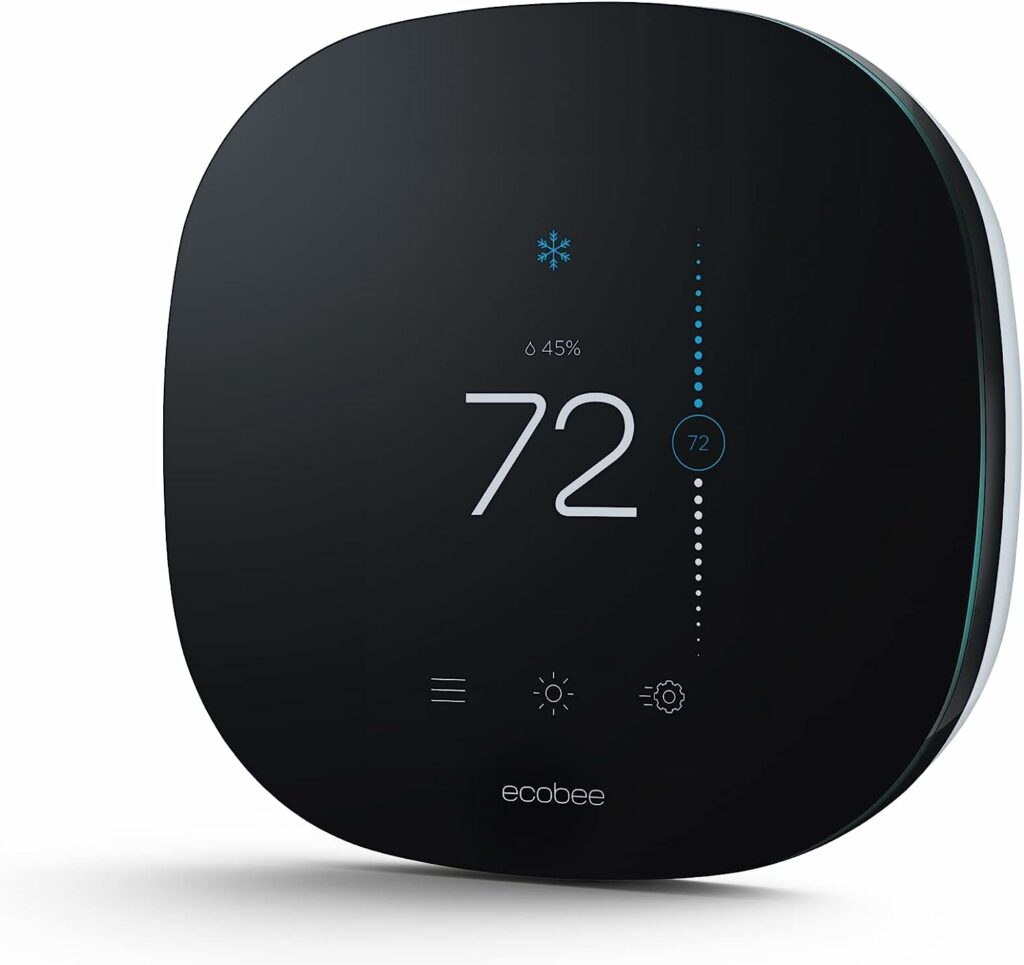 With 4.05*1*4.05 inches 3 lite Smart thermostat from Ecobee, one can save around 23%/yearly on cooling and heating bills. If you are looking for a wallet-friendly Smart thermostat from Ecobee, this would be a great choice over the previous one. Like Ecobee's high-rated models, the Ecobee 3 lite series accommodate multiple features at the same time and costs less.
Apart from featuring a smart touchscreen, it has smart home integration and an intuitive interface. As an added feature, it comes with door sensors and window sensors. This model effectively works with Google Assistant, Apple HomeKit, and Alexa. With the 3 Lite Smart Thermostats, you can enjoy enhanced comfort and energy savings. The only drawback is that it doesn't have built-in Siri and Alexa and an indoor air quality monitor.
6. Wyze Programmable Smart Thermostat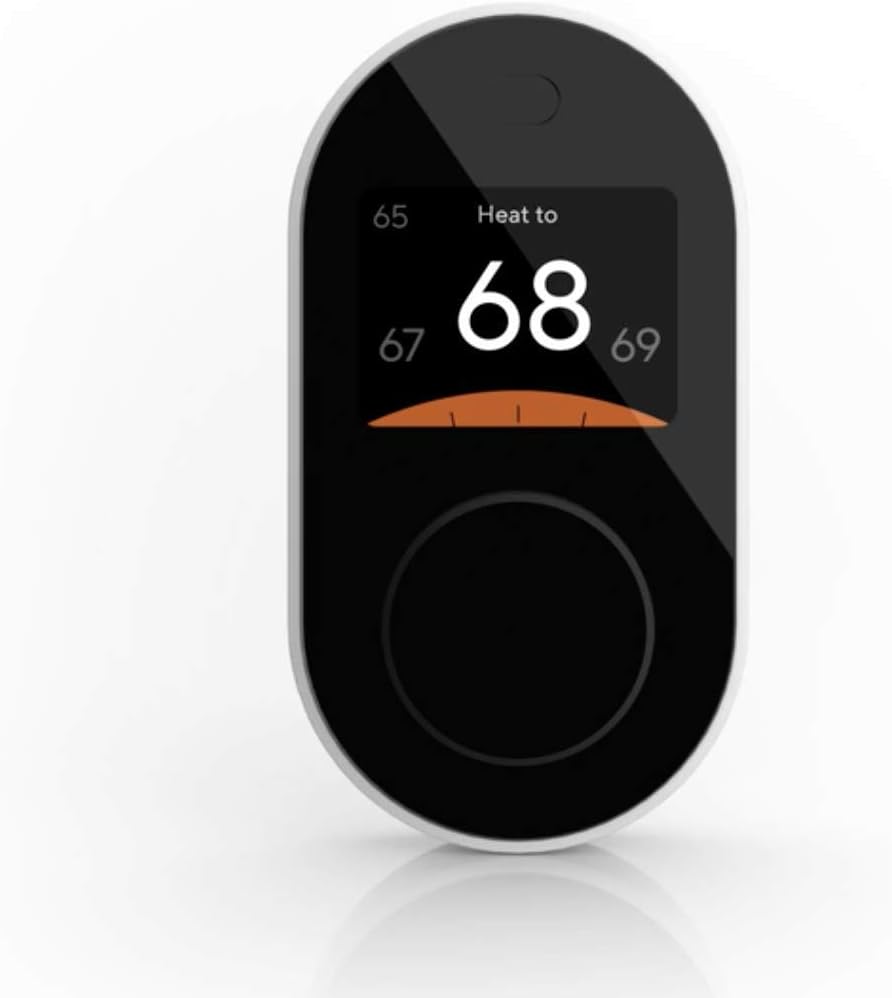 We found Wynze thermostat is the second most affordable product after the Amazon thermostat. Pay CAD 110 and own this smart, efficient thermostat. You may have issues with its installation, which takes 30 minutes to install, while an easy setup is done through the Wyze app. However it works with Google Assistant and Alexa, but there's no Apple HomeKit support available.
Once the installation is complete, you can monitor the compatibility of your heating and cooling units on its website. No matter where you are, even away from home, you can control the temperature with your smartphone. When compared to Amazon's thermostat, its hardware could be designed better. Still, the choice is up to you.
7. Nest Learning Thermostat 3rd Generation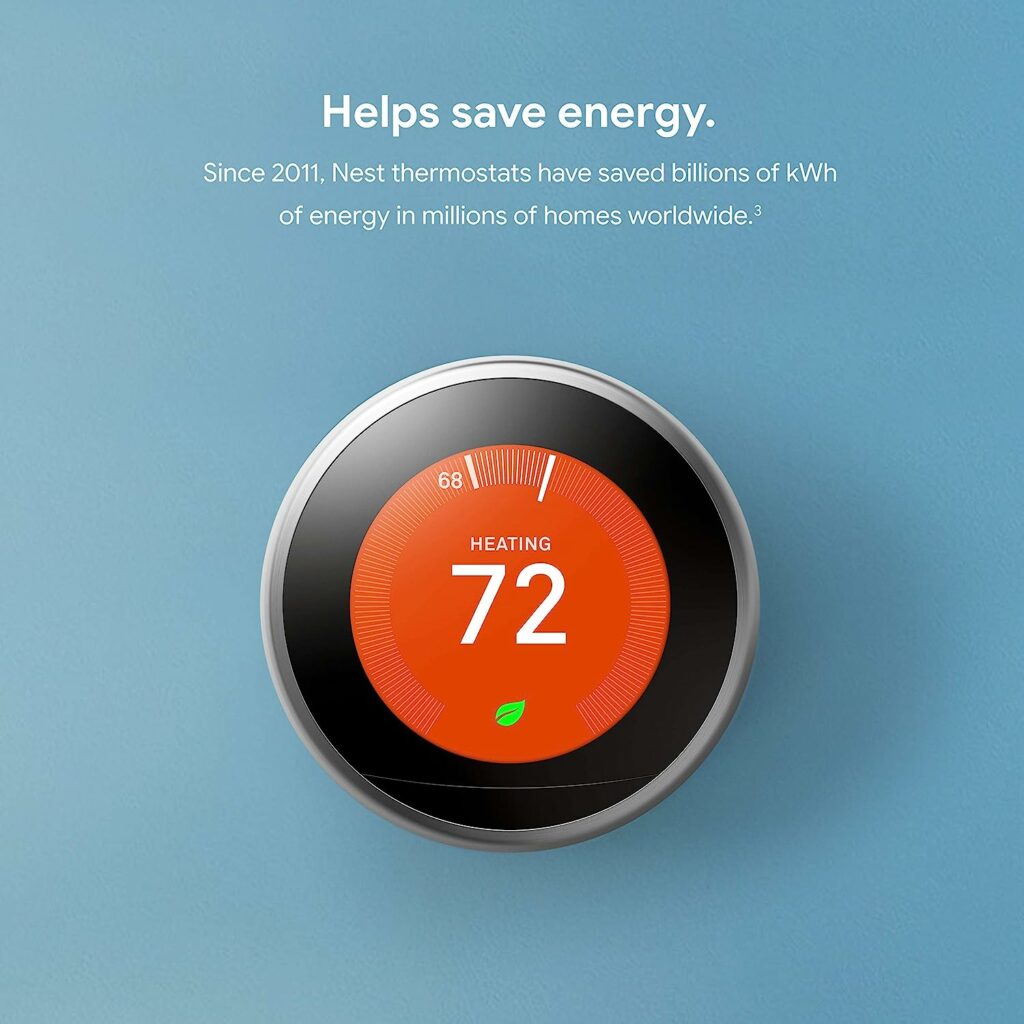 Nest Learning third generation thermostat is available in different finishes, such as stainless steel, mirror black, polished steel, brass, etc. So, you can have comprehensive options to choose from that best suit your need and matches your home decor. Its color and design make it different from other thermostats available.
This Nest Learning Thermostat has a sharper and bigger display than its previous model. As with other Nest thermostats that sense your schedule with use, this one can also work in the same way and automatically adjust the temperature when you get home. While the thermostat turning mechanism and brushed stainless steel all feel premium, it has a retro-style round design. All these qualities make it one of the best thermostats that have great compatibility with Google Home.
8. Sensibo Sky Smart Home Ac System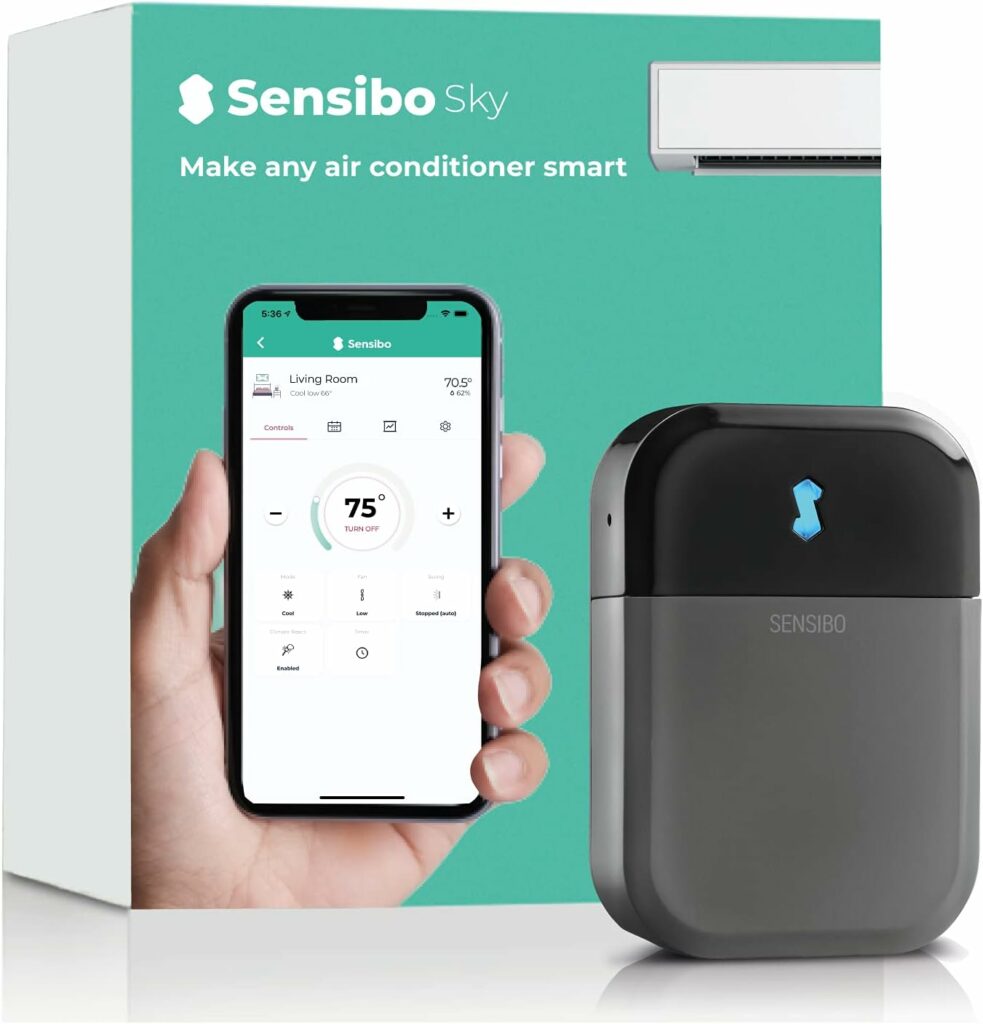 Nearly every smart thermostat is thoughtfully designed for properties with heating and cooling units, but what about older homes or older apartments that have window AC systems? If you are in search of a thermostat that meets this specific need, then Sensibo is the one that understands your need. This product is introduced for those with Window AC or In-Wall AC system work via IR Remote.
The best thing about the product is it is budget-friendly, costing around 138 CAD. One thing you might not like is it doesn't have a smart display like other thermostats, but you might be impressed by its easy-to-use and unnoticeable design. Also, it can be operated remotely. It enables the user to create a schedule for when it needs to be on and off.
9. Honeywell RTH8580WF Wi-Fi Thermostat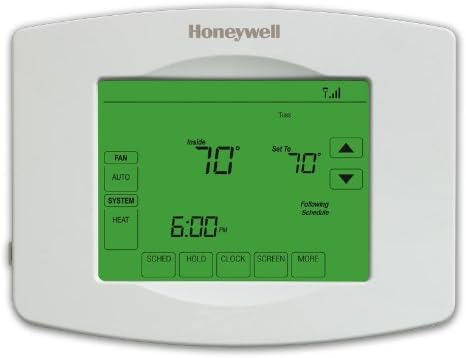 If you don't want to break your bank balance by having a premium, expensive thermostat, you should take a look at this model by Honeywell. At an affordable price, it provides the same functionality as the latest models. Like previous models Ecobee and Nest offers, this Honeywell model can be controlled through a smartphone. Plus, it's easy to connect to Google Assistant and Alexa, which enables you to adjust the temperature with your voice commands. Only where you need to compromise is its looks and remote sensor.
10. Lux Products GEO-WH Wi-Fi Thermostat
A very easy to install as a standard thermostat with different vertical or horizontal mount designs, the Lux GEO thermostat can be connected to Android Apps or iOS. This will make sure you have great comfort. In terms of looks and features, Lux GEO can easily give tough competition to other thermostat brands. The control wheel, big display, and free app provide perspective functionality both on the device and online. One of the biggest benefits of buying this model is that it can use with or without Wi-Fi.
How a Smart Thermostat Can Transform Your Home
A smart thermostat has the power to transform your home into the perfect oasis by providing unparalleled comfort, convenience, and energy efficiency. Imagine waking up in the morning to a warm and cozy house, without having to get out of bed to adjust the temperature. With a smart thermostat, you can schedule your heating or cooling to align with your daily routine, ensuring that your home is always at the perfect temperature when you need it.
Furthermore, thermostats can adapt to your preferences and habits over time. By learning your schedule and temperature preferences, these devices can automatically adjust the temperature to suit your needs. This means no more coming home to a stuffy or chilly house. Your smart thermostat will ensure that your home is always comfortable, whether you've been away for a few hours or a few days.
In addition to comfort, a thermostat can also significantly reduce your energy consumption. By using features such as geofencing and occupancy sensors, these devices can automatically adjust the temperature when you're away or not in a particular room. This eliminates the need to heat or cool an empty space, resulting in substantial energy savings. Over time, these energy savings can add up, not only benefiting your wallet but also the environment.
Installation and Setup of a Smart Thermostat
Installing and setting up a smart thermostat may seem daunting at first, but with the right guidance, it can be a straightforward process. The first step is to ensure that your existing heating and cooling system is compatible with the smart thermostat you've chosen. Most manufacturers provide compatibility checkers on their websites or in the product manual. If you're unsure, it's always best to consult with a professional HVAC technician.
Once you've confirmed compatibility, the next step is to gather the necessary tools and equipment. Most thermostats come with detailed installation instructions and include all the necessary hardware. However, you may need some basic tools such as a screwdriver and wire strippers.
Before starting the installation, it's important to turn off the power to your HVAC system at the circuit breaker. This will prevent any accidental damage or electrical shock. Once the power is turned off, you can begin the installation process by removing your old thermostat and mounting the new smart thermostat in its place. Follow the manufacturer's instructions carefully, making sure to connect the wires correctly.
After the physical installation is complete, you can proceed with the setup process. This usually involves connecting the smart thermostat to your home's Wi-Fi network and downloading the corresponding app on your smartphone. The app will guide you through the setup process, allowing you to customize settings and preferences according to your needs.
Energy-Saving Tips with a Smart Thermostat
While a smart thermostat itself can help you save energy, there are additional tips and tricks you can implement to maximize its efficiency. Here are some energy-saving tips to consider:
Take advantage of the scheduling capabilities of your thermostat. Set specific temperature profiles for different times of the day or different days of the week. This way, your thermostat will automatically adjust the temperature based on your predefined schedule, ensuring that you're not wasting energy when you're not at home.
Utilize the geofencing feature if available. Geofencing uses your smartphone's location to determine when you're away from home. When you leave a certain radius around your home, the smart thermostat will automatically adjust the temperature to an energy-saving mode. When you return, it will bring the temperature back to your desired comfort level.
Make use of occupancy sensors if your thermostat has them. These sensors detect whether a room is occupied or not. If a room is unoccupied for a specified period, the thermostat will adjust the temperature accordingly to save energy.
Take advantage of energy usage reports provided by your smart thermostat. These reports can give you valuable insights into your energy consumption patterns. Analyze the data and look for opportunities to further optimize your energy usage.
By implementing these energy-saving tips, you can maximize the efficiency of your thermostat and further reduce your energy consumption.
To conclude!
Smart thermostats save money and make it easier to utilize less energy, all thanks to their advanced features. When buying a smart thermostat, you'll have a variety of options to choose from, including an expensive one with exciting features or an affordable one with great cooling and heating capabilities.
Of all the smart thermostat models out there, you may have heard that the Amazon smart home ecosystem is an excellent choice in terms of affordability and functionality. But, the common ground is that they are even better and more advanced than traditional thermostats.