Keeprite Furnace Repair, AC Repair and Installation and other HVAC services
Certified Keeprite AC & Furnace Repair Company
Keeprite furnace repair must be done correctly to avoid more significant problems and fire risk. These furnaces are popular due to their affordability and efficiency. However, just like other devices, they are bound to break down after significant use or due to technical problems. 
When you experience any issue with this furnace, it is crucial to call for a Keeprite furnace repair service immediately. Doing so will save you a lot of money and stress because it will prevent other significant problems. 
Luckily, Smile HVAC has got your back. Our experts have years of experience under their belts dealing with Keeprite furnace installation and repair, so you are sure that your property is in the right hands.
10-Year Installation Warranty for HVAC Systems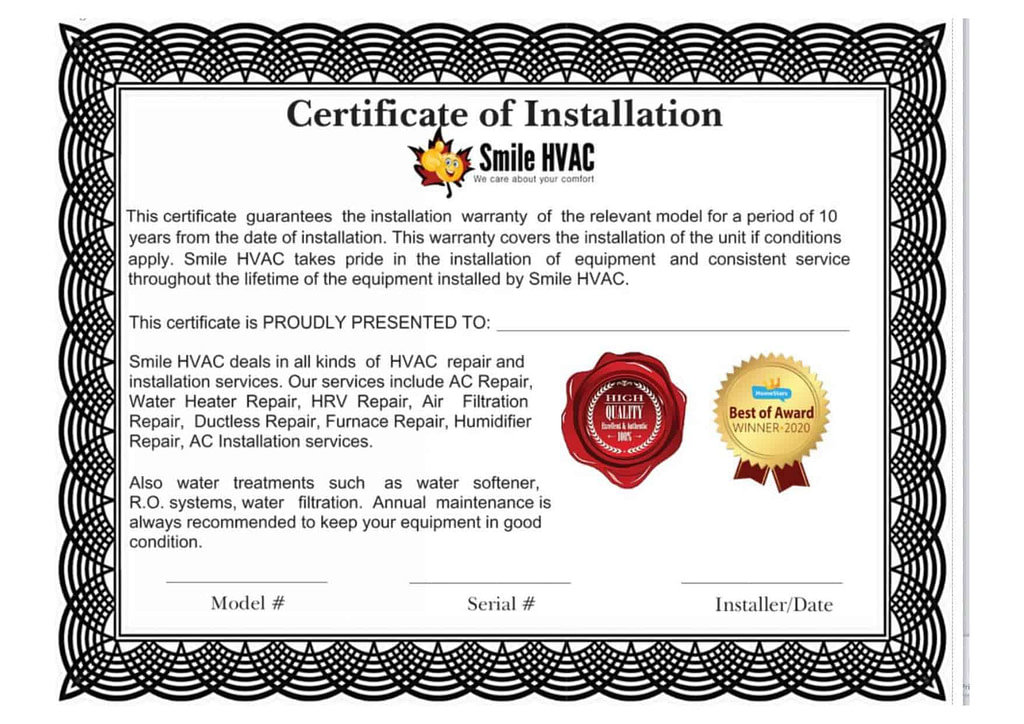 With our Warranty You Can:
Buy HVAC Equipment with Installation
Keeprite Air Conditioner Repair & Installation
Do not wait for tomorrow and get your Keeprite air conditioner repair today. Keeprite is a durable air conditioner and furnace brand. However, if you encounter any issue with these brand's devices, it is essential to have it fixed immediately to prevent problems and damages from becoming bigger.
Our Keeprite air conditioner installers are the best in what they do. They have years of experience dealing with different Keeprite air conditioner units, so they are family with its systems and requirements. This allows our experts to be able to deliver high-quality installation services in a timely manner. 
Air conditioner installation of Keeprite furnace is not the only thing that they are good at. Our team is also an expert when it comes to repairing Keeprite air conditioner units. Whether your Keeprite air conditioner unit is experiencing condensation issues, weird noises, or abnormal shutdown, we got you covered. 
Our experts will be on your doorsteps within minutes to assess and identify the issue of your unit. Once that is done, they will then explain the issue to you and fix the problem after you give the go signal giving you a quick and hassle-free repair service that you deserve. 
Keeprite air conditioners can be a significant investment so let the professionals handle its installation and care so that you get the most out of it.
Smile Protection Plan is specially designed for those of us who don't like unexpected "surprises". "Surprises" like when you suddenly have to get out of pocket hundreds of dollars to repair your broken equipment.
Ask us about discounts on combined plans.
Smile
Protection
Plans
Starting from as low as
Smile
Maintenance
Plans
Starting from
Keeprite Furnace Installation
Although it is possible for you to do Keeprite furnace installation on your own, it is better to have it done by professionals to ensure that it is properly installed and the duck work is done correctly. Yes, installing the furnace on your own might save you money, but it will not be worth it given the potential problem and fire hazards that you will get.
The installation of the Keeprite furnace is quick and easy for our Smile HVAC experts. Depending on the type of Keeprite furnace you will have installed, our expert will follow its manufacturer instruction manual and ensure that safety precautions are taken during the process. This way, the installation process is going to be seamless and quick. 
The Smile HVAC experts are the right people for the job because they have years of experience installing and repairing Keeprite furnaces. They are also very knowledgeable about the state's standards about furnace installation and safety measures. They also have the right equipment and technique to execute the job correctly. 
Get your Keeprite furnace installed correctly to get its maximum benefit. Doing so will also help you ensure that it will last for a long time without any issues.
Keeprite Furnace Repair Near Me
There might be several options when you look for a Keeprite furnace near me. However, you must be careful in choosing a company and ensure that they provide quality repair services. 
Knowing whether a company is the right one for your Keeprite furnace repair job is fairly easy. You simply need to ensure that these experts are well trained and experienced when it comes to Keeprite repair services. A few companies, such as Smile HVAC, who value transparency, will tell you the information that you need regarding this from the get-go. 
If you encounter a repair service company that is unwilling to provide you with their experts' credentials or previous job experience, take it as a red flag and look for other options.
Call Smile HVAC if you're looking for a Keeprite furnace repair and have the following problems:
furnace fan isn't running 
furnace is making a noise
furnace is not working 
*Get 10% OFF on your Service Call when you book online.
Most Common Keeprite Furnace Problem
Keeprite furnace problems may come at the most unexpected time. When you encounter these issues, it is understandable why you may feel a sense of panic or dread. However, it is essential to keep your composure and assess these issues to know whether you need to call for help or troubleshoot the problem independently. 
One of the most common problems you may encounter is when the Keeprite furnace is not igniting. If this happens, you should check if the ungrounded flame sensor or the surface ignitor has a problem and immediately contact Smile HVAC service for repair. 
You may also encounter a Keeprite furnace blowing cold air. In this case, the furnace might be overheating, so you must immediately turn it off. This could be overheating due to different reasons such as accumulation of dirt or something blocking the airflow. When you encounter this type of issue, it is best to leave it to the professionals to fix, especially if you have no furnace repair background. 
Another common issue is Keeprite furnace is leaking water. This is most likely due to clogged tubing or drain. A condensate pump issue or a break in the condensation line might also be other possibilities. 
The issues mentioned above are typical problems of Keeprite furnaces due to constant usage or dirt accumulation. If you do experience any of the problems, regardless if it's about  Keeprite furnace is not heating, Keeprite red light blinking, Keeprite furnace flash codes or Keeprite furnace keeps shutting off, call our Smile HVAC experts immediately to address your problems.
Call Smile HVAC
For your repair and installation needs of Keeprite HVAC equipment, call Smile HVAC immediately. We are the best team for the job because we provide transparent, affordable, time-efficient, and high-quality service each time. 
Our team of repair and installation services is very knowledgeable about Keeprite HVAC equipment. They have handled various units in the past and successfully installed and repaired each one giving them a familiarity with the brand. This allows them to finish installation jobs without sacrificing the quality quickly and easily assess and figure out issues when doing the repair. 
On top of that, each team member has the appropriate certification and training to handle the job. This is important if you want to ensure that everything in the installation and repair is done according to the industry and state standards. 
Smile HVAC also offers unparalleled service rates. We take pride in providing high-quality service that will not break the bank. Our rates are fair and much more affordable compared to our competitors. 
There is no better company for Keeprite repair and installation service other than Smile HVAC. Contact us today to book your installation or have your Keeprite units checked by our expert to avoid any hassles and bigger problems.
Authorised Licensed Technicians
Smile HVAC is authorized and licensed to service over 30 brands, so if you own any HVAC equipment from these brands, you don't need to call two companies. Smile HVAC will help you solve all HVAC-related issues and will assist with repairs and installations. We work with all brands including Lennox, Goodman, Amana, Keeprite, Bryant, Daikin, Carrier, York, Trane, Comfortmaker, Payne, Tempstar, Rheem, Ruud and Mitsubishi Electric