Best Water Heater to Buy in Canada in 2023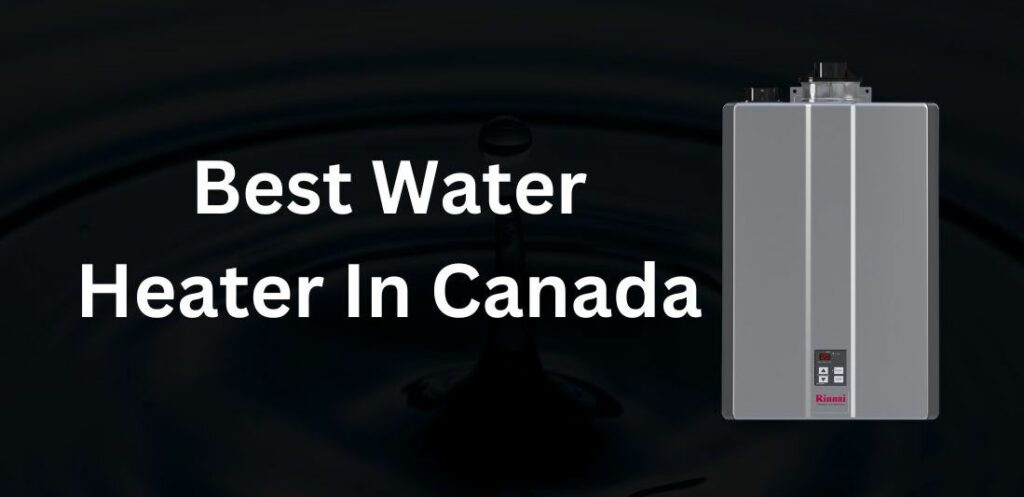 In Canada, home water isn't just a source to quench the thirst of a dry throat but also an essential ally. It's the secret to completing everyday household chores, including bathing, laundry, hand washing, dishwashing, and more.
Imagine living life without it! What would happen? Unquestionably, the work would pile up, and the luxuries would run out. Indeed, hot water reminds us that comfort starts with reliable warmth and keeps things moving smoothly from everyday tasks to special times.
If you want to have an adequate hot water supply without interruption on a daily basis, then choose the best water heater. Choosing the right model will help you say goodbye to cold spouts and cold showers.
Well, to make your selection easier, we've compiled a list of the top 8 best water heaters (electric and gas), as well as discussed a comprehensive buying guide in this article. Without wasting your time, let's dive into the information below:
Why do you need a water heater?
Following are some of the reasons why you need to choose a water heater for your home:
To convert cold water into hot: Sometimes you might have to wait for a while for warm water. Even washing dishes in cold water won't offer spotless cleaning. To turn cold water into hot, you will need a quality water heater system. With this, you can wash your garments or dishes, shower, and clean with water in a convenient way.
Reliable supply of warm water: Having a water heater means you can live your life in a better way. No matter how cold the weather is out there, you don't have to worry about a constant flow of hot water, after all, you count on the efficiency and reliability of your unit.
Helps Conserve Energy: You can be the biggest contributor to saving the earth by conserving water and energy. How? By investing in a heater water tank. With it, you no longer need to flush the water before it heats up to avoid wasting water. A hybrid electric water heater unit, also known as a tankless water heater, is the best option for energy conservation.
Helps Save Money: Yes, you can save your money with a water heater system. How? Some premium-quality heaters consume less water and less energy, saving the cost of hefty gas, water, and electricity bills.
Easy to install: Unlike traditional water heaters, modern tankless water heaters can be installed anywhere on your property. This is because they are small in size rather than being complex and heavy. Being flexible and simple due to the advanced technology, they would be excellent options to invest in.
Things to Consider before buying a Water heater in Canada in 2023
Types: Choose between gas-based or electric-powered water heaters, including tankless or traditional storage tanks.
Capacity and Size: Select the right size based on the number of people in your household, ranging from 40-80 gallons.
Flow Rate: Tankless heaters have different flow rates, with 6-13 GPM suitable for most households.
Fuel Types: Options include electric, gas, fuel oil, solar, and propane, each with its advantages and costs.
Energy Usage: Check the Uniform Energy Factor (UEF) for efficiency; gas models often have higher UEF ratings and can save on utility costs. Look for ENERGY STAR® certification for energy-efficient options.
Top 8 Water Heaters in Canada in 2023
1. Ecosmart ECO 24 KW at Electric Tankless Water Heater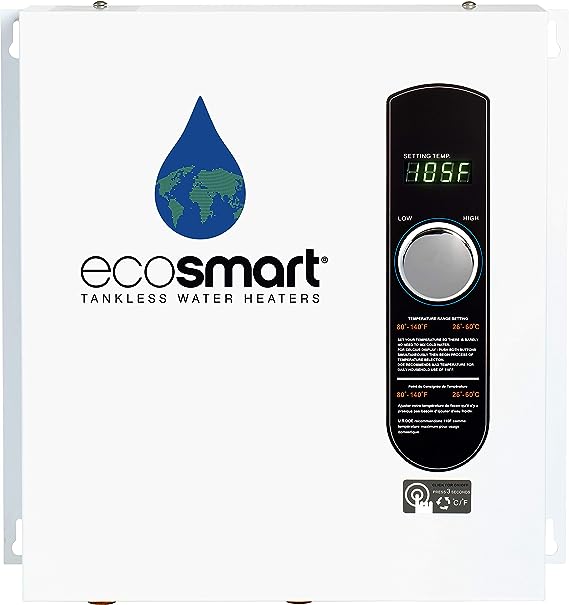 Price: CAD 639
Advantages:
Energy efficient: Ecosmart ECO 24 KW water heater provides non-stop hot water without breaking your bank balance spent on water use and overall energy.
Looks good: The sleek and classy design makes it an excellent option for both modern and traditional homes while adding an aesthetic appeal.
Space Saver: Unlike conventional tank heaters that occupy a maximum area, the Ecosmart ECO 24 kW is designed to be wall-mounted, thereby freeing up floor space and allowing for more storage.
Reliable hot water: The water heater provides endless on-spot water whenever it is needed, eliminating the need to store hot water.
Saves your money: This water heater starts working only when you need hot water, at the same time it also reduces heat loss. In that way, you can save up to 50% on your water heating bills.
Disadvantages:
Could be better: There are other options available at cost-effective prices with similar features, similar sizes, and functionality.
Challenging to install: Due to its complex set-up, you may need to call a professional technician for installation.
2. Rheem 7.0GPM Propane Tankless Water Heater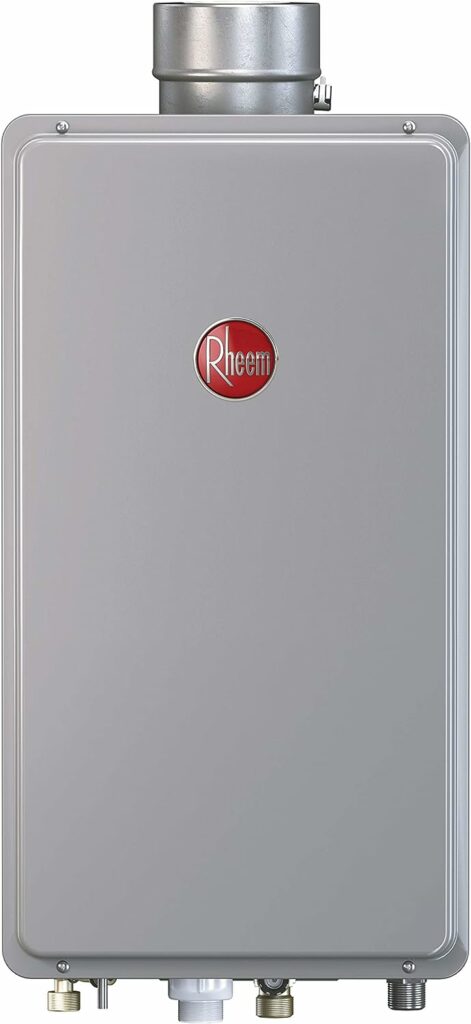 Price: CAD 1,720
Advantages:
Easy to use: Once the electronic thermostat installation is done, the water heater ensures easy use by helping to adjust the water temperature.
Effective: Installing this gas water heater allows you to enjoy hot water for doing household chores, such as laundry, washing dishes, pets, and giving yourself a hot shower.
Compact and lightweight: Tight homes can have free space after installing this water heater, owing to its compact and space-saving construction.
Reduces energy usage: This model self-adjusts to the amount of energy needed to heat the water, reducing energy use and increasing efficiency.
Intelligent features: The Rheem 7.0GPM propane water heater has been introduced with outstanding features, such as a self-diagnostic system, maintenance notification setting, and mobile app features.
Disadvantages:
Uncertified: The water heater has no Energy Star certification, which means it may consume more energy and water than other models.
Lack of warranty: Due to this, buyers are unsure of investing their money in this product
3. KENUOS Mini-Tank Electric Water Heater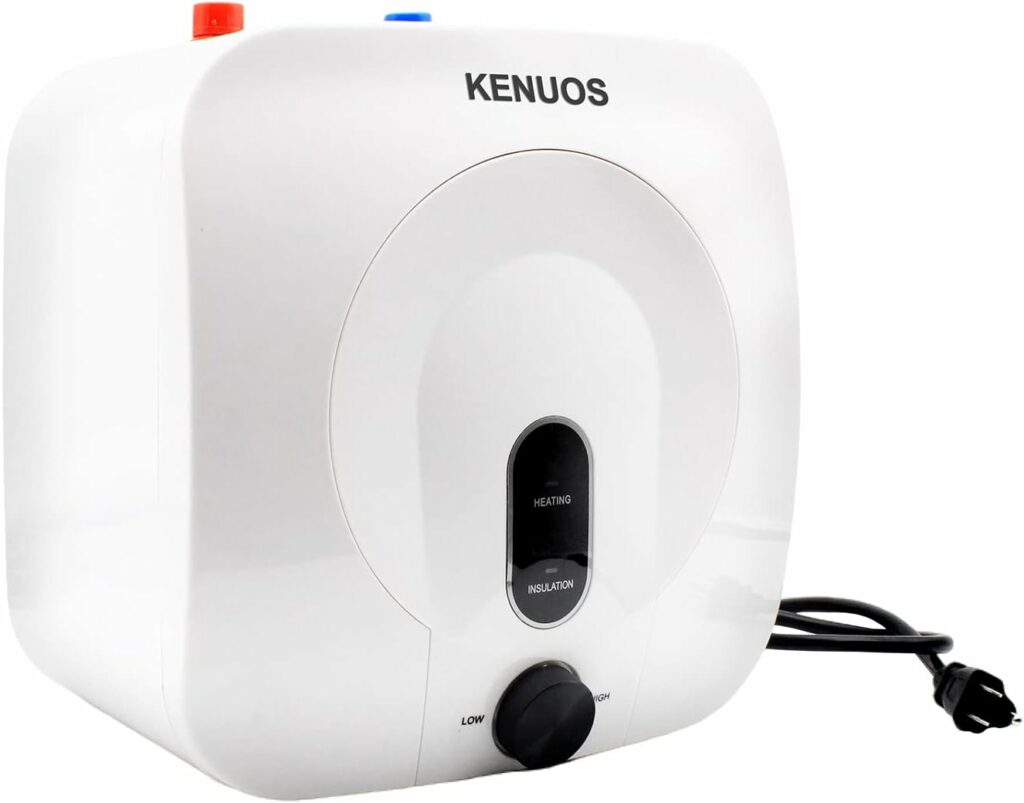 Price: CAD148.61
Advantages:
Maximum protection: The eight safety features, such as high voltage protection, high-temperature protection, and electrical insulation, among others features make it one of the safest and most trustable water heaters.
Small and handy: This small compact tank water heater can be floor-standing, placed under the skin, or wall mounted without much effort and time.
Seamless integration: The Kenous Mini Electric Water Heater features a sleek, modern design that blends perfectly with the interiors of your home, no matter how modern your space is.
High efficiency: With 1500 W power output and fast & stable heating, this heater is capable of fulfilling the water needs of various bars, bathrooms, restaurants, homes, and kitchens.
Disadvantages:
Not for large families: A water heater with 10 liters of capacity might not be a perfect choice for a residential with 4 to 5 occupants.
Affects water flow: Previous buyers state that the pressure relief valve placed in the water outlet reduces the water flow.
4. Camplux Tankless White Water Heater, Battery Powered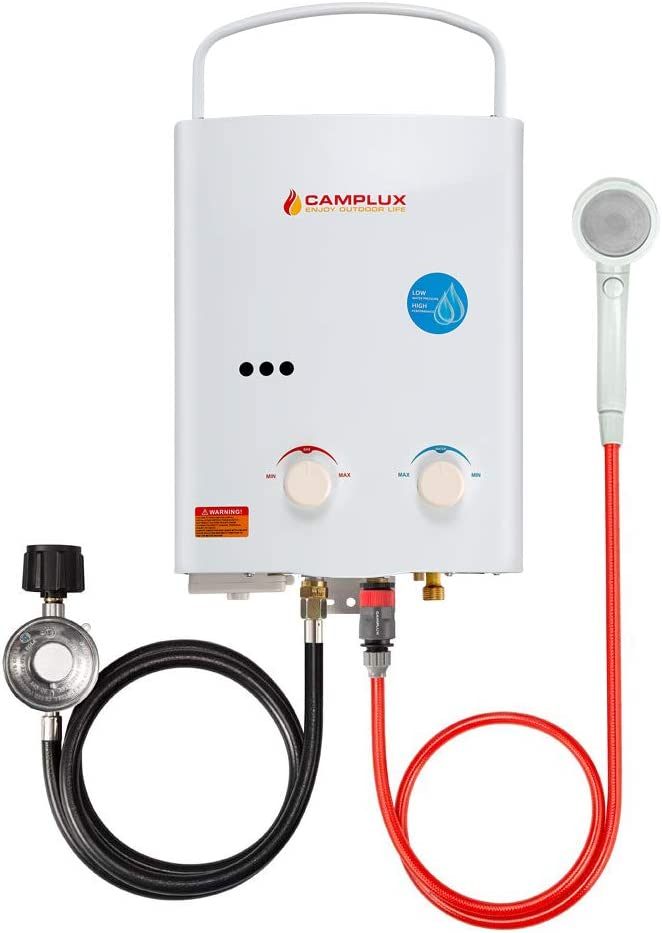 Price: CAD 216.19Advantages:
Portable and lightweight: Since it weighs 10 pounds, you can keep it out of the way, allowing for easy setup outdoors.
Safety and Security: This outdoor tankless water heater by Camplux has CSA safety certification for being protected with over-heating, anti-freezing, dry combustion, and other protection.
Easy to Install: As the heater comes with all essential components, you can install it quickly without any hassle.
Guarantee: The brand gives buyers a 1-year guarantee, providing great peace of mind.
Disadvantages:
Leakage: Its plastic fitting may leak, causing the pump to keep activating.
Customer service complaints: Our researchers found that the customer executive team does not respond and resolve the issue as quickly.
5. Ariston Andris 8 Gallon Electric Water Heater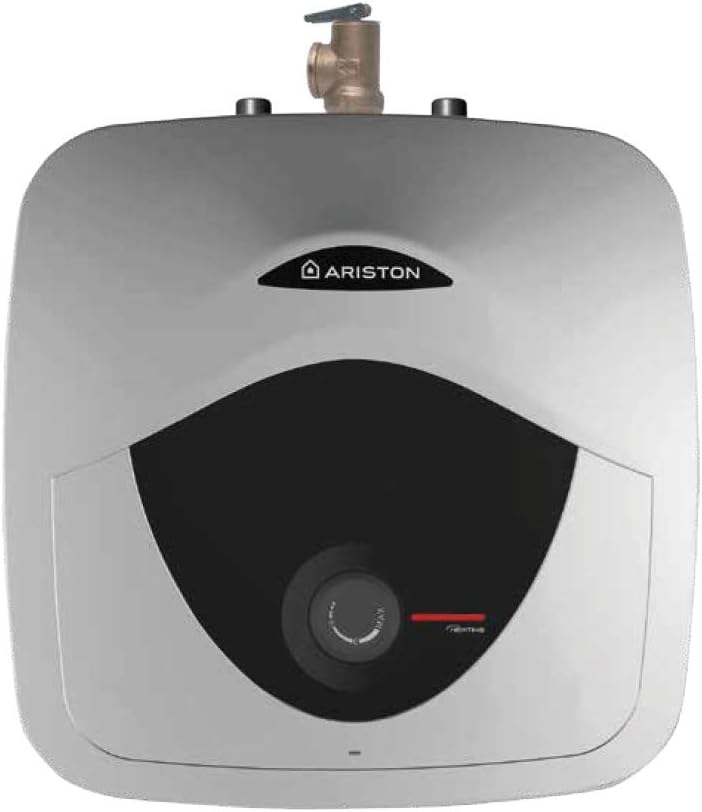 Price: CAD297.27
Advantages:
Ideal for small families: Ariston Andris, with 8 gallons of capacity, is an excellent choice for 1 or 2 occupants, as it offers a small amount of stored hot water.
Prevents wastage: Homeowners will save water by tapping into the water line and not waiting for the faucet to line up to hot water.
Easy to set up: This convenient water heater calls for only a standard 120-volt outlet to get started, providing you with instant hot water anytime.
Perfect for various locations: Due to its compact and lightweight, it can be installed in the field, especially in smaller properties such as pool houses, in-law suites, etc.
Safe for the environment: This highly efficient water heater system has environmentally safe foam insulation, thereby saving energy and utility costs.
Disadvantages
Expensive: Despite being smaller in size and less in capacity, it is pretty expensive.
Stores less amount of water.
6. HAIYEATBNB Tankless Water Heater
Price: CAD121.60
Advantages:
Offers great convenience: As it comes with remote control, adjusting and operating the water heater will be easier from now.
Looks nice: The overall look is classy, including the black glass and LCD screen. Plus, it's slim, which saves a lot of space, requiring only a small amount of wall space.
Instant hot water: With this tankless water heater, you can experience the convenience of instant hot water without waiting for long.
Energy efficient: HAIYEATBNB is designed to keep energy efficiency in mind, consuming minimal power and helping to reduce your energy bills.
Digital Display: This tankless hot water heater has digital temperature control, ebyou to adjust and read the target temperature.
Disadvantages:
Suitable for limited space: If you are buying a water heater for your bathroom and kitchen, this product is not for you.
Hard to adjust: It may be difficult to set its temperature.
7. Rheem Prestige 9.5GPM Tankless Water Heater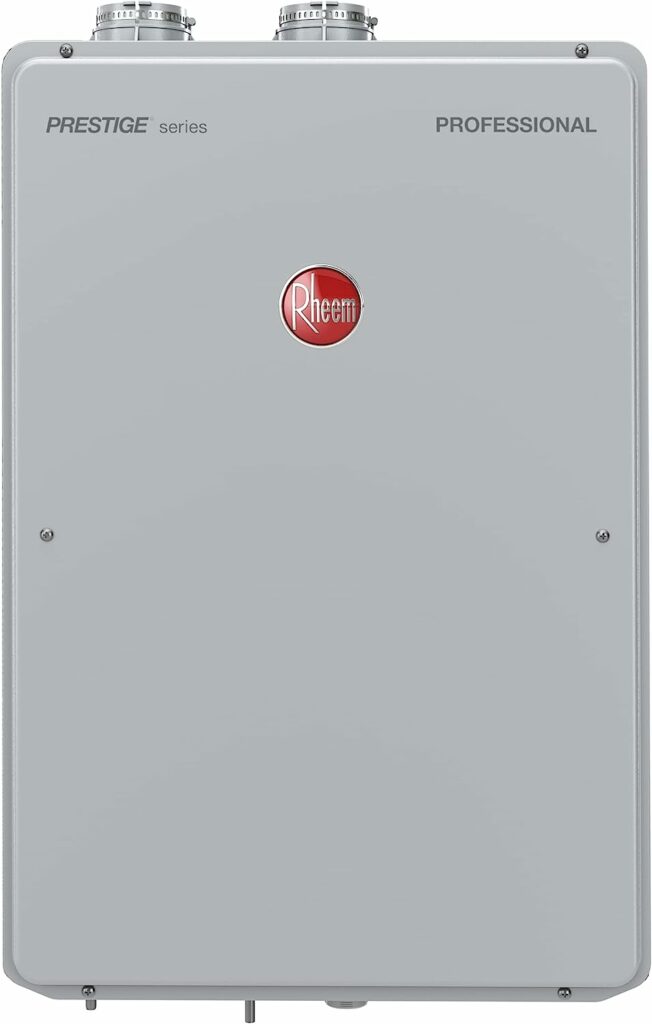 Price: CAD1543.39
Advantages:
Promotes Better Air Quality: Rheem Prestige 9.5 GPM has been designed using emission reduction technology for improved and better air quality.
Easy to operate: On/Off can be done by pressing the power button. Best of all, every piece of information is displayed digitally, so you know when maintenance or service is required.
Higher Capacity: As its name suggests, it is capable of outputting 9.5 gallons of hot water, and it is the perfect size for households of two to three people.
Leak Detection: Equipped with gas and water leak detection, it automatically turns off the unit and offers an error code.
Disadvantages:
Poor packaging: Previous users have complained about receiving water heaters in bad packaging, which left the goods damaged and stained.
Too Noisy: Although Reem water heaters are market players, this model produces annoying noises when turned on.
8. GE APPLIANCES Electric Water Heater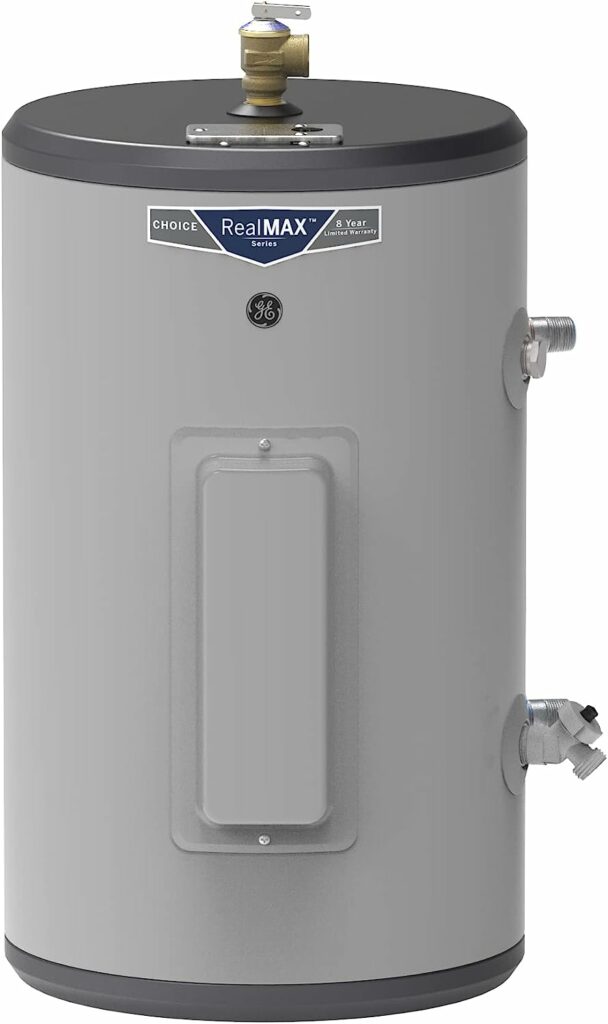 Price: CAD404.03
Advantages:
Compact Design: This point-of-use water heater has a compact design, making it ideal for limited spaces like bathrooms, kitchens, cabins, laundry rooms, garages, RVs, and sheds.
Low operating cost: GE electric water heaters consume less power, saving you money.
Easy to use: You can adjust its water temperature using a simple control.
Durable and strong construction: This water heater is designed using stainless steel heating elements, keeping it away from corrosion and rust.
Simple installation: Biggest benefit of choosing this water heater system is that it utilizes a standard 1/2-in NPT water connection, making installation easier.
Disadvantages:
No Smart features: Unlike a few electric water heaters that may include features such as leak detection, this one lacks it.
Not for wall mounting: As it has a floor-standing design, you can't mount it on the wall.
How to maintain your Water Heaters?
Water heater maintenance will often prevent breakdown, be more energy-efficient, and prolong its life shelf. The below-given tips will be helpful in maintaining your water heater with great ease. If you are looking for professional assistance, at SmileHVAC, our experts are available to help you keep your water heater system in newer condition.
Temperature Pressure Relief Valve Inspection: This is one of the crucial yet safety features of a water heater that needs to be tested daily. All you need to do is elevate the lever on the valve and watch the water come out. If not working properly, it means replacement is much needed.
Regular check-ups:  An inspection by a professional should reveal major water heater problems, if any. That way, you would attempt major repairs and prevent the problem from getting bigger. Plus, regular checks ensure that your unit is operating at its optimum level.
Tank and Pipes Insulation: Adding insulation to your unit can reduce utility costs and keep the water warm. Also, you will be able to prolong the lifespan of your heater by avoiding the strain on it.  Pipe insulation, on the other side, will protect water from freezing during the winter and keep the water warm as its passages.
Yearly flushing: Flushing your water heater helps in removing accumulated residue from its bottom. Over time, sediment can develop, causing your unit to operate less efficiently. Annual flushing also ensures that your unit is far from rusting.
Air Intake Filter and Anode Rode replacement: Those with tankless water heaters should replace the air intake filter on time. A dirty or unclean filter can cause the unit to shut down and overheat.
Likewise, anode rode should be replaced (every five years) based on the kind of water in your area. Inspect it by eliminating it from the tank and detecting corrosion.
Look for professional help: Getting professional help from Smile HVAC will ensure that your heater is running as efficiently as possible and help spot issues that you might not see. Our technical professionals have expertise in dealing with various problems related to different types of water heaters. Book an appointment with us and learn how to maintain your water heater adequately.
Bottom line!
When scrolling for water heaters in Canada, you'll come across many gas and electric water heaters in both tank and tankless variations. However, every household has a different hot water supply system, thus, understanding the key specifications and construction of each water heater model is crucial to make an informed decision. The best part is that the above top 8 options have been handpicked by our experts after extensive research. Weigh their pros and cons and pick the one that best meets your needs.