Innisfil Furnace Repair, AC Installation and other HVAC services​
10-Year Installation Warranty for HVAC Systems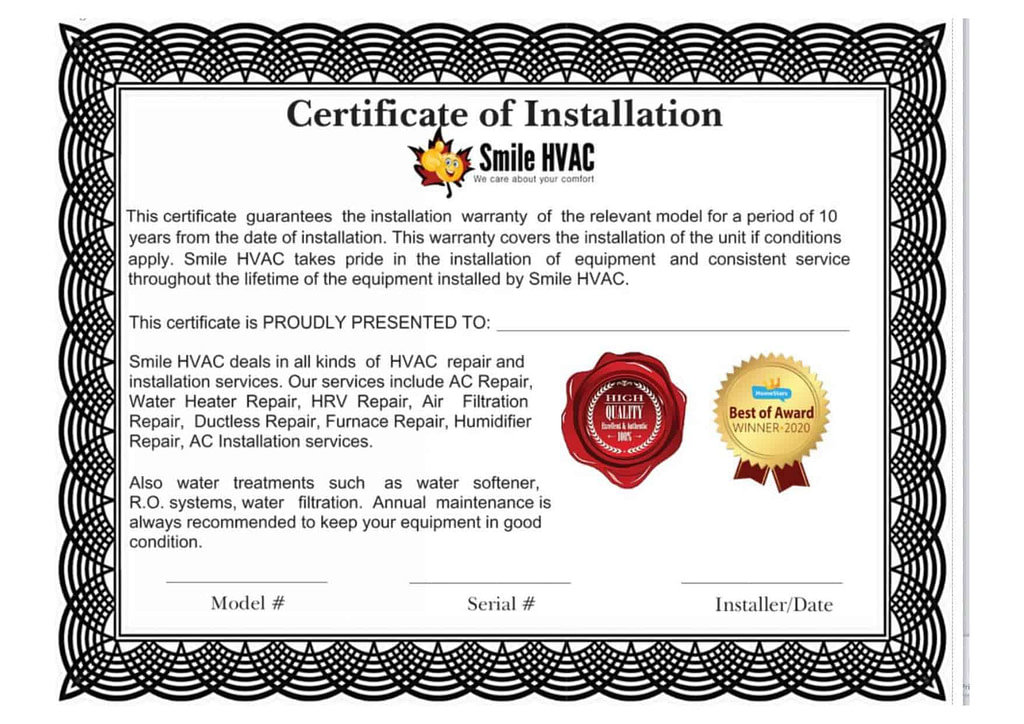 With our Warranty You Can:
HVAC Services in Innisfil
Smile HVAC has become one of the leaders in furnace repair in Innisfil. Regularly trained and experienced, our technicians have all the qualifications and certifications required to perform any type of repair, of all brands and models available on the market.
If you are faced with an unexpected event, you can call our emergency repair service. We will dispatch a technician to your home the same day to quickly resolve your problem. If you want to benefit from competitive rates and customer service that will exceed all your expectations, and get an impeccable air conditioner repair in Innisfil, call Smile HVAC.
Furnace Repair in Innisfil
We have repaired and serviced hundreds of HVAC units in Innisfil, using a checklist to diagnose the problem. We have already performed hundreds of furnace repairs in Innisfil so that we can boast great expertise and impeccable quality of our work. When you contact us about a problem with your appliance unit, you will always speak to a member of our team (regular business hours). Once the service technician is on-site, he will analyze the problem.
The common issues are a lack of heat, leakage, strange noises, pilot light failure, a problem with steam due to mud and limestone (kettling), frozen pipes, or a loss of pressure. When our experts know what your issue is, they will explain it to you in a very simple manner and will suggest you the best solution to solve your problem.
We also have experience in repairing and maintaining all major brands. In addition to repairing, we also offer the tune-up of your device, which can significantly increase its lifetime. Annual maintenance and cleaning of your HVAC will solve the majority of problems before we are forced to turn off your device and find a replacement. For impeccable furnace repair service, you can count on our Innisfil heating and air conditioning professionals.
Furnace Maintenance in Innisfil
Our professional technicians at Smile HVAC will help you with anything concerning furnace maintenance in Innisfil. The first step in maintenance is evaluation. This is when our technician takes the time to fully understand your needs and assess the problems that have arisen in the past year. This diagnosis makes it possible to verify the overall performance of your equipment and to offer the right solutions.
For example, they can suggest improving the building's thermal insulation instead of replacing equipment. Conversely, it may also happen that a more economical solution would be to replace your obsolete equipment. A replacement is sometimes more commendable, due to available subsidies and potential savings on energy costs. This assessment is usually carried out in conjunction with an energy optimization expert. Don't hesitate to call Smile HVAC if you need help or advice with furnace maintenance in Innisfil or any other HVAC-related issue.
Emergency Innisfil Furnace Repair
Smile HVAC is proud of providing exceptional services to our customers. That's it why your comfort is the most important thing for us. We offer emergency furnace repair in Innisfil in case you need to fix your furnace as soon as possible.
Our technicians will come to your place, make the necessary estimation and evaluation of your HVAC unit(s) and repair your appliances on the same day. In some exceptional cases, it may take more time – but we will do everything to fix your problem fast and with extraordinary quality. Call Smile HVAC now and book an appointment to repair your furnace today.
Smile Protection Plan is specially designed for those of us who don't like unexpected "surprises". "Surprises" like when you suddenly have to get out of pocket hundreds of dollars to repair your broken equipment.
Ask us about discounts on combined plans.
Smile
Protection
Plans
Starting from as low as
Smile
Maintenance
Plans
Starting from
Innisfil Air Conditioning Repair
We love a job well done and we will ensure the high indoor air quality in your home by providing the best air conditioner repair in Innisfil. From the choice of your appliance to sound advice for optimizing the system and its installation, Smile HVAC will make your home a comfortable place to live.
Air conditioning is no longer an unaffordable luxury. You can have an efficient air conditioning system installed in your home for less than $3,000. When you call, a customer support representative will take the time to assess your needs and determine the cost of the work if possible. For a larger project, an appraiser will come to your home for an assessment of your needs free of charge, without any pressure or obligations.
Smile HVAC technicians based on the years of experience will give you the best recommendations to offer you the best air conditioning systems for your needs. We will propose you the most competitive prices, exceptional service, and top quality products.
A good air conditioner is crucial for working indoors during the summer. It can sometimes be impossible to work in a building without it at that time of the year. Smile HVAC can save you if your air conditioner does not work when you need it most. Day and night, we answer the call to solve the problem – efficiently, quickly, and safely. We diagnose and repair any type of air conditioning system using the best solution for you. We provide professional air conditioning and HVAC service in Innisfil.
Best HVAC Service in Innisfil
Having an efficient heating unit will save you a lot of time, trouble and money in the long run. The good news is that an HVAC system in excellent condition and working well is relatively easy to have. We provide professional heating services in Innisfil for many years so that you can expect a professionally done work, expert knowledge in all HVAC appliances as well as a good price.
To begin with, we check your HVAC appliances, which will guarantee that all system segments are in acceptable condition. You need to check whether all issues are distinguished before they are produced and that the HVAC system is cleaned to guarantee that soil, dust, and other unwanted debris don't meddle with its activities. This is an errand that can be handily performed by Smile HVAC in Innisfil.
Air filters keep allergens, mite, and other unwanted things out of your place through vents and your system. Over time, they get filthy and even blocked. In that case, if you do not replace them, they may also lead to a number of health problems for you and your family. We recommend changing your filters once a year as a minimum.
*Get 10% down on your Service Call when you book online.
Water Heater Repair in Innisfil
Do you need a water heater repair in Innisfil? Several types of breakage can occur on hot water tanks. Water heater mechanism is made up of several components:
● thermostat
● light switch
● gasket
● screwed element
● drain valve
● plunger pipe
● safety valve
● outlet fitting
● anode etc.
If you do not need a replacement, our HVAC team of professionals can provide effective repair services to save you money and get your appliance units up and running in no time. Customer satisfaction is a key element in the success of all our services. We will never encourage you to replace a product when it is not required, but we will explain the repair options available to solve your problem.
Here are some warning signs of water heaters are need to be repaired:
● less hot water than before
● slower water heating
● a water leak from the water heater tank
● noise from the water heater tank
Don't wait for these seemingly minor problems to turn into something serious! Let our qualified repairers identify potential problems and take the preventive measures necessary to resolve them. One of these parts is sufficient to prevent the water heater from meeting the demand for hot water from the occupants of a building. Maintenance of the mechanism is required, and it is wise to call an HVAC technician as soon as you discern an anomaly in its operation. A broken water heater can cause water leakage and, as a result, serious damage. These can be expensive, depending on its location and the extent of the problem. Call Smile HVAC for fast and high-quality water heater repair service in Innisfil.
Smile HVAC also offers air filtration services in Innisfil. The air ducts are often improperly installed. Sometimes, they are also poorly designed or crushed and the air quality control methods generally boil down to removing excess moisture. It must first be remembered that the role of the air exchanger is to bring outside air into your home to renew the indoor air entirely once every three hours.
This mechanical air change is necessary for new homes because their exterior walls are sealed to counter natural air changes. However, the mere fact of breathing releases CO2 and many household products release toxic or irritant chemical pollutants into the air.
Unfortunately, 25% of new homes do not have air distribution in the bedrooms. It is worrying to note that more than half of the installations in new homes are only controlled by a humidistat. The humidistat activates the air exchanger when the humidity exceeds 45% in the indoor air. This means that if your house naturally stays below 45% humidity, the air exchanger never works and your air is not renewed to expel chemical pollutants from the house.
Smile HVAC also offers humidifier repair in Innisfil. A well designed, installed and well-controlled air exchanger system by excellent HVAC technicians will be able to control the air exchange in all rooms of your house and especially in closed rooms, where we spend several consecutive hours.
Water Softener Repair & Installation in Innisfil
Lake Simcoe is the main source of water supply to Innisfil, and many of the residents around the town depend on the lake. Barrie's development led to the growth of Innisfil and attracted many people to the region. It increased the pollution level at the lake, which affected the quality of water. Lake Simcoe is known for its hard water.
Water softener repair in Innisfil will significantly improve the state of the pipes system in your house, and the efficiency of the water heater. As we mentioned above, Lake Simcoe is the main source of water, but it creates problems due to its hard water. As it is known, hard water consists of calcium and magnesium, which have negative effects on people, plumbing systems, and washing machines. 
The main issue of using hard water is the build-up formation inside the pipes which as a result reduces the water flow. It is challenging to form foam while using hard water. It affects people's skin and makes skin and hair dry. It increases the cost of replacing and upgrading the plumbing systems, and it affects the washing machines. The water softener will be vital to the plumbing system and the washing machines because it will deal with all the available issues with hard water. The quality of water will be improved, making water safe for drinking and domestic use.
Smile HVAC has been providing Innisfil water softener installation and repair services for years. The technicians working at Smile HVAC are well trained and well versed with modern equipment. The company's presence ensures that the available water for usage is of high quality and safe for human consumption. The company conducts maintenance and the upgrade of the piping system. This ensures that the system provides quality water and great taste to reduce issues connected to hard water. Installation and repairing of a water softener system is not an easy job and requires professional services. If your water softener system has stopped working or needs maintenance, get in touch with Smile HVAC. We will resolve the problem.
Why you should choose Smile HVAC?
Our goal is clear: To offer you the best possible service for the purchase, installation, and maintenance of air conditioning, heating, air exchanger, air filtration and humidification systems for gas fireplaces and ventilation and other HVAC units. Whether it is for a furnace, central air conditioner, central heat pump, wall mounted air conditioner, heat pump, gas stove or fireplace, air exchanger, air filter or humidifier, all our models are supported by unbeatable guarantees.
We want to save you the trouble of spending too much time and money on HVAC services that won't do you any good! This is why we offer you energy-efficient devices and systems. All air conditioning and heating systems require regular maintenance. Smile HVAC offers a complete maintenance and inspection service for heating and air conditioning equipment.
Is your device defective or makes funny noises? Smile HVAC offers repair services for air conditioning and heating equipment. Once you call us, our professionals will take care of you on the same day! No delays and your satisfaction is guaranteed. Book an appointment today and get 10% OFF.
Authorised Licensed Technicians
Smile HVAC is authorized and licensed to service over 30 brands, so if you own any HVAC equipment from these brands, you don't need to call two companies. Smile HVAC will help you solve all HVAC-related issues and will assist with repairs and installations. We work with all brands including Lennox, Goodman, Amana, Keeprite, Bryant, Daikin, Carrier, York, Trane, Comfortmaker, Payne, Tempstar, Rheem, Ruud and Mitsubishi Electric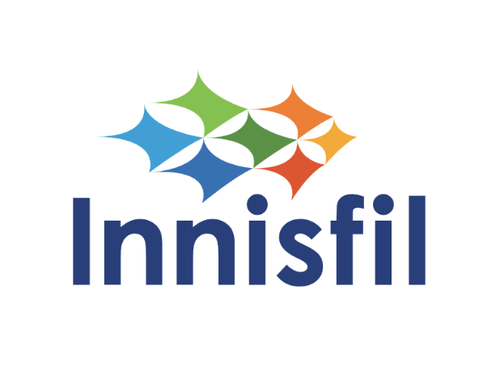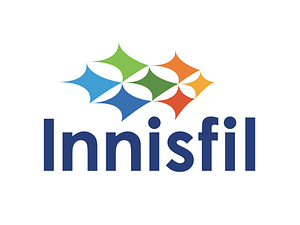 Innisfil is a town in Ontario, Canada, situated on Lake Simcoe's western side in Simcoe County. It is 80 kilometres north of Toronto. It has been a rural area in the past. Due to the increasing growth and developments of residents, it has become at least urban. In the year 2016, Innisfil town was reported to have a total population of 36,566, a significant change from 2006, which was 31,175. Its land area is 284.21 km squared, and a population density is approximated to 115.151 per kilometre square. From these statistics, we can conclude that this part of town has a tiny population.
It is a small area that is very peaceful and conducive to life and has a more significant history and better offerings to its people. Despite its population, Innisfil has many things to offer to its people. During ancient times, Innisfil was a rural area, but currently, due to Toronto's growth and development, it has also undergone some transformation. It is proved to be ideal for all people, be it single or married. It offers a place to relax our minds and have fun. Some of the fascinating places to visit in Innisfil, despite its small area, include the Tanger Outlets Cookstown, Innisfil Beach Park, 400 Market, Cookstown Antique Market, Sunset International Speedway, Georgian Downs, South Simcoe Theatre, and many other attractions.
In Innisfil, the summers are always more comfortable and are always partly cloudy. The winter season tends to be freezing, windy, cloudy, and dry. The winter season is not so comfortable and favorable for people and those who spend their time coming and visiting. Over the year, the temperatures vary from -12°C to 25°C and are infrequently below -22°C or above 29°C. The best time tourists visit this beautiful town is in late June to late August because this is when the warm season lasts. July 19th tends to be the hottest day, which is quite an uncomfortable day for the settlers in this area. The most relaxed season lasts from December to March, making January 29th the chilliest day. This is why an efficient HVAC system with heating and cooling is a must in the area.
This season is the best month for relaxing in the Innisfil area because it is not too hot and not too cold. It is time that families should spend more time with their families. During the summer season, the families should aim to install or update the HVAC system to regulate extreme heat. The HVAC system controls the air temperature by providing compulsory cooling to keep the temperature regular. In the winters, the HVAC keeps the temperature at a comfortable level.