Furnace Repair, AC Repair & Installation in Markham, and other HVAC services
10-Year Installation Warranty for HVAC Systems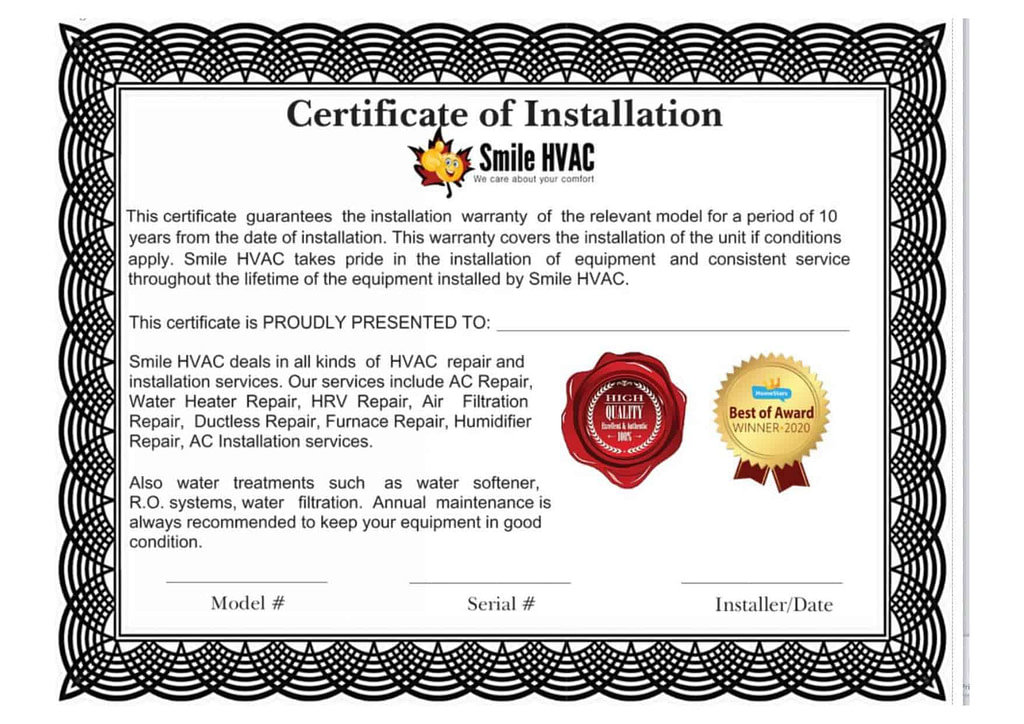 With our Warranty You Can:
Smile HVAC is specialized in furnace repair in Markham that stands out, thanks to our team's expertise and skills in residential heating our company provides exceptional HVAC related services. At Smile HVAC, we quickly assess the extent of the malfunction and find the causes of the failure to fix the issues.
Use our air conditioner repair services to solve problems with your HVAC units quickly. Contact us at (437) 777-4555 or leave us your contact details, your request will be processed the same day.
Furnace Repair in Markham
If you want to increase the lifespan of your furnace, we recommend having it inspected by HVAC professionals. Furnace repair in Markham might be costly; that's why you need a professional who will evaluate the problem and provide excellent services. Our simple rule – no need for your HVAC unit if you can repair your current furnace. This way you can save much money. Whether you have electric, oil or gas appliance, we recommend to check it before the start of the winter. It will help to ensure that your heating and air conditioning system will function correctly when you need it. Among other things, the technician will do:
verify and fix (if required) safety systems

ensure proper operation of the heating elements

clean components that tend to get dirty

assess pollutant emissions 

check the burners
However, it may happen that your furnace is not working correctly due to more complex problems. To prevent the shutdown of your HVAC unit, do not hesitate to contact us. If you hear abnormal noises coming from your furnace or if you notice that it does not heat sufficiently – Smile HVAC is here to help. We act quickly to find the cause of the malfunction, for example:
worn bearings

an unbalanced fan

loose holding parts

a faulty fan motor

obstructed ducts
Emergency Furnace Repair in Markham
When your central heater is no longer working, Smile HVAC provides same day services to fix your HVAC unit quickly and let you come back to your normal life. If you need to fix your furnace immediately, our company provides emergency furnace repair services in Markham. The most common problems for an emergency furnace repair:
a cracked expansion tank

a faulty pressure regulator

a break on the circulator
Our experts repair all kinds of HVAC systems allowing you to extend the life of your appliances. For quick and efficient repair of your furnaces in Markham, call Smile HVAC. Before completely changing your furnace and investing a large amount of money, have it inspected to see if we can repair it. You can save a significant amount and have a functional furnace for many years to come.
Your furnace breaks? Smile HVAC technicians are here to solve your problem with the extensive experience and great knowledge. No matter what kind of furnace type you have, our technicians can repair your HVAC unit so that you will have comfort in your home. If your furnace has died, we have alternatives by offering several heating systems adapted to your residential needs. Call Smile HVAC if you need a professional emergency furnace repair services in Markham.
Smile Protection Plan is specially designed for those of us who don't like unexpected "surprises". "Surprises" like when you suddenly have to get out of pocket hundreds of dollars to repair your broken equipment.
Ask us about discounts on combined plans.
Smile
Protection
Plans
Starting from as low as
Smile
Maintenance
Plans
Starting from
Air Conditioner Repair in Markham
If you are looking for air conditioner repair in Markham – we are here for you at Smile HVAC. The air conditioning helps you spend pleasant days and nights, even during the hot weather. However, if it is not maintained regularly, it can be prone to even more troublesome breakdowns when they occur during the warm months. Our team of professionals will repair your air conditioning system on the same day and with no unnecessary delays.
Do you want to avoid enormous heat that is very common in GTA during the summer? That's why it's essential to use the services of the professional HVAC technicians. Our air conditioning products will bring a cool environment into your home. The experts at Smile HVAC have a wide selection of products from several renowned suppliers. We offer our air conditioning systems and reliable services.
We offer you products and services that will allow you to be comfortable all summer long in your home. With the right HVAC unit suited to your type of property, you will feel relaxed and in the best conditions to spend a summer season. Always on the lookout for new products on the market, we offer you only reliable air conditioners, verified by our technicians. We will present our selection of efficient and reliable devices. Smile HVAC provides a professional air conditioner repair services in Markham. Don't hesitate to contact us!
Best Markham Heating service
Smile HVAC team specializes in heating and cooling services in Markham. From thawing pipes to installing heated floors, our clients like our services because of the quality and affordability. The same is true for our water heater installation and repair services. With years of experience in the field, our experienced professionals will be able to advise you on the heating system best suited to your home or office. We also install energy-efficient heating systems and provide emergency services.
Do not stay in the cold due to a faulty heating and cooling system. With professional repair services, we help you to find comfort and warmth inside your home or office. Smile HVAC also provides emergency furnace repair in Markham if you need to fix your appliance as soon as possible. We can also take care of the maintenance of your HVAC unit to keep it in good working order. Our professional and reliable heating services will offer you an unparalleled "comfort zone". Our expertise and experience allow us to recommend the best units on the market, taking into account the type of building or house you have and your heating needs.
Don't wait any longer. A good heating system will allow you to feel comfortable at home and save money in the long term.
*Get 10% OFF on your Service Call when you book online
Water Heater Repair in Markham
Smile HVAC has already performed hundreds of water heater repairs in Markham. The reliability of your HVAC unit hugely depends on the quality of its installation. That is why it is crucial to deal with experienced professional technicians when you get a new water heater. Our team can advise you at the time of purchase according to your needs what type of water heater is the best for your situation. The capacity of the hot water tank depends on your consumption. We will advise you if a 40-gallon or 60-gallon water heater is preferable for your home. Our Markham heating experts can also recommend you the maintenance measures to keep your appliance in good condition as long as possible.
We are always aware of the importance of having access to hot water until the water heater fails. You could face two possibilities: repair the water heater or replace it. If the water heater component burned out or a thermostat is defective, we will be able to fix your water heater. If there's a leak in your water heater or if it is a water heater ten years of age and over, you should consider replacing it. Even if you make the necessary repairs with your old water heater, it may break soon due to its old age.
We strongly advise you to rely on the Smile HVAC team's expertise to choose the right solution. We have already served thousands of customers with water heater problems like yours. Our professional advisers will be able to assess the repair of your water heater and give you different options that you may want to consider.
At Smile HVAC, we have made our reputation on the trust that our customers give to us. For this reason that we can guarantee you that we will make a prior assessment to save you as much money as it's possible. If repair is necessary for your water heater, we will not hesitate to fix it quickly and with good quality. If you need to replace your water heater, we will offer you a water heater that will perfectly meet the hot water supply needs of your home.
Air Quality
Do you need air filtration services in Markham? Implementing and maintaining effective filtration systems has never been more critical than it is today. You and your family's health and wellness are directly linked to the quality of the ambient air. The latest research reveals some troubling facts: The increase in international trade increases the possibilities of air contamination significantly; air pollutants, gases, toxic compounds released by new materials, viruses, and bacteria multiply in the buildings. There is an exponential increase in respiratory issues, especially in kids. These studies will shortly make government agencies strengthen their filtration standards. It is now imperative to know the consequences of poor air quality and how to deal with this problem.
Smile HVAC has excellent expertise in the filtration technologies that exist on the market. If you need air filtration services in Markham – we've got you covered! Based on your needs, our HVAC technicians help you to improve air quality problems at homes such as repair of the humidifier, ventilation and others. Thus you will get the best performance according to the Canadian standards.
Water Softener Repair & Installation in Markham
The people of Markham depend on Lake Ontario as their source of water. The lake does not provide the city with soft water, which creates a significant issue. The people residing in the city of Markham are using hard water for domestic use. As per different independent reports, Markham's water quality is lower than in other cities in Ontario, Canada.
A water softener installation and a water softener repair in Markham must keep the pipe system efficient in the city. Hard water is associated with issues such as building up deposits in the water pipes due to the presence of magnesium and calcium contents. If you are dealing with hard water at home, you probably noticed how inefficient your water heater gets after some time of use. Furthermore, hard water makes it difficult for soap to form foam because it does not dissolve in hard water. It affects the skin and hair of the users and makes them look and feel dull.
And finally, it reduces the lifespan of the pipes, increasing the costs of repair in a certain period. Using the water softer will reduce the content of calcium and magnesium in water before it passes through the pipes. As described, hard water can increase the costs of repair of the plumbing system. It makes it safe for drinking and other uses. Hence, it ensures the produced water is of high quality and taste. The main goal of a water softener is to ensure that water is safe for domestic use.
Smile HVAC is known for Markham water softener installation and repair. The company is involved in installing water softener repair to ensure people have access to good water. Smile HVAC's objective is that the water softener is repaired on time and is well maintained that keeps the system working correctly. Since we have been in this industry for many years providing these services, we have a lot of knowledge and experience. We can recommend the best solution suitable for your home and your specific needs. We also work with other water appliances, such as water purification systems and water heaters. Smile HVAC is the best solution for your hard water problem.
Choose Smile HVAC
No matter what problem you are having with your heater or air conditioner, don't hesitate to contact us. Our certified technicians at Smile HVAC are handpicked and trained according to Ontario requirements. They guarantee the quality of the work done and provide you with fast and courteous service. From adjusting the condenser to changing the filter on your wall-mounted heat pump, we carry out each type of heating system repair following the rules of the trade. Besides, we make sure to use only original parts that have a warranty. 
To carry out this type of repair, the Smile HVAC team favours equipment that reflects the latest technological advances in heating system repair. We are available seven days a week and in the event of an emergency. Our customers choose Smile HVAC because we have:
affordable prices

no hidden fees

no appointment cancellation fees

flexible working hours.
Don't hesitate to call us at (437) 777-4555 or leave us your contact details and we will process your request on the same day.
Authorised Licensed Technicians
Smile HVAC is authorized and licensed to service over 30 brands, so if you own any HVAC equipment from these brands, you don't need to call two companies. Smile HVAC will help you solve all HVAC-related issues and will assist with repairs and installations. We work with all brands including Lennox, Goodman, Amana, Keeprite, Bryant, Daikin, Carrier, York, Trane, Comfortmaker, Payne, Tempstar, Rheem, Ruud and Mitsubishi Electric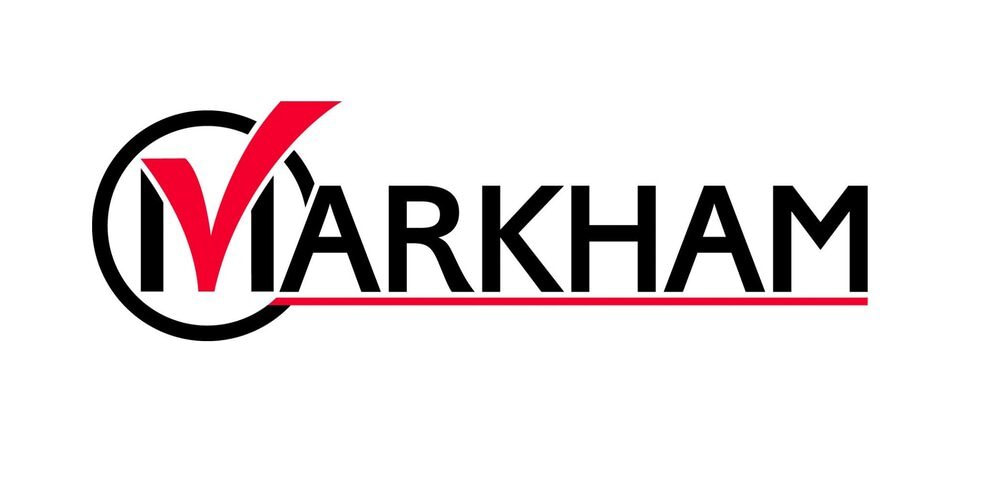 City of Markahm lies approximately 30 km northeast of Downtown Toronto. It is the regional municipality of York in southern Ontario. Markham is a city known for its diverse cultures and embraces a high technology level to develop the city. Markham is an inclusive and accommodative place with remote neighborhoods, high and tall towers, rolling hills, and modern homes. Jean-Paul and Roger Keil are the known urban planning experts who examined the population growth in Markham city. They believe that Markham's population was 208,615 occupants in 2001, and in 2016 it grew immensely to 328,966 inhabitants. It is for this reason that the city is now statically the most diverse community in Canada.
Until 25 years ago, Markham city transformed rapidly into a new town that was considered a rural area. The area has a large Asian population. Since 2010, Markham's most significant workers, of approximately 30% of the labor force, were engaged in business services. The Canadian headquarters of various multinational companies are located in Markham city. The Pacific Mall is the largest Asian indoor market in North America.
Like any other city in Canada, for instance, Toronto, Markham has four divergent seasons characterized by temperature changes. Markham's climate is colder but similar to that of New York and slightly moderate to Montreal. Over the course of the year, the temperature typically varies from -10°C to 27°C and goes below 0 in winter. Since it could be difficult for visitors and natives to bear the cold experienced even during the city spring season, most commercial buildings and homes need an HVAC system. Generally, HVAC systems provide efficiency in the thermal regulation and air conditioning in a structure. During winter, the temperature is usually low; thus, it is recommended to turn on the furnace and turn the air conditioner off. On the other hand, in July, which is usually the hottest, it is recommended to turn off the furnace and turn on the air conditioner.
During winter, Markham's temperature is usually low; thus, it is recommended to turn on the furnace and turn the air conditioner off. On the other hand, in July, which is usually the hottest, it is recommended to turn off the furnace and turn on the air conditioner. This way, every home and commercial building in Toronto need to install or upgrade heating and cooling systems. With a high number of such appliances breaking down, and the desire for upgrades is always strong.