AC Repair & Installation in Newmarket, Furnace Repair and other HVAC services
10-Year Installation Warranty for HVAC Systems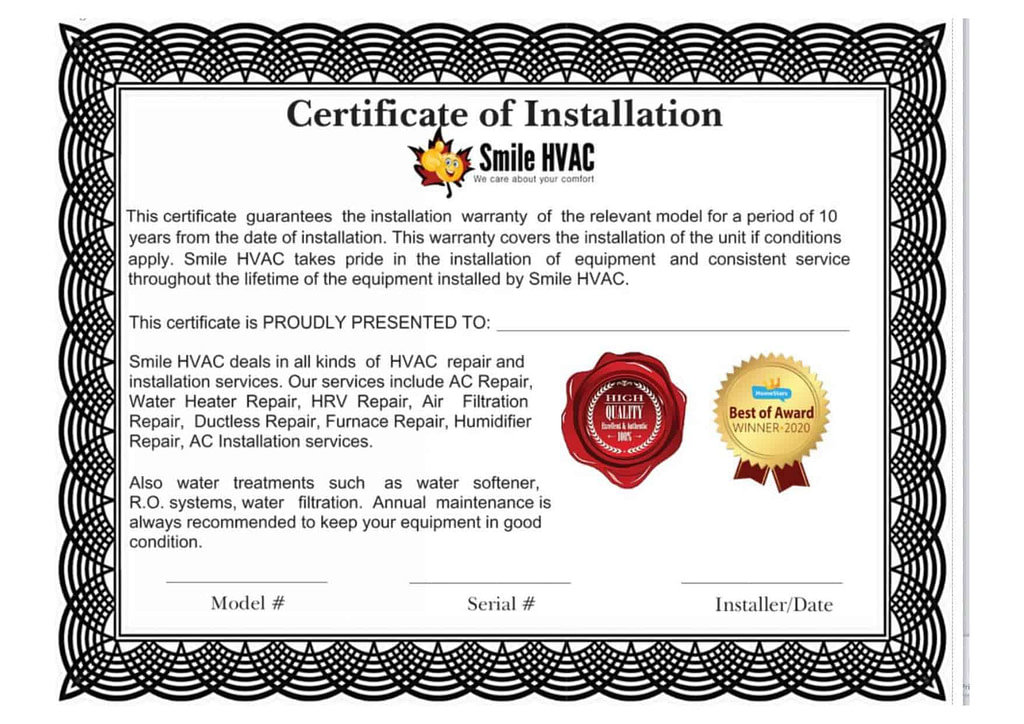 With our Warranty You Can:
Keeping a home up and running on your own might seem frightening. There are numerous things that can go wrong — from a heating system malfunction to a poorly working conditioner. The good news is, you don't have to handle every installation and repair task on your own. Instead, consider reaching out to professional technicians in Newmarket — Smile HVAC is the local team you are looking for.
Our technicians handle heating, cooling, water heating, and air quality installation and maintenance in all areas around town as well as the suburb. Find out how Smile HVAC handles the most common HVAC procedures.
Furnace Repair in Newmarket
Smile HVAC is the company that provides full range of HVAC services including furnace repair in Newmarket, installation, replacement and maintenance. We acknowledge the importance of having your furnace up and running in winter. Whether you are getting one for a new house or want to use the existing system to the best extent, Smile HVAC technicians can consult you every step of the way.
There are three types of furnaces homeowners usually choose — gas, oil, and electric models. However, only a professional can tell which one is better for you confidently. At Smile HVAC, we will take our time to inspect the house, hear out a client's personal preferences and needs, research the market, and find the right model for your house.
Professional HVAC Repair Service in Newmarket 
If you have already bought a heating system but have no idea how to install it, our team will handle the installation procedure, as well as other heating and cooling services. Reach out to us, schedule an appointment, and have a heating system up and running by the end of the day.
Finally, to run smoothly, heating systems require around-the-clock maintenance. If you are not a technician, handling furnace repair services in Newmarket might be tricky. A professional team, however, is trained to detect performance issues and fix them — reaching out to certified Smile HVAC technicians for maintenance handling will improve the lifespan of the furnace by five to seven years, reducing energy consumption as well.
Smile Protection Plan is specially designed for those of us who don't like unexpected "surprises". "Surprises" like when you suddenly have to get out of pocket hundreds of dollars to repair your broken equipment.
Ask us about discounts on combined plans.
Smile
Protection
Plans
Starting from as low as
Smile
Maintenance
Plans
Starting from
Air Conditioning Repair and Installation in Newmarket
A cooling system is just as important as a functional heater is. In the summer, a lack of proper air conditioning affects the indoor environment negatively, lowering in-house humidity, resulting in furniture cracks and poor productivity of the house residents. Smile HVAC provides a professional air conditioning repair services in Newmarket. Give us a call and we will fix problems with your air conditioner.
Installing an air conditioner makes it more enjoyable to stay inside the house or at the office during hot days. To choose an AC system that will let a stream of fresh, cold air in, contact Smile HVAC. We will find out more about the property you want to put a conditioner in and find a high-quality model within your price range.
AC and ductless installation is challenging — there are multiple modes and ways to set up the ventilation. Our technicians will find the right spot for this and set it up so that it runs at peak efficiency.
Emergency Air Conditioning Repair in Newmarket
You can reach out to the team for air conditioner repair. Hiring Smile HVAC technicians to optimize the conditioner is considerably cheaper than getting an air conditioner replacement. An expert team will arrive at your place, examine the unit, find ways to improve and optimize its performance, fix fan clogging, and other common ductless repair issues.
Here are a few examples of heating and air conditioning services in Newmarket our team runs:
Filter cleaning;
Condenser inspection;
Fixing air leaks;
Wiring inspection;
Examining AC fan blades.
Once we are done with the ductless repair, the system will work as well as a new one would. 
*Get 10% down on your Service Call when you book online.
Water Heater Installation in Newmarket
Whether you bought a new house and want to put a water heater there or are unhappy with the performance or the energy consumption of an old system, reach out to Smile HVAC for a consult. We will schedule a call and get to know your water heating issues and needs.
Our technicians know what the best models in different price ranges are and will help you find an affordable heater to replace the old one. We specialize in water heating services as well. We will visit your house and set up the heater in a safe, ergonomic, and efficient way.
If you noticed that the system takes too much time to heat water, eats up way more energy than it used to, and is overall inefficient, reach out to our team for maintenance hvac services. We will inspect the system, find out what is jeopardizing its peak performance, and repair an emergency. After a visit from Smile HVAC, you will be able to enjoy the full power of a water heater. 
Air Quality Monitoring in Newmarket
Taking care of the quality of the air surrounding them and installing a filtering system is a reasonable idea for homeowners and office managers who want to stay productive and enjoy their time inside the property. Also, improved air quality protects from illnesses and allergies and preserves the state of the furniture.
To choose the right air filter, install or repair one, look no further than Smile HVAC. Our team will choose the right model for the house taking the size of the place, the climate of the area, and budget constraints into account.
Our technicians are often called to inspect and repair air filters, humidifiers, and HRV systems. Before coming to your place, we will create a detailed inspection and humidifier repair plan, with a precise budget estimate.
Here's how Smile HVAC handles all air filtration services in Newmarket:
Scheduling a get-together with you to find out more about your requirements, issues, and preferences as a homeowner;
Planning and estimation — creating a repair or installation strategy and estimating the cost for every procedure;
Handling the work. Typically, it takes a couple of hours to handle repair, installation, or HRV services in Newmarket — you will not have to wait for days till an air filter or a humidifier installation is complete;
Following up. We will call and email you every once in a while to make sure the system is working as expected. Also, the team runs an annual inspection in Newmarket to see if the unit is running well.
Water Softener Repair in Newmarket
Do you feel tired of dealing with hard water in your home or? Call Smile HVAC for the best water softener repair in Newmarket. Smile HVAC provides quality and affordable services with no hidden costs.
Hard water is a common issue for most households, and this may be caused by your water softener not functioning effectively as it once did. There are several indications that show your water softener might be broken and requires immediate repair.
A reduction in pressure in your water softening system

If the water quality decreases or does not feel 'soft.'

If your soap or shampoo won't foam easily

Presence of undissolved salt in your brine tank

Your scalp feels itchy, and your skin feels dry.

Your hair has an unhealthy and dry appearance.

Presence of hard water spots in your dishes, faucets, bathtubs, sinks, and toilets
If you see any of these issues, you need to get your water softener checked by professionals like Smile HVAC. At Smile HVAC, we have qualified, trained, and certified technicians who provide a wide range of water treatment services to fit your budget.
You can rely on Smile HVAC's technicians to inspect your system, diagnose the issue, and service your unit right the first time. With comprehensive experience in the industry, you can be assured that we will use the right technology and equipment to handle any water repair issue at competitive prices.
Newmarket Water Softener Installation
While hard water may not be harmful to your health, it can, without doubt, wreak havoc on your pipes and equipment like sinks, showerheads, and faucets. It can also make your water taste funny, cause your skin and hair are going to feel dry, leave spots on your dishes, and make your clothes feel stiff and rough after washing.
Hard water in water appliances like a washing machine can also discolor the inside, causing your clothes to have discolored patches.
For this reason, water softeners are a necessity in areas that deal with problematic water issues. Residents all over Newmarket have turned to water softener solutions to help improve the quality of their water.
However, you need to ensure that your water softener is installed by dependable plumbers who have the experience, tools, and right training. Smile HVAC enjoys an excellent reputation in Newmarket when it comes to professional water softener installations.
For professional Newmarket water softener installation, please do contact us at Smile HVAC Service and Installation. Don't let hard water make life more difficult for you! Contact us today for the best water softener installation solutions
Choose Smile HVAC For Installation, Maintenance, and Consulting Services
In terms of dedication, commitment, and work ethic, there's no other company in Ontario that beats Smile HVAC. The company gathered professional technicians from all over Canada to provide high-quality HVAC services to households, public institutions, and commercial properties.
We develop personalized practices for every project. The team works fully on the clients' term — Smile HVAC doesn't charge for same day cancellations or overtime. On top of that, being able to rely on one team to handle all HVAC services is extremely convenient since it saves you time, money, and effort of having to look for multiple HVAC contractors in Newmarket.
If you need HVAC services in Newmarket or another area, contact us. We will call back within two to three hours to discuss the project in detail and plan stellar installation and repair.
Authorised Licensed Technicians
Smile HVAC is authorized and licensed to service over 30 brands, so if you own any HVAC equipment from these brands, you don't need to call two companies. Smile HVAC will help you solve all HVAC-related issues and will assist with repairs and installations. We work with all brands including Lennox, Goodman, Amana, Keeprite, Bryant, Daikin, Carrier, York, Trane, Comfortmaker, Payne, Tempstar, Rheem, Ruud and Mitsubishi Electric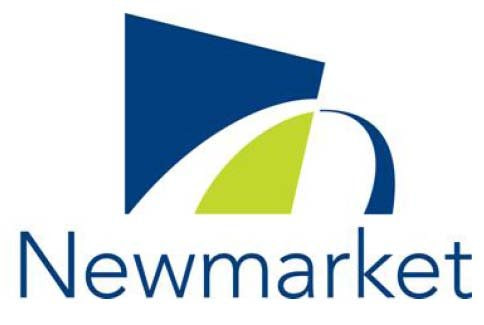 Newmarket is a town and regional state of the Municipality of York in the Canadian province of Ontario. It is part of the great Toronto in Southern Ontario's Golden Horseshoe area. Newmarket has always been a town with a market; that's why the city's center is considered its main street.
The town was established in 1801 as a trading post and milling center where the river cut the old native trail. An affordable place to call home, Newmarket provides below-average residential and business taxes relative to comparable communities. As far as safety is concerned, Newmarket's low crime rates consistently place it as one of the nation's safest neighborhoods. The 2020 population of Newmarket is 5,536, at present and the city is home to about eighty racehorse trainers.
There is significant rainfall in this area even in the driest months. Precipitation here is approximately 31.1inches per year. Summers are warm, and winters are long, snowy, and cozy. In this kind of cold weather, it is essential to maintain your indoor furnaces; after all, this is the critical factor that keeps your place nice and warm. Because of the low-cost residential area and fewer business taxes, people prefer this place for their living and businesses. People from different regions move here to live and experience a healthy lifestyle. Newmarket is also a safe place to live in.
To provide its residents and visitors a luxurious living, HVAC's use is significant in residential and commercial buildings. Newmarket is a tourist place as it allows people a top-class environment on a low budget. If you cannot enjoy sky-high Cambridge prices, Newmarket is a brilliant place for you. To maintain its attraction for tourists, it is noteworthy to provide them a comfortable indoor environment, which is impossible without well-maintained use of HVAC. Winters are cozy; furnaces are high in demand here. While in summers, when the temperature reaches 27 degrees Celsius, an air conditioner is compulsory to avoid any suffocation.
It is better to indulge in a smart furnace because you may need to turn your furnaces at 10 percent higher capacity depending upon the weather. Smart furnaces also help you save some money by minimizing electricity bills, and it not only learns your routine but also keeps you updated if there is an issue.